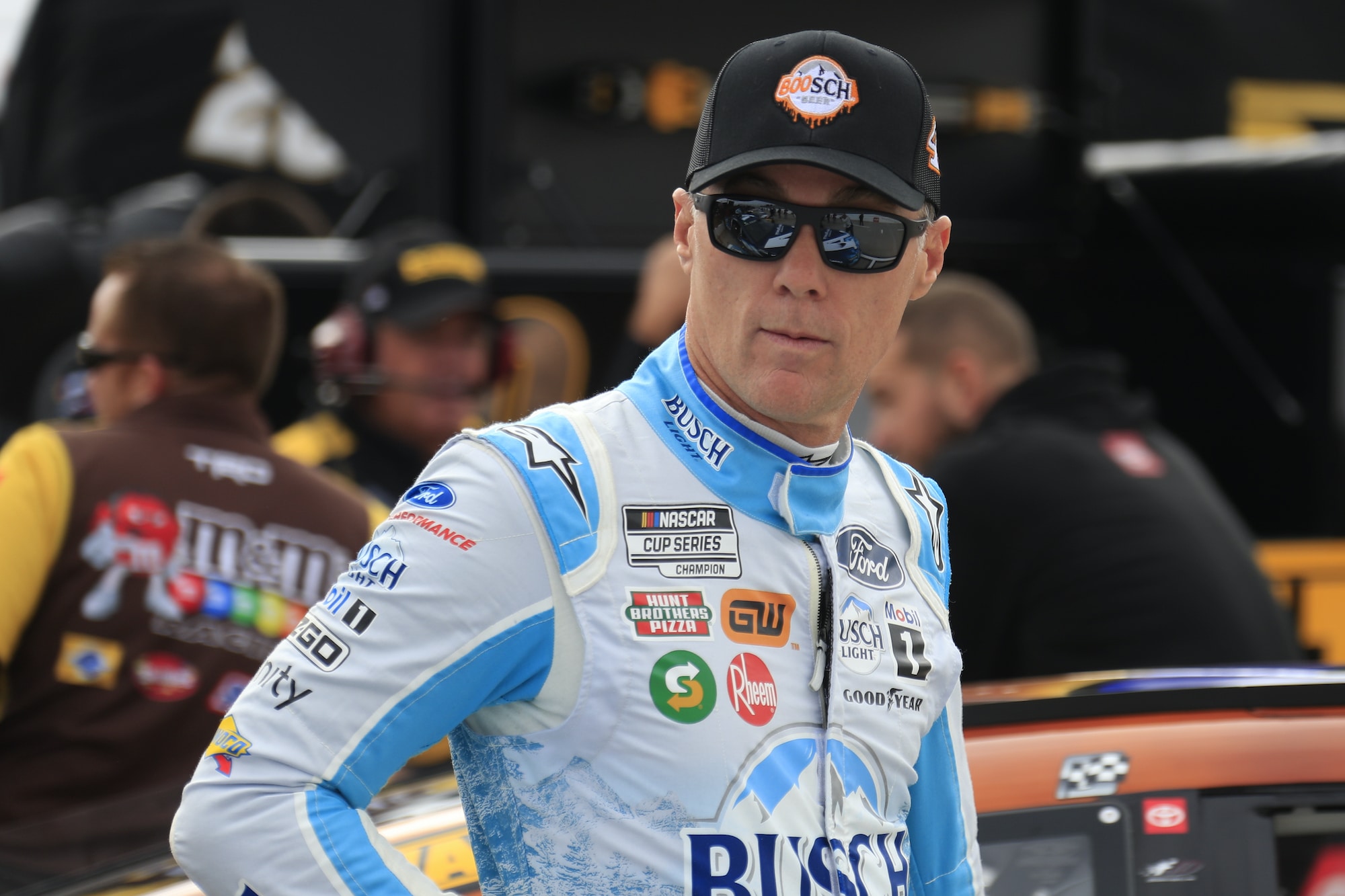 Kevin Harvick's Curious Twitter Response Makes Fans Wonder If He's Seriously Considering Racing in Another Series Outside of NASCAR in 2023
Kevin Harvick curiously replied to a tweet this week that made fans wonder if he's thinking about racing in a series outside of NASCAR in 2023.
Kevin Harvick doesn't have anything left to prove in NASCAR. His impressive resume built over 22 seasons includes 60 wins, a Daytona 500 victory (2007), and the 2014 championship. At 47, no one would be surprised or blame him if the Stewart-Haas Racing driver walks away from the race track after the 2023 season.
This week on Twitter, the future first-ballot Hall of Famer found himself brought into a conversation about an upcoming SRX race in 2023. The driver could have ignored the tweet. He didn't. And his response ramped up speculation about his potential participation in the race this summer.
Kevin Harvick potentially leaving after 2023
Kevin Harvick and his fans will have good memories of 2022. Not only did he end his 65-race winless streak, but he did it emphatically, winning back-to-back races at Michigan and Richmond. Advancing to the playoffs was an improvement over the year before, but, unfortunately, that's where it ended. Any hopes of a deep run into the postseason went up in smoke when his car caught on fire at Darlington. 
On a completely different front off the track, Harvick showed his veteran leadership when he was outspoken about safety concerns with the new Next Gen car on multiple occasions. 
Harvick found his name in the headlines later in the season when team co-owner Gene Haas casually mentioned on pit road before the Las Vegas race that the driver had indicated he wasn't returning after 2023.  
Harvick responds to invite for racing with SRX
Since the close of the 2022 campaign, Harvick has been busy this offseason working with his son Keelan on his own racing career, which is happening across the pond in Europe. This week, the pilot of the No. 4 was called out on Twitter by Stafford Speedway, inviting him to race at the track during the SRX event in July. 
"Hey @KevinHarvick, thursday before @NHM… let's make it happen," the track tweeted. 
"Hmmm seems convenient," the driver replied. 
The SRX event at Stafford happens three days before the Cup Series race. It certainly would be convenient. His SHR co-owner Tony Stewart also co-owns SRX. Even more stars aligning.
What does he do after retiring from NASCAR?
Harvick racing at Stafford seems like a real possibility. It begs the question — could this be his future behind the wheel if he does decide to finally wrap up his NASCAR career? He's recently talked about late-model racing on social media. He recently tested a car.
It doesn't seem too far out to think if Harvick does retire after 2023 or even the year after, he might pursue racing SRX or another late model series, similar to what Dale Earnhardt Jr. has done in the last year. 
Another option for Harvick, which would also be following in Earnhardt's footsteps, is if he made his way up into the broadcast booth. He's worked multiple drivers-only Xfinity Series broadcasts with Fox in the last few years and has done well. 
If he wants it, there's likely a job waiting for him after 2023. Fox has announced it will be going with the same rotational lineup for analysts as it did in 2022. That would leave a spot for Harvick if he were so inclined to choose it.
Time will tell what he chooses. In either case, he'll still be near his "Happy" place.