Kevin Harvick Blasting NASCAR on Multiple Occasions in 2022 Made a Difference, According to New Report
Kevin Harvick fans will remember the 2022 Cup Series season for the driver ending his 65-race winless streak at Michigan and backing it up a week later with another trip to Victory Lane at Richmond. The larger fan base and drivers will remember those pair of triumphs and something else more significant — his voice. 
The future NASCAR Hall of Famer stepped forward and was a powerful voice for the drivers, often publicly criticizing the sanctioning body over various concerns with the Next Gen car. This week, president Steve Phelps offered a review of the past season and made it perfectly clear that the Stewart-Haas Racing driver's words made an impact. 
Kevin Harvick critical of Next Gen car before its debut
Kevin Harvick was outspoken in 2021 about safety concerns with the Next Gen car long before it made official laps. In August of this year and just a few weeks after Kurt Busch was sidelined due to a concussion from an accident at Pocono during qualifying, the 2014 champ, who had suffered a couple of big hits of his own at Fontana and Gateway, spoke out about the issue of driver safety and NASCAR's handling of it. 
"I think when you look at the things that happened with the accidents, I think these are the exact concerns that the drivers had from the very first day we saw the car," Harvick told Racer.com at Indianapolis. "There hasn't been a lot of progression other than we changed some of the rear clip stuff; we changed some of the impact stuff. But these cars don't crash like the other cars crash.
"They're violent impacts, and they feel a lot different than what the crash data g-load is. It goes straight through the driver's body. I don't think anybody really understands, except for the drivers that have crashed into something, the violence that comes in the car."
Harvick candidly offered that NASCAR had been reactive instead of proactive with the situation. 
"There's not an easy fix, but it needs to be a much higher priority than what it is right now," he said. "I know that safety is always a priority, and we've done a good job at that, but from the get-go, everybody could see this car was way too stiff. When I crashed it at Fontana, I thought the car was destroyed, and it barely backed the bumper off, and it just felt like somebody hit you with a hammer."
Rips NASCAR after car catches fire at Darlington
Just a few weeks later at Darlington, after his car inexplicably caught fire in the first race of the playoffs, the SHR driver was understandably unhappy.
"I'm sure it's just the crappy parts on the race car like we've seen so many times," Harvick told NBC's Marty Snider. "We haven't fixed anything. It's kind of like the safety stuff. We just let it keep going. The car started burning, and as it burned, the flames started coming through the dash, and I ran a couple of laps. And then, as the flame got bigger and then it started burning stuff up. 
"I think right there you see all the brake fluid that was probably coming out of the brakes. It burned the brake line. But the fire was coming through the dash. What a disaster, man. For no reason. We didn't touch the wall. We didn't touch a car and here we are in the pits with a burned up car and can't finish the race during the playoffs because of crappy-ass parts."
NASCAR president says Harvick is needed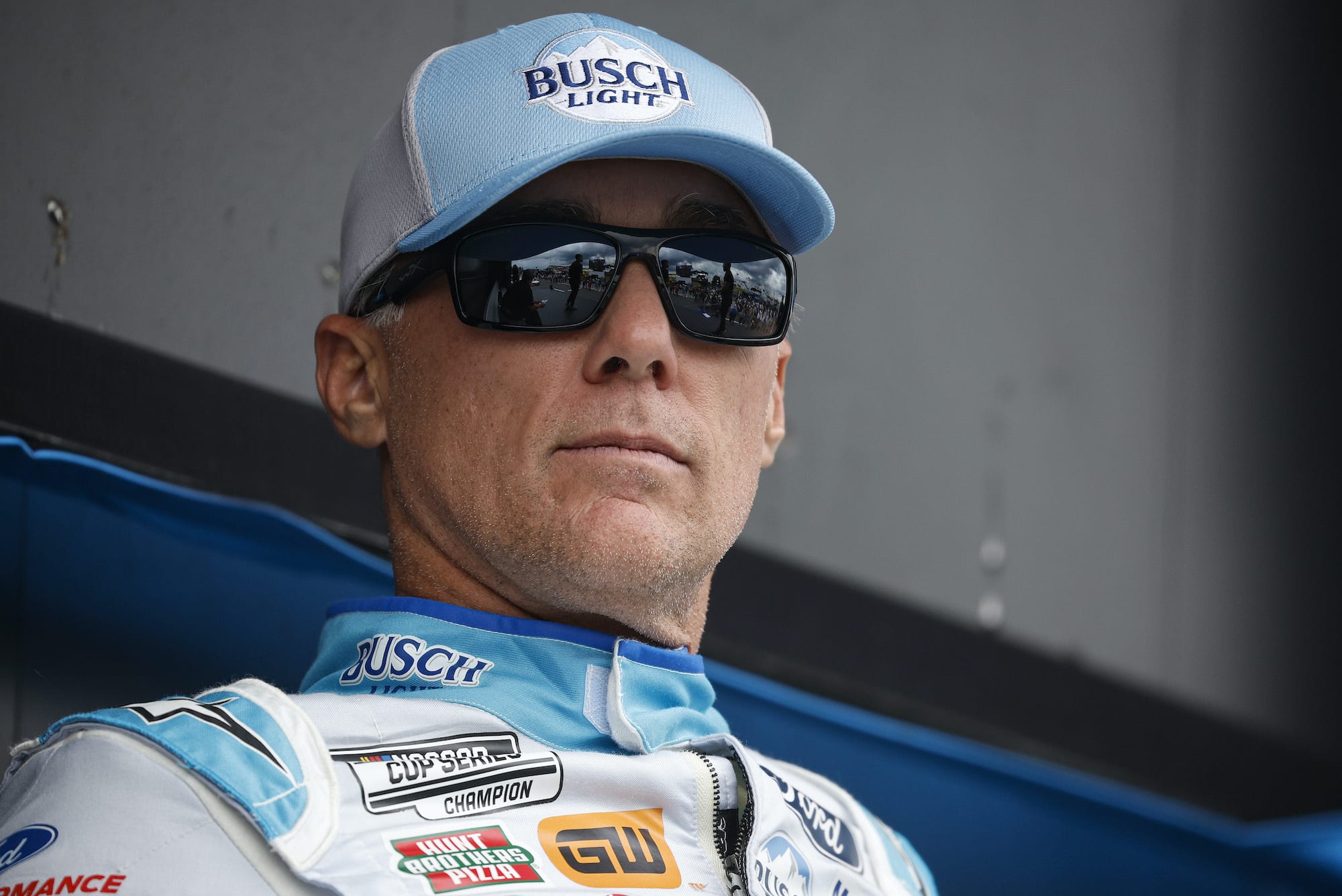 Not long after Harvick's nationally televised remarks, NASCAR's Senior Vice President of Competition Scott Miller appeared on SiriusXM NASCAR Radio and addressed the comments, suggesting "it's not just NASCAR choosing 'crappy' parts."
In other words, NASCAR had heard the 47-year-old driver loud and clear. This week, president Steve Phelps admitted as much in an interview with The Athletic. When asked about the best advice or feedback received from a driver this year, Phelps pointed to the veteran.  
"It was probably Kevin Harvick," Phelps said. "Kevin gave me his opinion about where the broader driver core is. That was really helpful to hear for me. He's taken on a more active role and kind of a mentor role, which I think is needed."
The president said there was no specific advice from the driver, but acknowledged that they had developed a stronger line of communication, and it really formed over the last four or five races of the season. 
That timeline coincides with when the governing body began holding all-drivers' meetings before races in an effort to address the concerns that Harvick and others had expressed for months. There's no doubt Harvick's outspokenness played a role in NASCAR holding the meetings.
Fans and drivers can hope that that line of communication with Phelps remains open in 2023 and, more importantly, that the organization is quicker to respond to any feedback than it did in 2022.