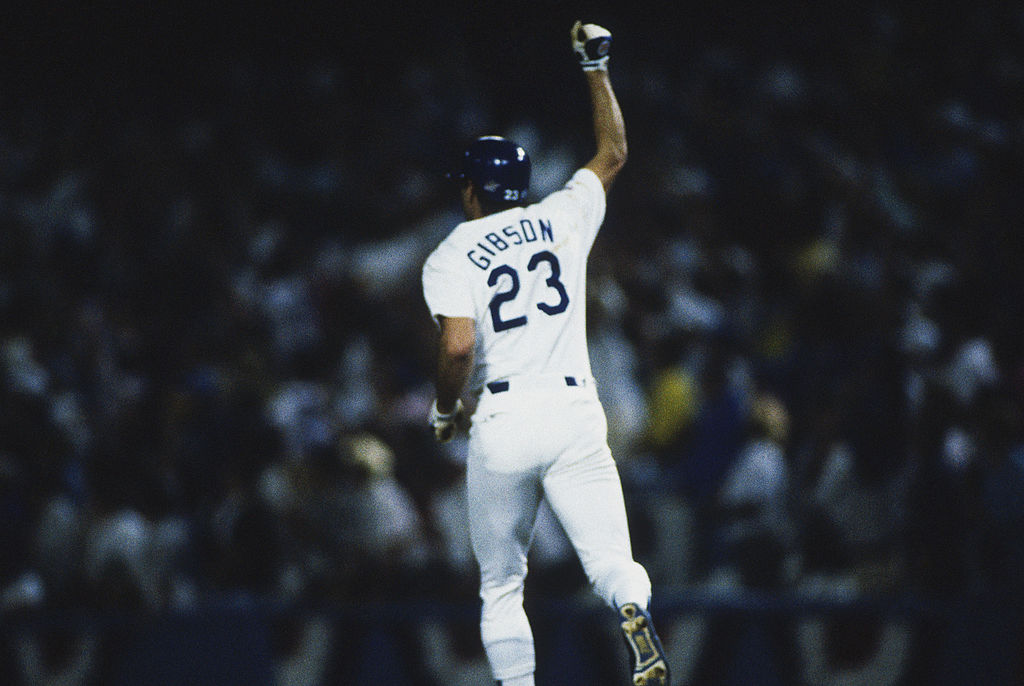 Kirk Gibson Battling His Toughest Opponent yet in Parkinson's Disease
Former Tigers and Dodgers player Kirk Gibson is facing his toughest opponent yet as he battles Parskinson's disease.
Kirk Gibson will always be remembered for smacking his game-winning home run for the Los Angeles Dodgers in the 1988 World Series. Gibson, pinch-hitting because of injuries to both of his knees, hit his homer off Oakland Athletics reliever Dennick Eckersley. Gibson limped around the bases in one of the most memorable highlights in Major League Baseball history.
Kirk Gibson's MLB career
Kirk Gibson played 17 seasons in the big leagues, most of them coming with the Detroit Tigers, the team that drafted him in the first round of the 1978 MLB draft. Gibson spent the first nine seasons with the Tigers. The highlight of his time in Detroit was winning the 1984 World Series against the San Diego Padres.
His best season with the Tigers came the following season when he hit 29 home runs and drove in 97 runs. He finished with a batting average of .287. In 1988, Gibson signed with the Los Angeles Dodgers as a free agent and made an immediate impact.
Gibson helped guide the Dodgers to the World Series, but was also named the league's Most Valuable Player in a controversial decision. Gibson finished the year with 25 home runs, 76 RBIs and hit .290, not the typical numbers for an MVP. Runner up Darryl Strawberry hit 39 home runs and drove in 101 runs. Voters apparently sided with leadership over statistics in the race for MVP.
Gibson diagnosed with Parkinson's
In April of 2015, Kirk Gibson announced he had been diagnosed with Parkinson's disease. He said through his baseball career and his life that he had faced many obstacles and he met them head-on. In a statement released back in 2015, he said he would treat the challenge of dealing with Parkinson's the same as those other obstacles.
"I have faced many different obstacles in my life, and have always maintained a strong belief that no matter the circumstances, I could overcome those obstacles," Gibson said. "While this diagnosis poses a new kind of challenge for me, I intend to stay true to my beliefs. With the support of my family and friends, I will meet this challenge with the same determination and unwavering intensity that I have displayed in all of my endeavors in life. I look forward to being back at the ballpark as soon as possible."
Parkinson's disease is a brain disorder that leads to shaking, stiffness, and difficulty with walking, balance, and coordination. Parkinson's symptoms usually begin gradually and get worse over time. As the disease progresses, people may have difficulty walking and talking. They may also have mental and behavioral changes, sleep problems, depression, memory difficulties, and fatigue. There is no known cure.
Gibson still a fighter
Since his diagnosis back in 2015, Kirk Gibson has slowed down a bit, but he's still determined to make a difference by raising awareness about the disease through the Kirk Gibson Foundation. His ultimate goal is to find a cure.
In 2019, he announced that The Kirk Gibson Foundation for Parkinson's is partnering on a year-long campaign with the Michigan Parkinson Foundation and Blue Cross Blue Shield of Michigan to increase awareness of the disease and fund clinical research.  "If you want to win the World Series, whatever that may be in your life, it's not going to happen by yourself," he said.
Gibson said when he was first diagnosed, he was shocked and scared. "It was crushing," Gibson said. "I thought I was going to die, I just didn't know how long it was going to take." He said now that he knows what he's up against, he can better prepare for it. "If you know what you're up against, you can design a plan of attack," he said.
He's been doing his research and through his foundation, he's been able to raise awareness in order to help others. He said he gets a lot of satisfaction giving back to others. "It's more rewarding to give back than it is to take, in my view," Gibson said. "If I can help one person, I just feel better doing that."