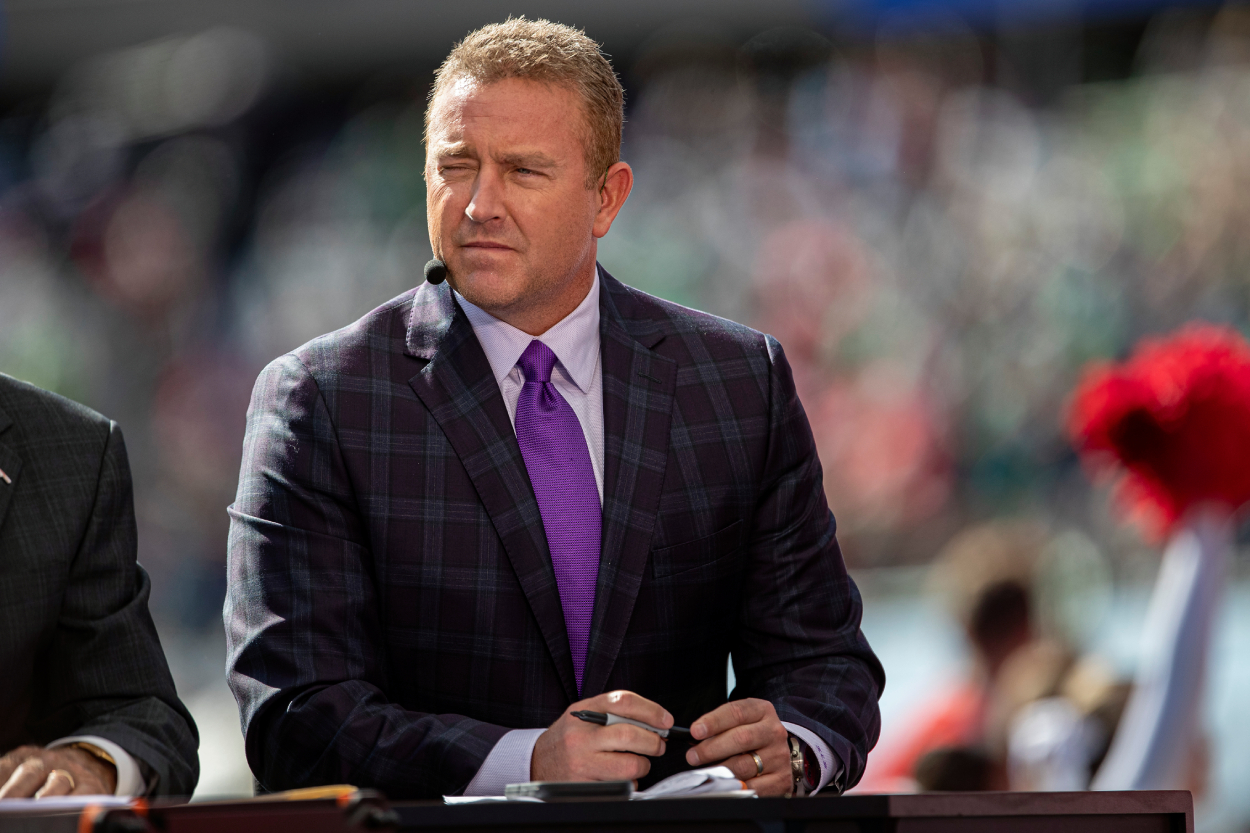 Kirk Herbstreit Leaves Fans Pissed With Ridiculous Tweet That's Dangerous for College Football: 'What's the Next Conspiracy Theory?'
In light of the final CFP rankings coming out, ESPN's Kirk Herbstreit recently pissed off fans everywhere with a ridiculous tweet that's dangerous for college football.
Kirk Herbstreit is known for giving insightful college football analysis on ESPN. He has not only become a successful TV personality, but he's also a great in-booth commentator.
However (now that we got some compliments out of the way), Herbstreit recently made himself look ridiculous with a tweet he clearly didn't put enough thought into before sending out into the Twitter universe. The post didn't just leave a plethora of fans pissed off, but it's also dangerous for college football.
Kirk Herbstreit posted a tweet aimed at Group of Five college football fans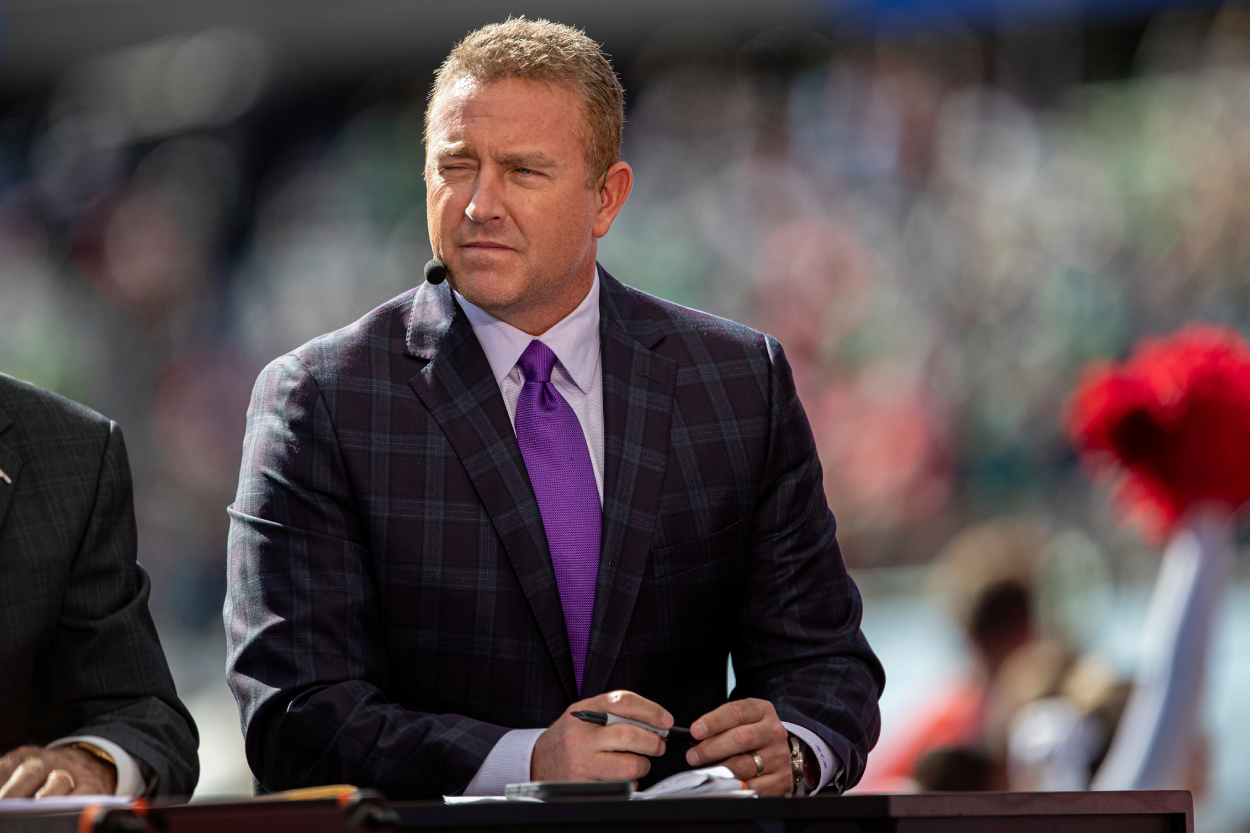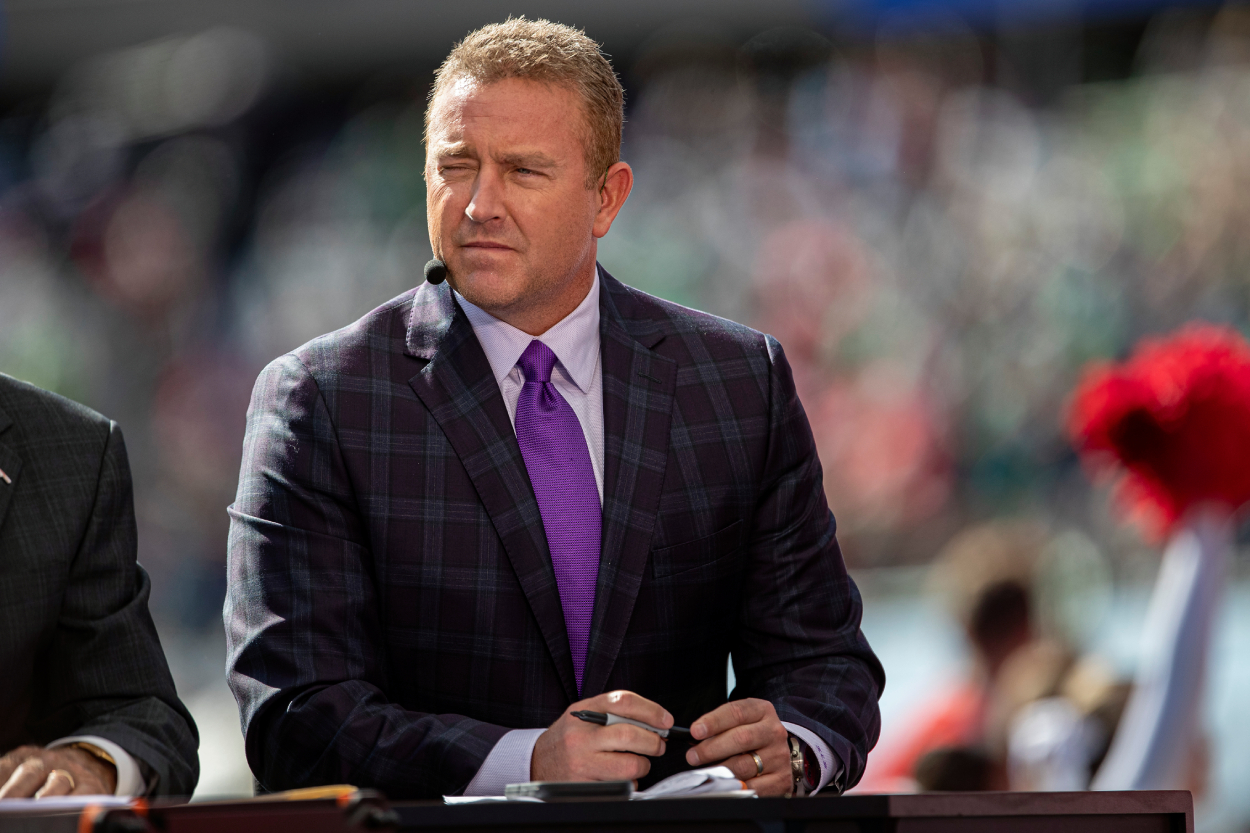 For the first time since its inception, the College Football Playoff finally has a Group of Five school competing for a national title: the Cincinnati Bearcats.
Cincy ranked No. 4 in the final rankings and will play the Alabama Crimson Tide in the CFP semifinals.
However, it took a lot for Luke Fickell's Bearcats to make the playoff.
They not only went undefeated during the 2020 regular season and nearly beat Georgia in the Peach Bowl, only losing 24-21, but they also went 13-0 this year and beat Notre Dame on the road, a Fighting Irish team that ranked No. 5 in the final CFP rankings.
But that's not all that had to happen.
The ACC and Big 12 were both down this year, with both conferences having two-loss champions. Typical powers like Clemson and Ohio State were also not as dominant this season, and the Pac-12 didn't have a school with fewer than three losses.
All of that had to come together for Cincinnati to get into the CFP.
To Kirk Herbstreit, though, that doesn't matter. A Group of Five school is finally in the CFP.
"After SEVEN years of b******* and complaining from a vocal minority that the CFP system is rigged and the 'small guy' will NEVER GET A CHANCE-haven't heard much from ya last couple days," he tweeted. "Everything okay? What's the next conspiracy theory?? Can't wait! Cause that one is history."
His post left fans pissed off
As expected, Herbstreit's tweet irked college football fans (and journalists) across the country.
"If that's aimed at me my friend? You're sadly mistaken," Fox Sports commentator Tim Brando tweeted. "I'm right here! I'm pleased they're in, but don't trot out the CFP pablum without thinking you won't get pushback here. Pretty sure my voice represents a strong number that have been forgotten in CFB's exclusionary practices!"
USA Today writer Andrew Joseph also posted: "If it took seven years, seems pretty rigged. Why are you doubling down on that disingenuous take?"
Another fan also replied, saying a perfect storm had to happen for Cincy to get in, to which Herbstreit replied, "Im sorry only part I read was for 'Cincy to get in'"
Twitter, though, wasn't the only platform where fans voiced their frustration.
"Cincy doesn't get over a 1 loss ND except they happened to play [them]," a Reddit user posted. "They don't get in over any other 1 loss P5 team, champ or not. This was the perfect storm for Cincy and won't likely happen again anytime soon."
Reddit's verified college football Twitter account also even referenced an episode from The Office when trolling Herbie.
"The CFP/ESPN being forced to let Cincinnati in and then bragging about how fair the system is has some very strong Scott's Tots vibes," the account posted, referring to the fact that the CFP has a contract with ESPN.
Of course, some fans agree with Herbstreit. He has over 7,000 likes on the tweet. But all in all, his post is dangerous for college football.
Kirk Herbstreit's tweet is dangerous for college football
As mentioned earlier, Cincinnati had to have a perfect storm to get into the CFP. The Bearcats went undefeated in two consecutive regular seasons and nearly beat Georgia (a 2021 CFP team) in the Peach Bowl last year. They also unknowingly scheduled a top-five team in Notre Dame this season, beat them, and then saw three Power Five champs lose two or more games.
But because a Group of Five school finally made the playoff, it's now time to accept that the CFP isn't rigged? No. That's dangerous. If all this had to happen for a small school to get a chance, it's likely that a Group of Five program will never get this opportunity again (unless we see expansion).
What about the 2017 and 2018 Central Florida teams? UCF finished No. 12 in the 2017 CFP rankings despite going 12-0. The Knights then beat Auburn, an SEC team, in the Peach Bowl that year. However, despite showing they could compete with the big dogs, they still only finished No. 8 in 2018 after going 12-0 again.
How is that fair at all?
The CFP has proven time and time again that it favors big programs, especially since it has a representative from each Power Five conference on its selection committee. Just because Cincinnati made it this year doesn't mean there aren't deep-rooted issues within the process.
All in all, Herbstreit's tweet didn't help anything whatsoever. Instead, it just encouraged inequitable and biased behavior, which could result in more of the same practices taking place in future seasons.
We will likely just see rich programs continue getting richer.
Stats courtesy of Sports Reference