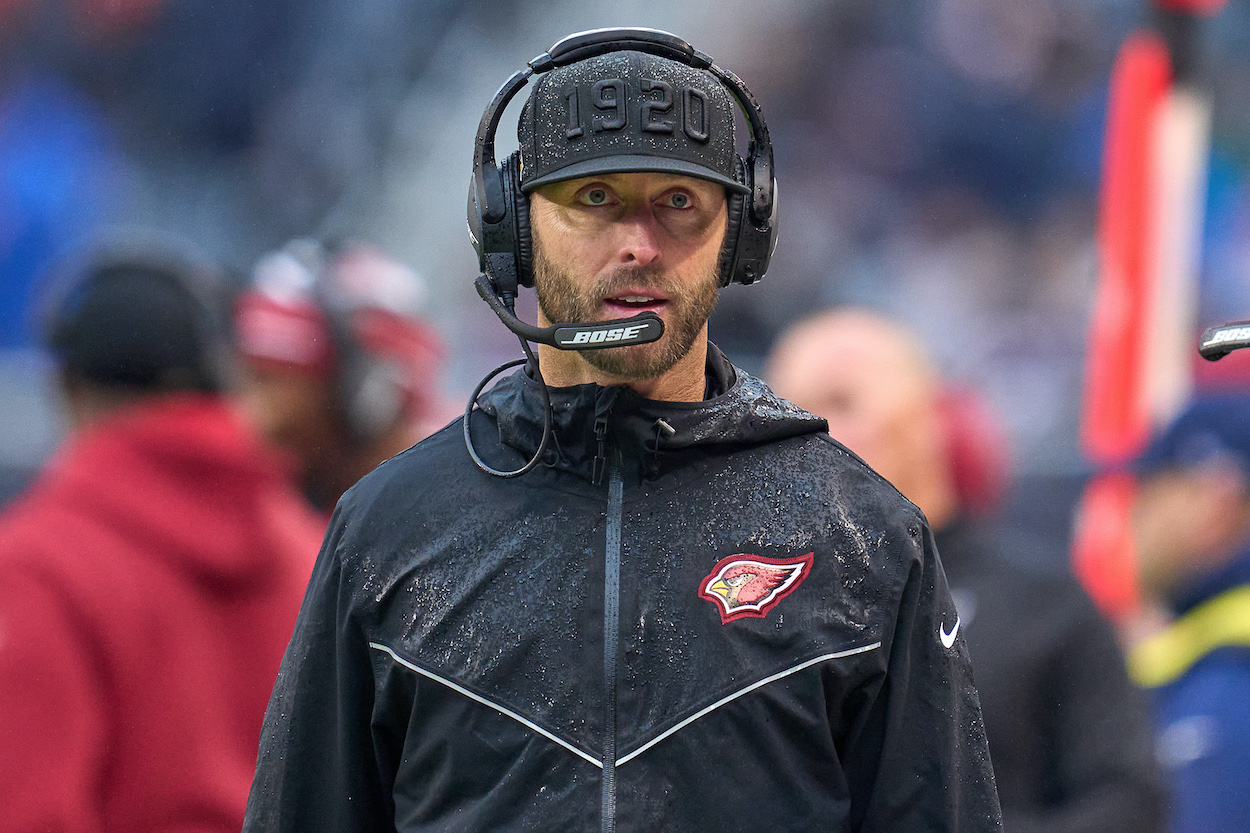 Kliff Kingsbury Could Be in for a $20 Million Payday Thanks to Lincoln Riley and the Arizona Cardinals' Procrastination: 'These Guys Have a Leverage That They Didn't Have Literally 1 or 2 Weeks Ago'
Arizona Cardinals head coach Kliff Kingsbury may be the first NFL coach to benefit from the new financial reality brought on by Lincoln Riley, Brian Kelly, and the college football coaching carousel.
For some reason, no one seems to want to admit it, but through 13 weeks of the NFL season, the Arizona Cardinals are the best team in football. The team's once on-the-hot-seat head coach, Kliff Kingsbury, has his team at 10-2 and in first place in the top-heavy NFC.
The former Texas Tech head coach only has one more year on his deal. With colleges shelling out massive contracts to hot head coaches, the more Kingsbury wins, the bigger check Cardinals owner Michael Bidwill is going to have to write this offseason.
College coaches are getting paid
In the past, one of the biggest reasons that top coaches were drawn to the NFL was the big paycheck. Three pro head coaches — Bill Belichick ($12.5 million), Pete Carroll ($11M), Sean Payton ($9.8M0 — will make more this season than the highest-paid college coach, Alabama's Nick Saban, per NBC Sports and USA Today.
Also, the No. 10 highest-paid NFL coach (Ron Rivera, $7M) makes about as much as the (former) fifth-highest-paid coach in college, then-Oklahoma headman Lincoln Riley.
However, this dynamic is rapidly changing.
The college football coach arms race kicked into high gear this week with Riley accepting a currently unknown (but widely regarded as massive) new deal with USC and Brian Kelly getting $95 million for 10 years ($100M+ with bonuses) from LSU.
Oregon's Mario Cristobal is the next in line. He is now jumping to Miami for what will assuredly be a huge raise as well.
Michigan State even had to give second-year coach Mel Tucker a 10-year, $95 million deal to keep him away from the schools above. Or, the jobs these coaches vacated at deep-pocketed Oklahoma, Notre Dame, and the University of Nike in Eugene.  
There is a new financial reality in football in the United States. And the NFL will have to up their going rate for top head coaches to keep up.
The first coach who may cash in on this new reality is Arizona Cardinals head coach Kliff Kingsbury.
Kliff Kingsbury is in the last year of his deal, and the Arizona Cardinals failure to act could cost them a lot of money
Leading into the 2021 NFL season, the Arizona Cardinals' Kliff Kingsbury had the fifth-best odds to be the first coach fired at 12/1.
Now, he is the first NFL coach to guide his team to double-digit wins. And he is doing it with his hand-picked No. 1 overall draft pick at QB in Kyler Murray.
Kingsbury's first head coaching gig was at Texas Tech, where he posted a 35-40 regular-season record and was 1-2 in bowl games. His alma mater fired him after six seasons, and the former Red Raiders QB took a job as USC's offensive coordinator.
He never actually coached a game as part of the Trojans, though. The Cardinals hired him as their head man that same offseason and signed him to a four-year deal.
That deal is up in 2022. Now, the Cardinals might regret not re-upping Kingsbury sooner as the NFL's financial landscape is changing.
On the FOX NFL Sunday pregame show, NFL insider Jay Glazer reported on how the college coaching carousel is affecting the national football coaching market:
It sent shockwaves throughout college football. … It sent bigger shockwaves throughout the NFL because there's only a handful of coaches who make over $10 million. So these guys — all of the sudden — have a leverage that they didn't have literally one or two weeks ago. This was a huge topic of conversation inside league circles this week. So much so that when I talked to some GMs and owners and even coaches about this, they said, in order for these coaches to not get lured away to college, NFL head coach's salaries could double or even triple, up to the $20 million range within the next year or two.

Jay Glazer on coaching salaries
Could Kliff Kingsbury be football's first $20 million-a-year coach?
Cardinals owner Michael Bidwill could be in big trouble if Kingsbury's team keeps winning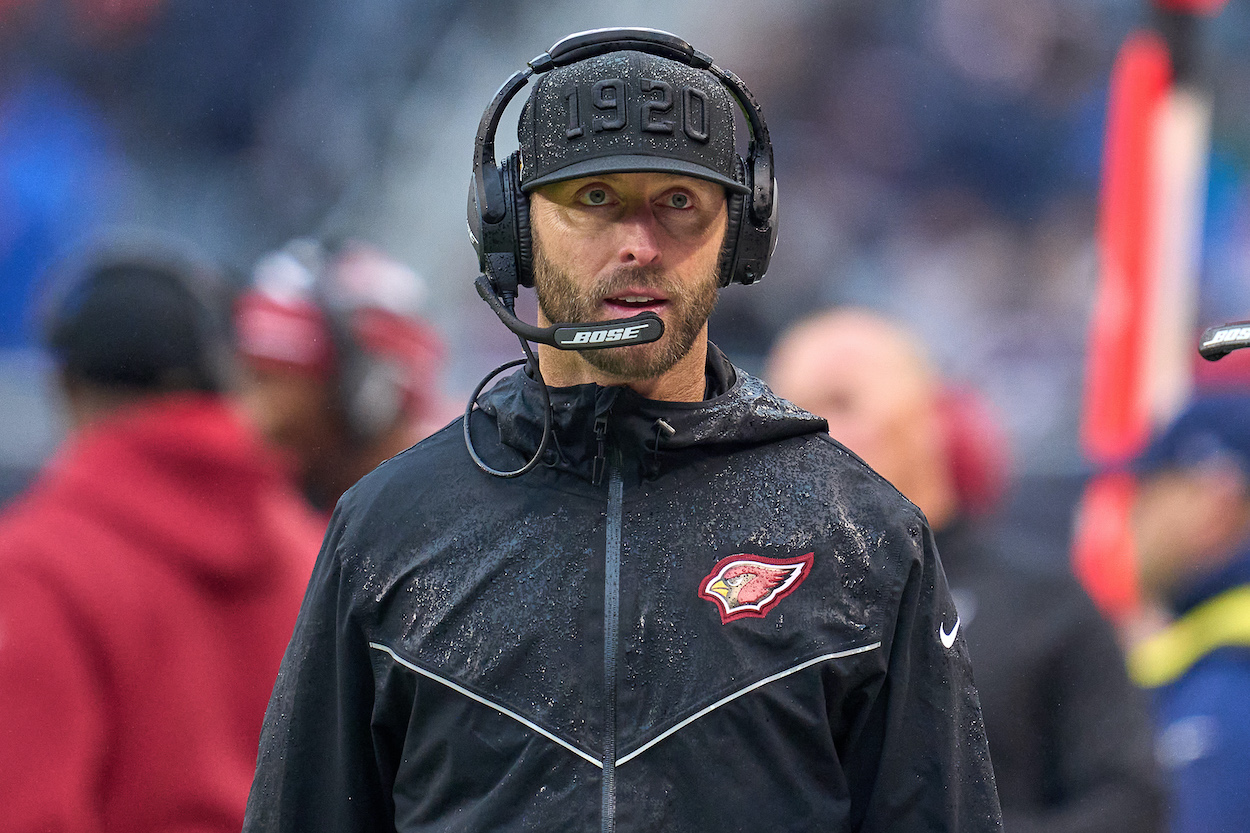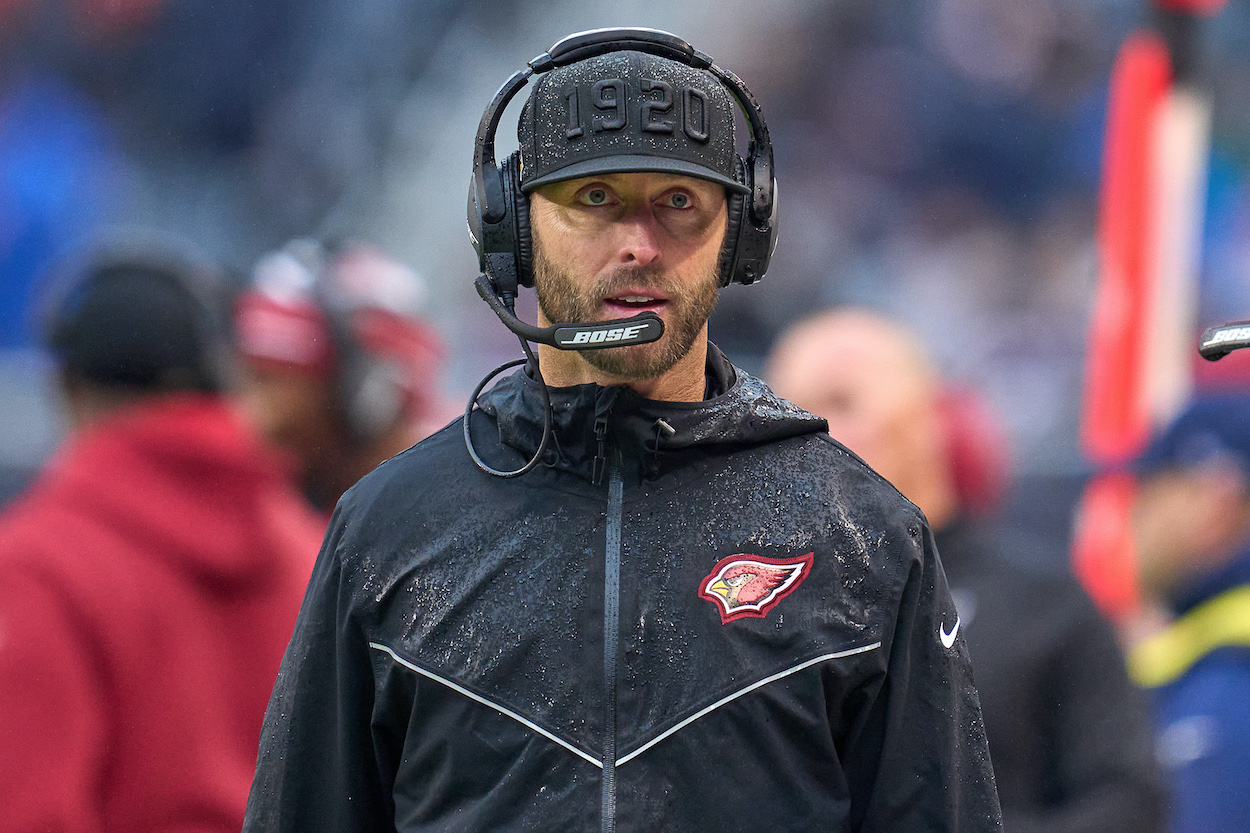 The longer Kliff Kingsbury and the Arizona Cardinals keep winning, the higher Kingsbury's contract extension number will climb.
There are already plenty of unsubstantiated Twitter rumors that the third-year NFL coach is at the top of the Wish List for Oklahoma and Notre Dame. Now, with the recent departure of Mario Cristobal, it shouldn't be a surprise if the Oregon Ducks start throwing Kingsbury's name around as well.
Also, if Kingsbury wins the NFC, makes it far in the playoffs, or even reaches or wins a Super Bowl, he could be linked with plenty of NFL jobs that could be available after next season.
These hypothetical job openings could include deep-pocketed, big-market, traditional NFL powers. The Dallas Cowboys, New York Giants, Seattle Seahawks, or San Francisco 49ers could be on this list.
To stop this from happening, the longtime Cardinals owners, the Bidwill Family (now led by former federal prosecutor Michael Bidwill), will have to pony up a big chunk of change and likely make Kingsbury the highest-paid coach in the league, surpassing Bill Belichick's $12.5 million salary.
Adding financial insult to injury, the co-architect of the Cardinals 2021 success — general manager Steve Keim — is also only under contract through 2022. Like Kingsbury, if the team's success continues, Keim could also become one of the highest-paid people in his job.
A lot of these future dollar figures depend on the final outcome of the Cardinals season. So, you never know what could happen.
That said, at 10-2 and sneakily the best team in the league, Kingsbury and Keim's accountants are probably feeling pretty good right now.
All stats courtesy of Pro Football Reference