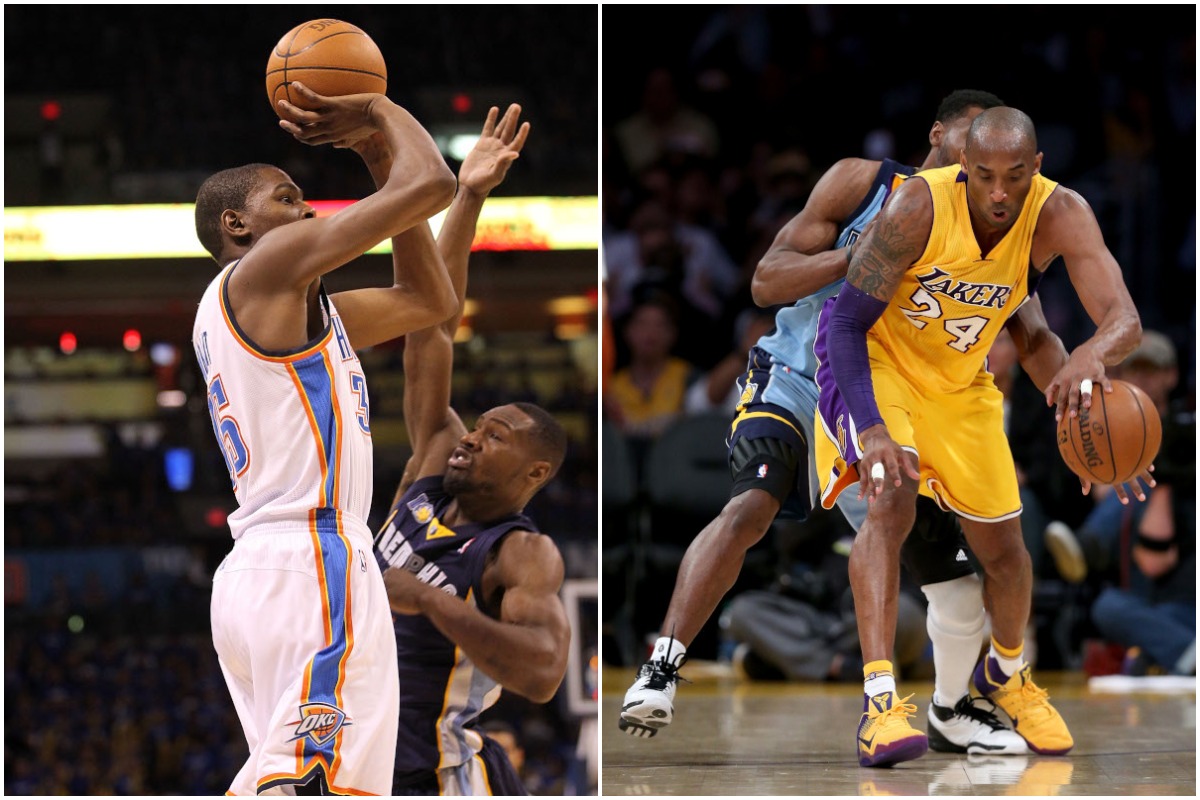 Kobe Bryant and Kevin Durant Both Said the Toughest Defender They Ever Faced Was the Same Grinding Guard
Tony Allen will likely never be inducted into the Hall of Fame. He was never an All-Star. But two legends of the game, Kevin Durant and the late Kobe Bryant, both named Allen as the defender they least liked to face.
The late Kobe Bryant is one of the top scorers in NBA history, ranking fourth on the all-time scoring list with 33,643 points. Still an active player, Kevin Durant is climbing that list with nearly 24,000 points in his career. Durant is in the all-time top five, with his average of 27.0 points per game. Bryant was a no-doubt Hall of Famer, and Durant will be as soon as he's eligible for induction.
They were pretty different as players. Bryant was a 6-foot-6 shooting guard who attacked the basket as a young player before evolving into more of a jump-shooting threat later in his career. Durant, who refuses to be called a 7-footer, came into the league with the silky-smooth J and added an aggressive streak as a driver as he matured.
But despite the physical differences, Kobe Bryant and Kevin Durant were united on one point. They each named the same player as the most challenging defender they faced.
There wasn't much Kobe Bryant didn't accomplish
Kobe Bryant played 20 NBA seasons from 1996–2016. He was the NBA's MVP in 2007–08, won two NBA Finals MVP awards, was on five NBA champions, made 12 All-Defensive teams, and was a 15-time All-NBA performer. He also led the NBA in scoring twice, so he often faced opponents' best perimeter defenders.
His signature game came in January 2006, when he lit up the Toronto Raptors for 81 points. That is second in NBA history behind only Wilt Chamberlain's iconic 100-point game from 1962.
Fortunately for Kobe, he didn't have to beat one particular player to get those 81 points. During his final NBA season, the late Lakers legend disclosed who gave him the most challenging time. Bryant was impressed enough to give Tony Allen a parting gift.
The autographed pair of sneakers read: "To Tony, the best defender I ever faced!"
Tony Allen fashioned a long NBA career with his defense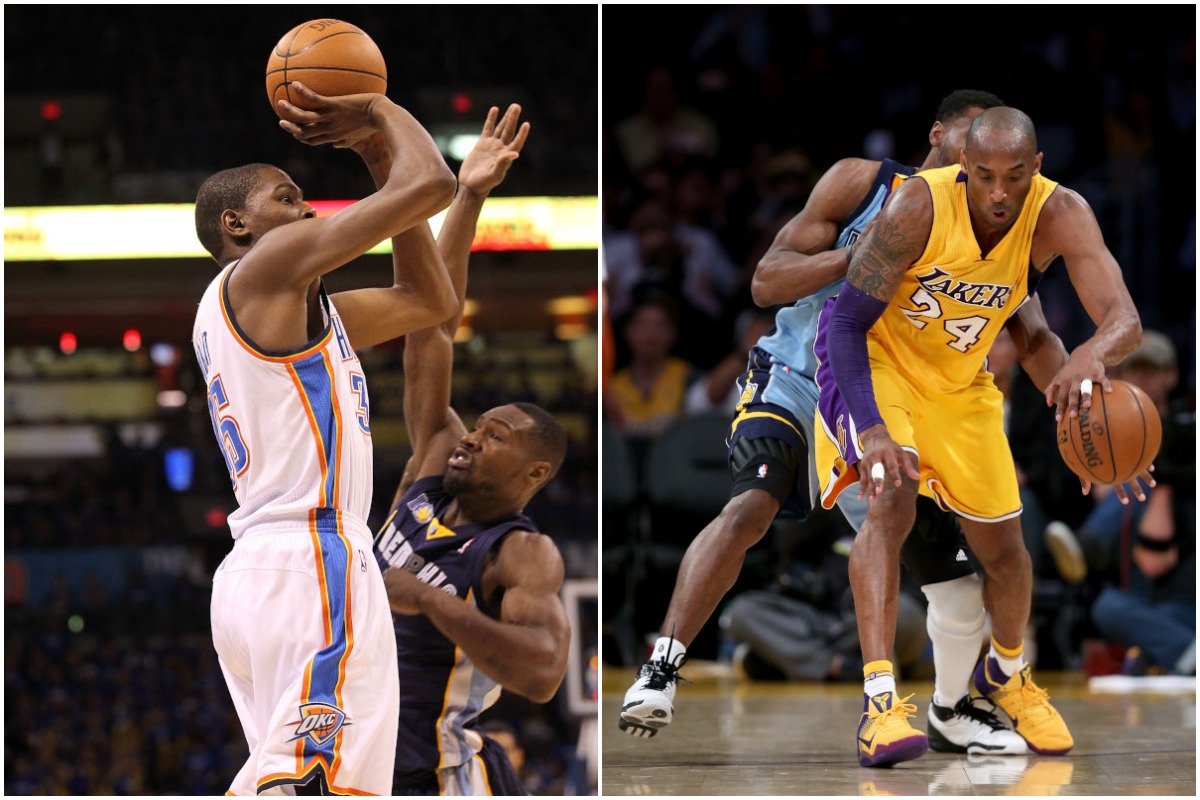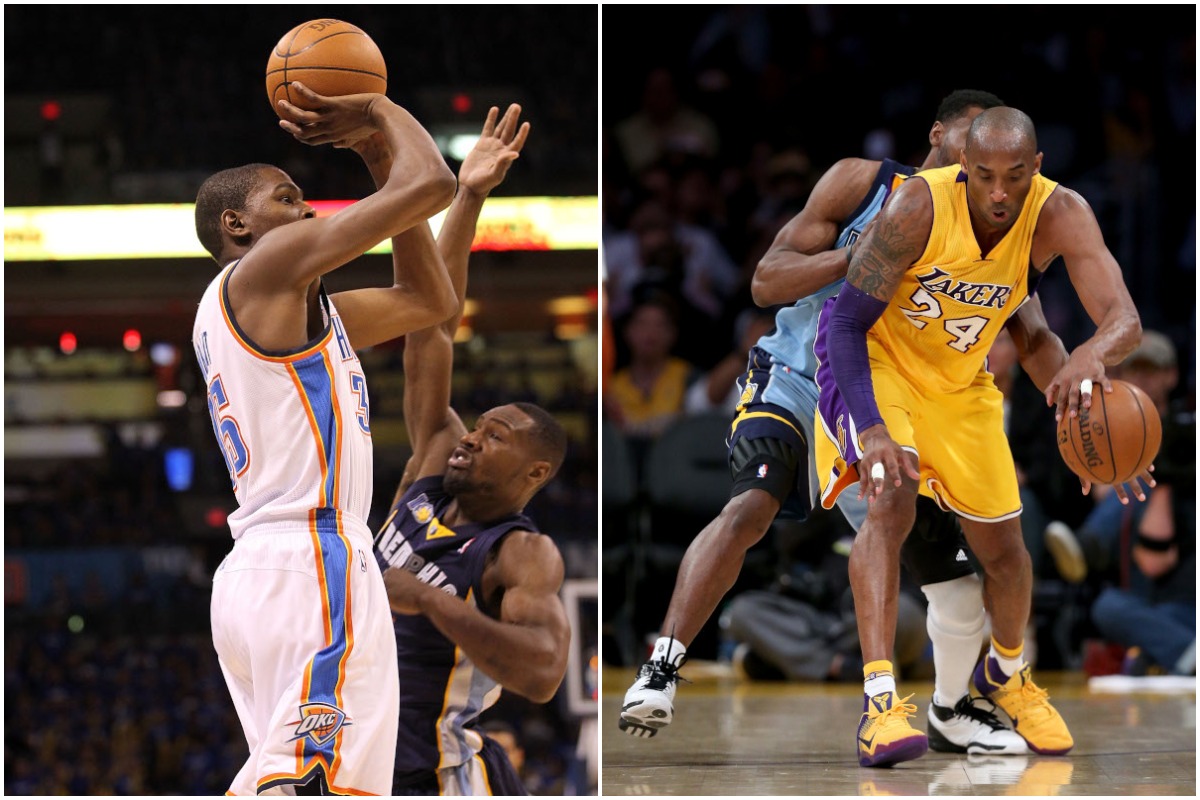 A late first-round draft pick by the Boston Celtics in 2004, Tony Allen was a player on the rise with the Celtics in 2006–07 before his second significant knee injury in as many years knocked him off the rails. He did come back to earn a championship ring against Kobe Bryant and the Lakers in 2008. But the seven years he spent with the Memphis Grizzlies defined Allen's career.
Allen didn't just embody the Grit-'n'-Grind Grizzlies mentality; he coined the term. The fact it came about while blasting a teammate faded into history. Upset with a teammate missing a game with what Allen thought was a minor injury, he put Rudy Gay on blast during a post-game interview, as he told Mass Live in 2017.
"I was so upset with Rudy for not playing … I end up having 27 points, eight rebounds, and like five steals. Mind you, I hadn't played in 22-some-odd games, and this is to let you know how in shape I was. Durant had like 35, but they lost. When they gave me my interview, the first thing I said was, 'It's just all heart. Grit and grind.'

"That's how that phrase blossomed in Memphis. I was still upset. That was really a jab at Rudy Gay. But he's my man today; I've forgiven him for that. But yeah, that's where it started at in Memphis."

Tony Allen
Kobe Bryant wasn't the only superstar enthralled with Allen's defense. Kevin Durant fought against it for years, as well.
Allen's work did not go unnoticed. He was an All-Defensive selection six times in seven seasons with the Grizzlies, including three first-team nods. Allen played a final season with the New Orleans Pelicans in 2017–18.
Kevin Durant struck by Allen's disruptive effect
While Kevin Durant was with the Oklahoma City Thunder, he locked horns with Tony Allen 24 times in the regular season and another 19 in the playoffs. Durant is a career 49.4% shooter with a 38.4% mark from 3-point range.
The Allen effect was noticeable. In the regular season, Durant shot 47.9% against Allen and only 33.1% from deep. But in the playoffs, those percentages were 43.8% and 33.3%, respectively.
During an appearance on the Knuckleheads podcast in 2019, Durant clarified that while Trevor Ariza and P.J. Tucker were the best defenders against him at the time, he had a different choice overall.
"Tony Allen from Chicago!"

Kevin Durant
Allen will likely never reach the Hall of Fame. He was never an All-Star, and he averaged double-digit points just once in 14 seasons.
But when two all-time great scorers like Kobe Bryant and Kevin Durant name you as the best defender they ever faced, your legacy is secure.
Statistics courtesy of Basketball-Reference.