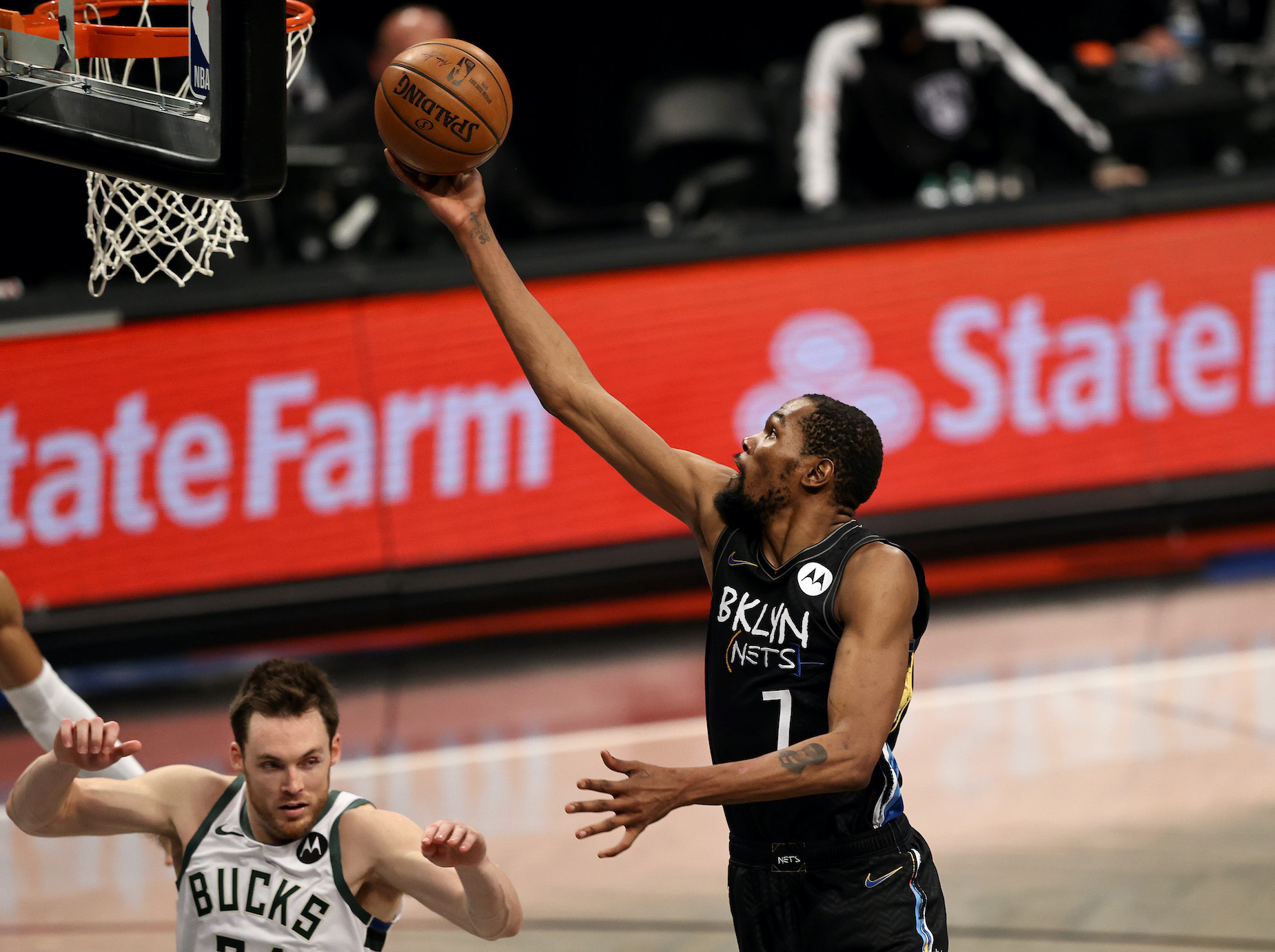 Kevin Durant Asked Basketball Fans to Leave Him Out of the GOAT Conversation With Michael Jordan: 'MJ Is One of One, God Level'
While being compared to Michael Jordan is quite the compliment, Kevin Durant isn't interested in being ranked alongside His Airenss.
For better or worse, sports fans seem unable to ignore the prospect of a good debate. One of the most popular topics focuses on all-time greatness. Are any modern NBA players, for example, better than Michael Jordan? While there's no harm in a simple thought experiment, Kevin Durant doesn't want any part of the GOAT discussion.
That isn't just a matter of conjecture, though. During the 2020-21 NBA season, the Brooklyn Nets star took to Twitter and specifically asked fans and pundits alike to leave him out of any comparisons to His Airness.
Michael Jordan still rules the NBA roost, even in retirement
While it's been almost 20 years since His Airness last set foot on the NBA hardwood, it's safe to assume that no basketball fan has forgotten what he's accomplished. If anything, Jordan's resume has simply gotten more impressive with time.
For those who have forgotten the blow-by-blow of MJ's career, he proved himself to be an unrelenting winner at every stop of his career. While he infamously failed to make his high school's varsity basketball team at the first attempt, he eventually made the top squad and became a McDonald's All-American. He then moved on to the University of North Carolina, where he won an NCAA title as a freshman before stepping up to the pros. Once with the Chicago Bulls, those winning ways continued with six championships, plenty of individual honors, and a great deal of both fame and fortune.
That raw success, combined with his famous will to win — as we saw during The Last Dance, Jordan had no problem tanking anything personally and doing whatever it took to come out on top — has earned His Airness a place in the NBA pantheon. While LeBron James has forced his way into the GOAT conversation recently, MJ is still widely considered one of the best, if not the overall greatest, man ever to play the game.
Kevin Durant has no desire to be compared to Michael Jordan
Although he might not be quite at the same level as King James, Kevin Durant has proven himself to be one of the top athletes in the modern NBA. The Nets' star, however, has no desire to be compared to Jordan as part of the GOAT debate.
In November 2020, ESPN's First Take featured a discussion about the league's top dynamic duos. When Durant and Kyrie Irving came up, Kendrick Perkins didn't pull any punches about the forward's talent.
"KD is one of the most efficient scorers that we ever saw," Perkins explained, according to Nets Wire. "Michael Jordan never finished in the 90/50/40 club. … By the eye test, Max [Kellerman] — since you [are] just a numbers guy — by the eye test, KD is the best scorer that I've ever seen. He has zero flaws to his game."
A Twitter user agreed with Perkins' position and fired off their own message asserting the KD can do whatever he wants on the court, including averaging 35 points-per-game like His Airness. That post apparently caught Durant's attention, prompting a social media response. While most athletes are supremely confident in their skills and think they're the best thing since sliced bread, the Brooklyn forward took a more humble approach.
"Mj is one of one, God level, unmatched, unparalled [sic], a pure master at this s—," Durant tweeted. "I'm still watching his games to learn. Leave me out of it please."
Like it or not, Kevin Durant is bolstering his resume during the 2021 NBA Playoffs
While his perspective could have changed since November 2020, Durant seemed pretty adamant that he didn't want to be placed alongside His Airness. Unfortunately for the forward, he can't completely control those comparisons.
Although his first season on the Nets roster was spent on the sidelines, KD has returned to form during the 2020-21 campaign. The forward averaged 26.9 points, 7.1 rebounds, and 5.6 assists per regular-season outing. He's stepped up even further during the playoffs and, with Kyrie Irving and James Harden dealing with injuries, Durant hasn't had a problem being Brooklyn's main man.
While cynics will knock Brooklyn's stars for joining forces and forming a super team, a third NBA title will undeniably boost Durant's reputation. For better or worse, legacies are made on the back of postseason performances; if KD is the driving force behind the Nets' first title since the ABA era, it will certainly be a feather in his cap.
Are three NBA championships and an elite 2021 postseason enough to challenge MJ in the NBA's GOAT rankings? Probably not. Lifting the Larry O'Brien Trophy, though, would probably prompt some conversations about where Durant fits among basketball's all-time greats.
Just don't let him hear them.
Stats courtesy of Basketball-Reference