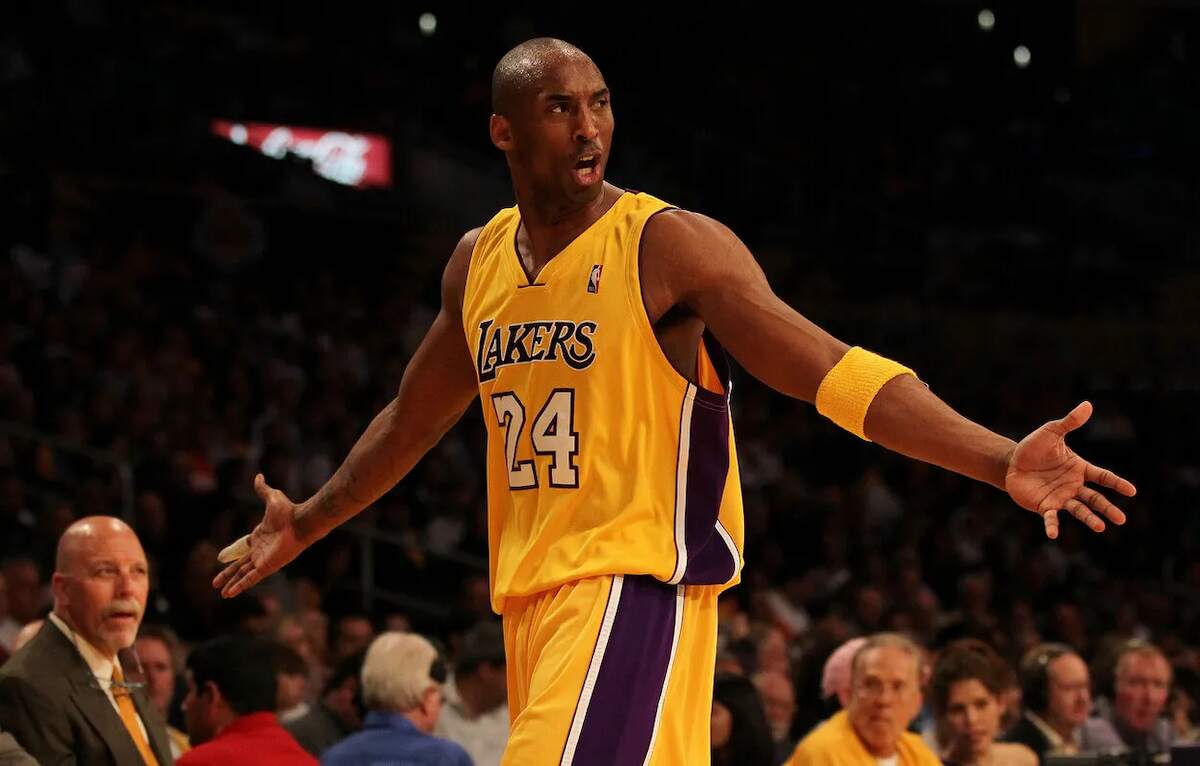 Kobe Bryant Nearly Had a Dreaded Rival Become His Head Coach on the Lakers
Kobe Bryant could have played for Doc Rivers, his future rival, if the Los Angeles Lakers got their way in the spring of 2004.
It has long been accepted that Kobe Bryant had two careers, of sorts, with the Los Angeles Lakers.
There were the days when Bryant wore No. 8 and won three titles alongside Shaquille O'Neal from 1996–2004. Then, there's the second half, when Bryant donned No. 24 and won another two titles, this time with the likes of Derek Fisher and Pau Gasol until he retired in 2016.
Most of the success in both chapters came with Phil Jackson as his head coach. However, when Jackson stepped away following the 2003–04 season, the Lakers reportedly had their eyes on a coach who soon joined the list of Bryant's rivals.
The Los Angeles Lakers wanted to hire Doc Rivers in 2004
According to Al Michaels, Kobe Bryant could have celebrated his NBA Finals championships with Doc Rivers if things went differently in 2004.
In his 2014 book, You Can't Make This Up, Michaels recalled a brief conversation he had with then-Lakers owner Jerry Buss in the spring of 2004. At the time, Lakers head coach Phil Jackson hadn't yet decided if he would return for the 2004–05 season or step away.
Michaels and Buss briefly discussed Jackson's future in LA off the air. Buss wasn't sure what Jackson would do, but the longtime Lakers owner knew who would be his top candidate to replace Jackson.
"I'll tell you one thing, though. If your guy hadn't taken that Boston job, he'd have been my guy."
Buss was referring to Rivers, the former Orlando Magic coach who spent part of the 2003–04 season as Michaels' broadcast partner on ABC. Weeks earlier, Rivers agreed to become the Boston Celtics' next head coach.
Michaels wrote that he spoke with Rivers a few minutes later and shared what Buss told him. Rivers replied, "You know, I'm not sure if the ink on that Celtics contract is totally dry."
Kobe Bryant and Rivers later faced off in the NBA Finals
Just as Jerry Buss intended, Doc Rivers and Kobe Bryant participated in the NBA Finals at the same time.
Those matchups came when Rivers was coaching the Celtics, though. Rivers and the Celtics won the 2008 NBA Finals in six games over Bryant, that year's MVP, and the Lakers.
Bryant got his revenge two seasons later. Playing in the NBA Finals for the last time, Bryant averaged 28.6 points and eight rebounds en route to winning his fifth title in June 2010.
Would Doc Rivers and Kobe Bryant have succeeded together?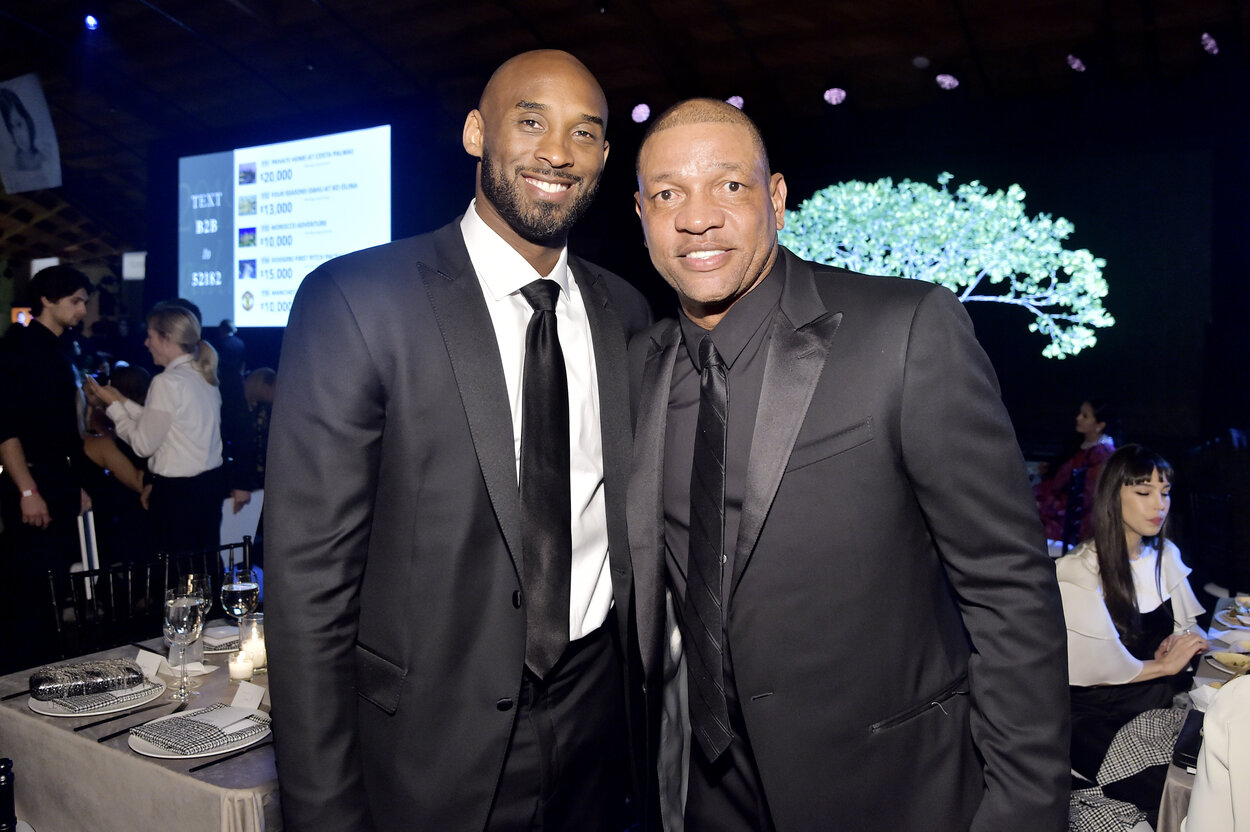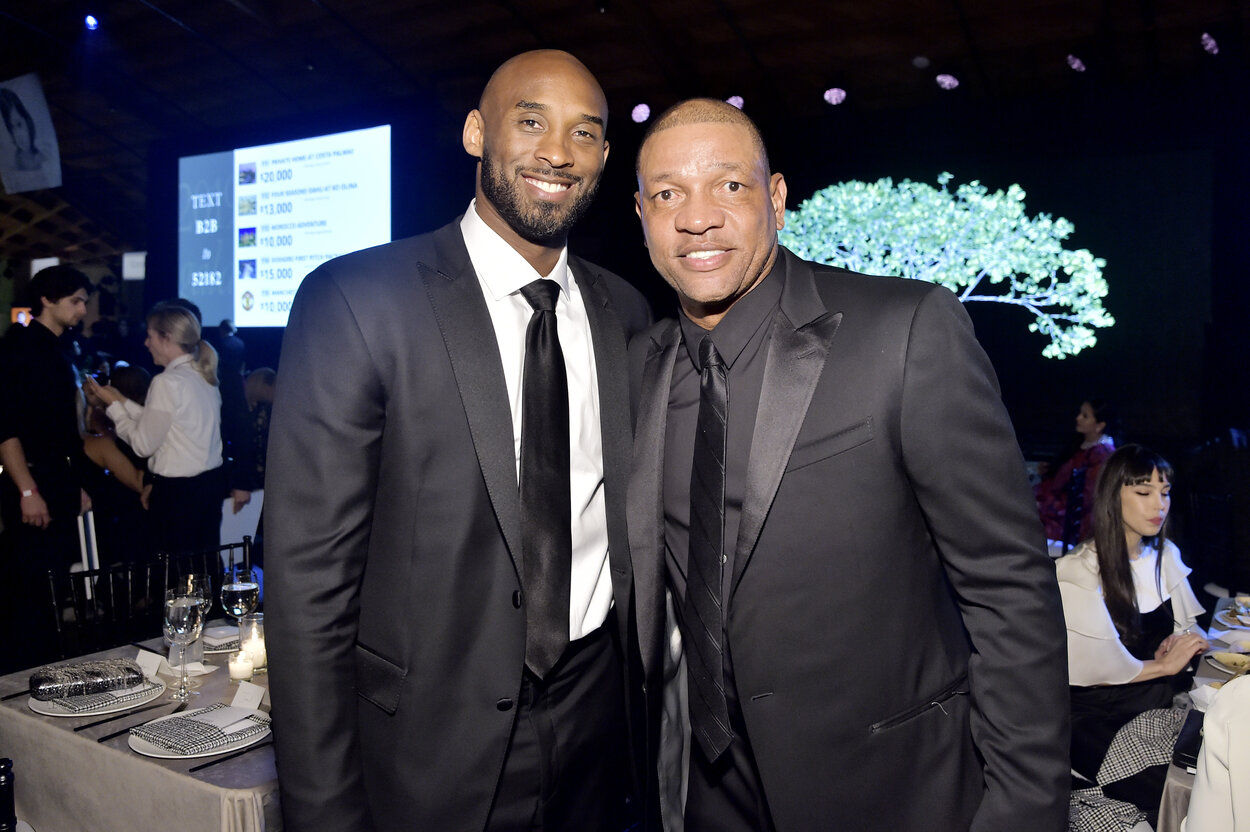 The idea of Kobe Bryant playing for Doc Rivers is an intriguing one, especially with how well Rivers has handled coaching stars in his career. In theory, Rivers would have brought a level of stability to a Lakers team in desperate need of one. The Lakers traded Shaquille O'Neal in 2004 and went through several years as a mid-tier team in the Western Conference.
Rudy Tomjanovich lasted only 43 games with the Lakers. Frank Hamblen closed the 2004–05 campaign by going 10-29. Phil Jackson returned for the 2005–06 season and remained in LA through 2011.
It isn't out of the realm of possibility that the Lakers would remain among the NBA's top teams if Rivers replaced Jackson in 2004. At least Lakers fans still had the chance to celebrate two titles with how things actually went.