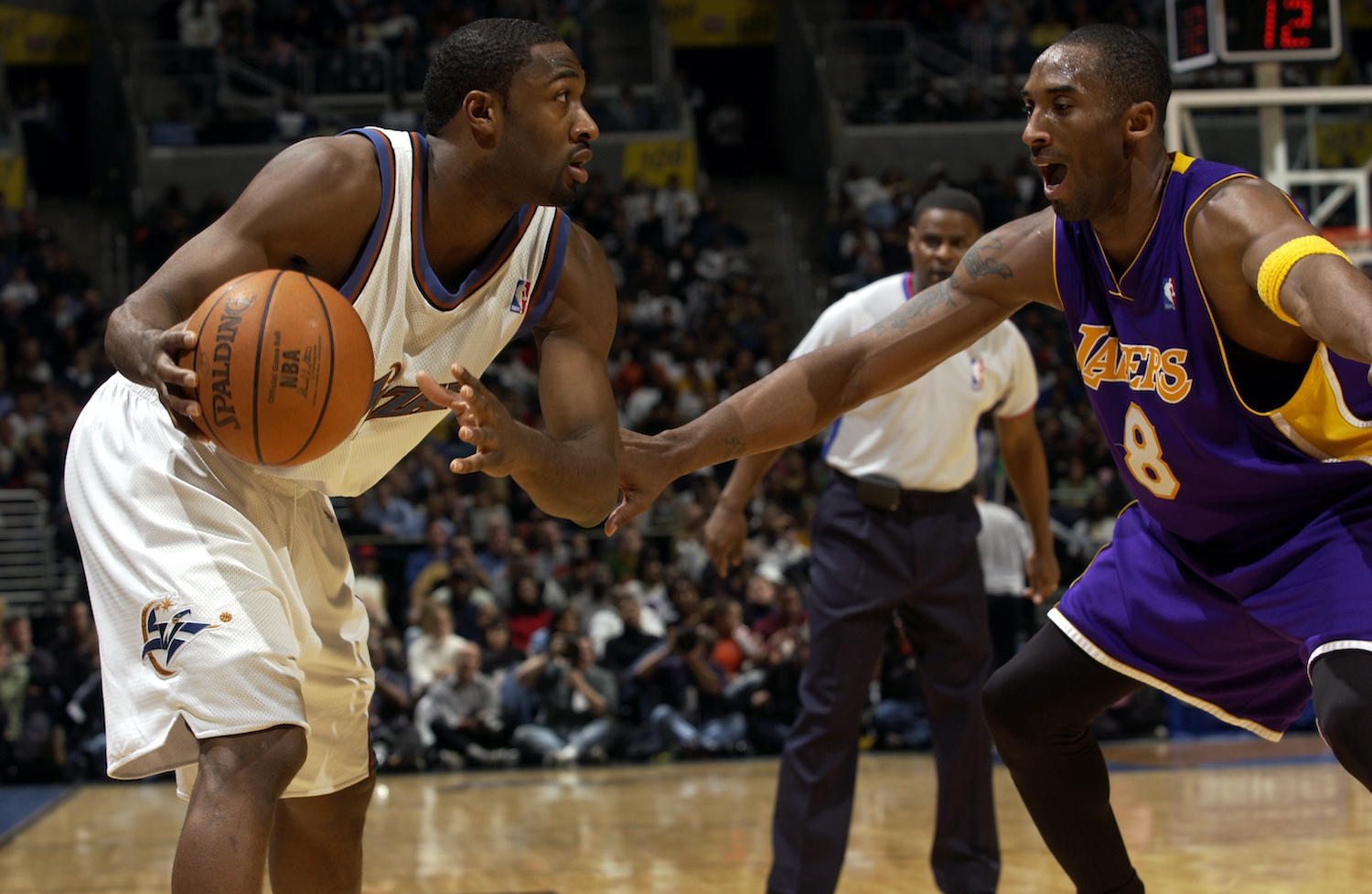 Kobe Bryant Once Waited 2 Months to Exact His Revenge on Gilbert Arenas After Some Ill-Fated Trash Talk: 'Remember, You Asked for This'
Even if he had to wait a couple of months, Kobe Bryant wasn't going to pass up an opportunity to get some on-court revenge.
During his time on the NBA hardwood, Kobe Bryant established a reputation as a fierce competitor who was more than capable of taking over a game singlehandedly. While that bred a combination of fear and respect, Gilbert Arenas was always one to play by his own rules. On one occasion, that manifested in an unthinkable move: Agent Zero trash-talked Kobe.
Bryant, as you might expect, couldn't overlook those remarks. Although he needed to wait two months, the Black Mamba eventually managed to exact some painful revenge on Arenas.
Gilbert Arenas and Kobe Bryant were talented players with contrasting reputations
During the 2000s, Bryant and Arenas were two guards who were capable of stuffing the stat sheet on any given night. Their reputations, however, couldn't be more different.
Kobe arrived in Hollywood with the intention of following in Michael Jordan's footsteps and, on the whole, did a pretty good job of accomplishing that seemingly impossible task. He found plenty of on-court success — the guard averaged 25.0 points per game for his career and claimed five championships — and, like his role model, honed a relentless work ethic. Bryant became famous for his Mamba Mentality, which manifested itself in intense workouts, an obsessive focus on self-improvement, and an overall desire to be the best.
As for Arenas, the guard possessed an incredible knack for lighting up the scoreboard. During his prime, Agent Zero was one of the purest scorers around; he averaged 29.3 points per game during the 2005-06 regular season and upped his game during the playoffs, averaging 34.0 points per contest. With all of that being said, though, the Arizona product also developed a less-than-ideal reputation. He was known to be a bit of a practical joker and infamously brought guns into the Washington Wizards locker room.
In a way, that gun incident and the subsequent suspension are representative of Arenas' career. For all of his on-court ability, most fans will remember the guard for his poor choice over anything else he accomplished.
Paying the price for taunting the Black Mamba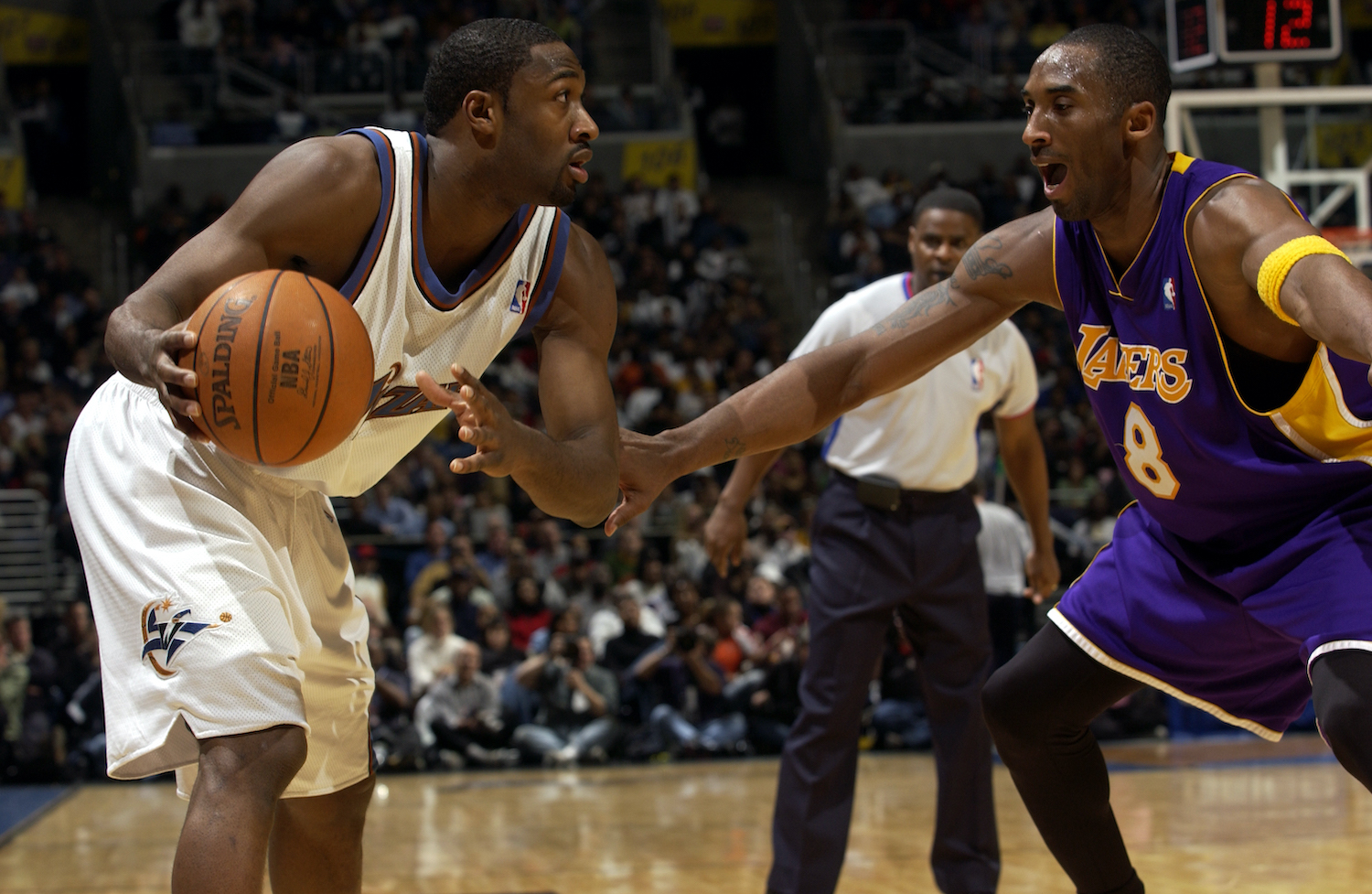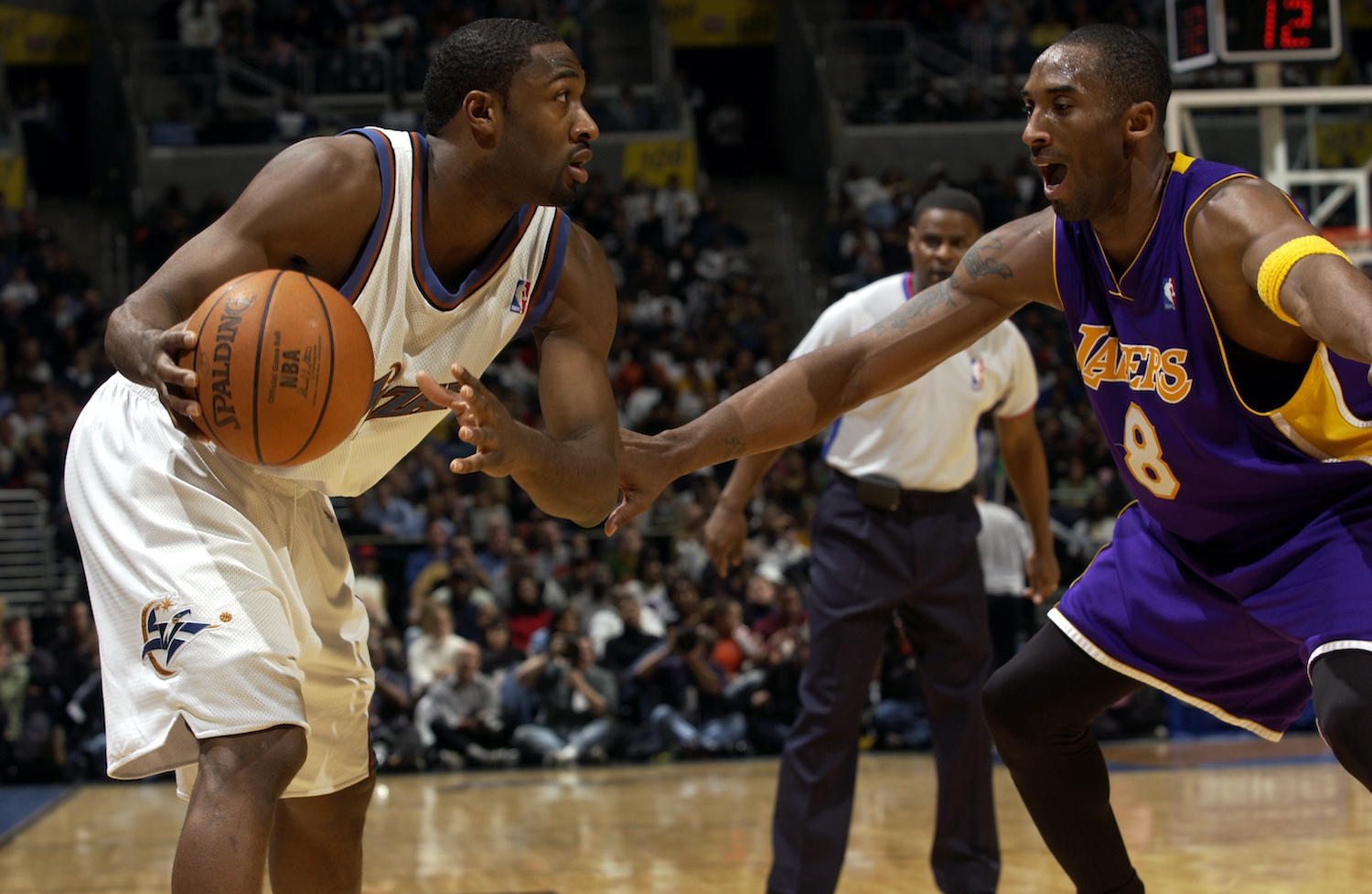 In December 2006, Arenas stepped up and dropped 60 points in a win over the LA Lakers. After that game, Agent Zero was understandably feeling pretty good about himself.
"Once [Arenas] scored 60, Gil got a little mouthy," Brendan Haywood said on an episode of Wizards Postgame Live (H/T NBC Sports). "We're on the team plane, and Caron Butler was talking to Kobe, and Gil starts talking trash to Kobe. He tells Kobe, 'If you the Black Mamba, then my new nickname is the Black Mongoose.'"
Mongooses, of course, are renowned for their ability to fight poisonous snakes. Kobe, however, wasn't going to allow himself to be bested in metaphorical combat, even if he had to wait to exact his revenge.
"Kobe said, 'Keep that same energy when [I] come to D.C.,'" Haywood recalled. "I thought Kobe forgot. Two months later, I'm not even thinking about it, I put my hand out, [Kobe] walked right past me. He did not shake anybody's hand, he walked up to Gil, slapped him on his butt, and said, 'Remember you asked for this, and make sure you guard me the way I'm gonna guard you.' He gave us 45, the meanest points I've ever seen. He pulled the 360 dunk with the airplane, he did everything."
While Haywood might have slightly exaggerated Bryant's performance, the Lakers guard did come to play on that fateful night in February. He scored 39 points, helping Los Angeles claim a 118-102 victory.
Gilbert Arenas still held Kobe Bryant in high regard as of 2020
In isolation, it would be reasonable to think that Arenas could have held onto somewhat of a grudge against Kobe. No one, especially a professional athlete, wants to be shown up. Agent Zero, however, didn't seem to be too bothered by Bryant's actions.
Shortly after the Lakers legend's untimely death, Arenas took to Instagram to share a memory of Bryant. Instead of flashing back to their playing careers, though, he posted a picture with Kobe in the bowels of the Staples Center and added a rather personal caption.
"I will fulfill the task u requested from me in this picture," the former Wizard wrote. "You told me to use my bright basketball mind on some form of coaching on an nba/college bench or coaching kids … stop wasting it being an idiot on social media … Today I'm starting my coaching career with @socalcavs 14u 'the legacy of an assassins mind will live on' #mambamentality." He also added the logistical details for those wishing to join the team.
For basketball fans, Kobe Bryant was an unforgettable figure who towered over the sport. Gilbert Arenas experienced that reality firsthand, both on and off the court.
Stats courtesy of Basketball-Reference.