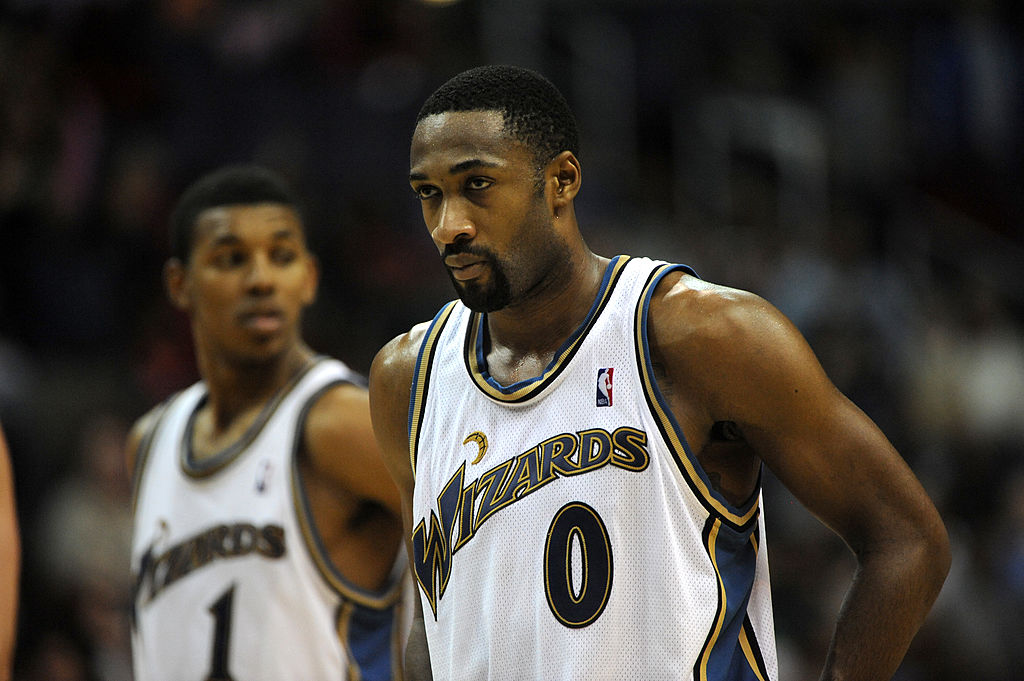 Gilbert Arenas Pledges to 'Fulfill the Task' That Kobe Bryant Once Gave Him
It's been a while since Gilbert Arenas played professional basketball, but he's going to start paying it forward in honor of the late Kobe Bryant.
On Sunday, the sports world lost a legend in Kobe Bryant. As news of the former Los Angeles Lakers' death spread, his impact became apparent; everyone from fans and teammates to athletes in other sports started paying tribute to the 41-year-old. One public message came from Gilbert Arenas.
The former Washington Wizard didn't simply remember Bryant, however. Instead, he vowed to fulfill a mission that Kobe once gave him.
Gilbert Arenas' rise and fall
Sports history is full of 'what-if' scenarios. Gilbert Arenas' NBA career has to be one of those.
Arenas grew up in Los Angeles but headed to the University of Arizona to play his college ball. The guard teamed up with Richard Jefferson and had two strong seasons with the Wildcats, reaching the 2001 National Championship; Arizona fell to Duke, though, and Arenas decided to go pro.
The Golden State Warriors snagged the guard at the end of the first round. While his first year was nothing to write home about, Arenas' production jumped during his sophomore season; he averaged just over 18 points per game and earned the NBA Most Improved Player Award. After that campaign, he left the Bay Area and joined the Washington Wizards.
In the nation's capital, Arenas blossomed. His offensive output exploded—he averaged almost 30 points per outing during the 2005-2006 season—and he became a fan favorite for quirky personality and ability to hit the big shot. The honeymoon, however, wouldn't last forever.
Arenas' career started to unravel when he tore his MCL at the end of the 2017 season; he would only play 15 games over the next two campaigns. He also faced a lengthy suspension in 2010, after infamously bringing an unloaded gun into the locker room. When he returned to action, his career was never the same.
Gilbert Arenas vows to fulfill a request from Kobe Bryant
Even after his retirement, Gilbert Arenas was no stranger to controversy. While he was blasted for a disparaging Instagram post about the WNBA in 2015, the guard shared a different sort of message on Tuesday night.
Arenas posted a picture of himself and the late Kobe Bryant in the bowels of the Staples Center. The caption, however, made it clear that there was something more to their meeting.
"I will fulfill the task u requested from me in this picture," Arenas wrote. "You told me to use my bright basketball mind on some form of coaching on an nba/college bench or coaching kids … stop wasting it being an idiot on social media … Today I'm starting my coaching career with @socalcavs 14u "the legacy of an assassins mind will live on" #mambamentality ."
Kobe Bryant is still making an impact
During his playing career, Kobe Bryant made an impact every time he stepped on the floor. The late Lakers legend's work, however, didn't stop on Sunday afternoon.
Bryant's death has apparently motivated Gilbert Arenas to make a difference in his community. Shaquille O'Neal has also vowed to make a change; the big man is putting aside his beefs and "taking the time and reaching out to people."
Sunday's helicopter crash was a tragedy. People like Gilbert Arenas and Shaquille O'Neal, however, are doing their part to make sure Kobe Bryant's legacy lives on.