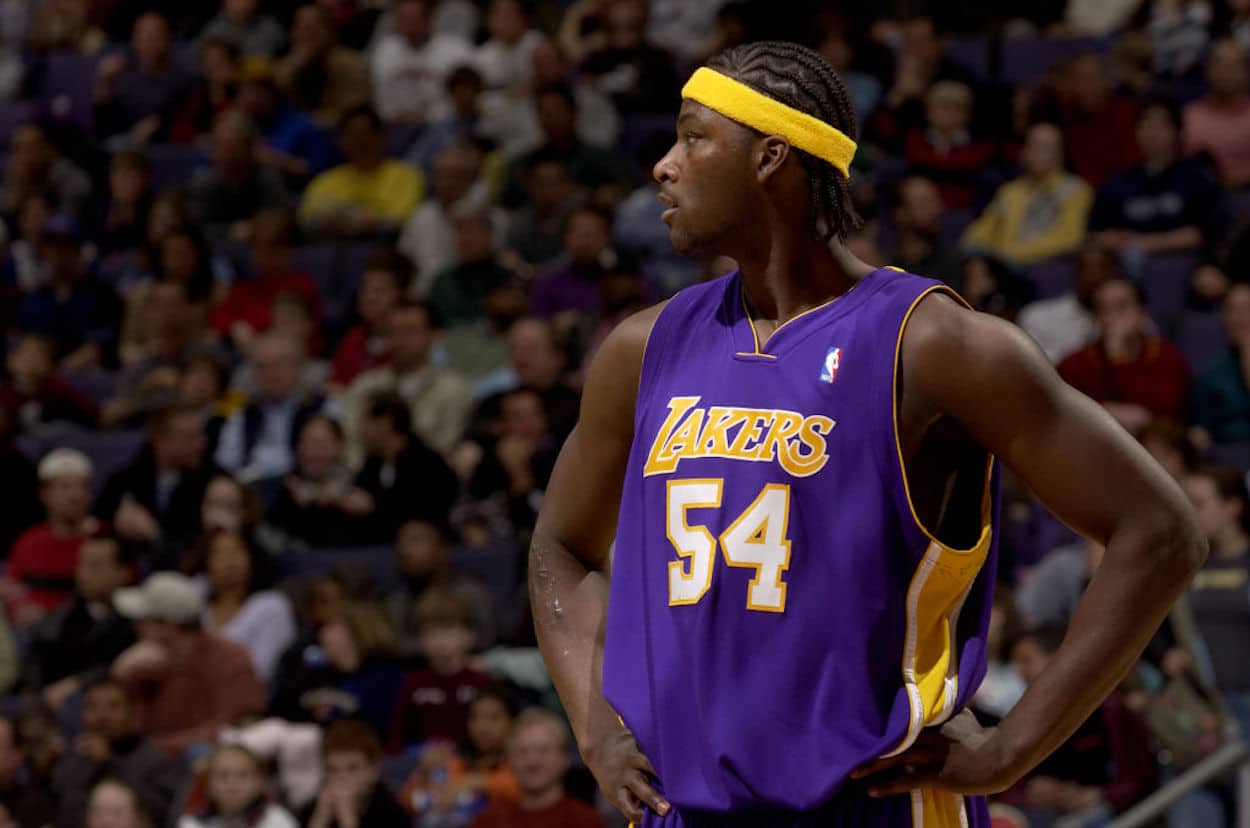 Kwame Brown 'Didn't Want to Go to California,' but Still Got a 'New Look' at Basketball From His Time With Kobe Bryant
After his time with Michael Jordan came to an end, Kwame Brown wasn't too keen on teaming up with Kobe Bryant. The big man, however, learned a valuable lesson from his new teammate.
If you asked 100 basketball fans about their hardwood dream, there's a good chance that playing alongside Kobe Bryant would land somewhere near the top of the list. During his time in the Association, the Lakers star was more than just an ordinary NBA player. He was someone who transcended the game of basketball and became something larger than life. Kwame Brown, even if he was initially skeptical, came to understand that.
After an unhappy start to his career in Washington, the big man found himself heading west to Hollywood. While he didn't have any desire to team up with Bryant and would have actually preferred to play with Jason Kidd, Browne still came away from his time with Kobe with a new perspective.
Let's hear from the man himself.
Kwame Brown thought Kobe Bryant was just a volume shooter, but saw a different side of him in Hollywood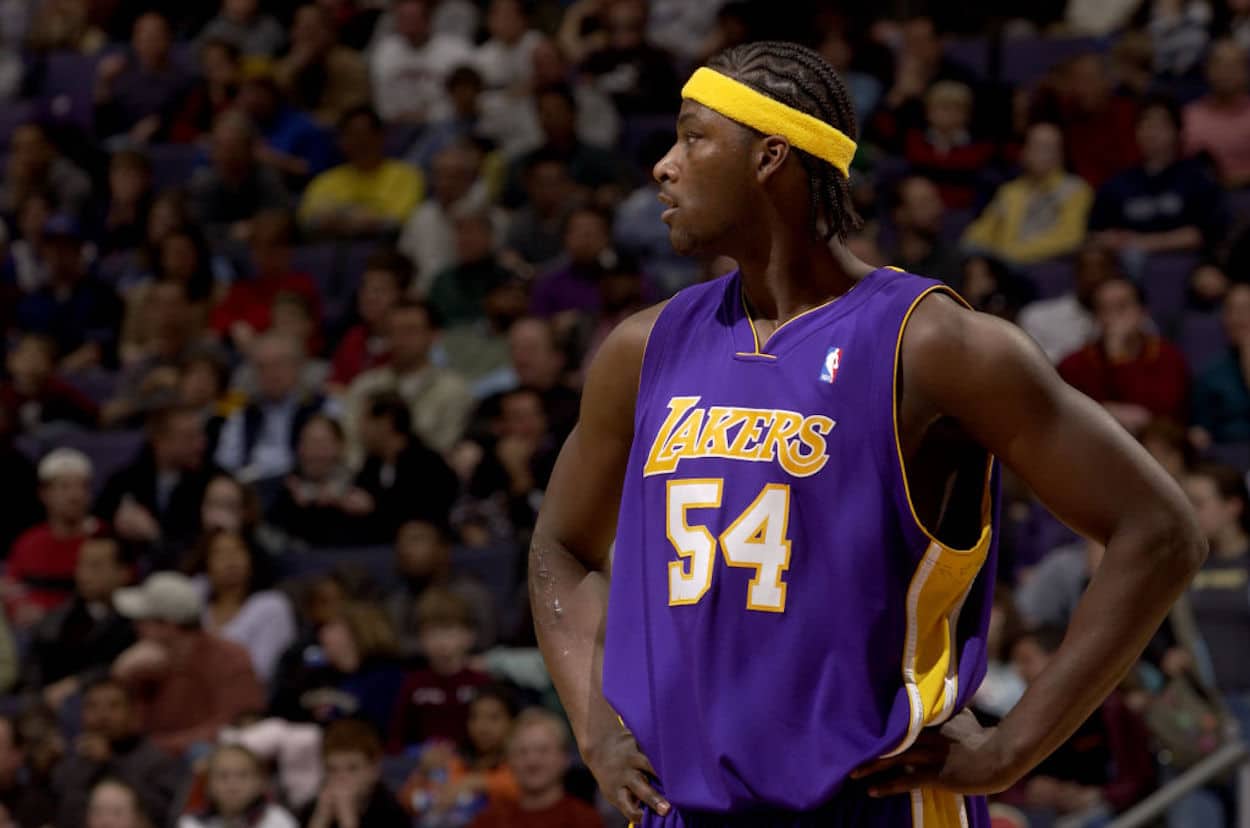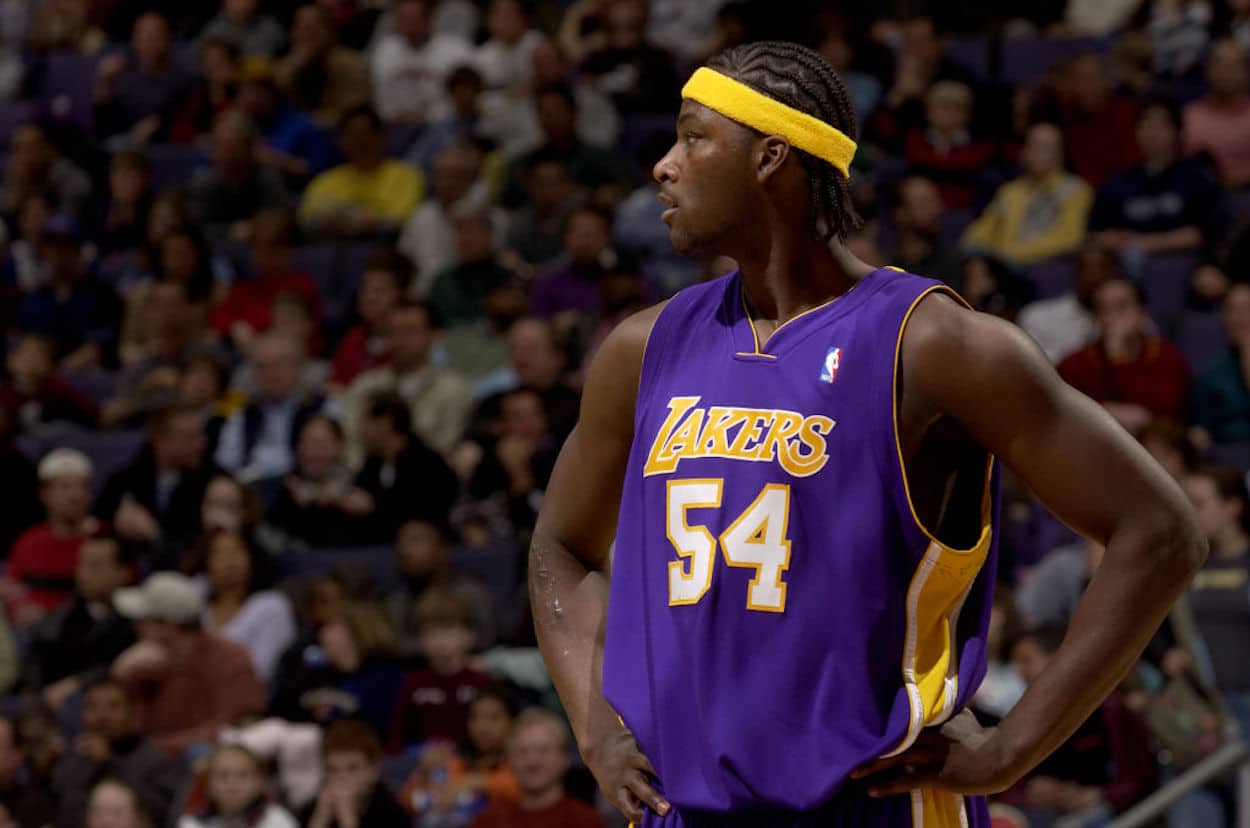 From an outside perspective, playing alongside both Michael Jordan and Kobe Bryant might seem like a dream come true. Kwame Brown, however, had a different take on things.
After struggling to find his feet with His Airness and the Washington Wizards, the former first-overall pick was traded to Hollywood. Initially, he wasn't too keen on that idea.
"When I got there, there was a lot of things mentally. I was frustrated," Brown explained on The Pivot podcast. "I actually didn't want to go to California because, to me, [Bryant] was just like MJ. He was a guy who shot volume shots. I was trying to get to Jason Kidd or a pass-first point guard. I just saw Kenyon Martin running and catching lobs without thinking that he could use his athleticism. And I'm like, 'Wow, I could do that sleeping.' So I was really pushing my agent to get to Jason Kidd, but I ended up with Kobe."
As you might expect, arriving in California with that mindset wasn't ideal. Over time, though, Brown came to learn that Kobe was different.
"At first, mentally, I was, I was like, 'I don't want to be here,'" he continued. "I remember being injured, too, and just having conversations with Kobe and seeing how he played through injuries and how he like willed me to play. I needed ankle surgery, and I needed shoulder surgery. He's like, man, to Kobe, you could tell it was more than just a game."
That final reality proved to be the key part. When the center saw how seriously the Lakers star took his work, he came to see things a bit differently.
"It was just like his pride, his everything, was on the line," Brown added. "Anything he was gonna do, he was gonna do it to his best ability. He was gonna study it. I mean, this guy is in year, I don't even know what year he was in, in 2006, and he's in the back. He studying, he's studying other players, he's watching film. So I'm like, 'Dang.' It just gave me a new look cause MJ wasn't doing that at 39. Just seeing a player like Kobe still doing that that late in his career, it kind of gave me a sense of, 'OK, well, s***, if he's gotta, if he's gonna be doing all that, then I'm gonna be doing it, too.'"
That experience sounds a bit more positive than other stories from Brown's time in Hollywood
If your only knowledge of Brown's time with the Lakers was the above anecdote, you'd probably think that everything worked out acceptable. Another tale, however, paints a different picture.
As documented in a 2011 Washington Post piece, Kobe Bryant conducted a Q+A session with UC-Santa Barbara students and, when asked about winning the 2008 MVP title, told a story that underscored just how valuable he was to the Lakers that season.
"The game before we traded for Pau, we're playing Detroit and I had like 40 points towards the end of the game," Bryant recounted. "This is back when Detroit had Rasheed [Wallace], Chauncey [Billups] and those guys, so we had no business being in the game. So down the stretch of the game, they put in a box and one. So I'm surrounded by these players, Detroit players, and Kwame is under the basket, all by himself. Literally, like all by himself. So I pass him the ball, he bobbled it and it goes out of bounds."
During a time out, the two Lakers spoke in the huddle. Kobe tried to explain that Brown was going to be seeing a lot of the ball, but the big man came back with a surprising response: He didn't want the rock.
I said, 'You're going to be open again, Kwame, because Rasheed is just totally ignoring you.' He said, 'Well, if I'm open don't throw it to me.' I was like, 'Huh?' He said, 'Don't throw it to me.' I said, 'Why not?' He said, well, 'I'm nervous. If I catch it and they foul me, I won't make the free throws.' I said, 'Hell no!'

Kobe Bryant
Bryant also added that he asked Phil Jackson to pull Brown from the game, but the Zen Master refused. The Lakers, for the record, ended up losing the game by one point. During the following offseason, the club acquired Pau Gasol.
While that may seem to clash with Brown's recollection of Bryant, the two disparate tales do seem to be a good reminder about the big man's career. Were there some ugly or otherwise disappointing moments along the way? Of course, but that doesn't mean that his entire time in the Association was an unmitigated disaster where absolutely nothing went wrong.
In sports, as in life, reality is usually somewhere between the two extremes.