Kyle Busch Expresses His Thoughts on the NASCAR Summer Break
Kyle Busch gave his thoughts on NASCAR's two-week hiatus.
NASCAR has taken a back seat to the Tokyo Olympics. The Games have put NASCAR on a two-week hold that either gives the drivers time to take a much-needed break or ruins the momentum they've been building. The always-outspoken Kyle Busch recently shared his thoughts on the time off.
NASCAR on hold as TV takes control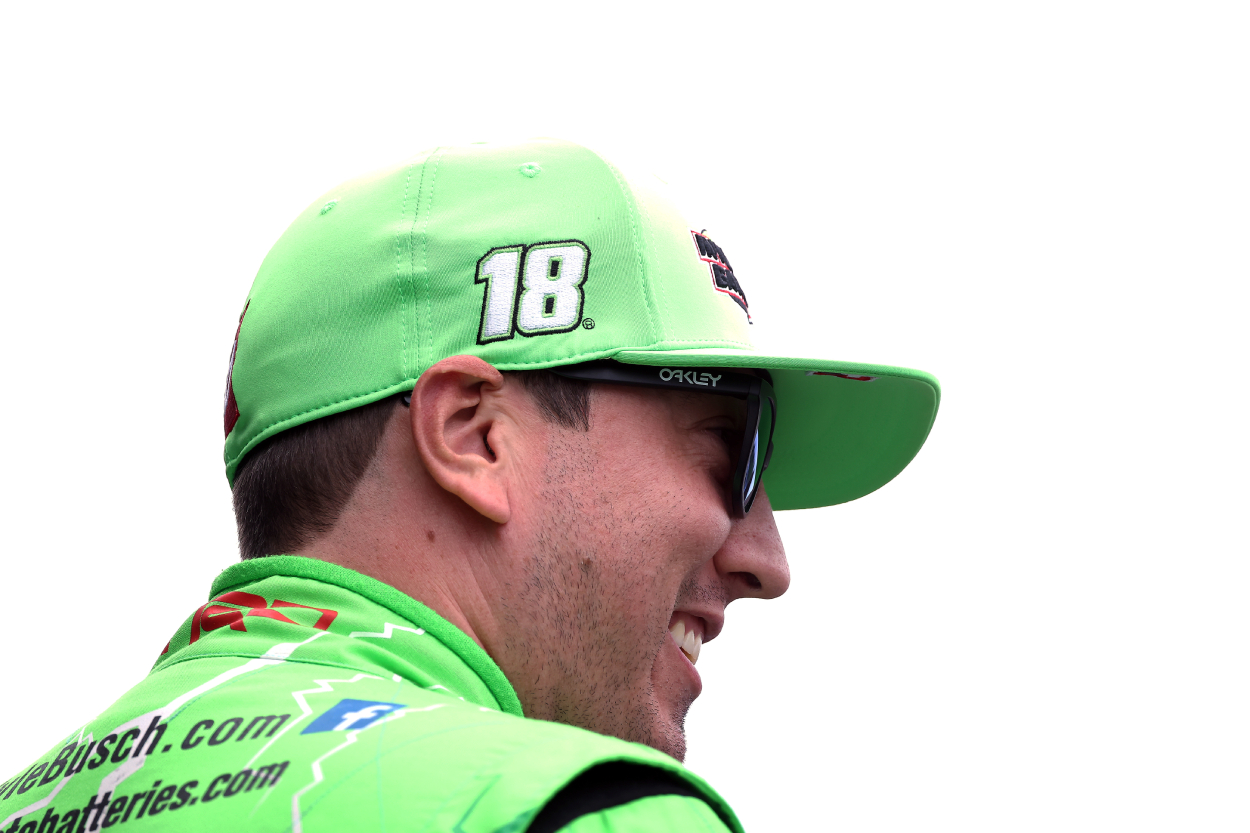 For NASCAR fans, the two weeks without racing can be tough. As we know in the world of sports, television calls all the shots, and that's why there's no more NASCAR coverage until Aug. 8.
NBC is covering NASCAR, but it also has the TV rights for the Summer Games. With the Olympics packed into a few weeks, the network puts all its resources into the Games and the motorsports world gets shut down during that stretch.
There are four weeks remaining before the regular season comes to a close. Racing resumes with consecutive road courses at Watkins Glen on Aug. 8, followed by an Aug. 15th run at Indianapolis Motor Speedway.
With four races left before the playoffs and only three playoff spots left in the NASCAR Cup Series, things will be interesting in August.
Kyle Busch gives his thoughts on the break
There are pros and cons to halting the season for a couple of weeks. Drivers get a chance to catch their breath after the week-after-week grind. Momentum, however, can get lost on both the drivers and the fans. Aric Almirola had a shocking win in the last Cup Series race, claiming victory in New Hampshire. His win quickly turned around his season and made things interesting in the race for the playoffs. Now everything is put on hold.
Bush recently gave his thoughts on what the break means for him.
"Having an off-week is good," Busch said, according to NBC Sports. "I think it's about time for us, a good summer break anyways to be able to go out and do things in the summertime that typically you'd always have to wait for the wintertime. I can't tell you how many winter vacations I've been on and places that I've gone in December, January versus actually being able to go somewhere far away in July."
Busch is one of the 13 drivers already in the playoffs, so it might be easier to take the break knowing there's life after the regular season.
Kyle Busch isn't the only driver in favor of the long break
Kevin Harvick, who hasn't won a Cup Series race this year, said he welcomed the time off. He believed having a summer break is more beneficial to everyone involved than having the early-season breaks.
"I'd rather have a summer break and not have all the breaks at the beginning of the year," he said. "I'd take it off the front end because everybody's fresh and energized
"I think having this two-week break really allows these guys in the shop and on the road to be able to actually have two, for-sure weeks off that they can plan around. That's something very important to the families of those individuals."
Martin Truex, who has racked up three wins this year, sides with Busch and Harvick. He didn't have any major plans for the time off, other than to relax.
"Chilling, fishing, whatever," Truex said. "Just hanging out."
For now, it's gymnastics, water polo, and whatever your favorite Olympic sport is. NASCAR fans just have to be patient for one more week.