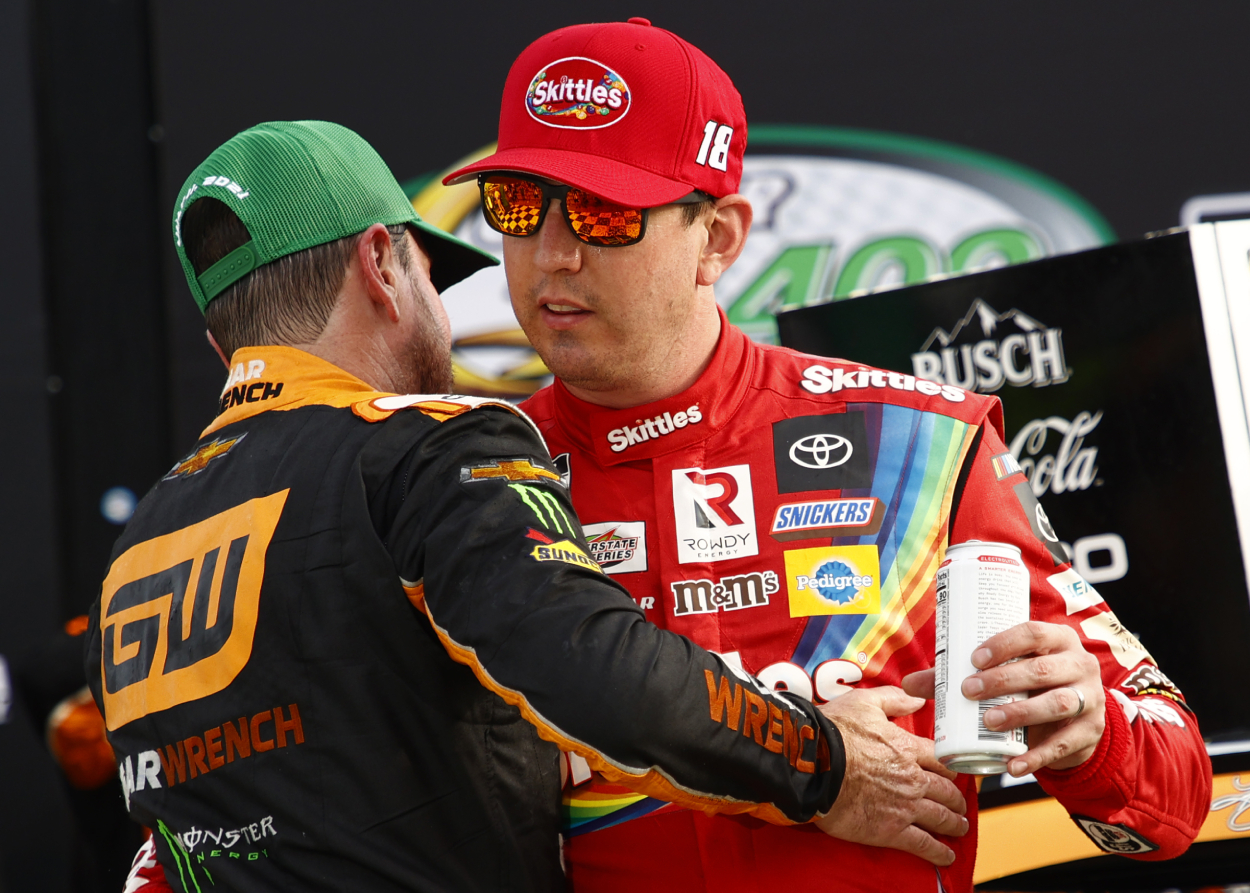 Kyle Busch Won't See His Frustrations Disappear After Latest NASCAR Ruling
Kyle Busch wasn't too happy after Sunday's race, and he probably isn't too happy Tuesday after hearing what NASCAR had to say.
If Kyle Busch settled down a bit after Sunday's NASCAR race, he might be getting worked up again.
Busch was frustrated at Ross Chastain, who he said intentionally blocked him so Chastain's teammate, Kurt Busch — Kyle's brother — could sweep in for the Quaker State 400 win at Atlanta Motor Speedway. Kyle blasted Chastain for the move, calling him "a POS," and now he's likely to seethe again after NASCAR's senior vice president of competition, Scott Miller, gave his take Tuesday.
Kyle Busch was fuming after Sunday's race
Even a second-place finish couldn't keep Kyle Busch happy.
After winning the Xfinity race on Saturday, he hoped to complete the sweep with a Sunday win. It nearly happened, but Chastain's late move to help out a teammate proved to be the difference as Kurt Busch pulled out the win, and Kyle was second.
Chastain responded to a teammate's request to give his Chip Ganassi Racing teammate the bottom line and positioned himself in the high lane to help slow down leader Kyle Busch with 25 laps remaining. Kurt took the lead and held on for his first Cup Series win of the season. Kyle blasted Chastain for the move.
He said Chastain's move "shows you what kind of driver he is," according to NBC Sports.
After the race, Kyle was asked if he thought the move was intentional. Then he was asked if it was ethical.
"No question, man," he said about the intentional move. "He turned right in order to get dead right in front of me. For a whole two laps, I just killed the tires trying to get turned underneath him. You can't just change direction, and when I tried to change direction, he watched his mirror and changed direction with me. So he just stomped on the brake and air blocked. It's pathetic."
As for the ethical part?
"It's racing, man," he said. "You can do whatever the hell you want, it's just going to come back on you."
NASCAR saw nothing wrong with Chastain's move
On Tuesday, Miller made a decision that sided with Chastain and Kurt Busch. The senior vice president of competition for NASCAR said Chastain did nothing wrong.
"I know we've got the thing bubbling up with Ross and all that, and everybody has heard the comments afterward," Miller said, according to NBC Sports. "You know, it wasn't an obvious blocking job in my view.
"Ross, he was racing his own race. That's an unfortunate situation for somebody like Ross to be in, really, with trying to stay on the lead lap and all those things, managing his race, and then have those two come up on him at that point in the race. Difficult situation."
Miller realized there were lots of people questioning Chastain's move, but he didn't see anything illegal. He said all he needed to say on the matter.
"I don't think there's a lot else to say about that one," Miller added. "I know people are questioning that. We certainly didn't see anything other than hard racing from the tower perspective."
Kurt Busch said he understands Chastain will take some heat
While Kyle Busch won't be too pleased with Miller's take, Kurt Busch and Chastain likely are. Despite Miller's ruling, Kurt said he knows Chastain will still catch some heat.
"Our car was really good on the bottom, and we radioed to our spotter to tell (Chastain), 'Hey, give us the bottom, give us the bottom.'" he said. "Kyle's car was good up top, so it worked in our favor both ways."
He also added that he expected Chastain "is going to get a little flak."
"What happened on track was the perfect scenario for a teammate to do the work that he needed to do," Kurt said. "Ross did that in a way that gave me a sense of pride on the education and the mentorship that I have helped Ross with this year. It was a perfect give-back."
Chastain understands Kyle is mad for coming in second. He doesn't care.
"Do I care that Kyle Busch just lost a race and got out of the car, and when the microphone went to his face, he said he owes me one?" Chastain asked. "No, that's heat of the moment. We're really hot in there, and if he's going to spout off and we need to talk about it, we can talk about it. Probably with Kurt being the mediator."