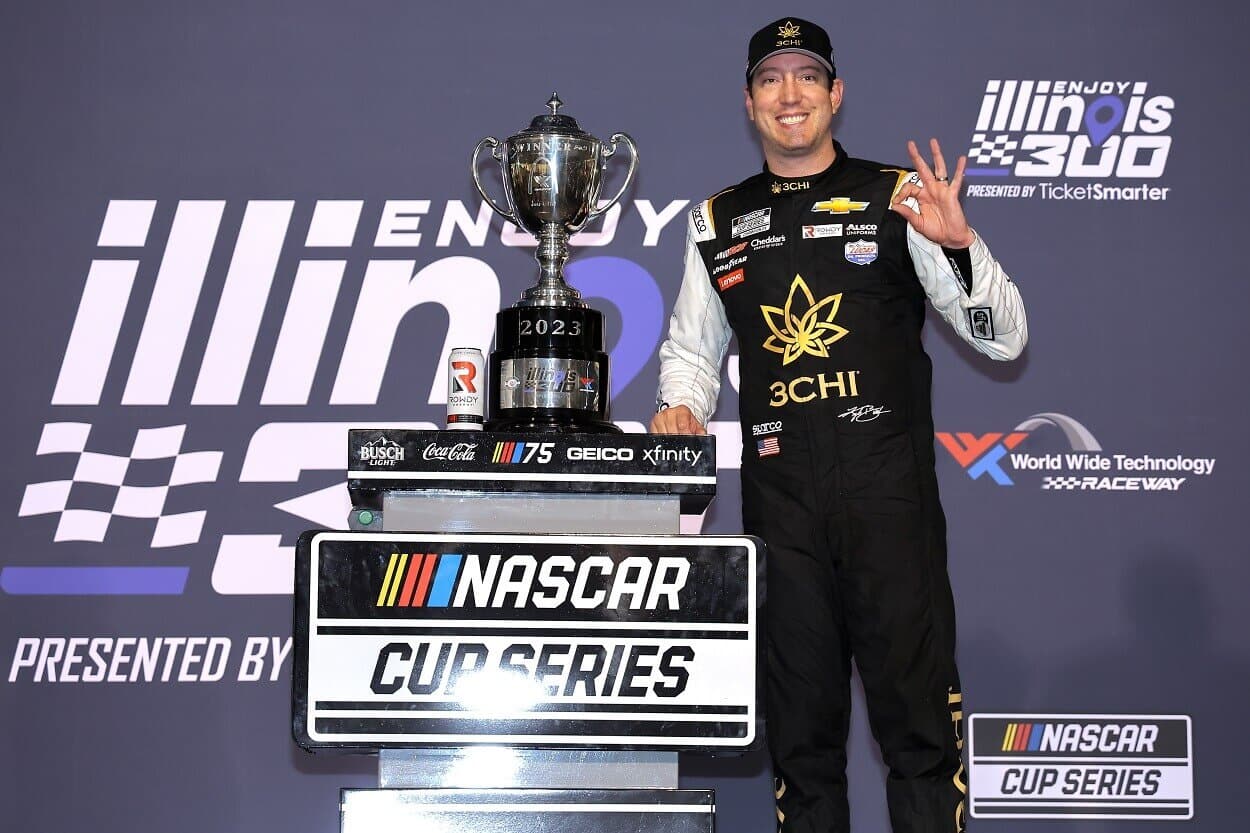 Kyle Busch Is Following an Eerily Similar Path That Joey Logano Took to a NASCAR Cup Series Title a Season Ago
Kyle Busch could be following Joey Logano's path to the NASCAR Cup Series title.
Kyle Busch won the NASCAR Cup Series race Sunday at World Wide Technology Raceway near St. Louis and has begun to track a potential path to the championship that is eerily similar to defending champion Joey Logano.
Busch finished second to Logano at WWT Raceway a year ago in the inaugural race at the flat, 1.25-mile oval. Logano led only 22 laps in 2022 compared to Busch's 121 laps led in a dominating performance this year. However, they both had to contend with several late-race restarts that ultimately sent the race into overtime. Logano finished third this time and did not lead a lap.
WWT Raceway shares several characteristics with Phoenix Raceway
WWT Raceway is relatively similar to the flat, 1.0-mile Phoenix Raceway, which is the site of the championship race at the end of the season and where Logano won in November to seal his second career championship in the No. 22 Ford for Team Penske.
Logano finished eighth when the series made its first stop of the 2022 season at Phoenix in March during the debut season of the Next Gen car model, which many teams have struggled to adapt to on flat tracks. Logano led four laps amid a competition caution early in the event but was not a factor otherwise. 
Perhaps coincidentally, Busch also finished eighth this season in the March race at Phoenix and did not lead a lap in what was only his fourth points-paying race in the No. 8 car for Chevrolet-backed Richard Childress Racing after he moved in the offseason from Joe Gibbs Racing, where he had spent the previous 15 years in the No. 18 Toyota.
Phoenix is fairly unique among the tracks on the 2023 Cup Series schedule and primarily shares characteristics with only WWT Raceway and the flat, 1.058-mile New Hampshire Motor Speedway. Logano finished 24th in the series' lone visit to New Hampshire in July 2022, but his result was partially due to damage he received in an incident with Chase Elliott late in the race after Logano had led 25 laps early in Stage 2 of the event.
WWT Raceway's corners are banked 9-11 degrees, while Phoenix's turns have 8-11 degrees of banking. New Hampshire has 2-7 degrees of banking in its turns and also has long connecting straightaways similar to WWT Raceway and Phoenix.
WWT Raceway and Phoenix, however, are not symmetrical ovals like New Hampshire. Turns 1 and 2 at WWT Raceway are much tighter, with a radius of more than 100 feet smaller than turns 3 and 4. The first set of turns at Phoenix are much more sweeping in nature than turns 3 and 4 since a reconfiguration of the track in 2018 flipped the location of the start/finish line to what historically had been the backstretch.
Phoenix also has a severe dog leg on its frontstretch that does not exist at WWT Raceway or New Hampshire, but the setups required for cars to run well at all three tracks relate closer than most others. They are not necessarily short tracks since each measures 1.0-mile or longer, but they require heavy braking at the end of their long straightaways without high-banked corners to help hold speed in the cars throughout the turns the way most 1.5-mile intermediate tracks allow.
Logano ultimately won four races during his second championship campaign, but two came during the 10-race playoffs. He managed to get through the first two postseason rounds thanks to his playoff points total and regular-season points total that had him second to regular-season champ Elliott.
Busch already has three wins on the season to tie William Byron for the most in the series through 15 races, and he has compiled those wins at three vastly different race tracks. He triumphed at the wide, 2.0-mile oval of Auto Club Speedway in the second race of the season and then won the superspeedway-style race in April at the 2.66-mile Talladega Superspeedway.
Kyle Busch has had similar success to Joey Logano at both WWT Raceway and Phoenix
Busch and Logano are two of the most versatile drivers in the sport and far more than just flat-track specialists. Yet, the schedule places emphasis on those tracks as the Championship 4 is decided at Phoenix, and both Busch and Logano have shown they should be considered two of the favorites when the series visits those types of venues.
Busch and Logano are the only two drivers to finish inside the top five in both of the first two Cup Series races at WWT Raceway, and they are tied for second among active full-time drivers with three wins apiece at Phoenix, behind only Kevin Harvick's nine.
Kyle Busch will likely need a fourth Phoenix victory to become a three-time Cup Series champion at the end of this season, but his performance thus far has shown uncanny parallels to Joey Logano's championship drive in the first season of the Next Gen era.