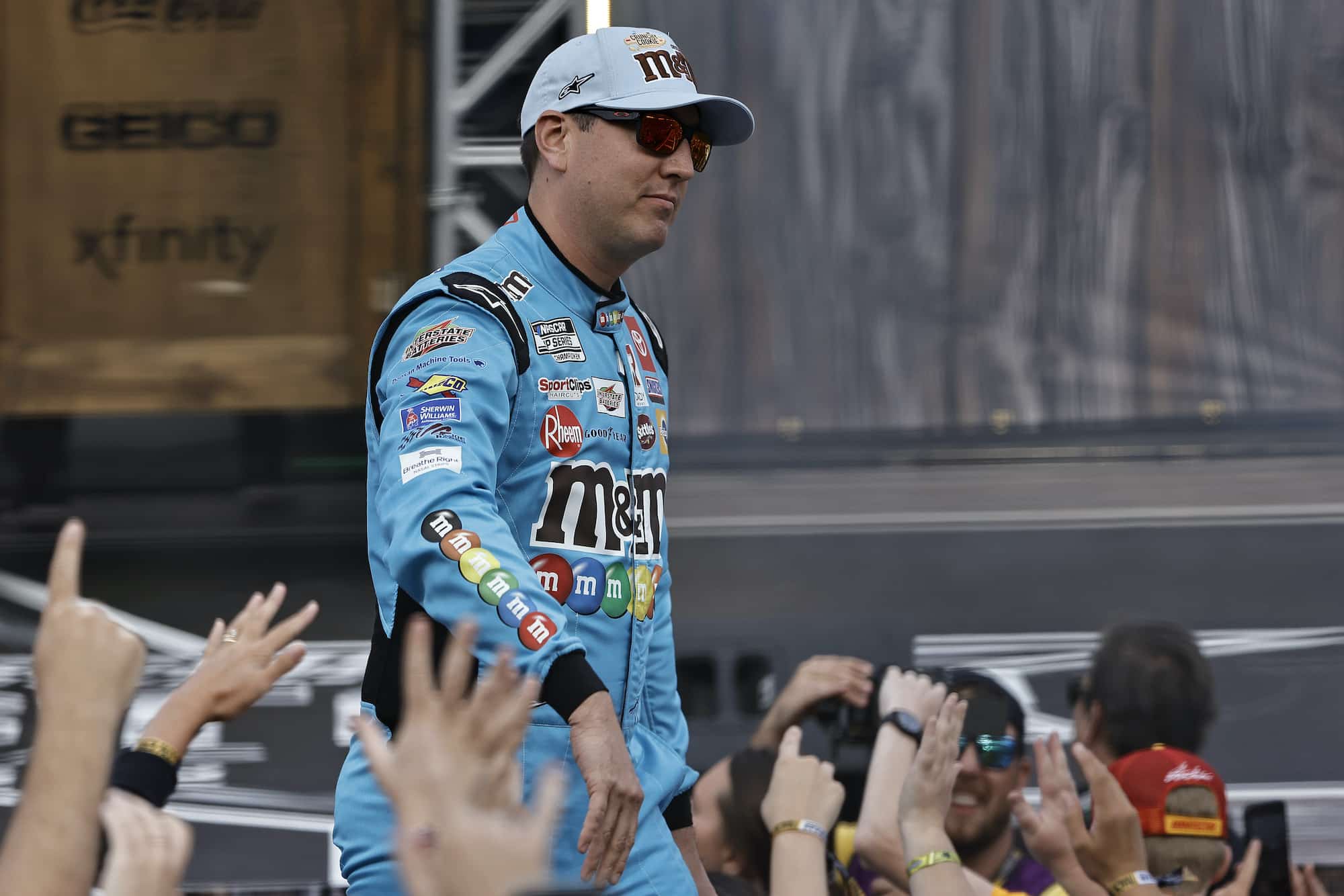 Kyle Busch Joking About 2023 Plans Matches Up With Reports That Moves Are Happening Behind the Scenes
Kyle Busch joked about his 2023 plans with reporters at Texas and his attitude matches up with reports, suggesting that a deal with the two-time champion will be announced in near future.
Kyle Busch's future at Joe Gibbs Racing has been a hot topic of conversation in the last month. The two-time Cup Series champion started the rumors last month at Talladega when asked about finding a new sponsorship to replace M&M's and he referred reporters to team owner Joe Gibbs. 
Since that initial interview, things have been relatively quiet on the matter. Interestingly, before the All-Star Race at Texas, Busch jokingly brought up his future and what he might be doing. Behind the scenes, however, is no joking matter and various reports indicate things are trending in the right direction for him to return to the team in 2023.
Kyle Busch questions future at Joe Gibbs Racing
Kyle Busch raised more than a few eyebrows at Talladega last month when he responded to a reporter's question about his future with Joe Gibbs Racing since the M&M's sponsorship deal, which has been in place for years, would end after the 2022 season. 
"I'm not getting antsy about it. If it happens, it happens. If it don't, it don't. Goodbye," Busch curtly answered. 
"So goodbye is an option?" the AP's Jenna Fryer asked.
"Ask Joe Gibbs," Busch responded.
"Have you been knocking on his door about it?" SiriusXM's Claire B. Lang asked him.
"Not my problem," the driver replied.
Jokes about future
Before Busch visited with the media at the All-Star Race in Texas, his brother Kurt talked to reporters and said he made a deal with his nephew, Brexton, which included paying him $100 for every race he won. The seven-year-old is up to $1,400. 
When one reporter joked with Kyle about being concerned about his finances because he's paying for his son's racing, the 37-year-old driver responded with a joke of his own about his future. 
"You should be (concerned) considering the best thing I got going right now for next year is a test driver, sim driver," he said. "I did hear though, that pays over $100,000 so I'm excited about that." 
JGR shows how serious it is about keeping Busch with unique move and Joe Gibbs speaks
While Busch joked about his future, there appears to be considerable movement behind the scenes. According to the Sports Business Journal, one interesting development is JGR has hired JTG Daugherty Racing Owner Tad Geschickter's marketing agency to help sell sponsorship. 
Geschickter launched Brand Activation Maximizer in 2018, and it has worked with entities like Minor League Baseball and Kroger, which has a full-season sponsorship with the one-car team. Geschickter, who had a relationship with the late J.D. Gibbs, attending college together at William & Mary, told SBJ this is the first time he's worked with another NASCAR team to sell sponsorship.
That could be one of the reasons Joe Gibbs said earlier this week that he is feeling positive about Busch returning to the team in 2023. 
"We're really confident that we're going to have that (No. 18) car squared away, sponsorship-wise, and we're trying to work on our deal right now with Kyle," Gibbs told the Charlotte Observer. "So I think we feel good about it."
Busch joking about his future. Gibbs feeling confident about it. It sounds like it's just a matter of time before it's officially announced and Rowdy Nation will be able to breathe a collective sigh of relief.
Like Sportscasting on Facebook. Follow us on Twitter @sportscasting19 and subscribe to our YouTube channel.