Kyle Busch Pulled Off Surprising Move Before Clash Awards Ceremony That Clearly Grabbed Martin Truex Jr.'s Attention and Brought a Smile to Anyone Who Saw It 
Kyle Busch officially started his Cup Series career in the Richard Childress Racing No. 8 car on Sunday night in the exhibition Clash at the Coliseum. He had a great first outing, finishing third behind winner and former teammate Martin Truex Jr. and new teammate Austin Dillon.
In an awards format change specific to the storied stadium's history and hosting multiple Olympics, NASCAR awarded the top three drivers with bronze, silver, and gold medals. Just moments before the medals presentation, the two-time champion approached the stand and made a move that grabbed the Joe Gibbs Racing driver's attention and brought a smile to anyone who saw it. 
Kyle Busch has solid first outing with Richard Childress Racing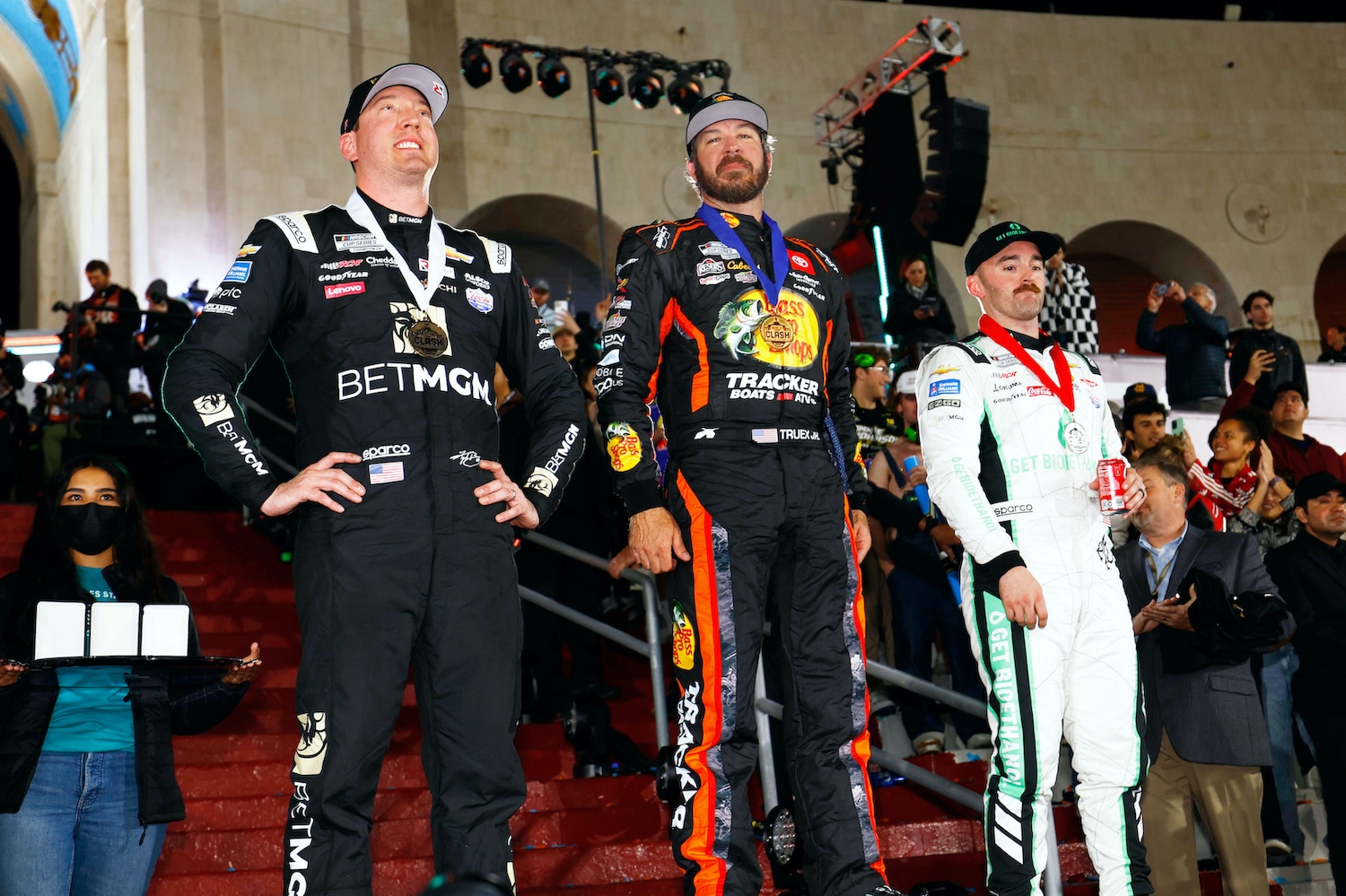 Kyle Busch was fast last year at the inaugural Clash as the driver of the No. 18 Toyota for Joe Gibbs Racing. He sat on the pole and was a contending car throughout the race, finishing second to Joey Logano. 
A year later, despite moving to a new team, expectations were high for Rowdy heading into the season-opening exhibition on the quarter-mile track. Busch's finish in LA last year, coupled with RCR's strong performance at the track, led most to believe a top-5 finish was in the cards for the No. 8 team.
It was. Busch had a solid race, despite getting dumped by Logano, and finished third behind the No. 19 of Truex and No. 3 of Dillon.  
Busch grabs Martin Truex Jr.'s attention
After the race, the drivers made their way up to the podium at the top of the stands underneath the flame-filled torch. Truex arrived first and, while waiting, visited with NASCAR executive Ben Kennedy. 
With his back to the stairs that he had walked up just moments before, the JGR driver never saw Busch approaching. He felt it though when his former teammate grabbed him from behind on the inside of his left leg, causing Truex to quickly lift his leg off the ground. 
He turned and saw the new RCR driver, reached down, and had a couple of friendly handshakes before the 2017 champion put his hand on Busch's shoulder. It was a moment of respect and admiration for each other after being teammates and competitors for years. 
Did something similar last season with Denny Hamlin
While Busch often gets criticized, and justifiably so, for his temper tantrums and sometimes immature behavior, he's also the owner of a humorous and endearing side, which has been on display more as of late. 
Truex is the most recent, but you don't have to go back far to find another similar incident. Flashback to the end of last season at Homestead. 
During the Countdown to Green prerace show, Denny Hamlin was being interviewed when Busch approached from behind in his bright red Skittles firesuit. He momentarily disappeared out of the shot, reappeared with a marker in hand, leaned forward, and signed the back of Hamlin's fire suit. 
"Nice," the three-time Daytona 500 winner said, smiling after realizing what had happened. 
Kyle Busch will always have his critics. He's played the villain role too many years for them all to go away. But with continued gestures like this, they'll be in steady decline.