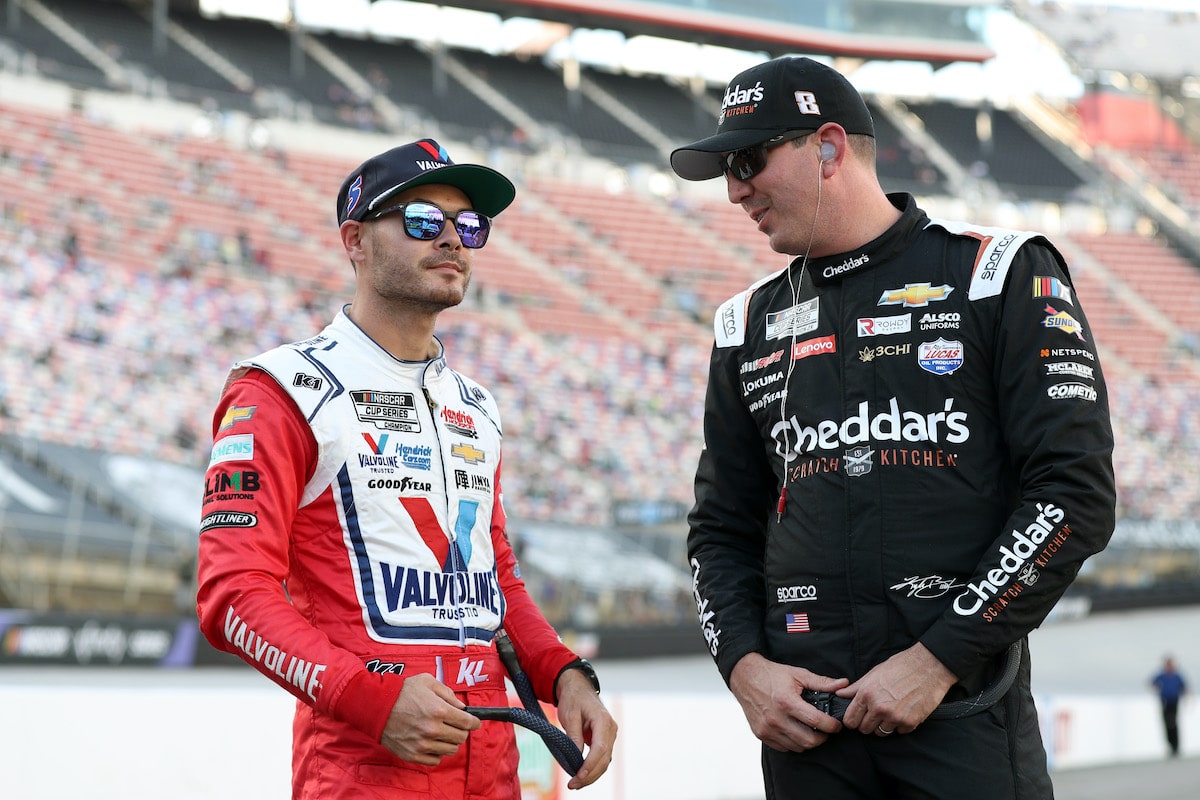 Kyle Busch Receives Surprising New Nickname From Kyle Larson That No One Could Have Predicted a Year Ago
Kyle Busch is viewed very differently by NASCAR fans in year one with Richard Childress Racing. Kyle Larson has noticed it and gave Busch a new nickname.
For years, Kyle Busch knew each time he walked out onto the stage during driver introductions before a race, he would hear it from the fans. And what he heard more often than not was a loud chorus of boos. 
This season, his first at Richard Childress Racing, has been dramatically different. There are still a smattering of boo-birds here and there, but the cheers largely drown them out. Yes, you read that right. And other drivers are taking notice. Kyle Larson revealed as much this week.
Kyle Busch discusses playing villain role before 2023 season  
Kyle Busch visited Austin and Circuit of the Americas in January for a Goodyear tire test in one of his first official duties with Richard Childress Racing. After the first day of testing, the two-time Cup Series champion met with the media, and a reporter questioned him about his personality and what Rowdy Nation might expect in 2023. 
"It just depends. It's a matter of who makes you mad," Busch joked. "It's just a product of circumstances and what all goes down. Our sport needs some entertainment. It needs some excitement whether it's on the track or a little bit off the track. If I'm that guy — I've been that guy for a little bit. This hat's black for a reason. We'll keep rolling."
Busch has been replaced by Denny Hamlin as NASCAR's top villain
Busch has been a new driver with RCR in 2023, both on and off the track. His on-track performance has been considerably better. He's won three times this season compared to the four victories he recorded in his last three years at JGR. 
That success and a fresh start at a new organization have made Rowdy less so. His interviews have a different tone. There's an overall more positive vibe around his No. 8 Chevrolet team. All of it combined has resulted in fans cheering instead of jeering when he walks on stage before driver introductions. 
Interestingly, Busch's former JGR teammate, Denny Hamlin, has replaced him as the top villain. This past weekend at Bristol, the three-time Daytona 500 winner leaned into his status during his winning post-race interview with NBC's Marty Snider.
"Are these fans motivation for you? A lot of boos out there," the reporter said.
"Hey, I beat your favorite driver," Hamlin said, looking at the crowd. 
"Who would that be?" Snider asked. 
"All of them," the driver said and walked away.
Kyle Larson gives Busch a new nickname
A few days after finishing runner-up to Hamlin at Bristol, Kyle Larson appeared on NASCAR Race Hub and was asked by show host Shannon Spake for his thoughts on the sport's newest villain. 
"I don't know. I guess somebody's got to be it," Larson said, smiling. "Kyle seems to turn into Mr. Nice Guy lately — Kyle Busch. So I guess somebody's got to embrace it.
"Hey, when you're running good, you can be confident, and you can chirp a little bit, too. He's definitely embraced it and I think the sport needs it."
Mr. Nice Guy agrees and he said as much in January.
To stay up to date on the latest happenings in NASCAR, including breaking stories you can't find anywhere else, follow Kyle on YouTube and Twitter.