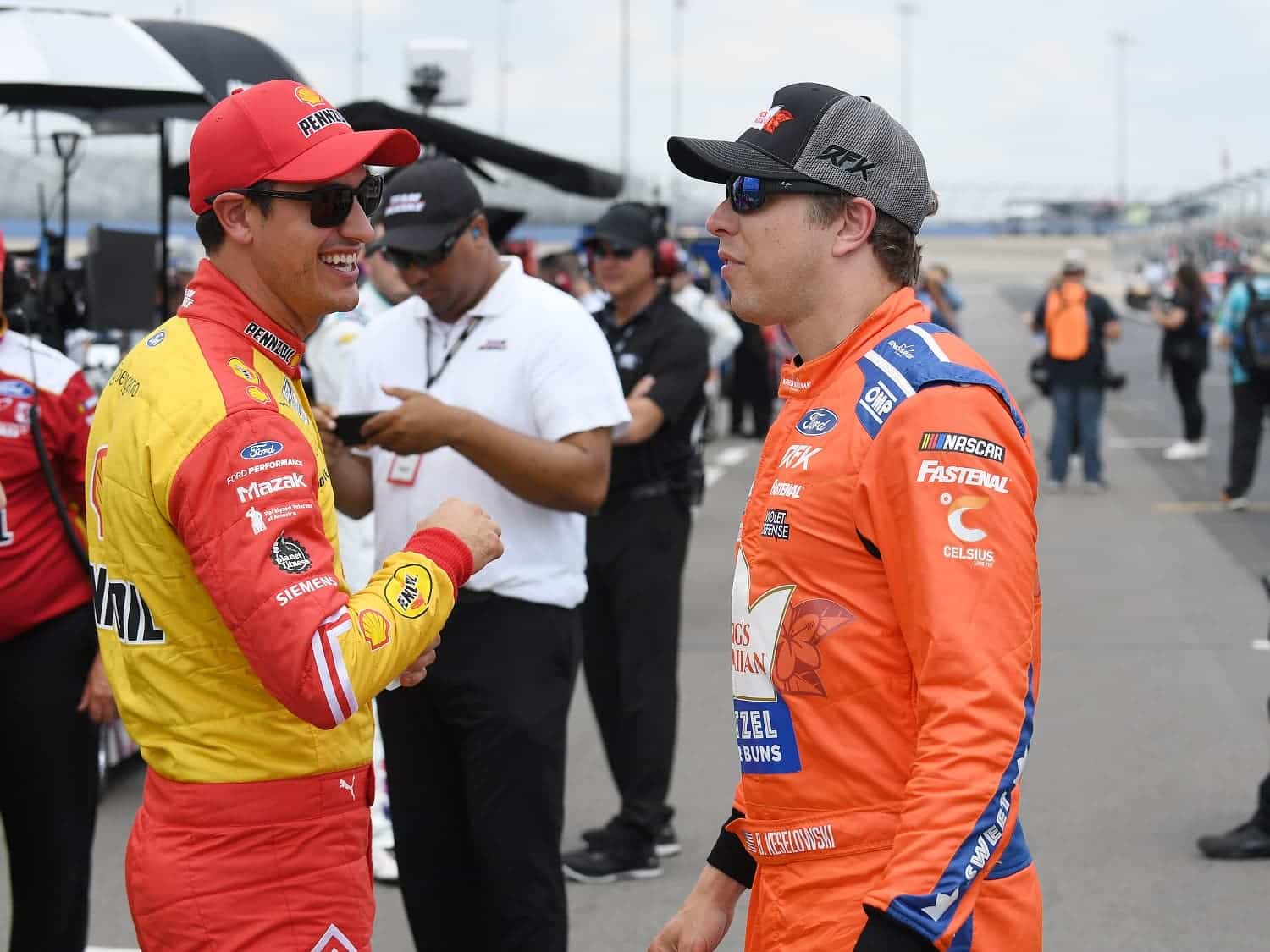 If the Garage Dismissed Kyle Busch's Rant, It Shouldn't Ignore Joey Logano and Brad Keselowski
Joey Logano and Brad Keselowski kept it clean throughout a compelling Cup Series duel late in Sunday's race at Atlanta Motor Speedway.
Moral victories are generally reserved for losers, but that doesn't apply to Brad Keselowski in the aftermath of a duel with race winner Joey Logano in Sunday's NASCAR race.
Keselowski is approaching two full seasons without a Cup Series victory, but his No. 6 Ford continues to show encouraging signs. Even better, however, is that the RFK Racing driver/co-owner and Logano waged a clean battle down the stretch, sparing fans from another wreck-fest finish by displaying actual driving skills and showing mutual respect.
Brad Keselowski calls it 'a heck of a battle' with Joey Logano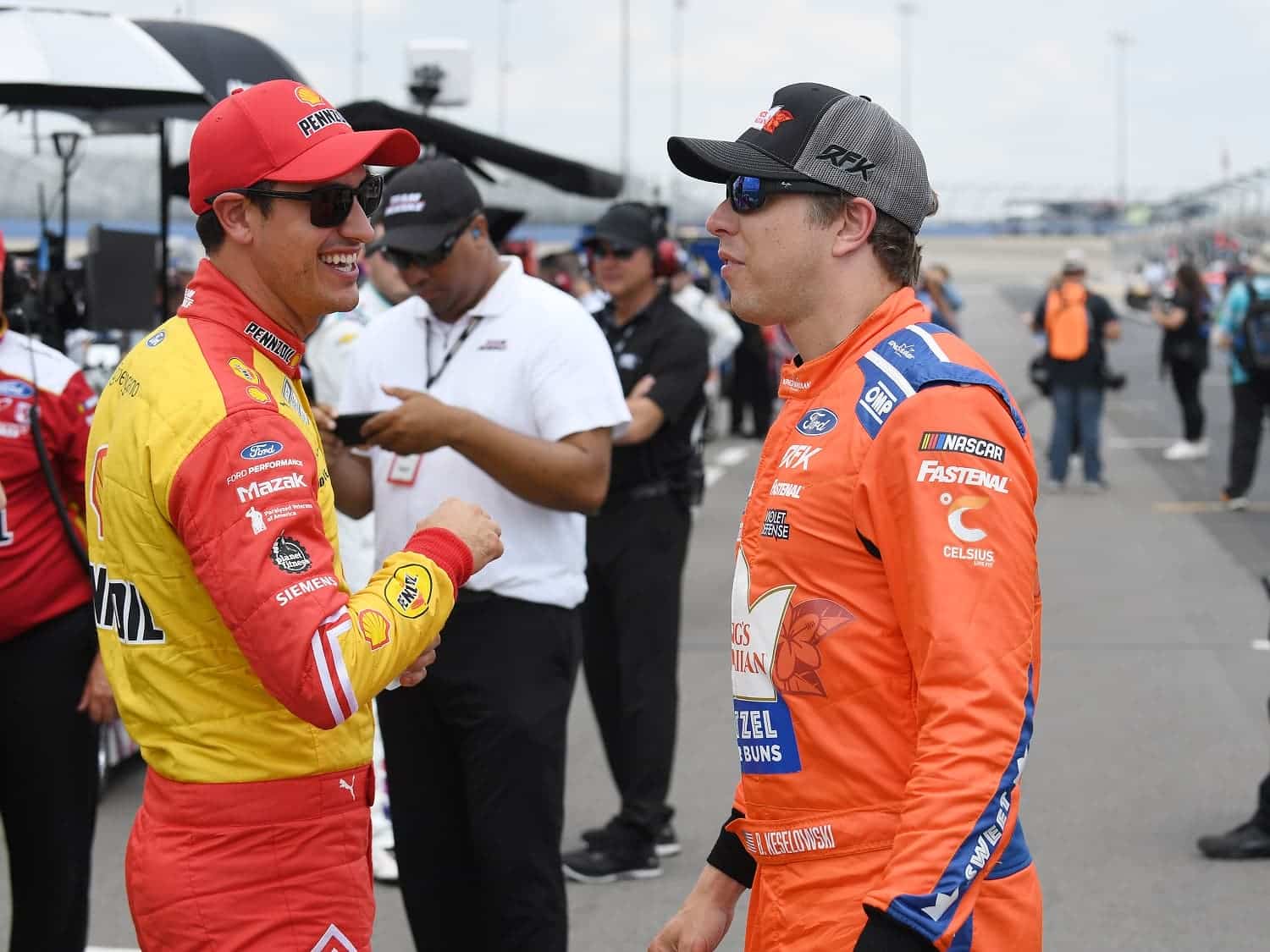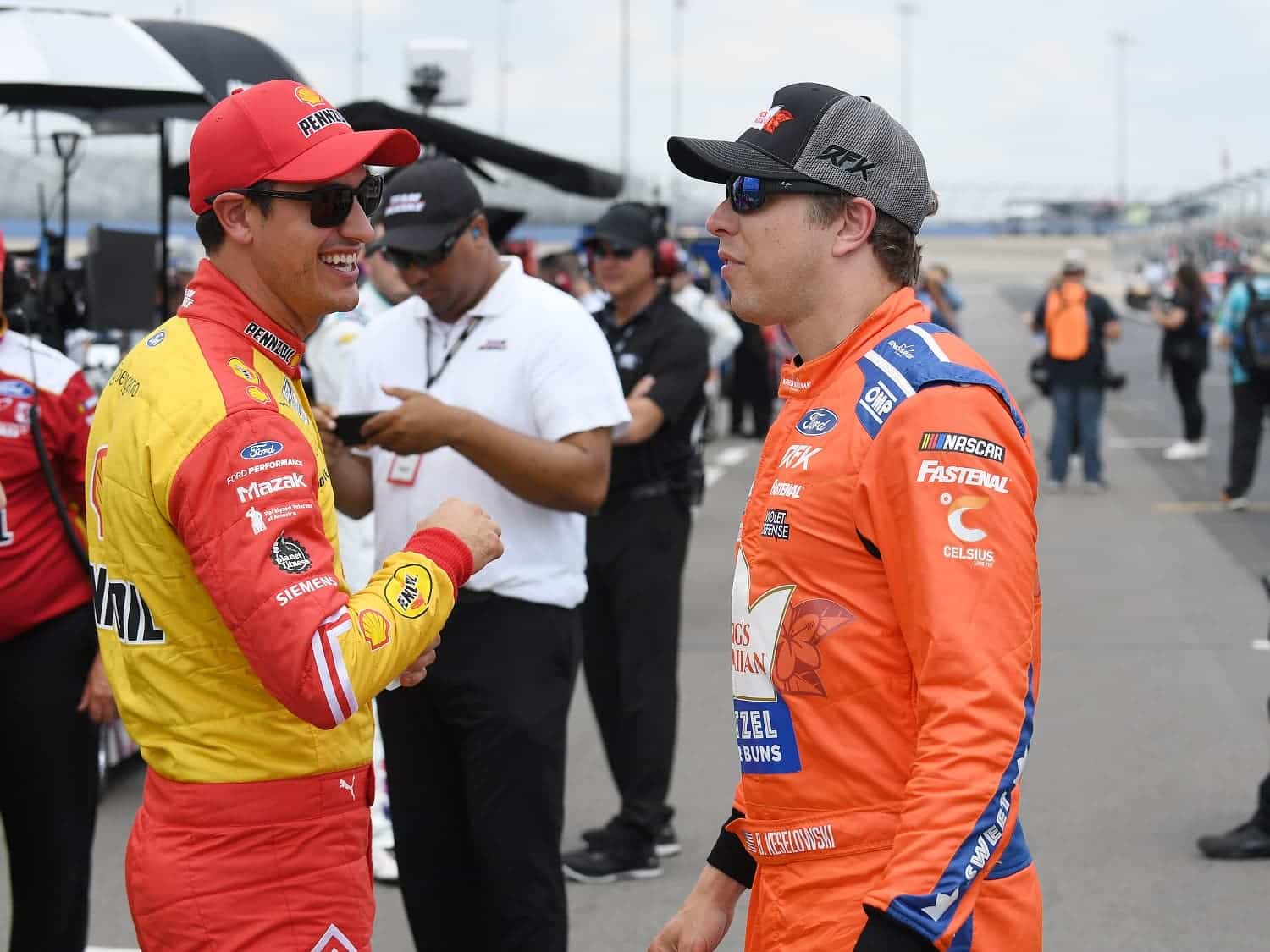 Defending NASCAR Cup Series champion Joey Logano was a worthy victor on Sunday at Atlanta Motor Speedway. He dominated the first two stages and continued to run well in the back half of the race but couldn't separate himself from the field. After Brad Keselowski passed Aric Almirola with 52 laps remaining, Logano retook the lead on Lap 227 of the scheduled 260 on the 1.54-mile oval.
But Keselowski persisted and quickly passed Logano for a 29-lap run out front. It lasted into Logano regrouped and pushed past with the white flag flying. He took the checkered at the completion of a 44-lap green flag run that saw two pros clawing at each other without getting dirty.
"A heck of a battle," Keselowski said in his on-track interview. "The coolest thing about this is two veterans showed that you can run a race here side-by-side, bump drafting, and not wreck the field. It can happen if you race respectfully, and I thought everybody did a great job."
Said Logano: "We were kind of duking it out back and forth, side-by-side, side drafting each other. OK, this is what you would expect. It's fun going up against the best like that."
Respectful racing came at just the right time
The idea of two drivers choosing to "race respectfully," as Brad Keselowski phrased it, has been an ongoing NASCAR topic since early last season, when four of the first eight points races in the new Next Gen car ended in green-white-checkered finishes. That coincided with when Ross Chastain started muscling his way into contention and a pair of early-season wins.
More followed, most notably at Charlotte, where the longest scheduled race on the calendar morphed into the Coca-Cola 620, and the discussion about late-race aggression has seldom subsided for more than two or three weeks at a time. Some questioned the value of the first 90% of races if the conclusions were going to descend into chaos.
The hot on-track topic this season became Denny Hamlin's admission in his podcast that he put Chastain into the wall in the closing moments at Phoenix, continuing their year-long feud. The two seemed to have talked through it afterward, but Hamlin's subsequent revelation earned him a fine and points penalty from NASCAR officials.
Just ahead of the riveting Logano-Keselowski duel, Kyle Busch segued from Hamlin vs. Chastain to a broader observation about the state of civility – or lack of it. Busch got rolling when a reporter suggested Mark Martin and his contemporaries displayed better etiquette.
"Now you're going down the right path because we have completely lost any sense of respect in the garage area between drivers at all," he said. "That's where the problem lies is nobody gives two s**** about anybody else, and it's just a problem where everybody takes advantage of everybody as much as they can."
Brad Keselowski and Joey Logano had history on their side
Don't expect the NASCAR Cup Series to get all touchy-feely based on Sunday's civilized duel at Atlanta Motor Speedway. That was a one-off for now.
Though they may have had their differences occasionally, Logano and Keselowski were teammates at Team Penske from 2014-21, when the latter left to take an ownership stake at Roush Fenway Racing. Additionally, Keselowski spotter TJ Majors used to work for Logano's team. These guys know each other and their circle of friends, and that helps keep things in check.
It's tough enough keeping teammates on the same wavelength – witness Kyle Larson and Chase Elliott last season – so expecting two guys without a shared background, like Denny Hamlin and Ross Chastain, to stay civil is asking too much.
Got a question or observation about racing? Sportscasting's John Moriello does a mailbag column each Friday. Write to him at [email protected]