Brad Keselowski Thinks Denny Hamlin Delivered a Bigger Message by Squeezing Ross Chastain Into the Wall
Denny Hamlin's actions near the end of Sunday's race at Phoenix said it all. And then the driver of the No. 11 Toyota felt compelled to say a little bit more anyway the next day on his podcast.
That resulted in NASCAR speaking up in its usual fashion – with financial and points penalties. Hamlin was hit hard, but fellow driver Brad Keselowski believes Hamlin was making an investment that could pay off in the long run.
Denny Hamlin pays a price for his latest run-in with Ross Chastain
Denny Hamlin went on his month-old podcast, Actions Detrimental, on Monday to admit putting NASCAR Cup Series nemesis Ross Chastain into the wall on the final restart at Phoenix Raceway a day earlier. The two have feuded since last June at World Wide Technology Raceway (WWTR).
"It wasn't a mistake," Hamlin said. "I let the wheel go, and I said he's coming with me."
Hamlin may not have considered it a mistake, but NASCAR sure did. The governing body fined Hamlin $50,000 and docked him 25 points. Elton Sawyer, senior vice president of competition, said NASCAR likely would have viewed the incident as nothing more than hard racing had Hamlin not gone into details on the podcast.
"When you start admitting that you have intentionally done something that would compromise the results of the end of the race, then that rises to a level that we're going to get involved," he said.
Brad Keselowski thinks Denny Hamlin was delivering a bigger message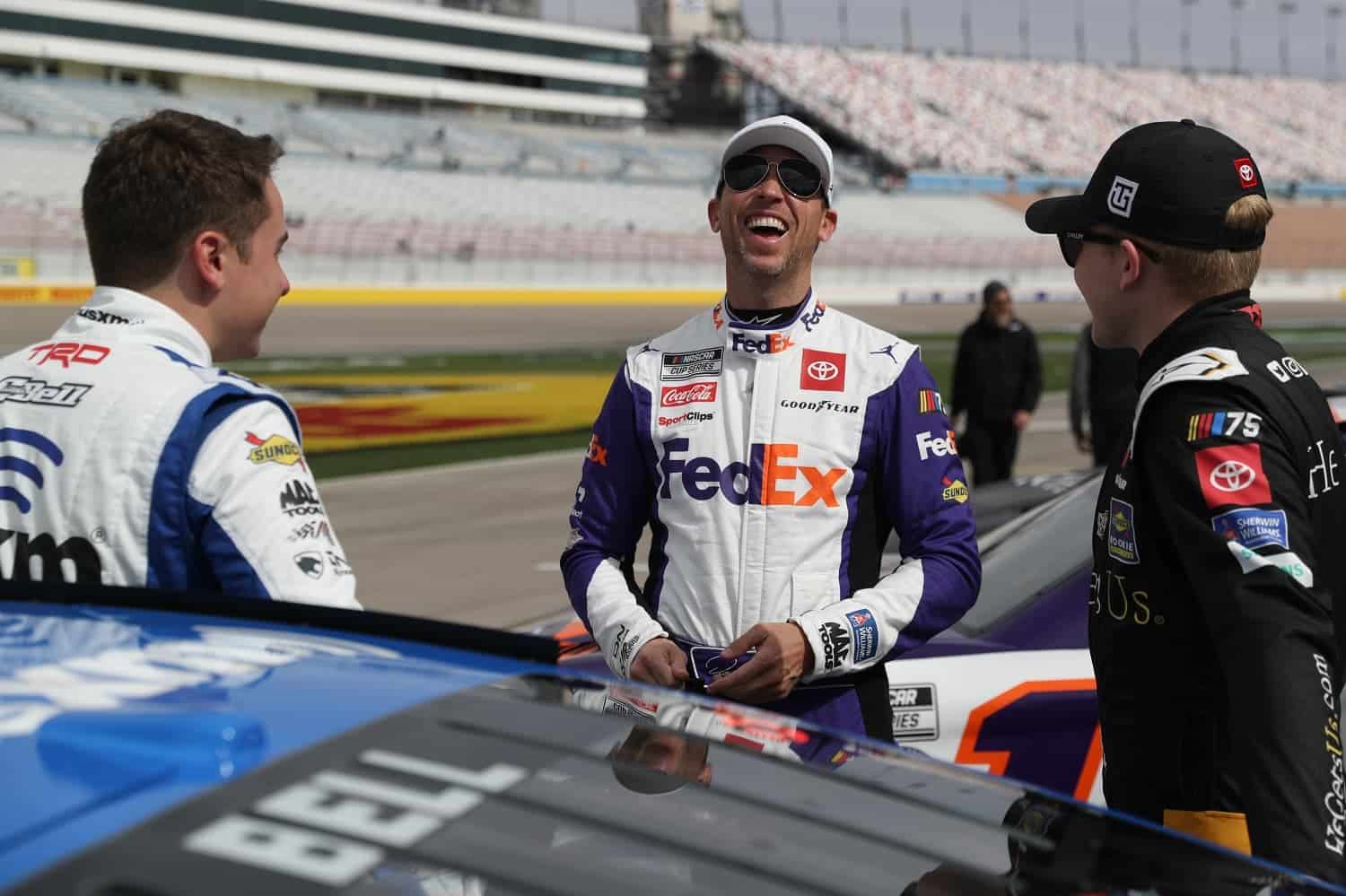 Denny Hamlin was just one of several drivers who had issues with Ross Chastain last season in the Trackhouse Racing driver's breakout year. Chastain's most memorable moment was riding the wall at Martinsville to pick up crucial points that moved him into the Championship 4 at Hamlin's expense, which just extended the aggravation for the latter.
Lest we forget, Chastain launched Kyle Busch into Chase Elliott at the All-Star Race and spun Elliott at WWTR. Larson and Chastain tangled somewhat mildly at Sonoma. But the memory lingered for Larson as he laughed off his spotter's suggestion of cooperating with Chastain during a race seven weeks later.
There was the usual quota of other feuds last season, including Brad Keselowski vs. Austin Dillon at New Hampshire, but they were distributed across the field.
For his part, Keselowski said on Fox's NASCAR Race Hub he thinks Hamlin was making a bigger statement in announcing that he went after Chastain. The clock is ticking for the driver of the FedEx car as he pursues that elusive Cup Series championship, so perhaps that was a consideration.
"What stood out to me was Danny saying, 'I needed to make a statement.' I think what he's really trying to say is, 'I've got good cars. I've got a good team. I'm getting wrecked too much, and I want not just him to know. I want everybody to know that this is how I'm going to race you back if this happens.

"I really think that's at the heart of what Denny was saying. Yeah, I'm sure he's very frustrated with some of the incidents he's had with Ross. But he's also trying to say to everybody else like this is too far."

Brad Keselowski
More to come? Stay tuned
Three months off between seasons have a way of getting drivers to brush off relatively minor incidents. However, there was too much animosity between Denny Hamlin and Ross Chastain for anyone to believe Hamlin would let it slide. Once 2023 began with Chastain spinning Hamlin at the Busch Light Clash, it became just a matter of time.
Speaking on NASCAR Race Hub before NASCAR issued its penalties, Fox Sports analyst and Aric Almirola crew chief Drew Blickensderfer predicted a sequel.
"I don't think it's over because I don't think that was enough punishment in Denny's mind," he said. "There's a lot of people that Ross has run into, a lot of people he's ruffled feathers to. The Denny thing's big because we see it out in the public eye. Those two are up front running when they're doing this most of the time. So, I think this is probably not the end of it for lots of reasons."
Got a question or observation about racing? Sportscasting's John Moriello does a mailbag column each Friday. Write to him at [email protected]