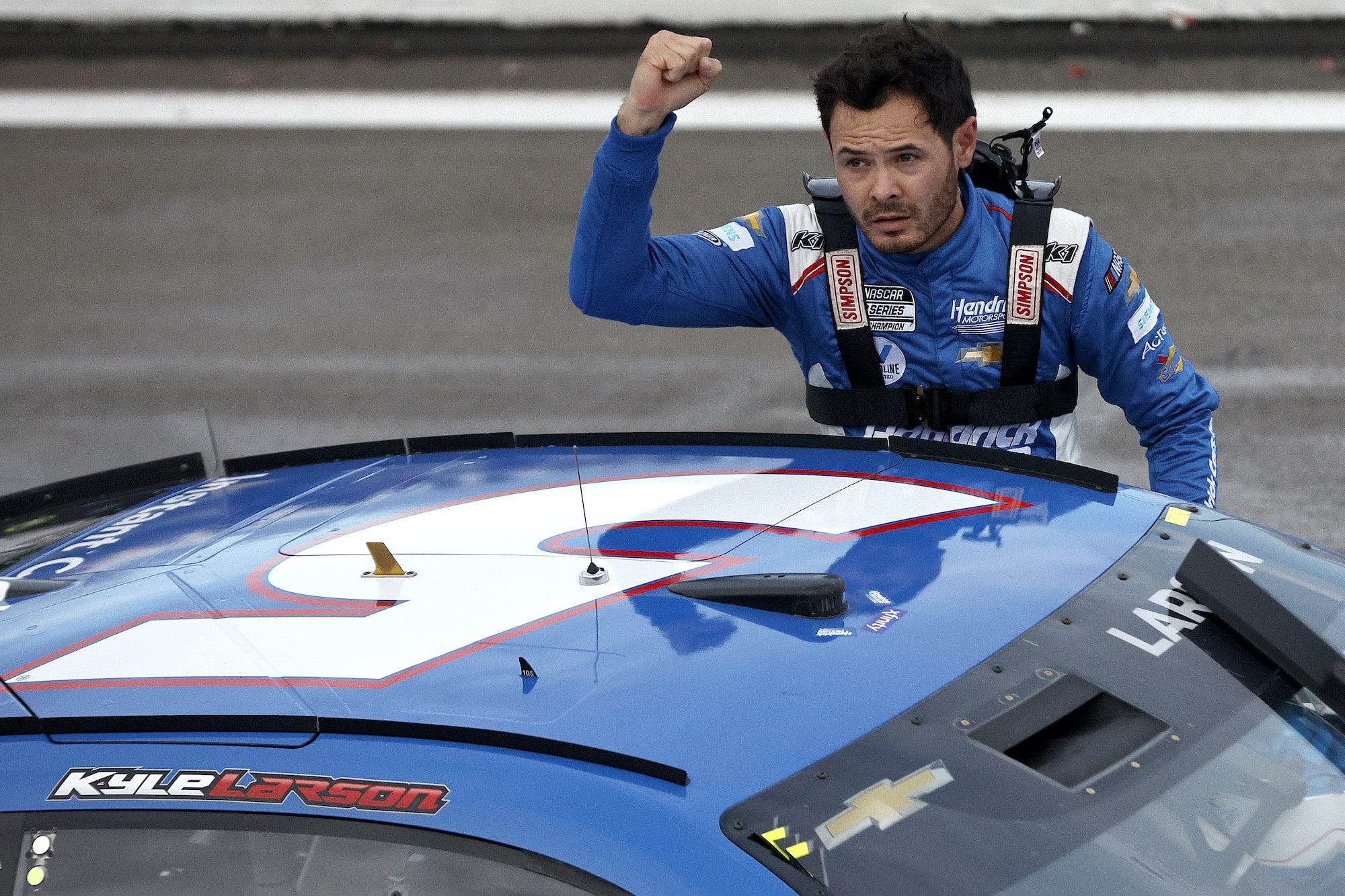 Kyle Larson Candidly Admits He Did More Listening Than Talking During HMS Team Meeting After Incident With Chase Elliott  
Kyle Larson didn't hide that he did more listening than talking during the HMS competition meeting this week after his last-race incident at Watkins Glen with teammate Chase Elliott.
It's a NASCAR team owner's dream scenario, watching his two cars battling it out for the win. Rick Hendrick was living that dream on Sunday at Watkins Glen when Kyle Larson and Chase Elliott lined up on the front row for a restart with five laps to go.
The longtime owner knows as well as anyone that those dreams can quickly go pear-shaped and turn into nightmares with one misstep. That happened when Larson ran Elliott out wide on Turn 1, before going onto victory. The 2020 champion was visibly frustrated immediately following the race and did his best to hide his anger in the postrace interview. Larson himself was subdued in victory, acknowledging he wasn't proud of the move but it was the only thing that would give him a chance at winning.
This week during the organization's competition meeting, the participating parties talked through what happened. According to the reigning champion, he didn't do a lot of talking.
Kyle Larson uses up Chase Elliott at Watkins Glen
Kyle Larson is considered one of the best drivers in the world for many reasons, including his sense of timing on when to be aggressive. On Sunday at Watkins Glen, in a restart with five laps remaining, it was time.
On the restart, he aggressively drove hard into Turn 1 and locked up the brakes, swinging out wide into the runoff area. That move alone wouldn't have been bad, but it had much greater implications because his Hendrick Motorsports teammate, Chase Elliott, who led a race-high 29 laps, was on his outside and got forced out wider on the track, allowing Larson and AJ Allmendinger to get inside and in front of him.  
The 30-year-old driver held off the Kaulig Racing car in the final laps and won his second trophy of the season and second consecutive race at Watkins Glen. Elliott finished fourth.
Larson did more listening than talking in team meeting
Following the race, media and fans immediately began speculating about the team's competition meeting, the intensity of it, and just what might be said. Fortunately for fans, they didn't have to wait long to find out because Larson addressed it in a meeting with the media during the tire test at Martinsville. 
"We all had an open conversation in the competition meeting yesterday, as we do every week to talk about race week," Larson told reporters. "It was positive. It was definitely constructive. It was good to have those talks." 
He then offered an interesting response when asked if both drivers understood the other's perspective after the meeting. 
"I don't know, but I think one thing's for sure, we all like to win," he said. "We try really hard to do that, but in the end, we probably should have a little bit more respect next time."   
When Fox's Bob Pockrass asked him if he watched the video of the incident with his teammate or they just talked, the driver provided another intriguing answer.
"I took most of it in," Larson said with a smile. 
"So you did a lot more listening than talking?" Pockrass asked.
"Yeah," the driver replied. 
Elliott responds
During that same tire test at Martinsville, Elliott also met with reporters and addressed the meeting at HMS headquarters.
"I thought it went great," he said. "We talked through our race weekend and where I felt like we needed to be better as the nine team and how we want to improve and think about going back there next year and how we want to think about going to the Roval as that pertains to 2022. Because ultimately, we still have more road racing ahead, and I think we can be better. That's really where our heads at, but yeah, it was a good day."
A reporter then brought up the heated conversation Elliott had with Hendrick and HMS vice chairman Jeff Gordon moments after the race on pit road, where some suggested the driver said, "there's no fixing this."
"I would just say that there's nothing to be fixed," Elliott admitted. "I mean, really, at the end of the day, when you sit back and you look at the reality of the situation, we finished fourth, and we weren't good enough to win. And that's really what it comes down to. We just need to be faster. Need to do a better job finishing off the races. For me, I don't see where there's anything to be fixed."
This doesn't have the feel that it's over. The Nos. 5 and 9 are consistently two of the fastest cars. They'll likely be racing around each other again for wins before the season is over. And that's when everyone will find out just how much respect Larson is willing to give and if Elliott still believes everything is so peachy.
Like Sportscasting on Facebook. Follow us on Twitter @sportscasting19 and subscribe to our YouTube channel.