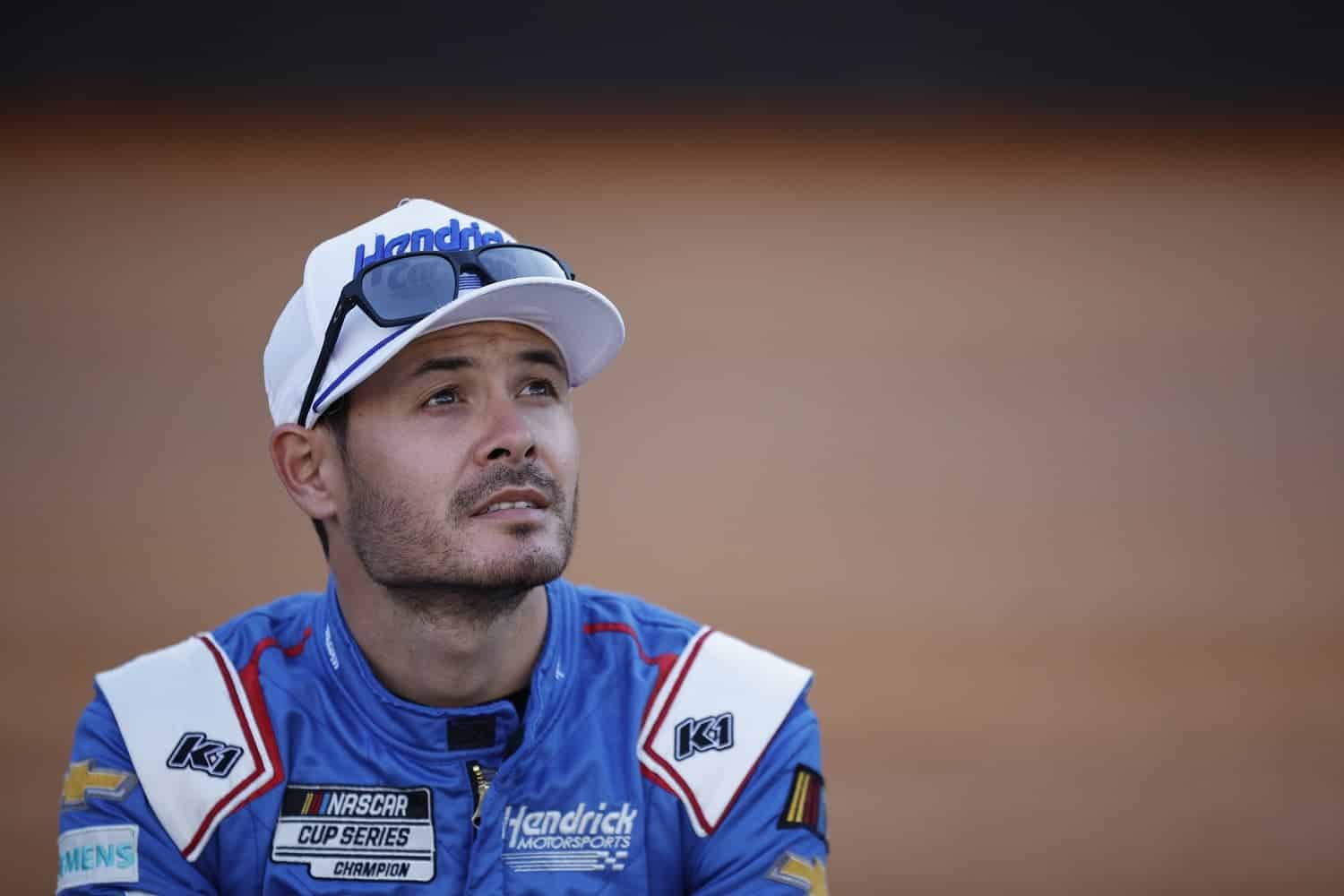 Kyle Larson Could Build Momentum With a Full Weekend at Sonoma
Kyle Larson has entered both weekend races at Sonoma, where he hopes to start making up ground on the Cup Series leaders.
Kyle Larson is in the playoffs courtesy of two wins, and his two stage victories add to the cache of points he'll carry into the round of 16. However, the 2021 NASCAR Cup Series champion has left a lot of points on the table thanks to misfortune mostly not of his own making this spring.
Larson and the No. 5 Chevy team can start making up for lost time beginning Sunday. It's a two-fer weekend at Sonoma, and Larson knows his way around road courses about as well as anyone else in the field.
Kyle Larson is in a deep points hole
We've completed 15 of the 26 regular-season points races in the Cup Series, and Kyle Larson has yet to go three consecutive starts without at least one finish of 29th or worse. It's almost amazing considering he has won at Richmond and Martinsville, finished second at Las Vegas and Kansas, and placed fourth in two other races.
The culprit has been DNFs. His season began with an overtime crash in the Daytona 500, and all four of his other day-ending wrecks have come more than two-thirds of the way into races.
Bolstered by his top-10 efforts, the Hendrick Motorsports star has managed to work his way into ninth place in points following his fourth-place effort at WWT Raceway last weekend. That puts him on pace to pick up some bonus playoff points at the conclusion of the regular season.
That's the good news. The bad news is that there is a 40-point gap between Larson and Denny Hamlin and Kyle Busch, the two drivers immediately in front of him. It's another four points to Christopher Bell in sixth place.
That's a lot of ground to make up on talented drivers in order to pick up additional playoff points.
Kyle Larson has a full weekend at Sonoma
The back half of the NASCAR Cup Series regular-season schedule includes four road races, beginning on Sunday at Sonoma. That was the site of Kyle Larson's first road course victory, and it helped him to the 2021 series championship.
Since then, Larson has won twice at Watkins Glen and once on the Roval. He also triumphed in the Watkins Glen Xfinity Series race last season as part of a weekend sweep.
With that as the background, Larson is scheduled for double duty at Sonoma, making it an excellent opportunity to refamiliarize himself with the circuit on Saturday and then contend for the Cup win the following afternoon.
Larson owns the sixth-best average finish since the start of 2020 on road courses, so the opportunity is real. And though a win might not result in him gaining much ground on those ahead of him in the standings, victories do come with five valuable playoff points.
That would be a boost to his prospects and create momentum for the street race in Chicago during the Independence Day weekend, then the August dates on road courses at Indianapolis Motor Speedway and Watkins Glen.
Seven Cup Series regulars will compete in the Xfinity Series race
Kyle Larson is hardly the only Cup Series driver planning to get a feel for Sunday's Cup Series race at Sonoma by competing in the Xfinity Series the previous day. In fact, the entry list is overrun with competitors from NASCAR's top series.
Tops among them is Kaulig Racing driver AJ Allmendinger, the most accomplished active driver on road courses. Both of his Cup Series wins have come on road courses, and "Dinger" also owns 10 Xfinity Series victories away from the ovals. When Larson swept at Watkins Glen last year, Allmendinger was the runner-up both days.
The other regulars dropping down into the Xfinity Series on Saturday are Ty Dillon, Daniel Suarez, Ty Gibbs, Aric Almirola, and Ross Chastain.
Got a question or observation about racing? Sportscasting's John Moriello does a mailbag column each Friday. Write to him at [email protected].