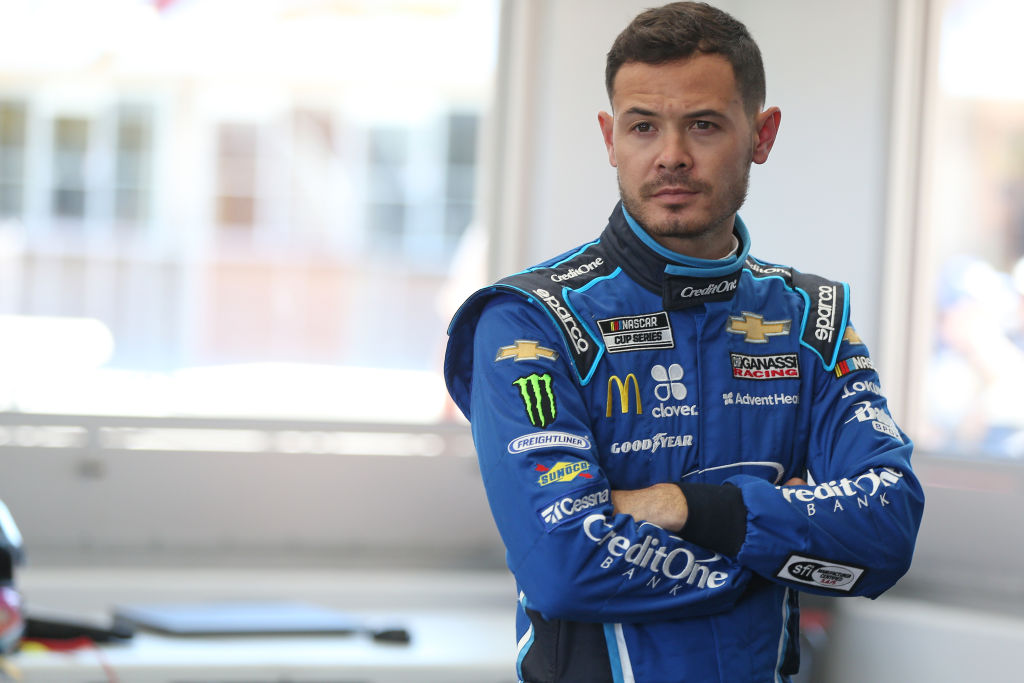 Kyle Larson Likely to Join Tony Stewart Team in Future Return to NASCAR
Kyle Larson has been out of NASCAR since April after using a racial slur. His return to NASCAR looks more likely and there's a good chance it's with Tony Stewart's team.
Since April, when NASCAR indefinitely suspended Kyle Larson for using a racial slur he made on a live stream during an iRacing event, the six-time winner on the Cup Series has returned to his roots racing dirt tracks across the nation. Not surprisingly, he's been very successful. According to various reports, Larson's time on the short tracks could be limited as it looks like he could be returning to NASCAR to race for another former dirt track specialist in Tony Stewart.
Kyle Larson suspended from NASCAR and loses all sponsorships
Kyle Larson has been one of the bright young stars in NASCAR since he started racing with the Cup Series in 2014 and won the Sunoco Rookie of the Year award. Larson has won six times on the Cup Series, adding to his already impressive total of 12 victories on the Xfinity Series.
In April, the reputation of the young NASCAR driver and all his accomplishments evaporated in an instant. With NASCAR on hiatus due to the COVID-19 pandemic, Larson joined other drivers for NASCAR virtual races. During one race, Larson used a racial slur while streaming on Twitch and didn't realize the other drivers and thousands of viewers watching could hear the slur. 
The next day NASCAR indefinitely suspended Larson. The Chip Ganassi Racing Team fired him. All of Larson's primary sponsors, including McDonald's, Credit One Bank, and Chevrolet, dumped him. 
Larson returns to his roots
With NASCAR no longer an option, Kyle Larson opted to return to a world with which he was quite familiar, and the World of Outlaw Racing. The Kyle Larson Racing Team has been involved in the Sprint Car Series since 2013. Prior to his full-time ride in NASCAR, Larson raced the series himself, earning eight victories.
Following sensitivity training, a prerequisite to joining the World of Outlaws as well as a condition of reinstatement for NASCAR, Larson returned to dirt-track racing and did so in impressive fashion. In his first race back, a 30-lap feature, Larson finished second behind his brother-in-law Brad Sweet. The next night in the 40-lap feature, Larson edged out another driver and Sweet to capture victory.
Since that initial weekend, Larson has proven time and again why he's one of the best race car drivers in America. He recently went on a streak where he won eight straight dirt features in multiple states across various series in different cars. In other words, Larson may have lost his ride, but he hasn't lost his drive. 
Tony Stewart interested in bringing Kyle Larson back
Kyle Larson's strong performance on the dirt track has caught the attention of another dirt track legend and NASCAR Hall of Famer Tony Stewart. Auto racing reporter Robin Miller recently revealed a conversation he had regarding Larson and his return to NASCAR.
When asked if Larson might be a good fit for an IndyCar race, Miller responded. "I called A.J. Foyt several weeks ago and told him to hire Larson, but he seemed to think Tony Stewart was going to do it. I asked Stew a couple weeks ago and he said he'd like to, but nothing to report yet."
While there's nothing official, if and when Larson does return to NASCAR, Stewart-Haas Racing would be an ideal fit. Stewart-Haas Racing only has one of their four drivers, Kevin Harvick, under contract beyond 2020. In addition, Stewart has always been a fan of Larson due to their similar backgrounds on the dirt track. There's no better evidence of this than back in 2017 when Stewart retired and he unsuccessfully tried to sign Larson as his replacement behind the wheel of the No. 14 car.
If NASCAR does sign off on Larson's return for 2021, you can expect it to be with Stewart, and that could be a tremendous opportunity for Larson to take his skills and success to the next level.