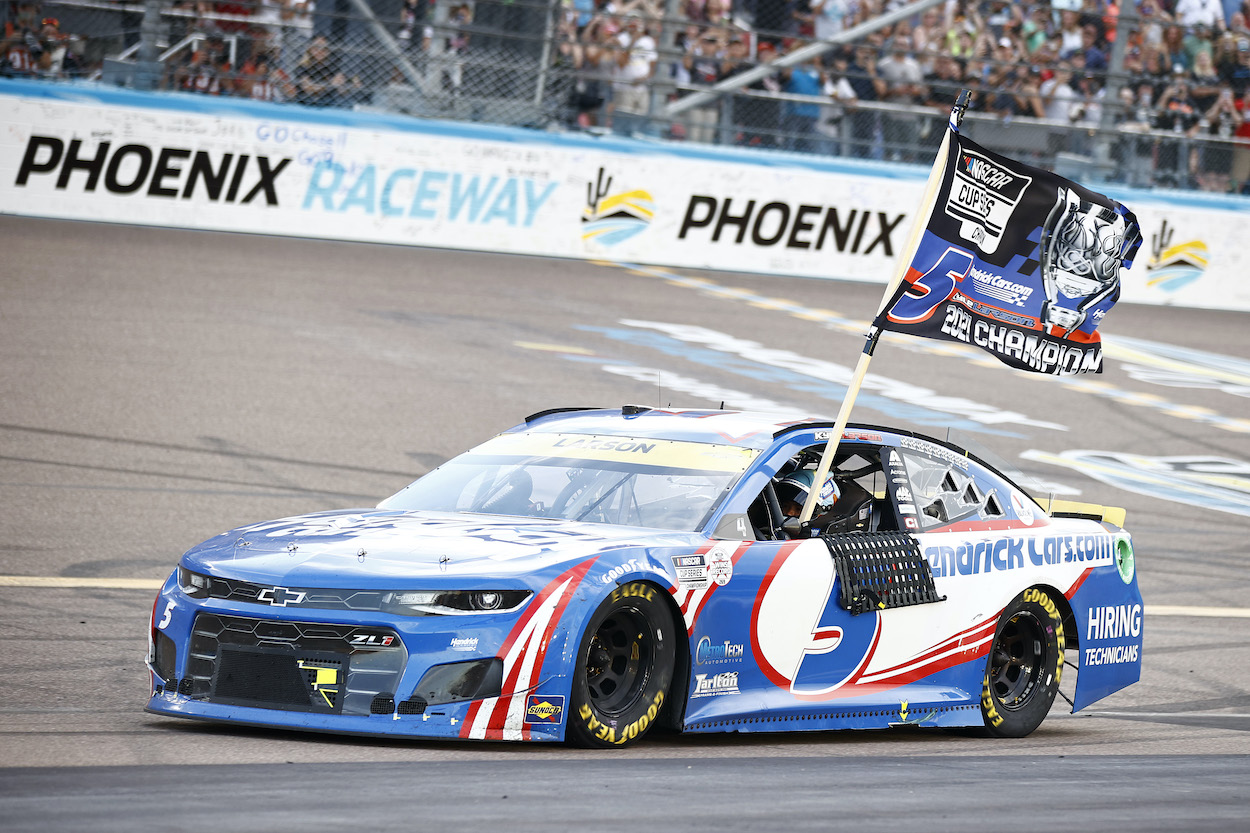 Kyle Larson Sends Concerning Message to NASCAR Competition Just Days Before Season That His Fans Will Love to Hear
Kyle Larson was the best Cup driver in 2021 and after the latest Next Gen testing sent a message to his competition that 2022 could be more of the same.
In 2021, Kyle Larson raced to a historic NASCAR Cup Series season fans will remember for years to come that included 10 wins, an All-Star Race victory, and most importantly, his first Cup championship. Many in the sport have speculated with the introduction of the Next Gen car, which is intended to level the playing field, the 29-year-old driver won't be as dominant.
This week after completing testing of the new car in Phoenix and just weeks before the start of the 2022 season, Larson sent a clear message to his fellow competitors. And it's exactly what fans of the No. 5 car want to hear. 
Kyle Larson races to historic season in 2021
The statistics for Kyle Larson in the 2021 NASCAR Cup Series season are beyond staggering and many of them record-breaking. One of the lesser-discussed but very telling stats is laps led. The Hendrick Motorsports driver led 2,581 of his 9,000 laps run over the course of the season or an incredible 28.7%.
Correspondingly, he led after the most important lap in 10 races, plus his win at the All-Star Race. What's even more incredible is to think about how many races he didn't win but had a real shot, including one stretch of three consecutive races during the middle of the season where he finished runner-up at Darlington, Dover, and the inaugural rain-shortened race at COTA.
Interestingly, after finishing second multiple times, Larson reeled off three straight victories at Charlotte, Sonoma, and Nashville. He also won the All-Star race during that same period. 
Unbelievably, that stretch was one of two winning streaks when he won three consecutive times. He did it again at the end of the year at the Charlotte Roval, Texas, and Kansas. 
Kyle Larson sends clear message to competitors
With 2021 in the rear-view mirror, all of the drivers have been looking forward to 2022 and the debut of the Next Gen car. NASCAR's introduction of the new machine is intended to level the playing field with all teams starting from the ground up with vendor-supplied parts.
In theory, that means even drivers from Rick Ware Racing would be competitive against Kyle Larson. This week, Larson participated in Next Gen testing at Phoenix, where he captured his first Cup title in November and the track that will host the championship race again in 2022. After his session, he visited with the media and talked about the car and, in the process, sent a clear message to his competitors. 
"As far as me driving the car, I was surprised it didn't seem that much different here than the previous car," Larson admitted. "The steering was maybe a little bit quicker, just the little things all seemed to happen a little quicker. The moments when you got loose – stuff like that. Other than that, it felt fairly normal, which I was happy about. 
"I was happy with the balance of my race car when we unloaded today. I'm confident that we can go out there and be competitive right off the bat."
Other drivers talk of handling challenges with Next Gen car 
While Larson made headlines because of his NASCAR dominance in 2021, his success wasn't limited to stock cars. He won on the dirt and short tracks around the nation. His ability to hop in any type of car and almost immediately find success would also explain why he's so comfortable transitioning from the Gen 6 to the Next Gen car. 
His competitors, however, have not had as easy of a time transitioning to the new car and talked about how challenging it is to handle, including HMS teammate Alex Bowman.
"I think you're going to see guys crash a lot more than normal," Bowman said during testing at Charlotte in November. "I don't remember the last test that we've been to that multiple guys were spinning out and crashing."
Denny Hamlin, who battled with Larson for the points title for much of the season, agreed. "This thing is an entirely different machine," Hamlin said during a conversation on Racing Spaces on Twitter. "There will certainly be more wrecks, no question."
Will Kyle Larson dominate like he did in 2021 in the Next Gen car? If his remarks are any indication, chances are he'll be up near the front and the race wins will come. The only question is how many.
Like Sportscasting on Facebook. Follow us on Twitter @sportscasting19.