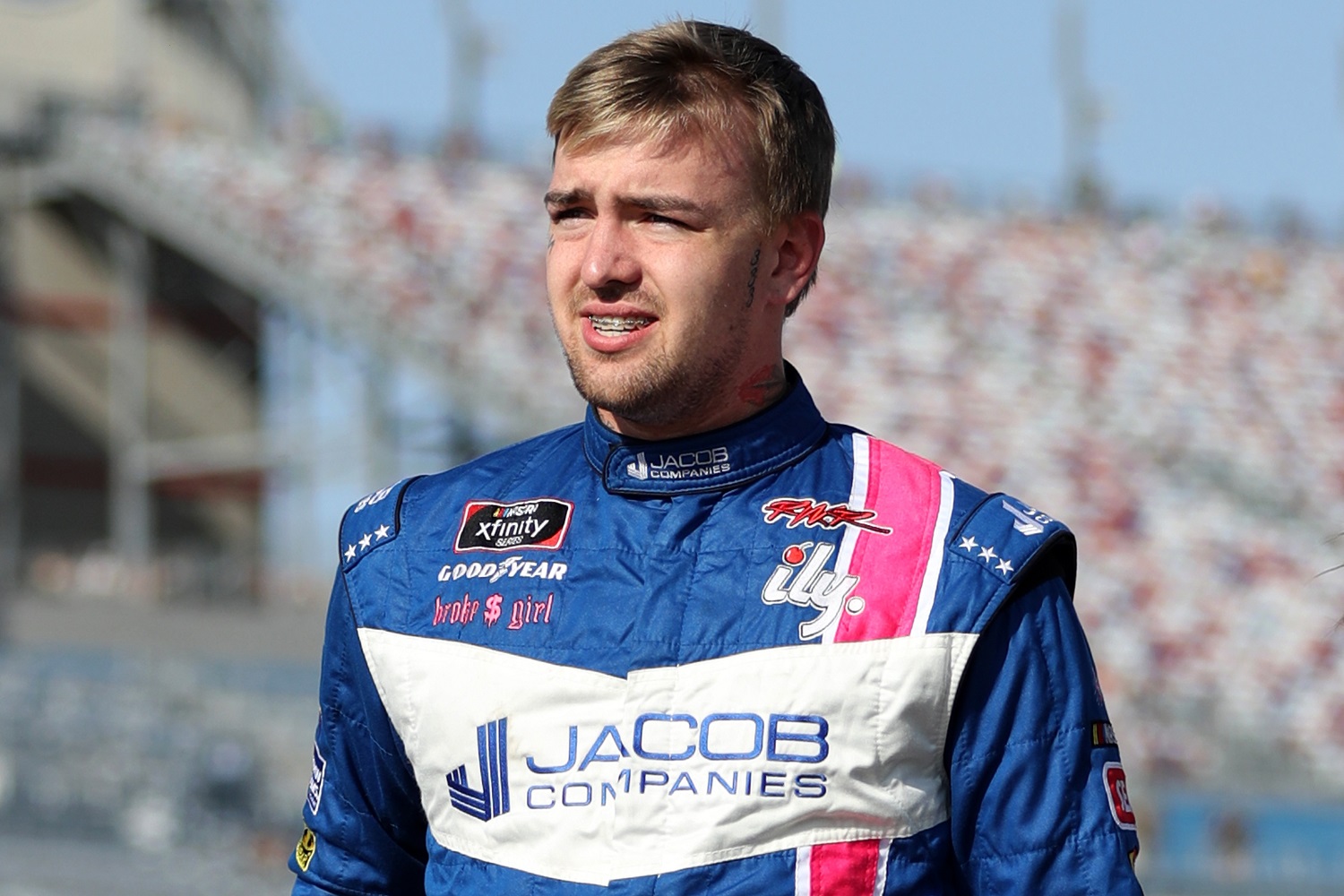 A Rick Ware Racing Driver Adds to a List of Problems NASCAR Doesn't Need Right Now
NASCAR has suspended Xfinity Series driver Carson Ware following his arrest this week. It's a problem that NASCAR doesn't need down the home stretch of its season.
Just in time for the sport to be steering into headwinds on unrelated fronts, NASCAR made it onto the police blotter this week. Thus, the allegations are not going to ingratiate the most-maligned outfit in the Cup Series to the top NASCAR brass.
NASCAR suspended Carson Ware following his arrest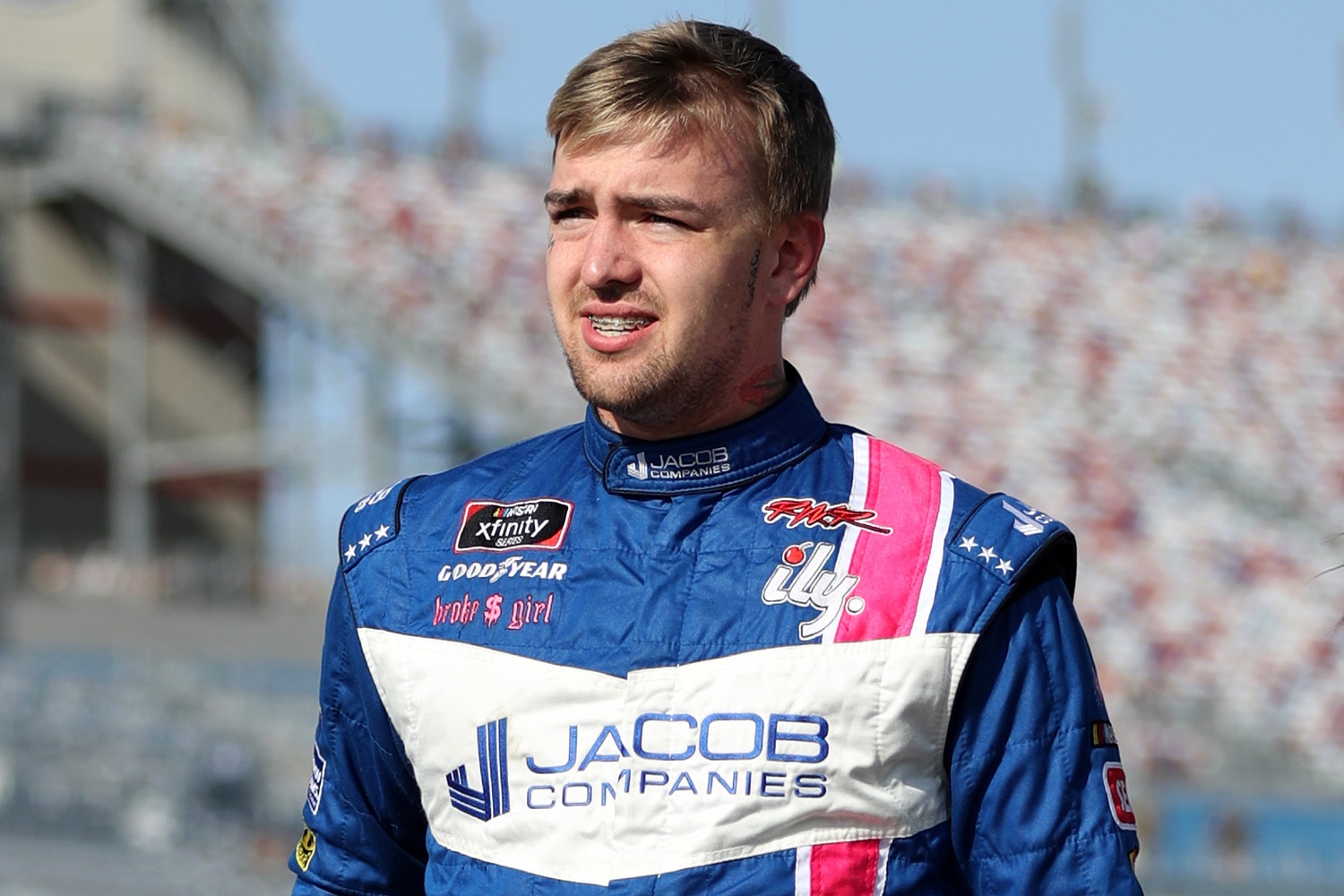 NASCAR officials suspended Xfinity Series driver Carson Ware indefinitely after his arrest on misdemeanor charges in North Carolina on Wednesday. The organization cited its Member Conduct Guidelines, which say that significant criminal charges will prompt the organization to "review each matter in its own context and circumstances and with regards to its potential effects upon the sport."
Ware, 21, who has raced six times this season, will miss Saturday's Xfinity Series race at Kansas Speedway. Garrett Smithley is replacing Ware in the No. 17 Chevrolet.
The Rowan County Sheriff's Office said Ware, 21, was free on a $1,000 bond after allegedly assaulting a woman and causing damage to personal property. He is due back in court on Nov. 19.
The police account said Ware had been staying with Kenneth Evans, a co-worker at Rick Ware Racing, and Evans' wife, Melissa Katsamperis.  The couple said Ware returned to the home "very intoxicated and belligerent" and that Evans told Ware to go to bed, but he became violent," NBC Sports reported. Katsamperis alleges that Ware pushed her and slapped her in the face and that Evans came to her defense. Evans and Katsamperis went to their bedroom, locked the door, and called deputies.
Deputies said they found two broken flat-screen TVs and damage to a door frame. Their report also said Ware had blood on his face and a swollen lip at the time of his arrest.
Rick Ware Racing faces other issues, too
Carson Ware, the son of racing team owner Rick Ware and brother of NASCAR Cup Series driver Cody Ware, has been competing in the Xfinity Series for Bobby Dotter at SS Green Light Racing when not racing Late Models or moonlighting as a rapper under the name Youngboy C.
"While I am frustrated by the actions of Carson, I am even more disappointed for Bobby Dotter and his entire team," Rick Ware wrote on social media. "Bobby has been a great ally through the years, and I hate to see SS Green Light Racing under scrutiny due to actions that do not reflect the reputation and image that Bobby has worked hard to uphold over the years. My hope is that Carson will get the help that he needs during this difficult time."
It isn't hyperbole to suggest that Rick Ware Racing is the scourge of the NASCAR Cup Series. RWR has been buying up charters (three of their own plus one they operate in conjunction with Richard Petty Motorsports), but they have not invested in operations, and their cars consistently run at the back of the back.
RWR uses a revolving-door cast of drivers. Recently, road-course ringer Joey Hand nearly knocked Martin Truex Jr. out of the race at the Charlotte Roval, drawing the wrath of the playoff driver.
Sentiment is growing for NASCAR to enforce a rule that could cost RWR the charter for the team it operates with Richard Petty Racing if the No. 51 car doesn't show improved results in the final three races this season.
NASCAR doesn't need the bad publicity right now
NASCAR has a lot on its plate and doesn't need to be dealing with a driver's arrest heading into the home stretch of its season.
For starters, the Cup Series race in Kansas on Sunday will be head-to-head with the Formula 1 race at Circuit of the Americas. NASCAR could lose the TV ratings battle to Max Verstappen vs. Lewis Hamilton, and tickets for the F1 race sold out close to a month ago.
While it's great for water-cooler chatter, assorted feuds in the Cup Series could blow up on NASCAR in the form of serious injury because of hijinks on the track or by having a playoff driver knocked out before the Championship 4. Kevin Harvick vs. Chase Elliott and Denny Hamlin vs. Chase Briscoe have been the marquee skirmishes on that front.
And, finally, the NBA and NHL have started their seasons, adding to a crowded sports landscape highlighted by pro and college football plus the MLB playoffs.
Though Kyle Larson scored his eighth win of the season, last weekend's race at Texas Motor Speedway was a dud because he dominated most of the day. NASCAR needs a good race in Kansas and no more embarrassing headlines off the track this weekend to keep the momentum of what has been a decent post-pandemic season.
Like Sportscasting on Facebook. Follow us on Twitter @sportscasting19.
RELATED: