If Kyle Pitts Is Correct About the NFL Draft, He Won't Be Playing for the Atlanta Falcons
The first three picks in the 2021 NFL draft are expected to be quarterbacks. That fourth pick, held by the Atlanta Falcons, could break the trend. Many mock drafts have Florida tight end Kyle Pitts slotted into that fourth spot. If Pitts is correct with his prediction, he won't be suiting up for the Falcons.
Kyle Pitts is a one-of-a-kind tight end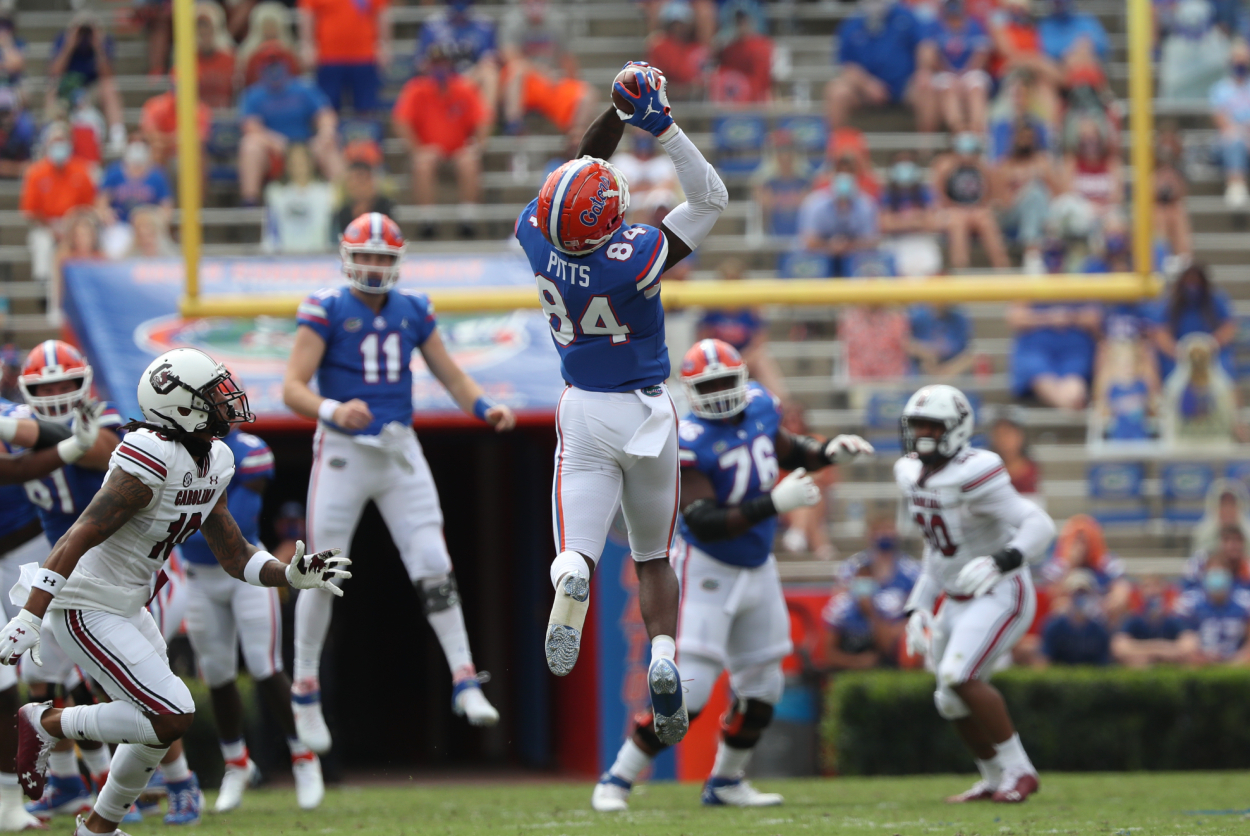 RELATED: Who Are the Top Tight Ends in the 2021 NFL Draft?
Kyle Pitts is a game-changer. A 6-foot-6, 246-pound tight end with pure athleticism, Pitts is expected to make an impact in the NFL right away. Pitts is referred to as a unicorn, a nickname given to him by an assistant coach at the University of Florida. Florida coach Dan Mullen recalled that the nickname was created during a team meeting.
"He's like, 'Hey, (Pitts is) kind of like a unicorn,'" Mullen said, according to The Ringer. "'And the only way you can defend a unicorn is with another unicorn. So if you don't have a unicorn on defense, you get a problem.'"
Pitts embraces the name and its significance. "I feel like people calling me a unicorn is a special nickname," Pitts said. "Because unicorns, you don't find them everywhere. So being able to do other things that other tight ends can't is kind of special." Pitts stands out, not just among college tight ends, but all college players. In eight games this year, he had 770 receiving yards and 12 touchdowns.
If Kyle Pitts' prediction holds true, he won't be with the Atlanta Falcons
RELATED: Trevor Lawrence, Justin Fields, and Mac Jones Could Make History Together in the 2021 NFL Draft
Most mock drafts have quarterbacks being taken with the first three selections in the 2021 NFL draft. Trevor Lawrence is the consensus No. 1 pick and is headed to Jacksonville. Zach Wilson is the quarterback everyone had going second to the New York Jets. Most have the San Francisco 49ers snagging a quarterback at No. 3, but will it be Trey Lance, Mac Jones, or Justin Fields?
The Atlanta Falcons pick fourth. Many of those mock drafts have them taking Pitts. If that holds true, he will be the first tight end taken that high since the early 1970s, according to The Ringer. Pitts said he doesn't believe he will be the fourth pick even though the Falcons have shown genuine interest. During an interview with DirectTV Red Zone host Andrew Siciliano, Pitts gave his thoughts.
"It would surprise me (to go at No. 3)," Pitts told Siciliano. "It's a lot of great quarterbacks in the draft. I think the first four picks will be quarterbacks. If I do get a chance to be drafted at third, that would be … I don't even know. That would be too crazy. That would be really exciting. I don't know what'll happen. I think my heart will just fall out of my chest."
George Kittle would welcome Pitts to the 49ers
The San Francisco 49ers made a very bold and expensive move to move up nine spots in the draft. It cost three first-round picks to go from No. 12 to secure the third pick. Would the 49ers make that move to grab the third-best quarterback with Jimmy Garoppolo already on the roster or would they snag the best tight end in the draft and team him up with Pro Bowler George Kittle?
Most experts believe the Niners are going for the quarterback, but if they did take Pitts, Kittle will welcome him. "I like that idea a lot," Kittle told Kay Adams of Good Morning Football. "I think we have four good tight ends on the roster now but if you add Kyle Pitts, all the things he can do, his versatility…
"I'm all for it. I know our OC Mike McDaniels would probably like that as well. Kyle, if you're listening, I'm totally OK with that. Really, I want to see Kyle Pitts go number one overall and just kinda throw the whole world for a loop. I think that would be really entertaining."
All stats courtesy of Sports Reference.