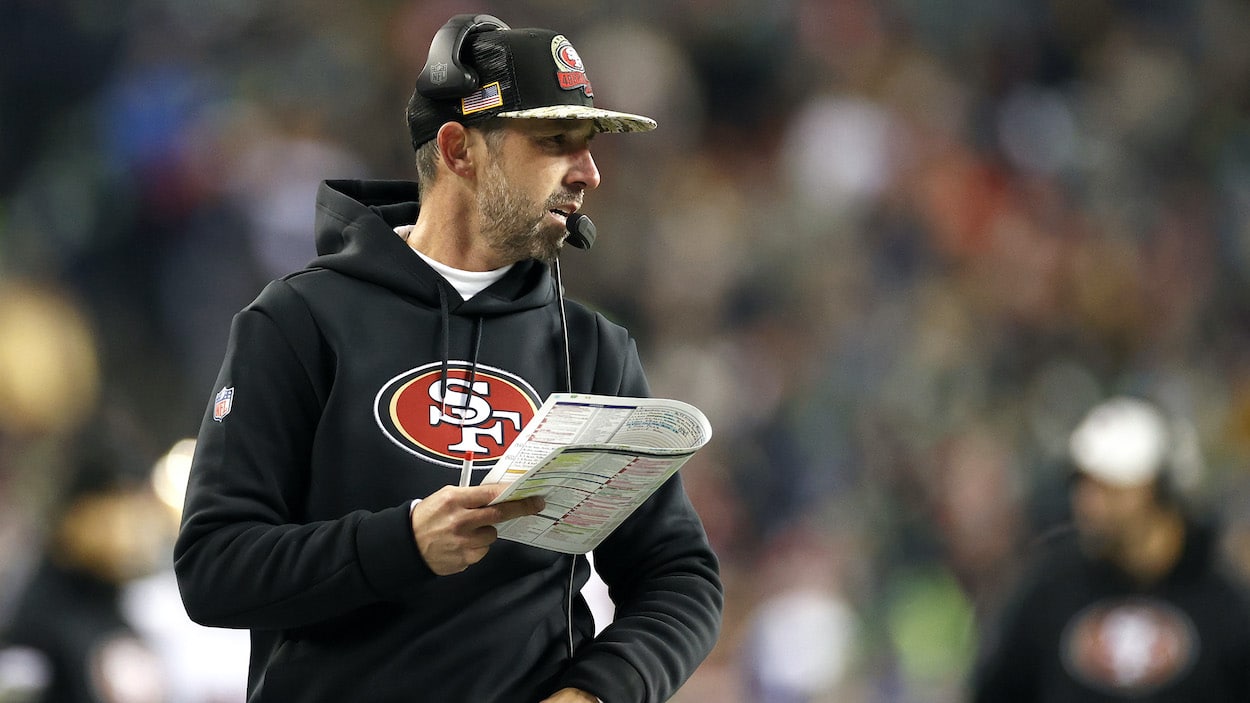 Kyle Shanahan Salary: 49ers Coach Should Get a Raise This Offseason
Here is a look at the current Kyle Shanahan salary and how his success with the 49ers has grown the Kyle Shanahan coaching tree
The current Kyle Shanahan contract makes the San Francisco 49ers head coach the 7th highest-paid head coach in the NFL this season, tied with Las Vegas Raiders coach Josh McDaniels. The 49ers headman still has three years left on the current Kyle Shanahan contract, but if he makes the Super Bowl, the team might rip up the current deal and give him a new extension, just like the last time he made the Big Game. And all this success is leading to more and more branches on the Kyle Shanahan coaching tree.
2023 Kyle Shanahan salary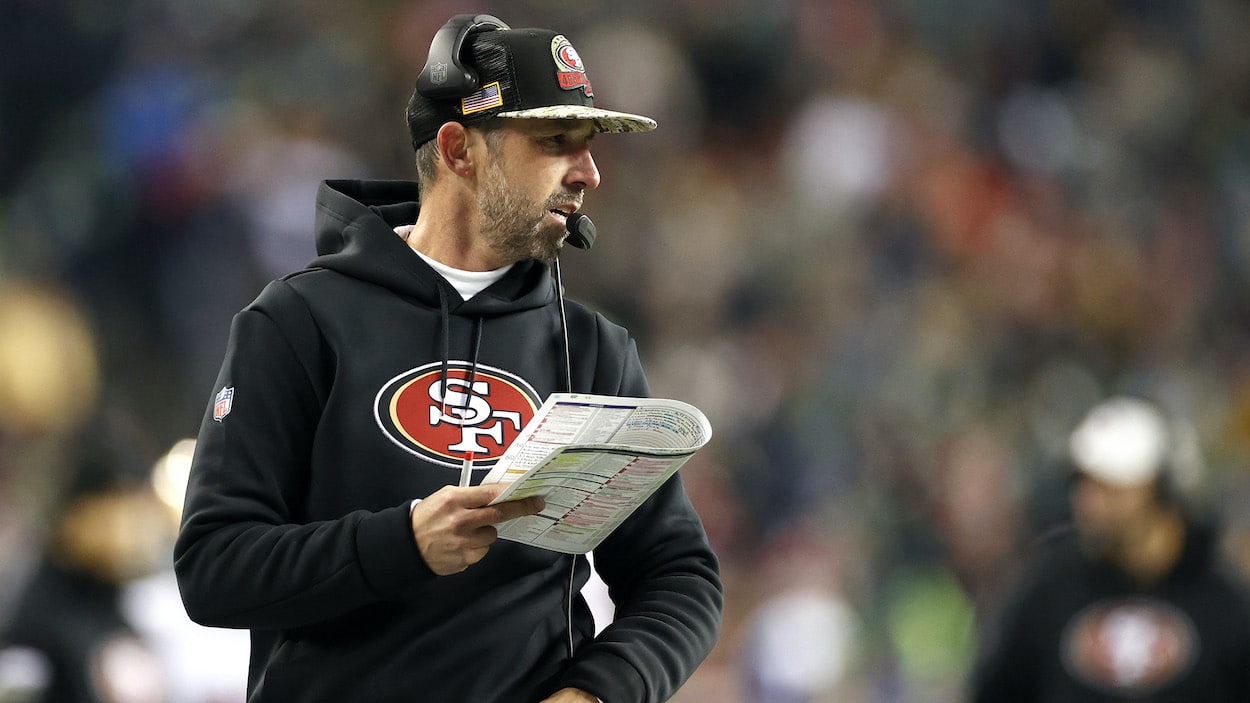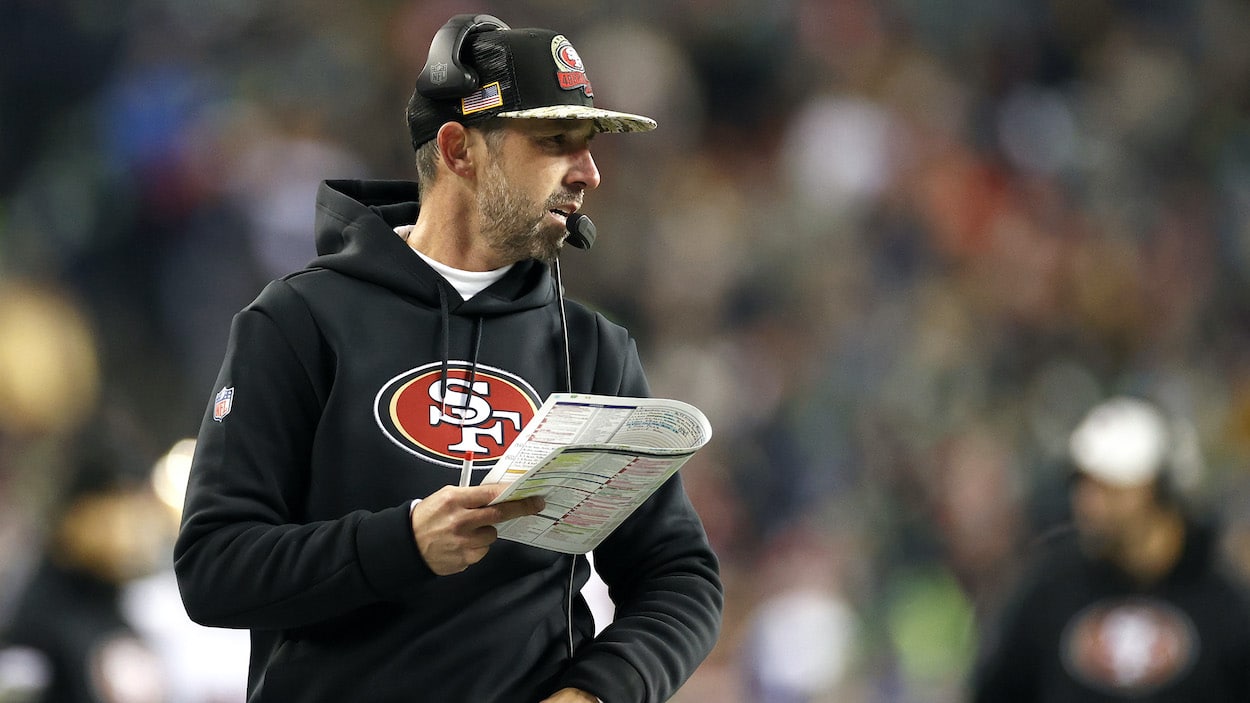 Kyle Shanahan was destined to become an NFL coach, following in the footsteps of his two-time Super Bowl-winning dad, Mike Shanahan.  
However, Kyle didn't start his NFL coaching career coaching under his father. His first NFL job was as an offensive quality control coach for the Tampa Bay Buccaneers and Jon Gruden. He then coached for his dad's former offensive coordinator, Gary Kubiak, with the Houston Texans, before finally working for his father with the Washington Commanders.
Kyle got his first head coaching job in 2017 with the San Francisco 49ers. He signed a six-year deal then, but after making the Super Bowl at the end of the 2019 season, Niners CEO Jed York gave out a new Kyle Shanahan contract for another six years.
The most recent deal, signed in 2020, makes for a Kyle Shanahan salary of around $10 million per season. Coaching salaries aren't usually publically available, but outlets like Pro Football Network report that the top coaching salaries this season are:
Bill Belichick, New England Patriots: $20 million
Pete Carroll, Seattle Seahawks: $15 million
Sean McVay, Los Angeles Rams: $14.5 million
Mike Tomlin, Pittsburgh Steelers: $12.5 million
Andy Reid, Kansas City Chiefs: $12 million
John Harbaugh, Baltimore Ravens: $12 million
If history repeats itself, and the 49ers beat the Philadelphia Eagles in the NFC Championship Game, the 49ers could hand out a new Kyle Shanahan contract this offseason, moving him into the top five among head coach salaries.
The Kyle Shanahan coaching tree
With a 52-46 record as a head coach and three NFC Championship appearances in six seasons, Kyle Shanahan is one of the most successful head coaches of the decade. That's led to the big Kyle Shanahan salary and, possibly, an even bigger one on the horizon if a new Kyle Shanahan contract does materialize.
The success is also helping grow the Kyle Shanahan coaching tree.
Kyle's dad's coaching tree is already impressive. Rams coach Sean McVay and Green Bay Packers leader Matt LaFleur both worked alongside Kyle and under Mike in Washington and are now quite successful in their own right.
The Kyle Shanahan coaching tree currently has two NFL head coaches on it and one top offensive coordinator. The New York Jets' Robert Saleh and Miami Dolphins' Mike McDaniel worked directly under Kyle with the 49ers. New Rams OC Mike LaFleur (Matt's brother) did as well.
Whenever the 49ers exit the playoffs this year (or win the Super Bowl), there will likely be one more branch on the Kyle Shanahan coaching tree. Current San Francisco defensive coordinator DeMeco Ryans is a top candidate for several open jobs and should end up in charge of either the Houston Texans or Denver Broncos in 2023.