Kyler Murray's Injury Should Give Cardinals Fans 230 Million Reasons to Worry About the Future and Should Frighten Another NFL QB
When Kyler Murray awkwardly fell at the feet of New England Patriots linebacker Matthew Judon, anyone hoping for a turnaround in Arizona watched that dream go up in flames. In a game that saw players from both teams suffer injuries, none proved as severe as the torn ACL sustained by the No. 1 overall pick of the 2019 NFL Draft. 
For someone who depends heavily on his athleticism, Murray's knee injury represents a potentially career-altering event. After all, there's no guarantee he'll possess the same explosiveness or confidence in his legs once he returns to the field. 
With their most important player facing a lengthy rehabilitation process, the Arizona Cardinals should be an early favorite to land the No. 1 overall pick in 2023. Meanwhile, Murray's setback only raises more questions about his future with the franchise that chose to make him one of the highest-paid NFL quarterbacks.
And considering how steep of a financial commitment the Cardinals made, their fans should have serious concerns about the direction of their beloved team.
The Kyler Murray injury adds another problem to solve in Arizona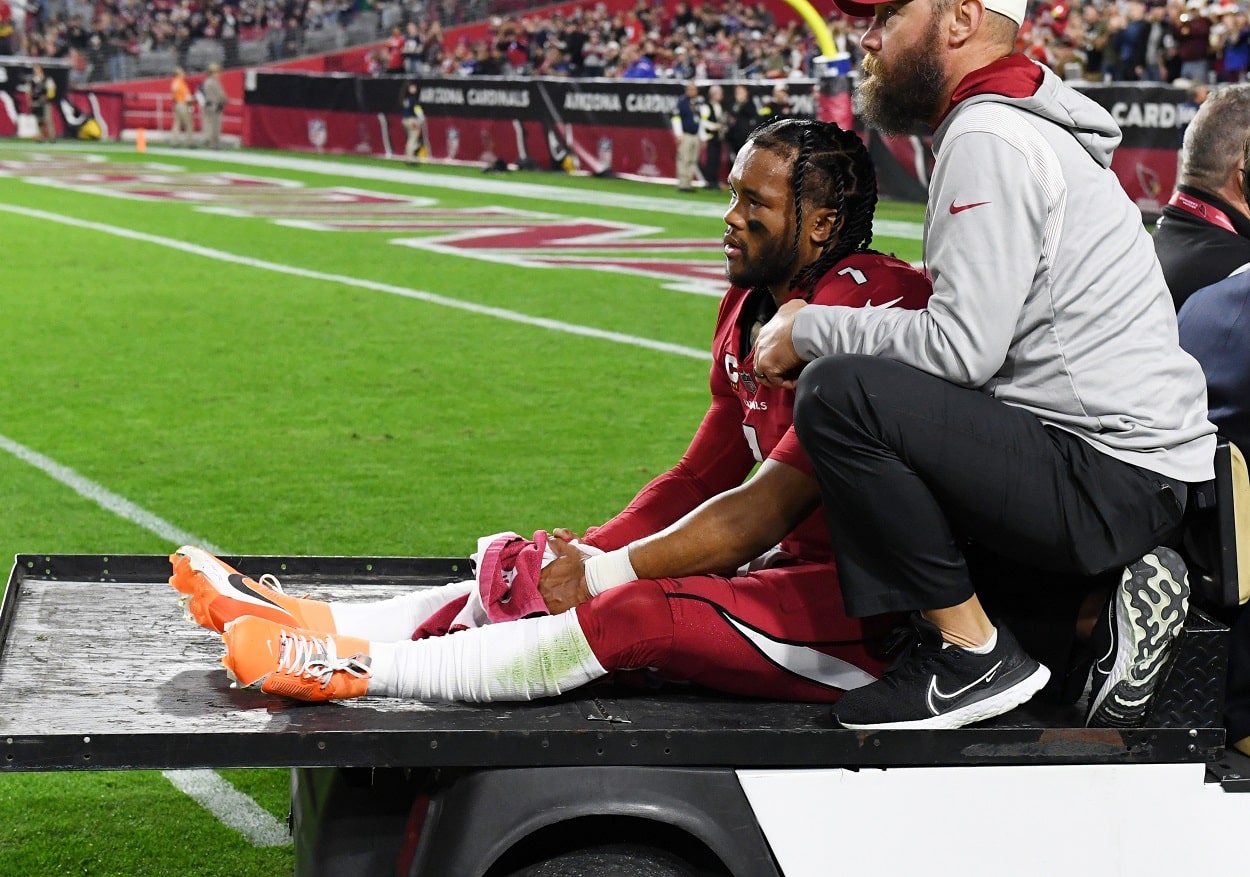 The entire outlook for a Cardinals franchise that expected to compete for Super Bowl titles with Kyler Murray as the centerpiece of an unstoppable offense changed just three snaps into Thursday's loss to the Patriots. Expected to move on from underperforming head coach Kliff Kingsbury, there's even more uncertainty about what's in store in Arizona. 
Whoever coaches the Cardinals in 2023 will have to figure out how to turn one of the worst teams in football into a winning outfit without the services of the first player taken in the 2019 draft. Murray, a dynamic athlete who still has questions to answer about his ability to be a championship-level passer, will have to wait quite some time to silence doubters.
Already viewed as one of the league's more injury-prone signal-callers, the two-time Pro Bowler will likely miss the majority of the 2023 season, leaving the Cardinals in the unenviable position of having to invest more resources into a capable starter. 
Ultimately, Murray's injury ensures Arizona will finish with one of the worst records in football this season. Plus, it puts the Cardinals in an early hole for next season, further complicating a situation that took another turn Wednesday when general manager Steve Keim took a medical-related leave of absence.
Cardinals fans have 230 million reasons to be concerned
Could the Cardinals have a case of buyer's remorse? 
With how quickly things have gone south since signing their franchise quarterback to an expensive extension, it wouldn't be a surprise if the front office suddenly has second thoughts about going all-in on a player who comes with maturity and leadership concerns. 
This summer, Arizona raised eyebrows by giving Murray a five-year, $230.5 million contract extension that includes $160 million guaranteed. While his 2023 cap hit of $16 million is actually a bargain by today's standards, the Cardinals certainly can't be as confident about getting a fair return on their investment when that figure will rise significantly in the coming years.
After all, let's not pretend that Murray ascended to top-10 quarterback status before he tore his ACL. With a 25-31-1 record and 76 combined interceptions and fumbles in his career, the fourth-year pro has by no means cemented his case as an elite player at his position. 
Now, though, is there even a chance Murray realizes his potential? 
As an undersized quarterback who relies on his running ability, how will he perform post-injury? Although ACL tears are pretty common, it's not common for 5-foot-10 passers to succeed in the NFL—let alone one whose game is predicated on making plays outside the pocket.
The Cardinals paid Murray because he can inflict damage through the air and on the ground, but his injury could change the entire dynamic of his game and take away some of what made him look special at times. 
However, the damage is already done. 
Not only does Murray have an injured knee, but he has an unmovable contract. He carries dead-cap hits of $97.5 million in 2023, $81.5 million in 2024, $33.2 million in 2025, and $20.2 million in 2026. Meanwhile, he'll count $51.9 million against the cap in 2024, $45.6 million in 2025, and $55.5 million in 2026. 
Needless to say, the Cardinals backed themselves into a corner by making such a risky move—one that didn't need to be done before the 2022 season, either.
Murray's injury should be a wake-up call for Lamar Jackson
Unlike the Cardinals, the Baltimore Ravens didn't make a long-term commitment to their starting quarterback this offseason. On one hand, Lamar Jackson deserves credit for holding his ground at the negotiating table and refusing to sign an extension. 
On the other hand, though, the 2019 NFL MVP assumed a ton of risk by entering the season with no semblance of financial security. And after seeing Murray suffer a serious knee injury, Jackson should be a little more concerned about his contract situation. 
Like Murray, the Ravens star has dazzled with his running ability—and paid the price for it. With durability concerns of his own, Jackson has overcome several injury hurdles since he entered the league as the final pick of the first round of the 2018 NFL Draft. This season has been no different, with the fifth-year pro missing time due to. 
With the regular season winding down and the Ravens still in the hunt for a playoff berth, Jackson carries more importance than ever. But if more touches result in more exposure to contact, will he make it through unscathed? 
If not, that could drastically alter how the Ravens approach his impending free agency. 
For Jackson's sake, he needs to regain his MVP form and remain out of the trainer's room to ensure he tops Kyler Murray's contract.
Have thoughts on this topic? Keep the conversation rolling in our comments section below.