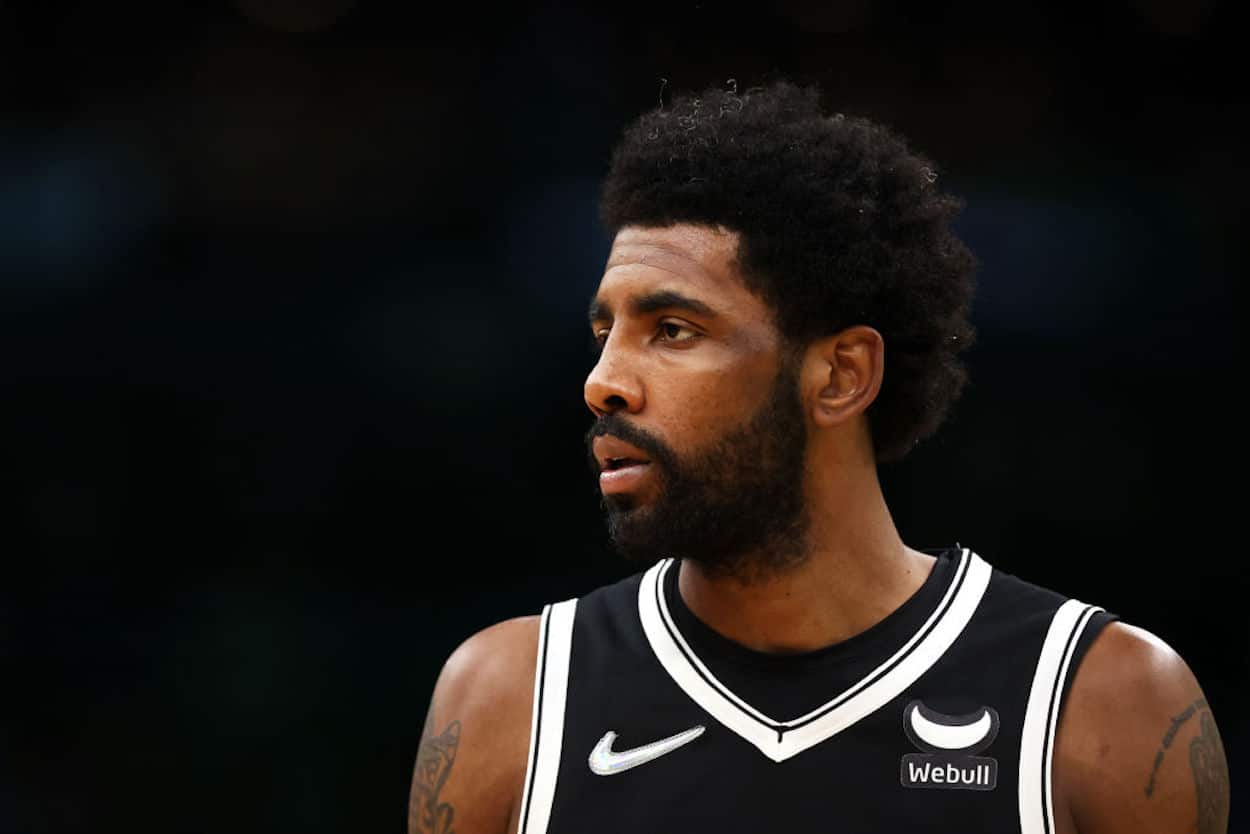 Kyrie Irving Is Worth $90 Million, but He's Still Questioning Why He's 'Paying to Live' on Earth
Kyrie Irving is never shy about speaking his mind. Just consider his latest tweet about paying to live on planet earth.
While he might not be the most popular man in NBA circles, Kyrie Irving has still put together a capable basketball career. The guard burst onto the scene with the Cleveland Cavaliers, where he won an NBA title alongside LeBron James. He's since suited up for the Boston Celtics and the Brooklyn Nets; things haven't gone according to plan at those stops, but he's still managed to earn plenty of money.
Despite boasting an estimated $90 million net worth, though, Irving still shares a rather relatable complaint. If we take a recent tweet at its word, the guard isn't happy about paying to simply live on planet earth.
Kyrie Irving fired off a tweet taking issue with the cost of living
On Monday, June 13, most of NBA Twitter was focused on Game 5 of the 2022 NBA Finals. Kyrie Irving, however, had something different on his mind.
"I thought Mother Earth belonged to the people," Irving tweeted with a shrug emoji. "Why am I paying to live here? Oh let me guess, 'because that's just how things are'. Lol FOH."
While it's not exactly clear what expenses the Brooklyn Nets guard was taking issue with — you would assume that, given his ties to the metro New York area, he isn't paying monthly rent — it's safe to say that he can absorb any and all expenses coming his way.
As noted above, CelebrityNetWorth pegs Kyrie's fortune at $90 million. While those sorts of estimates can be iffy, we do know that Irving has earned plenty of salary across his time in the Association. According to Spotrac's contract data, he's taken home approximately $194 million since 2011. Should he opt into his 2022-23 player option, the guard will add $36 million more to that total.
For better or worse, Irving isn't afraid to speak his mind
Given his financial realities, it may seem a bit rich (pun not intended) for Kyrie Irving to take issue with the costs of living on planet earth. By the guard's standards, though, the complainant is relatively benign.
While he didn't discuss it on social media, Irving famously questioned whether the earth was flat or round. It's unclear exactly how he feels about the topic — his answers shifted over time and, in a bizarre 2018 New York Times interview, he suggested that it was "fun" to debate the topic and see how people responded — being a potential flat earther has become a part of Kyrie's pop-cultural reputation.
Beyond that, the guard hasn't had any problem going after the media. While that's not wholly unexpected from someone who lives in the public spotlight, Irving's comments usually take on a conspiratorial tone.
In February 2022, for example, he criticized an Athletic story by tweeting, "Lol I guess this is 'breaking news' media nowadays. Keep my family name out y'all Simpleton articles. The Puppets are running wild Again."
Then, at the tail end of April, the guard fired off a string of tweets suggesting that "the puppet masters …. CONTROL PUBLIC PERCEPTION, all while profiting off discussing, discrediting, and disrespecting people's lives for entertainment." Irving also wrote that "Alot of of these media corporations make their money by degrading BLACK/African/Indigenous community heroes. They thrive off of it, and then sell it back to us by having a hand selected person or group of people spark controversy about them for the world to see" as part of the thread.
Compared to those sentiments, being frustrated by the cost of living seems rather benign, doesn't it?
Like Sportscasting on Facebook. Follow us on Twitter @sportscasting19 and subscribe to our YouTube channel.