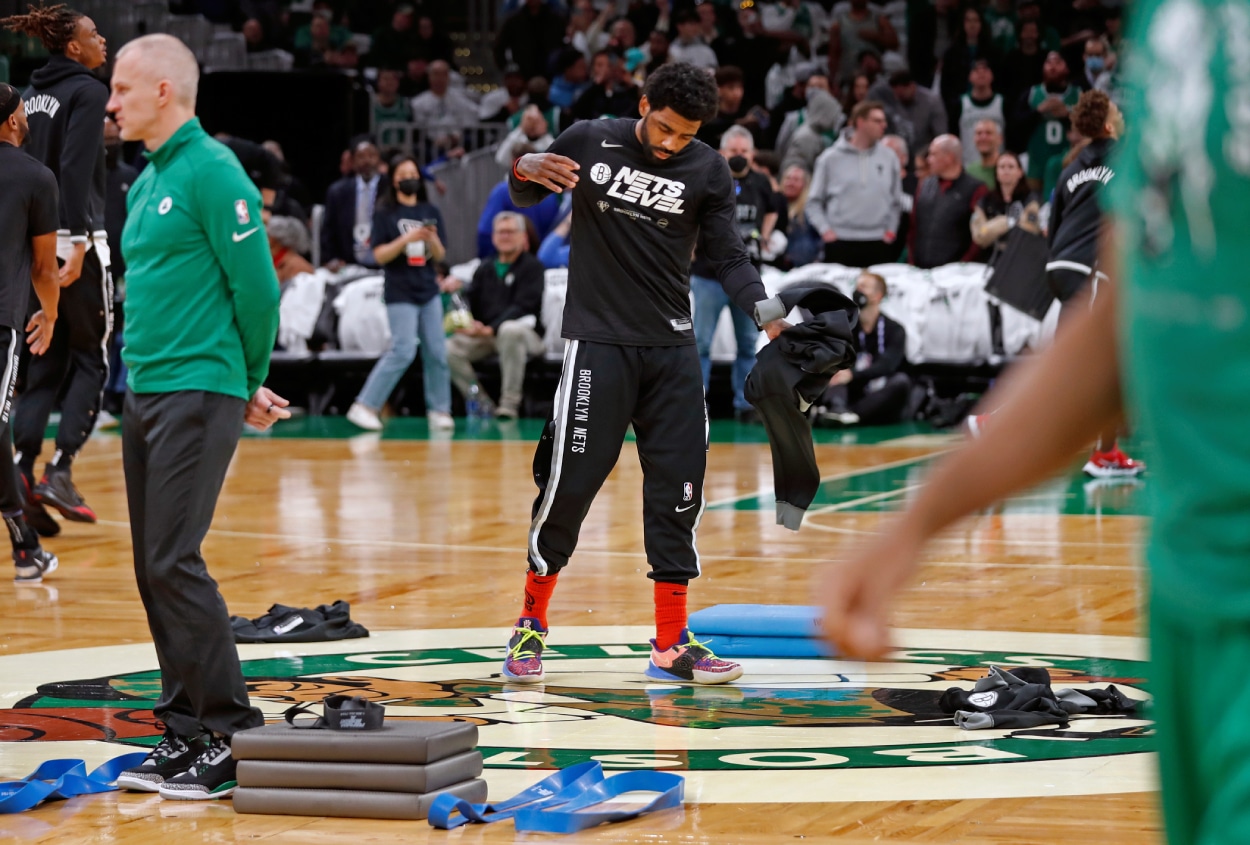 Kyrie Irving Still Bashing Boston Celtics Fans, Referring to Them as 'Cockroaches'
Kyrie Irving is still responding to Boston Celtics fans well after his season ended.
It's been a couple of weeks since Kyrie Irving was fined for flipping off Boston Celtics fans during the Brooklyn Nets' first-round playoff series at TD Garden. The Celtics made quick work of Irving and the Nets, sweeping them in four games.
During the series, Celtics fans continued to boo and mock Irving, the former Celtics guard who fell out of favor with the fan base after two disappointing seasons in Boston. Irving didn't help himself by responding to the jeers with a couple of middle fingers aimed at fans.
Even after Irving's season ended, the trolls are still coming at Irving, and he's still giving them attention.
Kyrie Irving and Boston Celtics fans aren't a good mix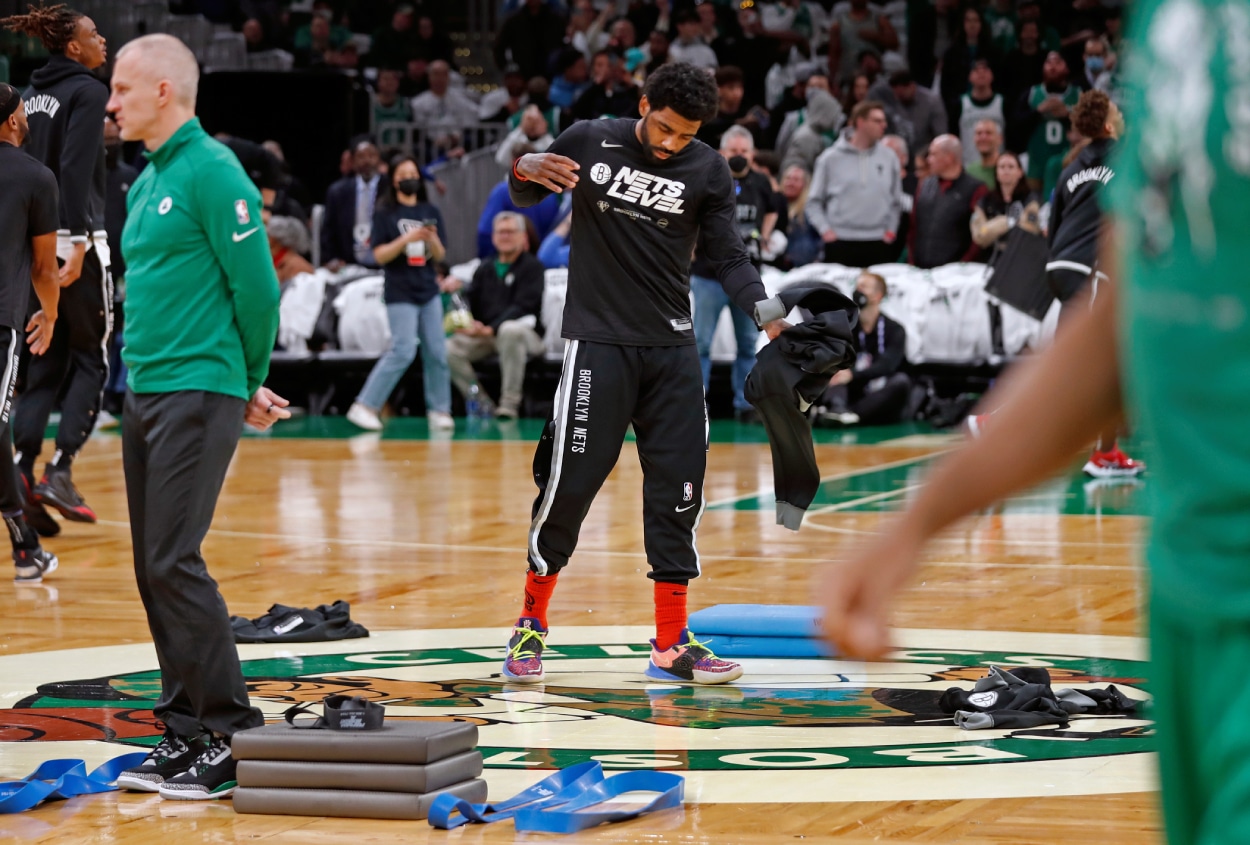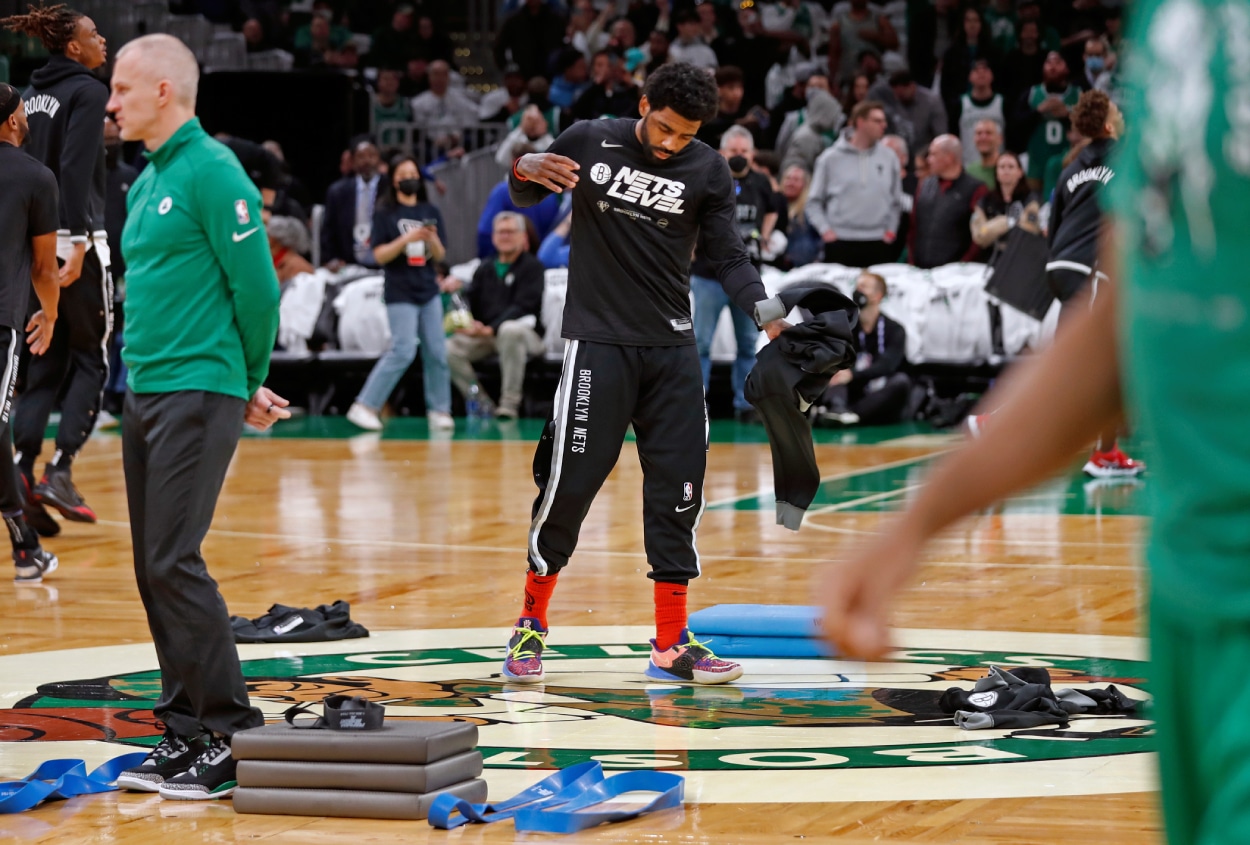 Celtics fans are loyal, passionate, and unforgiving. Irving has seen the good, bad, and ugly of the Boston crowd. As long as he keeps responding to the fans and egging them on, it will continue.
Two years after promising a group of Celtics fans at an event for season-ticket members that he'd re-sign with the team, he bolted via free agency. At the time of his departure, Celtics fans wanted him gone.
Irving came in to be a veteran leader to Boston's young guns in Jayson Tatum and Jaylen Brown. It never happened. Injuries, attitude, and poor play were all factors in his two tough years with the Celtics.
Irving missed the entire postseason in his first year because of a left knee injury. The Celtics still managed to take LeBron James and the Cleveland Cavaliers to seven games in the Eastern Conference Finals.
In his second year, Irving struggled mightily in the postseason. After advancing to the Eastern Conference Semifinals, the Celtics won the opener against the Milwaukee Bucks before losing four straight. Irving had a poor shooting performance in the series. His reaction to it turned off many Celtics fans.
After a Game 4 loss to the Bucks put the Celtics down 3-1, Irving was asked about his shooting struggles. In Games 2-4, he shot 19-for-62 from the floor. He went 7-for-22 in Game 4.
"Who cares?" he said, per CBS Sports.
Kyrie Irving keeps taking digs at Celtics fans
On Monday, Irving was playing the video game "Grand Theft Auto" on a Twitch stream. Of course, there were trolls flooding the comments section. Several of them were of the pro-Celtics variety.
Instead of ignoring them, Irving mocked those commenters.
"'Oh Kyrie, what are you doing at home?'" said Irving sarcastically, mocking those Celtics supporters in a whiny voice. "That's how y'all sound to me. 'Ooh, you're going home, you going to Cancun? You at home? Ooh Kyrie, you suck.'
"'What are you doing? Oh my God, go back to Cleveland. Oh my God, Boston hates you, oh my God.' That's how y'all sound to me. Cockroaches. That's how y'all sound to me."
Irving invites this.
Remember, it was Irving who stomped on the Celtics logo after the Nets defeated the Celtics in Game 4 of the playoffs last year. It was Irving who brought up "subtle racism" when asked about making his return to Boston as an opponent for the first time with fans in the stands.
He triggers the comments with his actions. If he leaves things alone, his time in Boston will be a thing of the past. Irving always responds, and that is what will keep this hate-hate relationship alive.
Celtics fans are getting the last laugh
Last year, Irving's logo stomp was a "screw you" to the Celtics fans. Victory was sweet in Boston and had his team ahead 3-1 in the series. They eliminated the Celtics in Brooklyn the following game.
The Celtics struggled through a 36-36 season. The Nets were the No. 2 seed in the East and had Irving, Kevin Durant, and James Harden.
The roles were reversed this year when the Celtics exploded in the second half of the season, ending the year on a 26-6 run and grabbing the No. 2 seed. Boston matched up with Irving's Nets, who fell to the seventh seed after a year of distractions.
Irving, unvaccinated for COVID-19, wasn't allowed to play in home games for most of the season. A disgruntled Harden was traded for a disgruntled Ben Simmons, who never suited up for the Nets. Boston made quick work of the Nets with a four-game sweep.
With Tatum and Brown, the future is bright in Boston. The same can't be said for Irving and the Brooklyn Nets.