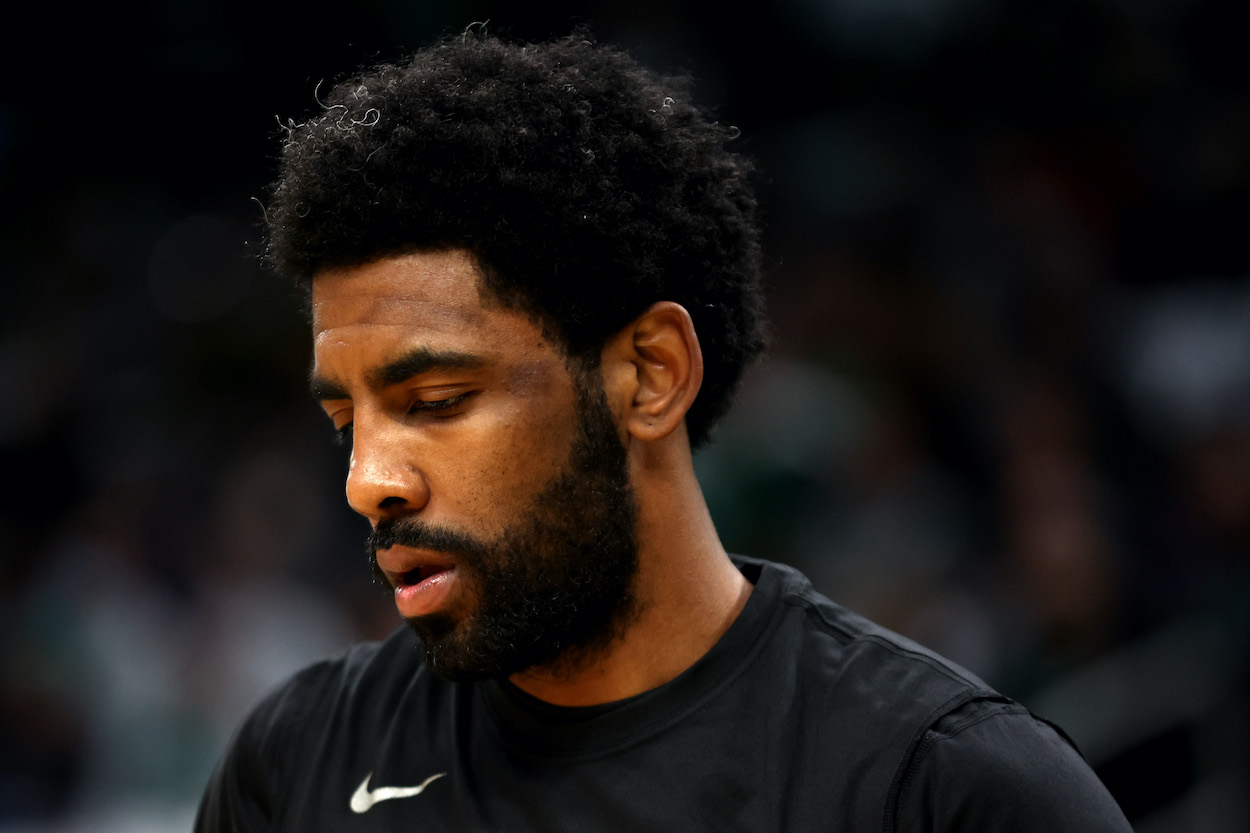 Kyrie Irving Is Missing $50,000 From His Bank Account Because of His Middle Finger
Kyrie Irving is going to need to control his emotions better in Game 2 against the Boston Celtics.
Kyrie Irving made a triumphant return to Beantown by dropping 39 points against the Boston Celtics in Game 1 of the Eastern Conference playoff series, but the Brooklyn Nets star let his emotions get the best of him on more than one occasion.
With jeers raining down on the former Celtic all game, Irving decided to retaliate by flipping the middle finger to the Boston faithful not once, but twice on Sunday. He probably assumed it was a harmless gesture, but it ended up costing him $50,000.
Kyrie Irving lost his temper and flipped off the Boston crowd in Game 1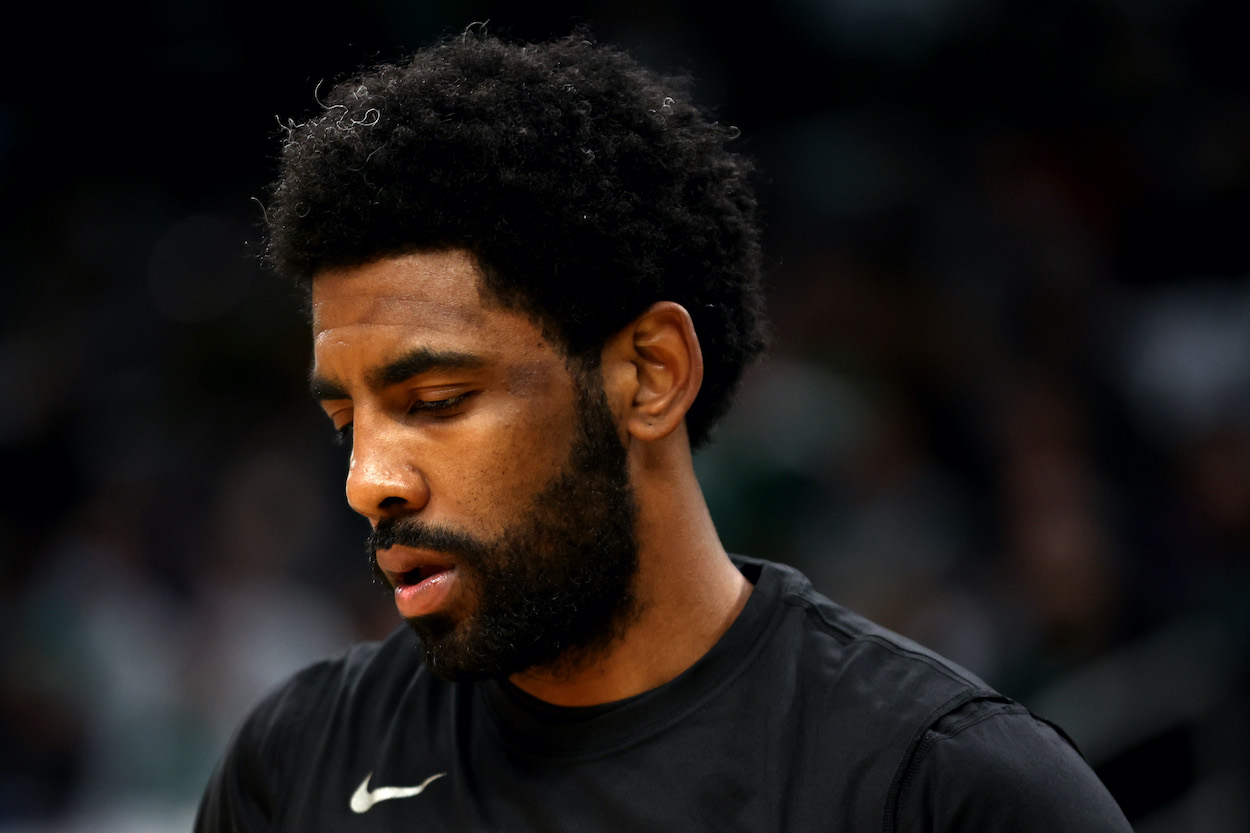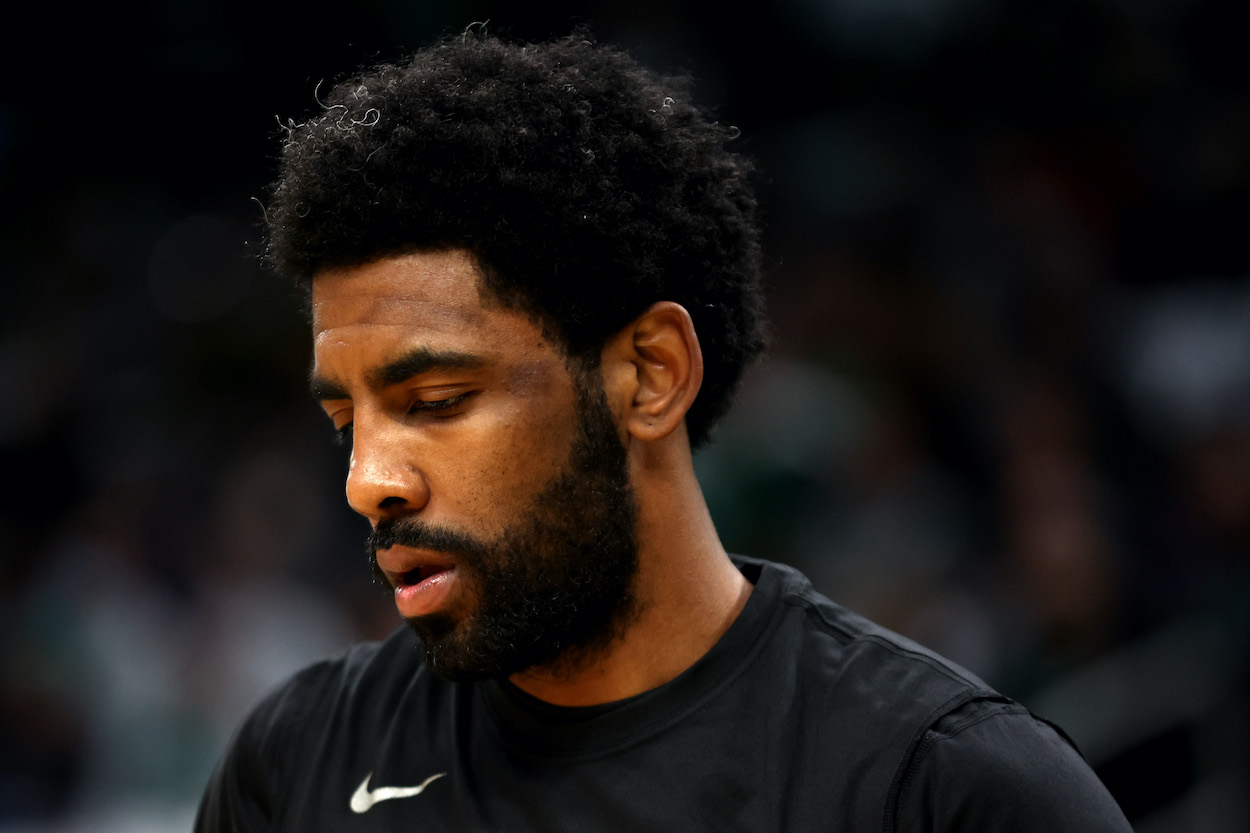 Irving isn't exactly a fan favorite in the city of Boston. The seven-time All-Star went through a messy breakup with the Celtics back in 2019, and the passionate fan base clearly hasn't forgiven him quite yet.
Every time Irving returns to Boston to face off against his old team, he hears loud boos and insults from the crowd all night long. That was no different on Sunday when the Nets traveled to TD Garden for Game 1 of their Eastern Conference first-round playoff series.
At some point, Irving became fed up with the thousands of hecklers. After draining a contested jumper late in the third quarter, he turned to the Boston fans and retaliated by flipping them the middle finger. On a separate inbounds play, he doubled down by reaching both hands behind his head and flipping a double bird to the crowd.
After the game, Irving explained what caused him to lose his cool.
"It's not every fan. I don't want to attack every Boston fan, but when people start yelling 'p****' or 'b****' and 'f*** you' and all this stuff, there's only but so much you take as a competitor," Irving told reporters, per ESPN. "We're the ones expected to be docile and be humble, take a humble approach. F*** that. It's the playoffs. This is what it is."
Irving figured he was just sticking up for himself in hostile territory, but the gestures ended up costing him a pretty penny.
Irving is missing $50,000 from his bank account because of his middle finger
Irving isn't the first NBA player to get heckled by an away crowd. It happens to star players in every playoff game no matter what arena they're in. But most players are able to play through the adversity and get revenge with their play on the court.
Kyrie opted instead for the double bird approach, and it wound up being an expensive one.
On Tuesday, the NBA hit Irving with a hefty fine of $50,000 for "making obscene gestures on the playing court and directing profane language toward the spectator stands," NBA president of league operations Byron Spruell said in a release.
Considering Irving banked nearly $35 million in salary alone this season, he won't get too worked up about forking over $50k. Still, Irving's remarks about players not being allowed to retaliate against heckling fans were only strengthened by the fine.
It's rare a single fan gets punished for cursing out a player or giving them the finger, but it happens every game. Irving does it back and he loses $50,000. Maybe he has a point.
Like Sportscasting on Facebook. Follow us on Twitter @sportscasting19.