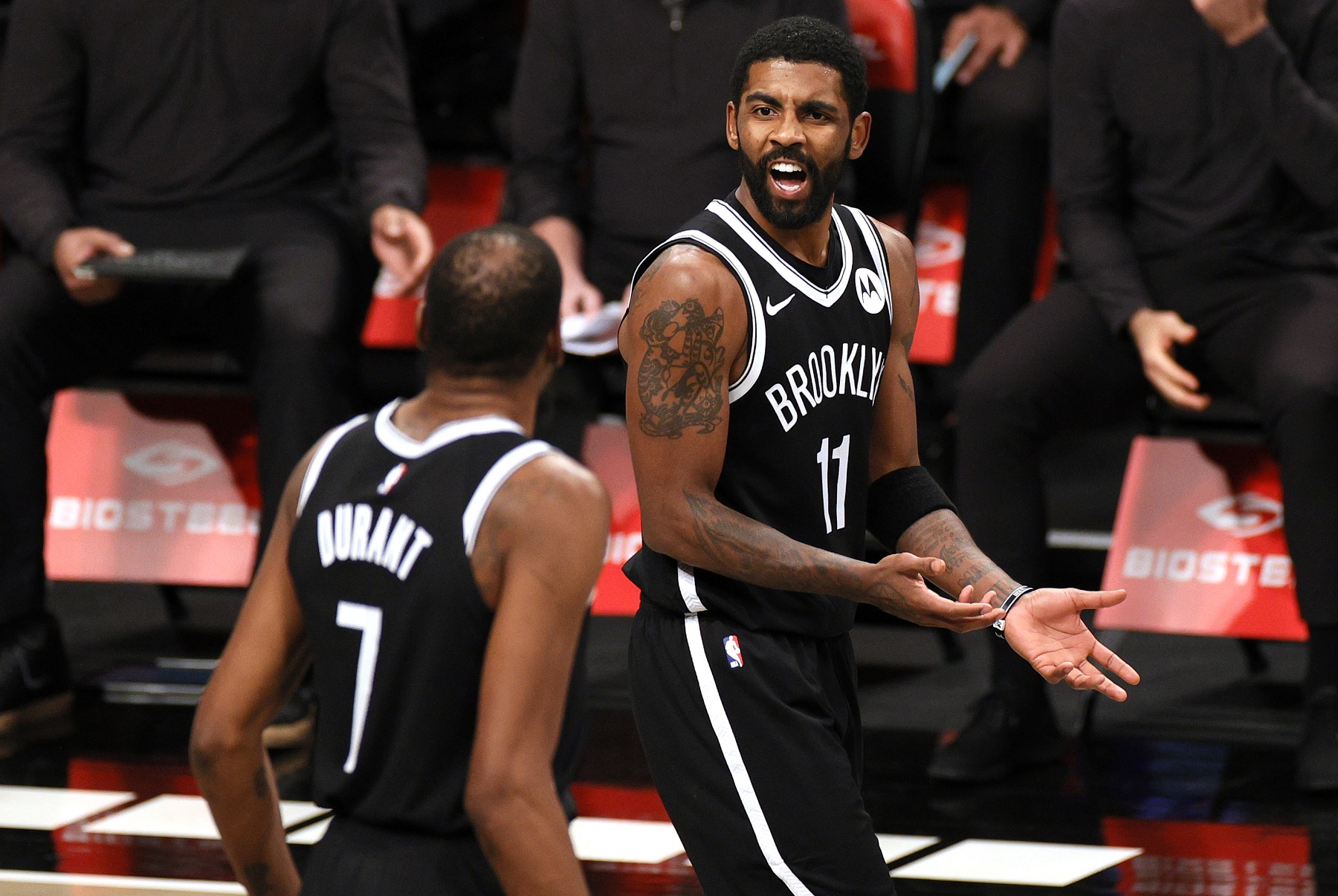 Kyrie Irving Isn't Working, So When Will the Brooklyn Nets Rein Him In?
Kyrie Irving has disappeared from the Brooklyn Nets with no indication when he will return.
Something's going to have to give in the relationship between Brooklyn Nets coach Steve Nash and Kyrie Irving, the team's occasional point guard. While everyone else in the league who is healthy enough to play has been showing up for work, Irving has bailed on the Nets.
The NBA is currently plagued by COVID-19 problems, and the Nets have been mildly affected. Their biggest manpower problem, however, is that Irving is physically able to play but has disappeared.
COVID-19 is throwing the NBA for a loop
Sunday's scheduled NBA game between Boston and Miami was postponed because the Heat lacked the league-minimum eight players due to positive COVID-19 tests and contact tracing, which had the Celtics down to eight available bodies. On Monday, the Dallas Mavericks slipped under the minimum, forcing postponement of their game against the New Orleans Pelicans.
That's on top of the Houston Rockets being forced to postpone the opener last month and multiple teams losing players for various periods of time since. When Seth Curry tested positive, he took four Philadelphia 76ers teammates down with him via contact tracing.
The Washington Wizards played three games in the past week against teams missing multiple players. And then the Wizards suddenly lost guard Bradley Beal because he was flagged as a close contact of the Celtics' Jayson Tatum by means of guarding him for most of their Friday game.
The Brooklyn Nets have had their share of COVID-19 setbacks, but they received good news on Jan. 11 when Kevin Durant was able to return. Durant posted 36 points, 11 rebounds, and four assists for the Nets, but they absorbed a 129-116 loss at Barclays Center to the Oklahoma City Thunder. It was Brooklyn's second straight loss and fourth in the last six games.
Getting Durant back was a plus, but what the Nets still need is help from Kyrie Irving, a healthy scratch the past three games.
Kyrie Irving has left the Brooklyn Nets thin at guard
The Brooklyn Nets are shallow at guard these days. Spencer Dinwiddie, who can handle the point or shooting guard, is out following knee surgery to repair a torn ACL. Backup guard Tyler Johnson is still going through the COVID-19 protocol. And although Caris LeVert has been solid, the Nets are still without Kyrie Irving.
Irving has missed the last three games for what has been termed "personal reasons." Writers from two websites have reported that the 10th-year guard out of Duke is healthy but Is despondent over the siege of the U.S. Capitol and the decision by authorities to not pursue the most serious charges in the Breonna Taylor shooting.
Nets players have been telling reporters before and after games that they support their teammate. Coach Steve Nash, who missed a total of 37 games over 10 seasons at the peak of his playing days, has remained diplomatic. But the team and Irving's publicist have been silent about his absence or when he will return, the New York Post reported.
If national news developments are, in fact, what is keeping Irving away, then he needs to be aware that every other player in the league has been reporting for duty as expected. Most are making less than the $33.3 million that Spotrac.com reports that Irving is due this season.
When will the Brooklyn Nets rein in Kyrie Irving?
One should not minimalize the possibility that Brooklyn Nets guard Kyrie Irving is having difficulties coping with real-life events in the world, particularly given what the past 10 months of the COVID-19 pandemic have looked like. If that's the case, either the people around Irving or the Nets should be working to get him the necessary help. That would also be the cue for the team to look for short-term help handling the ball.
Another possibility is that Kyrie Irving has resumed behaving like Kyrie Irving. After all, he is the player who became disgruntled and forced his way out of Cleveland in 2017, causing the Cavaliers to take on pieces that were of little immediate help. (In fairness, 2018 draft pick Collin Sexton has been quite the find).
Irving lasted two seasons with the Boston Celtics, who believed they were going to keep him from going the free-agent route. After his departure, it became clear that he wasn't going to be missed in the locker room. He kicked off this season by drawing $25,000 fines for himself and the Nets for refusing to make himself available for interviews.
The Nets have more than $136 million over four years invested in Irving. So far, he's given them 20 games in his debut season because of a shoulder injury, and now he's missing in action to begin 2021. It's time for Irving to tell his team and his teammates whether he's still in.
Like Sportscasting on Facebook. Follow us on Twitter @sportscasting19.