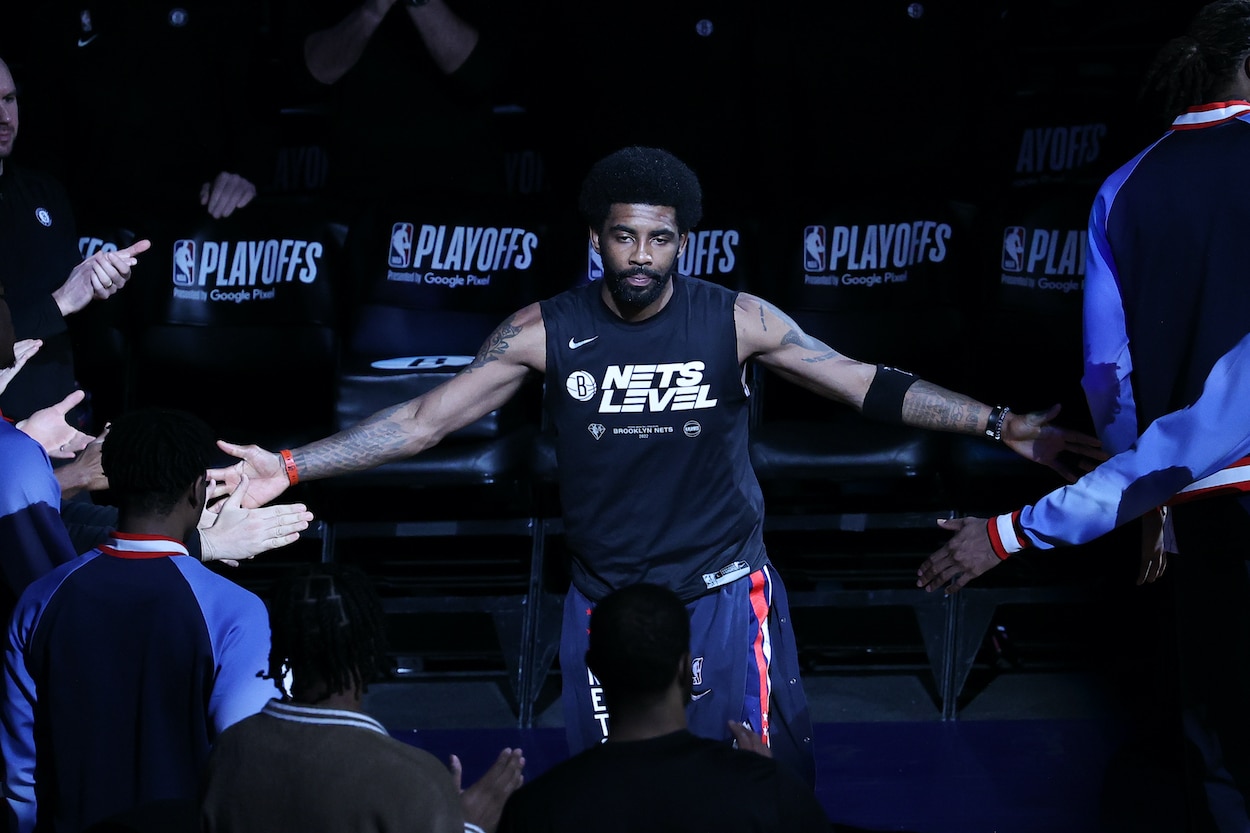 Kyrie Irving Needs to 'Play Team Basketball and Be Available' to Stay on the Brooklyn Nets, According to GM Sean Marks
Kyrie Irving returning to the Brooklyn Nets next season seemed like a formality, but after Sean Marks comments, it doesn't any more.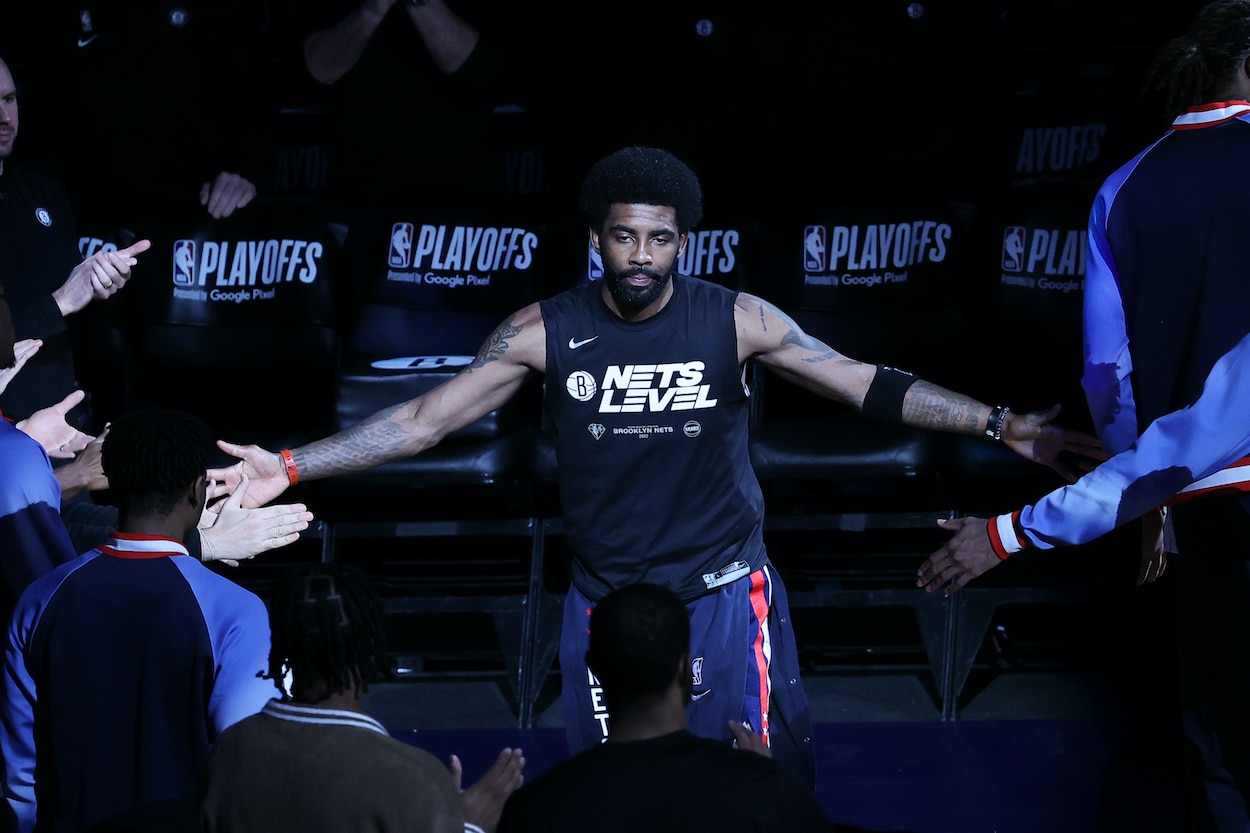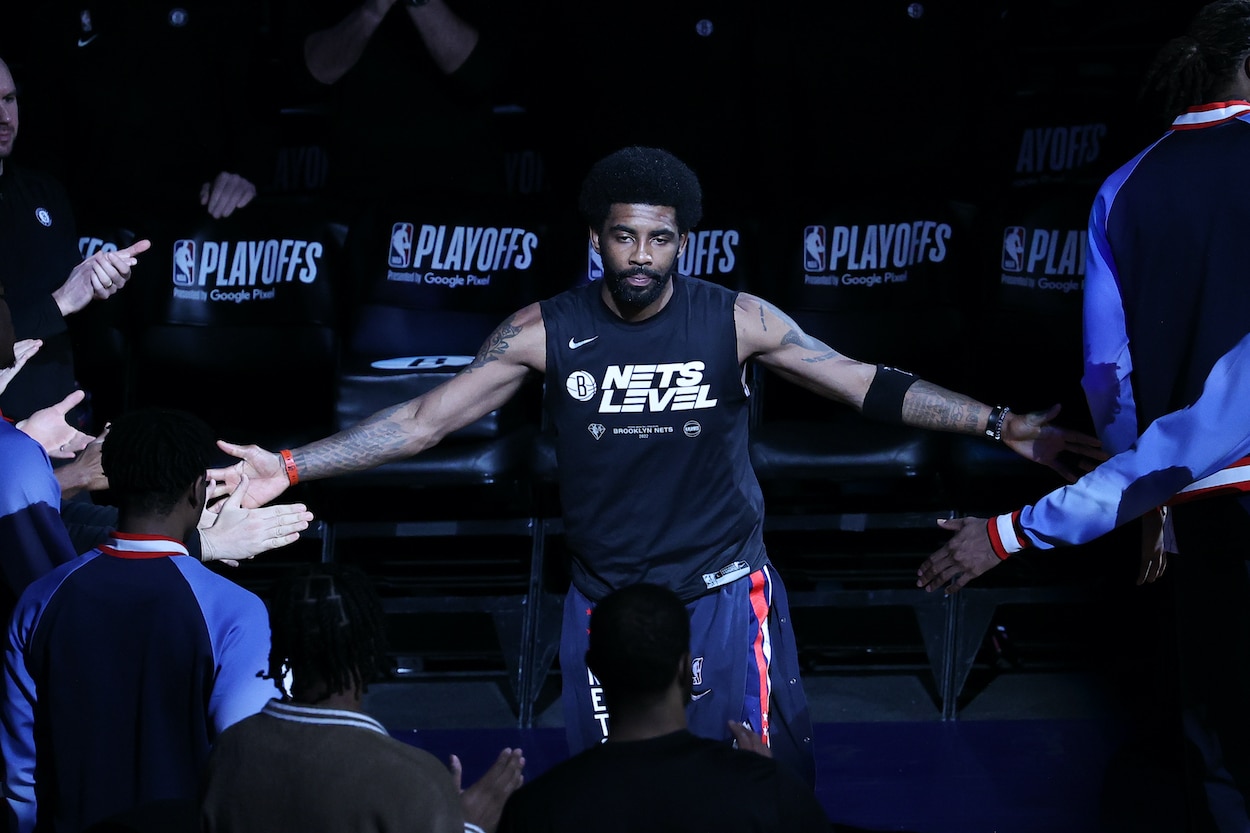 The season might be over for the Brooklyn Nets, but the drama surrounding Kyrie Irving never ends. Now that the team's offseason is here much earlier than the organization surely expected, decisions have to be made both by Irving and the franchise.
After listening to Nets general manager Sean Marks' thoughts on the polarizing player, Irving's future in New York's hippest borough seems anything but certain.
The Kyrie Irving Era for the Brooklyn Nets hasn't worked out well
There are plenty of reasons that the Brooklyn Nets are sitting at home during the second round of the 2022 NBA Playoffs that have nothing to do with Kyrie Irving.
James Harden's rapid decline, Ben Simmons' inability (or refusal) to get on the court, Steve Nash's failure to make the proper adjustments, and the Boston Celtics' Jordan Rules-level defense on Kevin Durant all played a role.
All that said, when you look back on the Nets' 2021-22 season, it's impossible not to see Irving's long vaccine-protesting sabbatical as a major factor in the campaign's untimely end.
The Kyrie saga has been covered ad nauseam, but the numbers are stark in black and white. Irving played just 29 games out of 82 this season because of New York City's (and other municipalities) COVID-19 vaccine mandate, which Irving refused to get.
What's worse is that Irving staying home was a significant factor in the failure of the Durant/Irving/Harden experiment. In the 13 months that the trio was together in Brooklyn, this Big 3 played just 16 games together.
Now Harden is out, Simmons is (kind of) in, and the Nets' future — despite still having three of the highest-paid players in the NBA in 2022-23 — is uncertain.
GM Sean Marks didn't sound certain Irving would be back for the 2022-23 season
Kevin Durant is starting a four-year, $194.22 million contract extension in the 22-23 season. And he's still arguably the best player in the NBA. Unless he suddenly decides he wants out of Brooklyn, Durant will be a Net for the foreseeable future.
On the other end of the spectrum, Ben Simmons has an onerous contract, with two years and $78.2 million left. But, right now, getting him back on an NBA court at all, let alone for the Brooklyn Nets, is a complete unknown.
That leaves Kyrie Irving.
Most NBA observers would assume there is no question that the 30-year-old would definitely be back at the Barclay's Center next season. However, Nets general manager Sean Marks didn't sound as certain.
When a reporter asked if "the organization is committed to Kyrie" in a postseason wrap-up press conference, Marks said of the Irving situation:  
Look, I think that's something we'll be discussing. We will continue to debrief on and discuss throughout this offseason. … It would be unfair for me to comment on how it looks with us and Kyrie because, to be quite frank, he's got some decisions to make on his own. So, he has to look at what he's going to do with his player option and so forth. But I think we know what we're looking for. We're looking for guys that want to be a part of something bigger than themselves, play team basketball, and be available. That goes not only for Kyrie but everybody here.

Sean Marks on Kyrie Irving
Marks' comments didn't sound like a ringing endorsement for Irving's long-term future in Brooklyn.
What's next for the Nets' star point guard?
When Sean Marks talks about Kyrie Irving having to make his own decisions about the upcoming season, he's not just talking about the guard committing to playing more often than not.
Irving has a $36.9 million player option for 2022-23.
When the former Duke guard signed his deal back in 2019, this option year seemed like a formality. The idea was that Irving would eventually decline in order to sign a new five-year, $247.6 million extension, which he is eligible for.
However, after Irving's extended mental health breaks in 20-21 and his vaccine mandate protest in 21-22, the Nets may not want to sign him to a quarter-billion-dollar new deal.
If Irving does opt-in, that doesn't settle the Nets' issues either. Even with Irving at $36.9 million instead of $42.7 million next year, Brooklyn's salary cap issues are immense. The team would be committed to $116.4 million for Irving, Kevin Durant, and Ben Simmons alone. Add in Joe Harris and Seth Curry, and the franchise is looking at $143.5 million for what would be an unreliable starting five at best.
In a vacuum, trading Irving for several new parts would likely be best. However, there are plenty of issues with that, too. Whether Irving signs a new deal or not, trading a contract like that isn't easy. Additionally, Irving and Durant have always been a package deal in Brooklyn.
Would Kyrie's buddy be OK if the team shipped him out?
If Durant wants to win another title someday — one outside of Stephen Curry's shadow — he may need to make some tough decisions about his good friend and let Sean Marks do his job like he sounds ready to do.
Stats courtesy of Basketball Reference. Like Sportscasting on Facebook and subscribe to our YouTube channel.