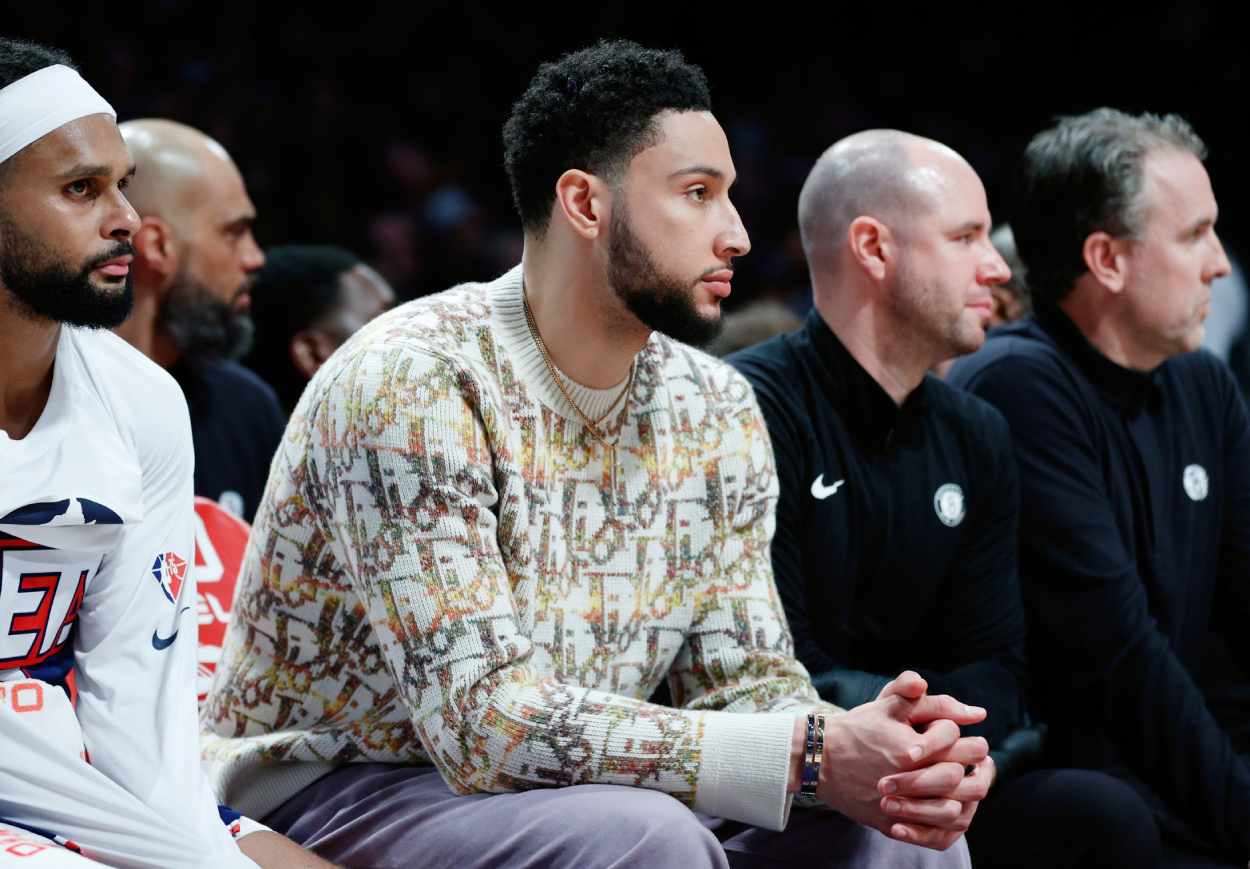 Jay Williams Gets Real About Ben Simmons: 'I Want to See Ben Simmons Win'
ESPN analyst Jay Williams was all business talking about Ben Simmons this week.
Ben Simmons of the Brooklyn Nets has been a punching bag lately. Everyone has an opinion about the former No. 1 overall pick, and it's usually not favorable.
Simmons hasn't played basketball all year. He got himself traded from the Philadelphia 76ers after an ugly divorce from the team. He never suited up for the Nets. Simmons has been called soft. He's been called a thief for taking money without playing.
ESPN analyst and former NBA player Jay Williams has had enough of the Simmons bashing. "I want to see Ben Simmons win," he said.
Jay Williams admits he was wrong for piling on Ben Simmons at one point
Simmons has been the target of many. Former Indiana Pacers star Reggie Miller recently blasted him, telling him to "man up" during the Nets series with the Boston Celtics. Simmons was scheduled to play in Game 4 but cited a back injury and never got off the bench.
"Cmon MAN!!! Out for Game 4 when it was rumored you were going to make your debut. This dude has ZERO competitive [fire]," Miller tweeted. "As small a chance as the Nets have to come back in this series, you still have KD and Kyrie, all you need is to win ONE game and take it from there.. #ManUp"
ESPN's Stephen A. Smith used one of his daily rants on Simmons, saying he was "stealing money."
"This dude has been out since last June, ain't done a damn thing," Smith said last week on First Take. "I'm still trying to figure out how he hurt that back.
"How the hell you get a back injury when you ain't played since last June? It makes no sense whatsoever."
Williams joined in but to a much lesser extent. He joked about the clothes Simmons wears then admitted he was wrong and will "work to be better."
Jay Williams has had enough of the Ben Simmons bashing
Williams believes there is something going on with Simmons mentally. With that, he believes the criticizing of Simmons needs to stop. On Wednesday, he posted a video on social media.
"No more criticizing Ben Simmons," he wrote in the caption above his Twitter video. "Leave the negativity alone and let's rally around him to support his mental fight instead of cutting him down for polarizing statements, clicks & jokes. Let's be better.. & I am talking to myself as well. No more. Enough. Let's all be better."
In the video, the former Chicago Bulls point guard said he is now all about protecting Simmons.
"I had some very serious conversations yesterday," Williams said. "After those conversations, I am on this platform to tell you that I am all about protecting Ben Simmons right now. I'm sure I'll hear a lot of flak from a lot of people. I'll be honest with you, I don't give a damn.
"It's apparent that something is going on. I feel like it's my job, and it's our job as a community, to protect somebody that has openly announced that they are going through something mentally. It is apparent that he is.
"Regardless if you want to criticize every move or if somebody wants to tack on. I tacked on yesterday about what he wears, and I am willing, with somebody with a platform, to say I was wrong, and I will work to be better by truly trying to understand on how to give him the best environment to be the best version of himself. I want to see Ben Simmons win."
What's next for Simmons?
Simmons has always had his heart questioned. His desire was questioned before he was the top pick in the 2016 NBA Draft. He's been in the NBA six years and has missed two full seasons. He didn't play a game in his rookie campaign due to a foot injury.
Can the Nets rely on him next year? Can they trust him?
As far as basketball goes, Brooklyn might be the best spot for Simmons. He's not gifted when it comes to putting the ball in the basket. He's a poor outside shooter and just as bad from the free-throw line, making just 59.7% of his foul shots in his career.
Where Simmons shines is distributing the ball as a 6-foot-11 point guard. In Brooklyn, the Nets don't need him to score with Kyrie Irving and Kevin Durant, two of the game's best scorers, on the team.
Simmons is also a tremendous defender. He's a two-time All-Defensive player and a three-time NBA All-Star.
He just needs to make his way back onto the court.