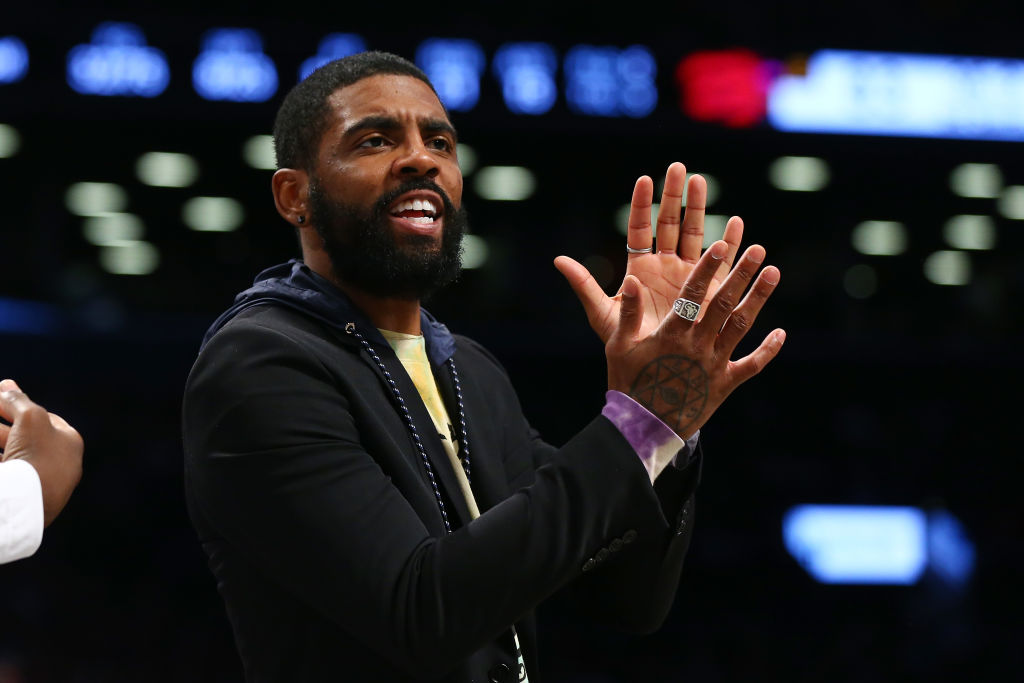 Kyrie Irving Reveals That He May Need Shoulder Surgery After All
During the summer, the Brooklyn Nets made a major splash in free agency. While the New York Knicks whiffed on all their targets, the Nets landed two stars: Kevin Durant and Kyrie Irving. Their 2019 season, however, hasn't gone as planned. While everyone knew Durant would miss the entire season, Kyrie Irving has missed almost …
During the summer, the Brooklyn Nets made a major splash in free agency. While the New York Knicks whiffed on all their targets, the Nets landed two stars: Kevin Durant and Kyrie Irving. Their 2019 season, however, hasn't gone as planned.
While everyone knew Durant would miss the entire season, Kyrie Irving has missed almost two months with a mysterious shoulder injury. The guard, however, recently stepped forward to clarify his situation; as of now, surgery is still on the table.
Kyrie Irving's recent shoulder issue
At the end of November, Kyrie Irving was supposed to make his return to Boston. When the Brooklyn Nets traveled north to meet the Celtics, however, the guard was sidelined with a shoulder issue. While Kendrick Perkins suggested that Irving could be faking his injury, that's clearly not the case.
Irving has been sidelined since November 14 with what was initially called a "right shoulder impingement." While that diagnosis seemed straight forward, things turned out to be much more complicated in reality. Irving was expected to return to practice in mid-December but still wasn't cleared for contact coming into the new year.
The Nets' organizational refusal to clarify the injury didn't help matters. When Irving didn't return to action as expected, rumors started swirling.  Heavy.com reported that the club had internally diagnosed the guard "thoracic bursitis" and expected him to be out for an additional few weeks. Others speculated that Irving was dealing with personal issues, in addition to his physical problems.
Kyrie Irving clarifies his shoulder injury
After more than a month on the sideline, Kyrie Irving finally came forward to clarify his injury. While the guard was able to provide some details, there's still a great deal of uncertainty around his shoulder.
While Irving's first game out was Brooklyn's November 16 meeting with the Bulls, the guard explained that his shoulder started bothering him after a November 4 date with the Pelicans. "After that game before the road trip, I felt decent," the guard explained. "I'd been shooting every single day. I'd been making sure I was lifting, making sure I was taking care of my body. And it got to the point where I had overused it."
That extra work turned out to make Irving's injury worse. "It just sucks, man," he continued. "It really is disheartening when you know you're working your tail off to be at a certain level, and your shooting shoulder just starts to give out on you a little bit. You're looking at it like, 'let me ice this thing, let me just get back out there,' and you keep feeling something in your shoulder, and you're trying to explain it to the medical staff, you're trying to explain it to all these experts out there."
"I'm going to see shoulder specialists; I'm in Phoenix, Arizona, trying to see shoulder specialists," Irving said. "I'm seeing the shoulder specialist for a week and two weeks. I'm doing all these exercises. Still, nothing is happening to get me back on the court, so it's definitely frustrating."
What comes next for the Brooklyn Nets' star guard?
While Kyrie Irving was able to clarify his shoulder injury, his timeline is still up and the air. At this point, the guard is trying to figure out the next step himself.
"I tried to go without any anti-inflammatories, which is why it took so long," Irving said. "And now I'm at a place where the next step was to either get a cortisone shot or get surgery. So that was the ultimatum I was fixed with. So now I'm just doing to best I can to live off this cortisone and move forward if I need surgery in the future."
Given the nature of the injury—working through it simply made it worse—there's no way to rush Irving's recovery; at this point, Brooklyn is playing the waiting game. If cortisone doesn't help and the guard goes under the knife, he will probably be sidelined for an additional six to eight weeks.
While no team ever wants to give up on a season, it may be in the Nets' best interest to start looking towards 2020-21. That would give Kyrie time to fully recover without the pressure making it back into the line-up for a playoff push; starting next season with a healthy Irving, combined with a healthy Kevin Durant, will be worth it in the long run.