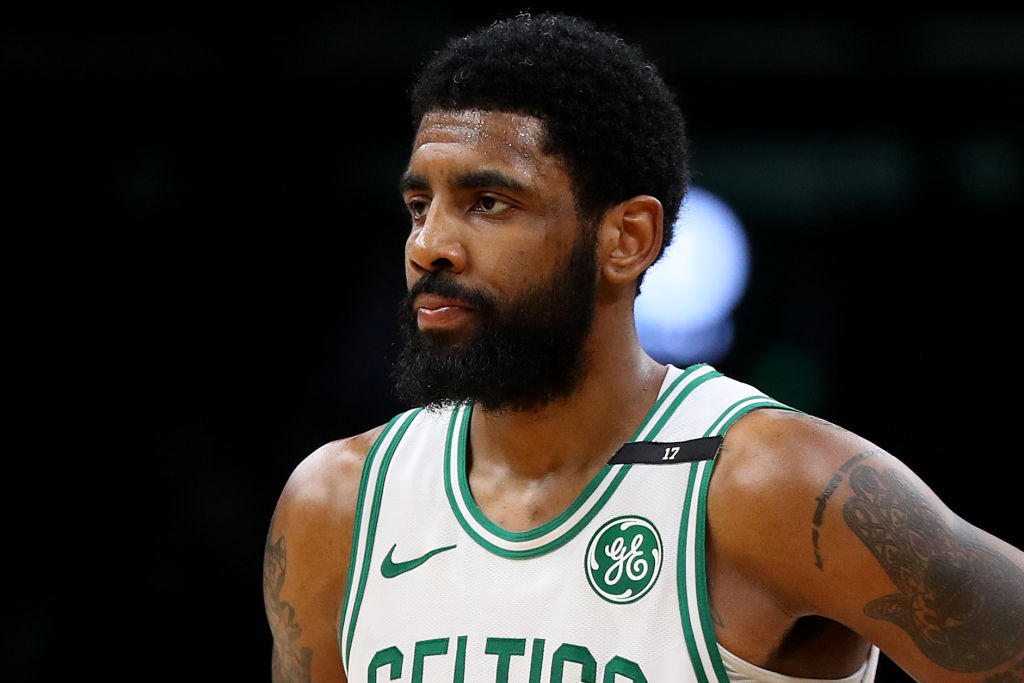 Kyrie Irving's Surprising Guilty Pleasure
Kyrie Irving is one of the best and most interesting players in the NBA. But even die-hard fans were shocked to learn his guilty pleasure.
Kyrie Irving is one of the NBA's best players. Irving has always been one of the league's best dribblers and the former No.1 overall pick etched his name in sports history with a clutch 3-pointer over Steph Curry during game 7 of the 2016 NBA Finals.
Irving has always been viewed as an eclectic individual in the basketball world, once even saying he believed the earth was flat. What makes him so unique?
What is his main guilty pleasure? Today we will go over something Irving loves that you don't see from most NBA players.
What is Kyrie Irving's secret?
Irving loves musicals. Most of us may think of The High School Musical series and possibly cringe, but Irving loved them. He even performed a small role in his high school's adaptation of the hit 2006 film. This was normally a tradition held by the entire basketball team, and Irving took his small role and ran with it. 
His love for musicals grew and he is proud to say his favorite musical/broadway show is RENT.
Classical music family
Irving's family grew up listening to classical music. His mother was a classically trained pianist and shared her love of music with Irving.
Growing up, he played the saxophone and trombone. He also took vocal lessons while singing in the church choir. We also can't forget that the man can tickle the ivory keys after learning how to play from his mother.
Why are athletes lumped together?
When we first learned of his love for musicals it led us to ask the question, why are athletes viewed as dumb jocks without the ability to like anything that involves culture?
There are several athletes who view the world from a larger scope and don't just stick to sports, including LeBron James, Chris Long and Greg Olsen.
James has spoken about politics and the current state of affairs in the U.S. on numerous occasions. He has also made his voice heard when speaking to political pundits or responding to their criticisms about his views on the world.
In the first episode of Amazon Prime's All or Nothing; Greg Olsen mentioned a play to his teammates that had everyone discussing early American Revolutionary politics, not something you would normally see in a football locker room.
How will Kyrie Irving handle the New York media?
Kyrie Irving's leadership was constantly brought into question during his time in Boston. His style of leadership didn't mesh well with young potential stars Jayson Tatum, Jaylen Brown and Terry Rozier. 
The chemistry issues throughout the season doomed Boston from the start, and even though Irving had a great season and put up over 23 points per game, you could tell the writing was on the wall for him to leave Boston after two seasons.
Going to Brooklyn will be tough for Irving from a criticism standpoint. The New York media is arguably the toughest in the sports world, and we think he may come under a microscope fairly quickly next season if the Nets get off to a poor start.
Moving to Brooklyn
What musicals should he catch on Broadway?
Some of the top shows Irving should catch on Broadway while playing for the Nets include Mary Poppins, Miss Saigon and of course his favorite, RENT. With the ability to hop on a train or take in live music somewhere in the city, we think Irving will be just fine in NYC.
Are you surprised to learn about Irving's guilty pleasure?
What did you think about Irving loving musicals? When we learned that Kyrie Irving's guilty pleasure we were very surprised. We think he will fit in well with the hustle and bustle of New York City and his out of the box mentality will be seen as a breath of fresh air.
For more news involving the game's best players be sure to check out our NBA section.