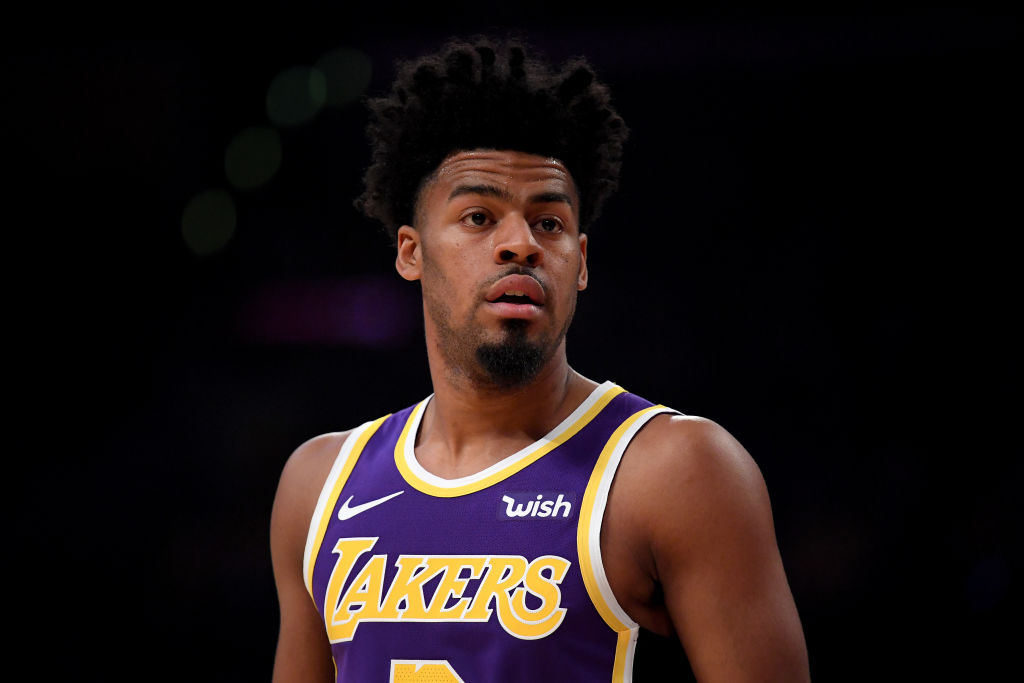 Lakers Guard Quinn Cook Describes 'Worst 8, 9 Seconds' of Life Getting Tested for Coronavirus
Los Angeles Lakers guard Quinn Cook describes the 'worst 8, 9 seconds' of life after getting tested for the coronavirus.
After it was reported that four Brooklyn Nets players, including Kevin Durant, tested positive for the coronavirus (COVID-19) earlier this week, members of the Los Angeles Lakers were tested. The Lakers were the last team to play the Nets before the NBA season was suspended and all of the players were recently tested.  Lakers guard Quinn Cook described the extremely uncomfortable process of getting tested.
Two Los Angeles Lakers players tested positive for the virus
After Utah Jazz center Rudy Gobert became the first NBA player to be announced as having tested positive for the coronavirus on Wednesday, March 11, the league suspended its season until further notice. Since then, several other players or members of team staff have also tested positive.
On Thursday, two Lakers players were reported to have the virus. Both players have shown no symptoms, but all the members of the team have been under quarantine.
Also on Thursday, Marcus Smart of the Boston Celtics also announced on social media that he had also tested positive. Three members of the Philadelphia 76ers organization were also reported to test positive, as did a member of the Denver Nuggets staff.
Lakers guard Quinn Cook adapting to isolation

In a podcast with Chris Haynes of Yahoo Sports, Los Angeles Lakers guard Quinn Cook said he spends most of his time playing video games while under quarantine.

Cook, who is staying in Los Angeles during the NBA's hiatus, said he wakes up and plays video games for about three hours and then does some sit-ups and some sprints in his large apartment. After that, he goes back to playing video games. He told Haynes that he hasn't picked up a basketball since Saturday.
Cook is in his first season as a point guard of the Lakers. He spent the last two seasons playing for the Golden State Warriors. This season, he is averaging 4.8 points per game in nearly 11 minutes per contest. Cook has also very brief stints with the New Orleans Pelicans and the Dallas Mavericks.
Cook details the 'uncomfortable' test for the coronavirus
Quinn Cook described being tested for the coronavirus as being extremely uncomfortable.

"It's the worst 8, 9 seconds of your life. It's something I wouldn't wish on anybody but it's something that had to be done," he told Haynes during the podcast. He went on to say how the Lakers did a great job of keeping the players isolated from one another. 

Cook said the members all had the same reaction to the test. "We were all going off in the group chat about how painful and uncomfortable it was."

He then got into detail about how the test was performed. 


"It's like an eight-inch Q-tip and the doctor basically just sticks it right in your nose. I guess they have to get it to your throat. So he sticks it as far as he can up your nose and then he twists it around. It sucks, man. We all felt it for at least five hours after the test. It was a very uncomfortable feeling."

Quinn Cook