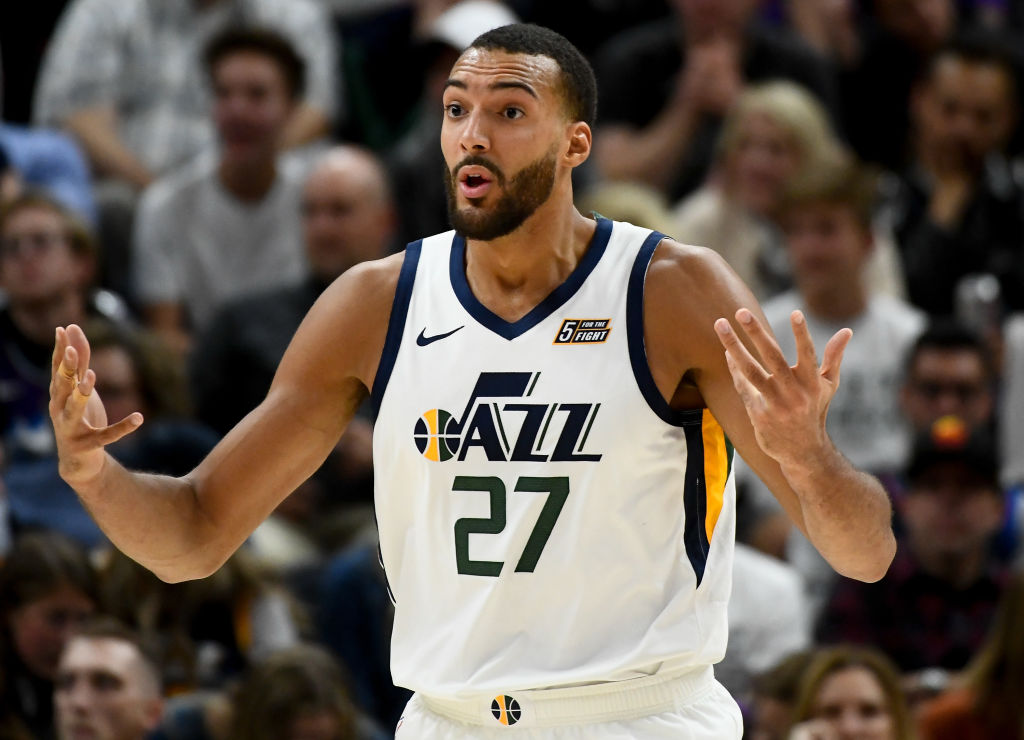 Rudy Gobert Issues Apology for His Carelessness Regarding Coronavirus
Utah Jazz center Rudy Gobert issues apology via Istagram for his carelessness regarding the severity of the coronavirus.
On Wednesday, Rudy Gobert of the Utah Jazz became the first NBA player publicly announced as having being tested for the coronavirus (COVID-19). That was also the same day the NBA made an announcement that it was suspending the season until further notice.
Since then, Gobert's teammate Donovan Mitchell has been diagnosed with the disease, while other leagues have taken action as the coronavirus continues to spread. Gobert, on Thursday, issued an apology via social media for a foolish action that may have contributed to the spread of the disease inside the team's locker room.
Gobert apparently mocks the severity of coronavirus
On Monday, after his team's shootaround, Gobert and the Jazz players met with the media at the team's facility. When the session was over, Gobert emerged from his seat and reached over to deliberately touch all the microphones and reporter's recorders that were in front of him before rushing out the door.
On Tuesday, Gobert fell ill and it was announced he would not be playing in Wednesday night's game against the Oklahoma City Thunder in Oklahoma City.
When Wednesday rolled around, it was announced that Gobert, who was not in the building, has tested positive for the coronavirus. That diagnosis ultimately led to the NBA's decision to suspend the season right before tipoff of that game.
Donovan Mitchell tests positive for coronavirus
It was announced Thursday that another NBA player, Rudy Gobert's teammate Donovan Mitchell, has also tested positive for the coronavirus.
Mitchell, a first-round pick in the 2017 draft, has been Utah's best player the last two seasons. This year, the All-Star shooting guard is averaging 24.2 points per game through 63 games.
In an Instagram post, Mitchell thanked everyone for their support and said he hoped people would educate themselves and realize 'they have to behave more responsibly,' seemingly taking a shot at Gobert's carelessness in the locker room.
It also had been reported that Gobert had been jokingly touching players' belongings in the locker room, presumably to show that he didn't believe the virus was serious.
Rudy Gobert's apology
In an Instagram post by Rudy Gobert on Thursday, the Utah Jazz center said he has been full of emotions over the last 24 hours since his diagnosis.
Gobert said he was filled with fear anxiety and embarrassment, and he began by apologizing first to the people he may have endangered. In his Instagram post, Gobert admits he was careless and said he has no excuse for his actions. He said he had no idea he was even infected.
Gobert went on to say he hopes his story serves as a warning and encourages people to take the disease seriously. He wants to use his experience as a way to help educate others to help prevent the spread of the virus.
Gobert, a 7-foot-1 center from France, is in his seventh season with the Jazz. He was selected in the first round of the 2013 NBA draft. This season, Gobert is averaging 15.1 points and 13.7 rebounds per contest.