Lakers Owner Jeanie Buss Shares a Stunning Revelation About Magic Johnson's Plans to Make LA a Short-Term Stay
Magic Johnson is as much a part of Los Angeles Lakers lore as the famed purple-and-gold itself, and for almost as long. But when the 19-year-old Magic went No. 1 in the 1979 NBA Draft (thank you, Gail Goodrich!) to the Lakers, a lifelong commitment wasn't what the young star may have had in mind. Johnson played 13 years in LA, ran the front office for another two, and even coached the team for 16 games at the end of a dreary season.
That's just the official stuff. In many ways, Magic is the Lakers, indeed to a generation of fans raised on Showtime and the five championships the team captured between 1980–88. It's almost impossible to think of Johnson without seeing the No. 32 on his Lakers jersey, his dazzling smile after spotting an open teammate from a seemingly impossible angle. But according to a person as close to the franchise as one can be, that sort of lifetime identity was never part of the original plan.
Jerry West wasn't sold on Magic Johnson, but Dr. Jerry Buss was
Magic Johnson led Michigan State to its first national championship in a now-iconic victory over Larry Bird's undefeated Indiana State team. The super sophomore planned to skip his final two seasons in East Lansing for a shot at NBA fame and (more to the point) fortune.
But Lakers assistant general manager Jerry West wasn't sold on Johnson with the No. 1 pick LA was gifted. In West's final season as head coach, LA won 47 games and reached the second round of the playoffs. The Lakers owned the first pick thanks to a free agency signing gone wrong for the old New Orleans Jazz (like most of the moves that short-lived club made), the Lakers owned the Jazz' first-round pick. In the early days of free agency, teams that signed a player had to compensate the team that lost him.
While the Jazz trudged from the Big Easy to Salt Lake City, their NBA-worst 26–56 earned them one of the two spots in the annual coin flip for the first overall pick. The Chicago Bulls were also in the coin flip. They had finished dead last in the Western Conference.
The Lakers won the flip, but West was enamored of a senior guard from Arkansas. Sidney Moncrief had taken the Razorbacks to their first Final Four as a junior. As a senior, he scored 24 points as Arkansas came within a bucket of taking down Bird and Indiana State.
When Dr. Jerry Buss bought the Lakers (along with the NHL's Los Angeles Kings, the Forum, and a 13,000-acre ranch in the Sierra Nevadas), he made it clear. The Lakers were taking Johnson. Full stop.
Enter Buss' teenage daughter and an introduction to Magic Johnson
Jeanie Buss took over as the Lakers governor in 2013. According to USA TODAY, she took complete control of the front office in 2017 after a feud with her brother Jim.
During an appearance on The Boardroom podcast, Jeanie Buss revealed that Magic Johnson staying with the Lakers for the long-term was not something teenage Magic considered. Instead, he wanted to play out his first contract and then go home. Buss was 17 when she met Magic, who shared what she thought to be dreadful news.
Johnson arrived for a meeting at Buss' home. Her father told Jeanie to keep him occupied while he got ready:
"So I opened the door, and it was this smile that just — it was like, blinding, you know — and there was like sparkles coming off his teeth. As soon as you meet him, you're just floored by who he is. So I bring him in, we're having small talk.

"He said, he goes, 'You know, I'm really excited that I was drafted by the Lakers, but I'm only going to stay here for three years because I want to go back home and play for my hometown team in Detroit."

Jeanie Buss
At this point, the girl panicked. She dashed upstairs to tell her father what Johnson had said. But Dad knew best.
"Dad goes, 'As soon as he puts on a Laker uniform and walks out and hears that crowd, hears the cheers for him, he's never going to leave,'" Buss said.
The elder Buss nailed it: Johnson became an LA icon. The rest is, literally, history.
Johnson's impact on the Lakers and the NBA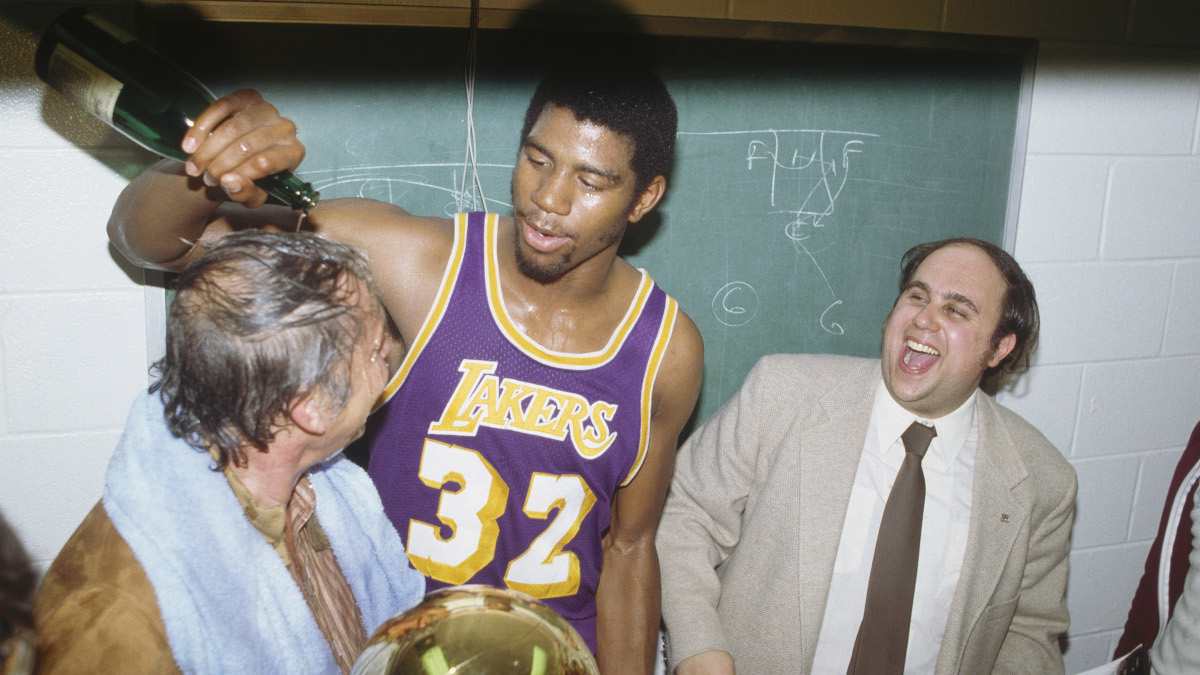 Not only did Magic Johnson remain with the Lakers, but he also took over LA. He last played for the team in 1996, but he remains an instantly recognizable franchise face.
Despite retiring prematurely after contracting HIV in 1991, Johnson is the NBA's all-time leader in assists per game. Even with his shortened stay in the league, he's sixth in league history with 10,141 assists.
Johnson was a first-ballot Hall of Famer in 2002. He is widely credited, along with Bird, for reinventing an NBA rife with attendance woes, franchise shifts, and other perception problems in the late 1970s.
More than anything else, Magic Johnson brought the championship swagger back to one of the NBA's oldest franchises. The Lakers had won just a single title since leaving Minneapolis in 1960. Not a bad resume for a guy who only planned on sticking around for three years.
Statistics courtesy of Basketball Reference