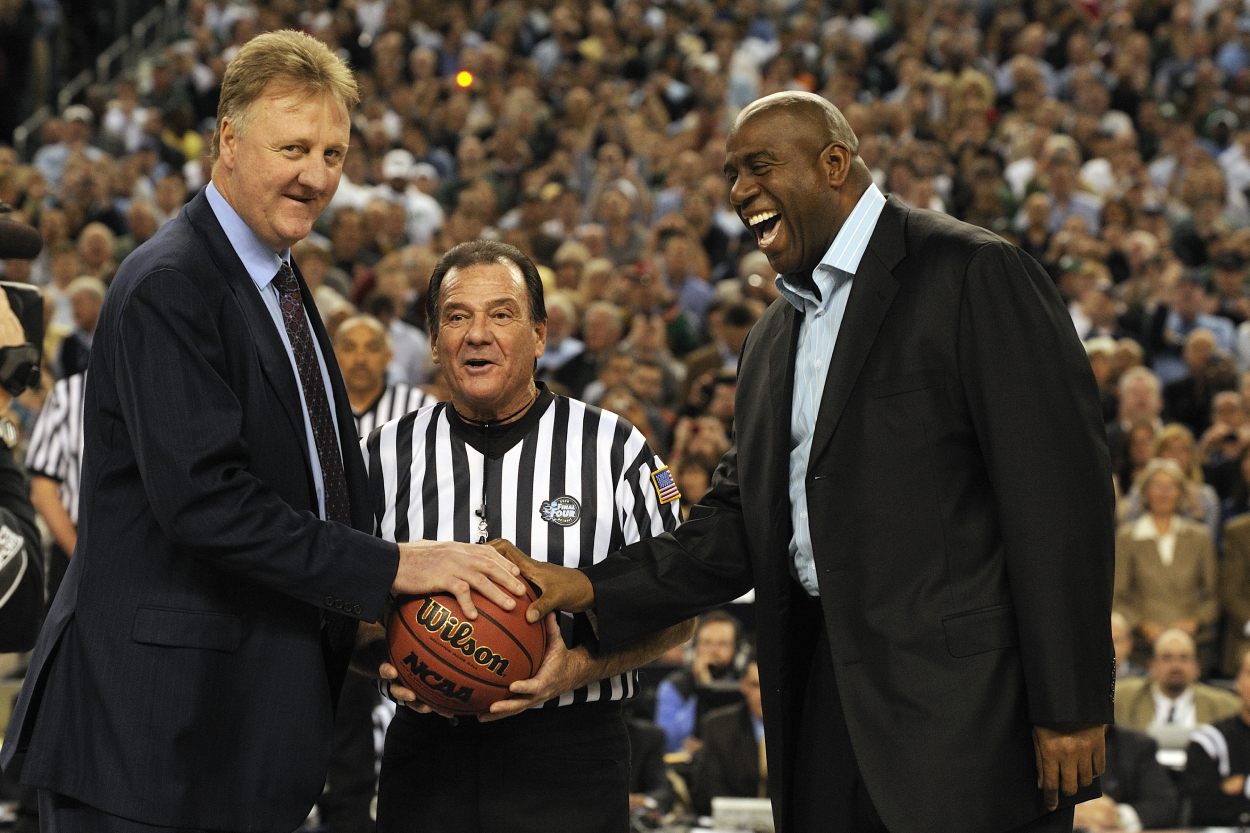 Larry Bird and Magic Johnson Comparisons Reached Peak in 1984 When They Were Likened to Raquel Welch and Marilyn Monroe
The Larry Bird and Magic Johnson comparisons hit a high point in 1984.
One wouldn't think Larry Bird would ever be put in the same sentence with an actress/model. It happened in 1984 when the Boston Celtics star and Magic Johnson faced each other for the first time in the NBA Finals. The comparison between the two stars hit its peak as the two prepped to face off on the big stage for the first time in their NBA careers.
Larry Bird and Magic Johnson comparisons reached an all-time high in 1984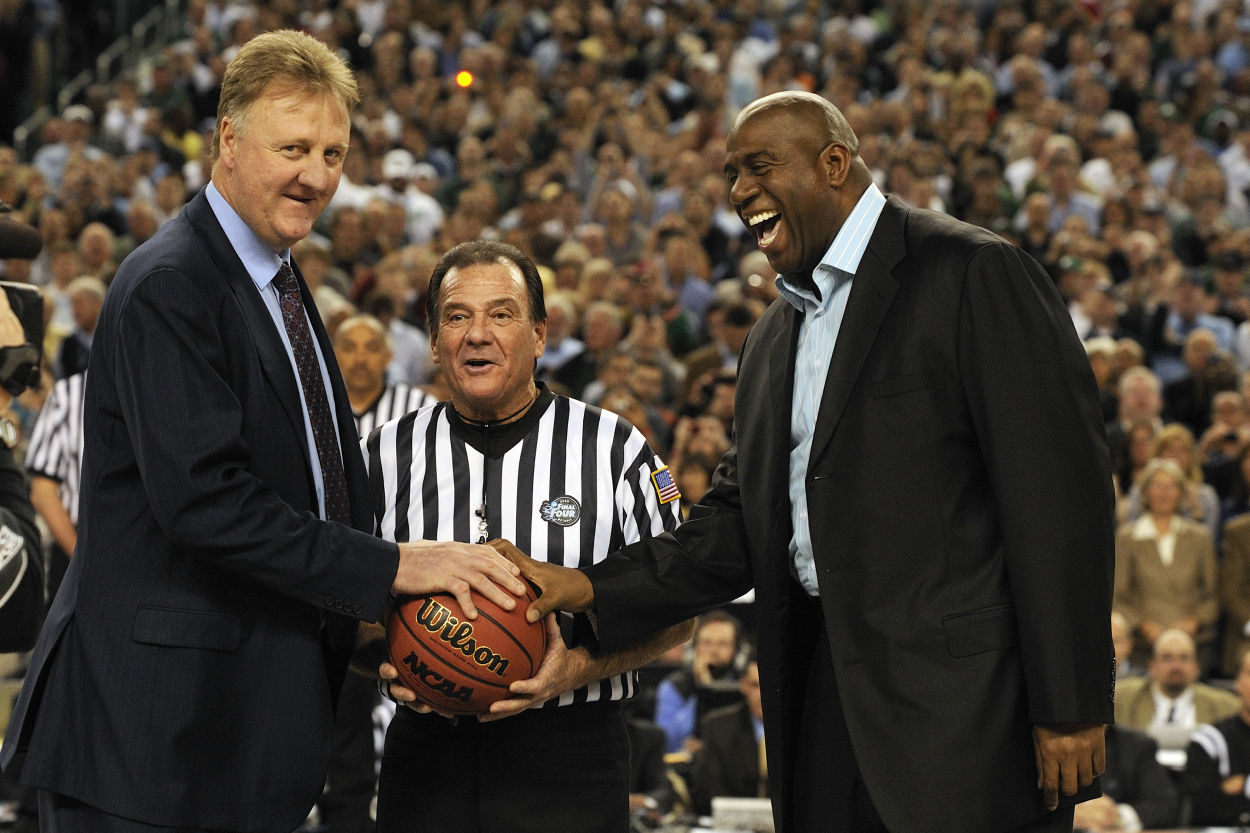 Ever since their NCAA title game in 1979, Bird and Magic have been linked. Although they were two completely different players playing two different positions, the two constantly drew comparisons. Who was better: Bird or Magic? That was the question thrown around throughout their careers, but it reached a new level in June 1984.
There had been head-to-head meetings between the two stars for five years since their highly anticipated college matchup. Those matchups, however, came during the regular season. This time it was for all the marbles. Everyone was watching as the two battled for an NBA championship.
The talk between the two grew so big that even Bird chimed in on the comparison.
"We both do the same things," Bird said to Sports Illustrated right before the NBA Finals began in 1984, "but we're not the same type player. When you think of the impact we have on a game, with me, it's usually scoring, but with him, it's always his passing. He's got his hands on the ball more than I do, so he has more control of the situation.
"You really can't compare us. He's more flashy and can make more things happen than me, make them happen quicker. Magic is just beyond description. I think of him as one of the three top players in the game today, maybe the best. He's a perfect player."
There was so much Larry Bird and Magic Johnson talk that Marilyn Monroe and Raquel Welch somehow got involved
Bob Ryan, who covered the Boston Celtics during the 1980s, said at the time the Bird and Magic showdown would overshadow the Celtics and Lakers battle.
"It's inevitable that this whole series will be viewed as a confrontation between the two of them," Ryan said, according to Sports Illustrated. "That's an insult to Kareem and Kevin McHale and (Robert) Parish, of course, but it's unavoidable. The rivalry between Bird and Magic is definitely the subplot of this series."
Pete Newell, a longtime basketball coach who guided Cal to an NCAA title in 1959 and was a Golden State Warriors consultant in 1984, offered his version of the Bird/Magic comparison. He said Bird and Magic knew they were being compared and believed they did whatever they could to get the upper hand on the other.
"Oh, they'll say it's not a one-on-one game, and they'll point out that they're not even guarding each other, and you can't blame them for doing that," he said. "These are two of the greatest players we've ever had, and even though Magic's a guard and Bird's a forward, they sure as heck realize there are going to be comparisons made.
"Naturally, they want to be at their best. If you were Raquel Welch and you lived across the street from Marilyn Monroe, you'd make damn sure you looked good every time you went out the front door."
Jerry West said it was tough to compare the two stars, but he appeared to give a slight edge to Bird
Jerry West was the GM of the Lakers at the time, and he said comparing the two was difficult because they didn't actually go head to head with each other.
"It's like the opening of a great play," West said then. "Everybody's waiting to see it." If Bird and Magic played against each other, then it would be real special. But they don't. As much as people want to talk about who's the best, you'd get a better idea who plays the greater total game if they matched up against each other."
West elaborated a little more and appeared to give Bird a slight edge in his game.
"Bird whets your appetite for the game," West said. "He's such a great passer, and he doesn't make mistakes. Magic handles the ball more, and he makes more mistakes because he has it more. We're all fond of different kinds of books, different types of movies. The one that best approaches the kind of game I would recommend a young player model himself after is Bird. He's a genius on the basketball floor."
Of course, the Bird and Magic comparisons carried on well beyond 1984, but it just never got back to that Welch/Monroe level.