Michael Jordan Poured Cold Water on Magic Johnson's Lakers Comeback Practically Before It Even Began: 'These Guys Are Losers'
Under different circumstances, Michael Jordan might have loved Magic Johnson's determination to resume his playing career when the Los Angeles Lakers legend attempted a comeback in 1996. But MJ knew his friend's reputation as a winner could take a hit. After all, these Lakers were not the vaunted Purple and Gold teams of old.
Johnson gave fans one last glimpse of Showtime in 1996. However, Jordan told his fellow Dream Teamer why the comeback would be short-lived… just two games into Johnson's return.
Michael Jordan took the torch from Magic Johnson and Larry Bird as the face of the NBA
Two players largely defined the NBA in the 1980s: Magic Johnson and Larry Bird. Johnson's Lakers teams won five championships during the decade, while Bird and the Celtics won three titles of their own.
The two frontmen played starring roles for two of the most definitive organizations of that era. But both would have to make way for His Airness.
Michael Jordan endured plenty of lows through his first six NBA seasons, but he and the Chicago Bulls broke through to win their first championship in 1991. Plenty more followed. Jordan and the Bulls won six titles in the 1990s, establishing themselves as one of the greatest dynasties in sports history.
The fourth championship came in 1996, when Johnson returned to the floor. Magic retired in the fall of 1991, when he announced he contracted HIV. But the Lakers legend felt compelled to get back on the hardwood.
Jordan almost immediately dashed Magic's hopes for a triumphant return.
Jordan told Magic he should stay retired just two games into his comeback
Magic Johnson's second game back came against Michael Jordan and the Bulls. That matchup also offered MJ the chance to send Magic a sobering message.
Johnson revealed in 2000 (h/t the Chicago Tribune) that Jordan told him he shouldn't languish as an aging member of an underwhelming Lakers team, especially given his reputation as a champion.
"I think one of the greatest things Michael [Jordan] told me, and I respect and love him for this, was when I came back and they came into the Forum and killed us, he pulled me aside and said: 'I want to say this the right way. You should retire. These are not the guys you are used to playing with. These guys are losers. You are used to playing with winners.' He was right."

–Magic Johnson (2000), via the Chicago Tribune
Like Johnson, Jordan also made his full return during the 1995-96 season. The difference is that MJ had a tune-up toward the end of the 1994-95 campaign. He is also three years younger than Magic, which surely made a good deal of difference considering Johnson was 36 at the time of his comeback. Plus, the Bulls had an identity as a championship-caliber team. That no longer proved true for the Lakers in 1996.
Although LA won 53 games in 1995-96, the roster lacked proven winners. Cedric Ceballos led the team in scoring, and the Lakers relied a great deal on youngsters like Nick Van Exel and Eddie Jones.
Magic and the Lakers lost in the first round of the 1996 playoffs. He took Jordan's advice and hung it up for good immediately after the season.
Jordan likely understood that Johnson had nothing left to prove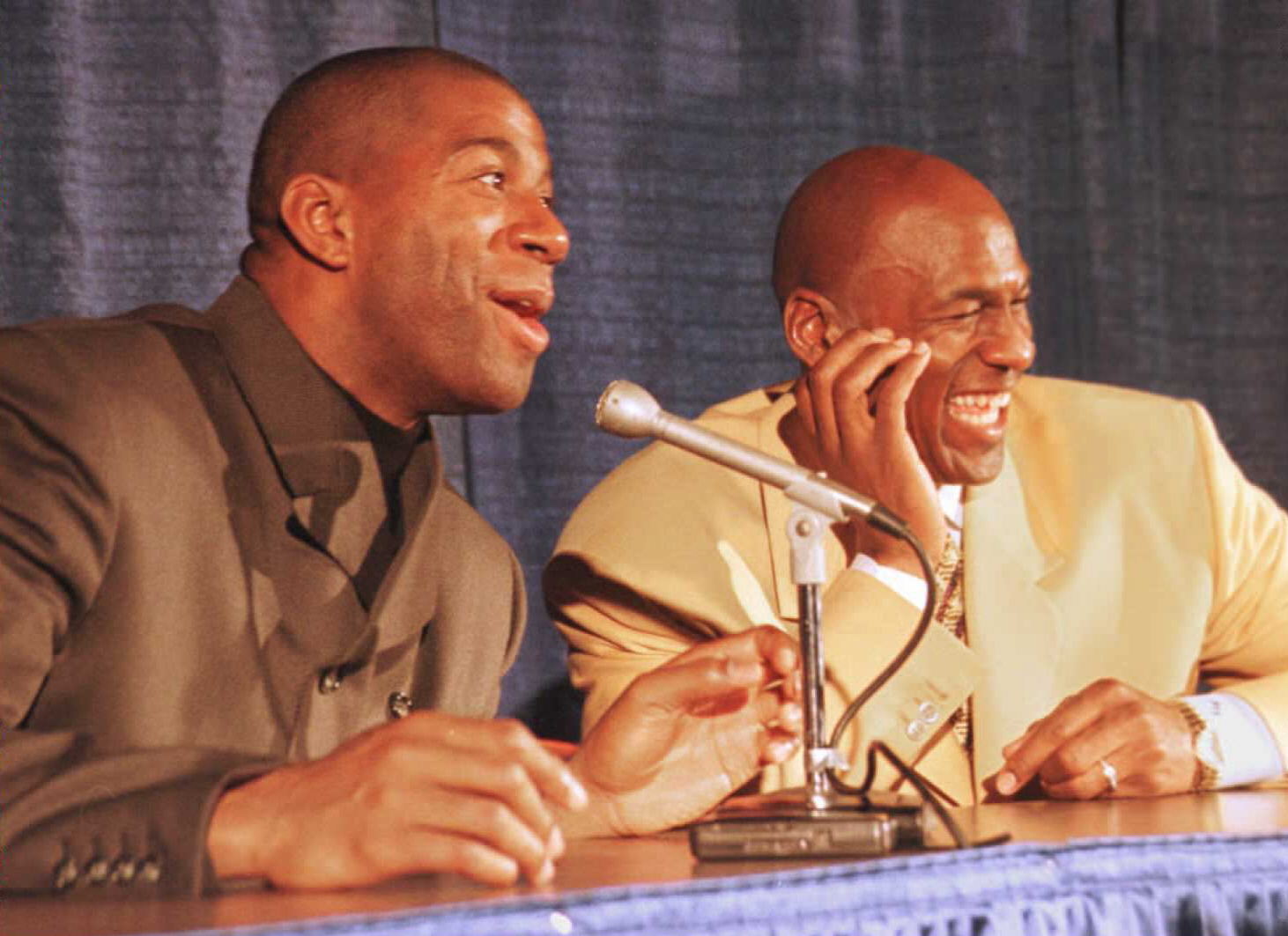 It's easy to understand why Magic Johnson wanted another chance at NBA action. His HIV diagnosis forced him to retire before his age-32 season, robbing him of his final prime years.
However, Michael Jordan appeared to understand that Magic's comeback meant very little as a proving ground. His legacy had already been etched in stone.
Johnson won five championships and three league MVPs. He is still hailed by many as the greatest point guard in NBA history. If anything, the 1996 comeback might have done more damage to some of the lasting images Lakers fans have of the Magic man.
Interestingly enough, Jordan could have benefited from similar advice before making his own comeback in 2001. Although an aging MJ gave basketball fans cheap thrills, he labored on a young and rebuilding Washington Wizards squad.