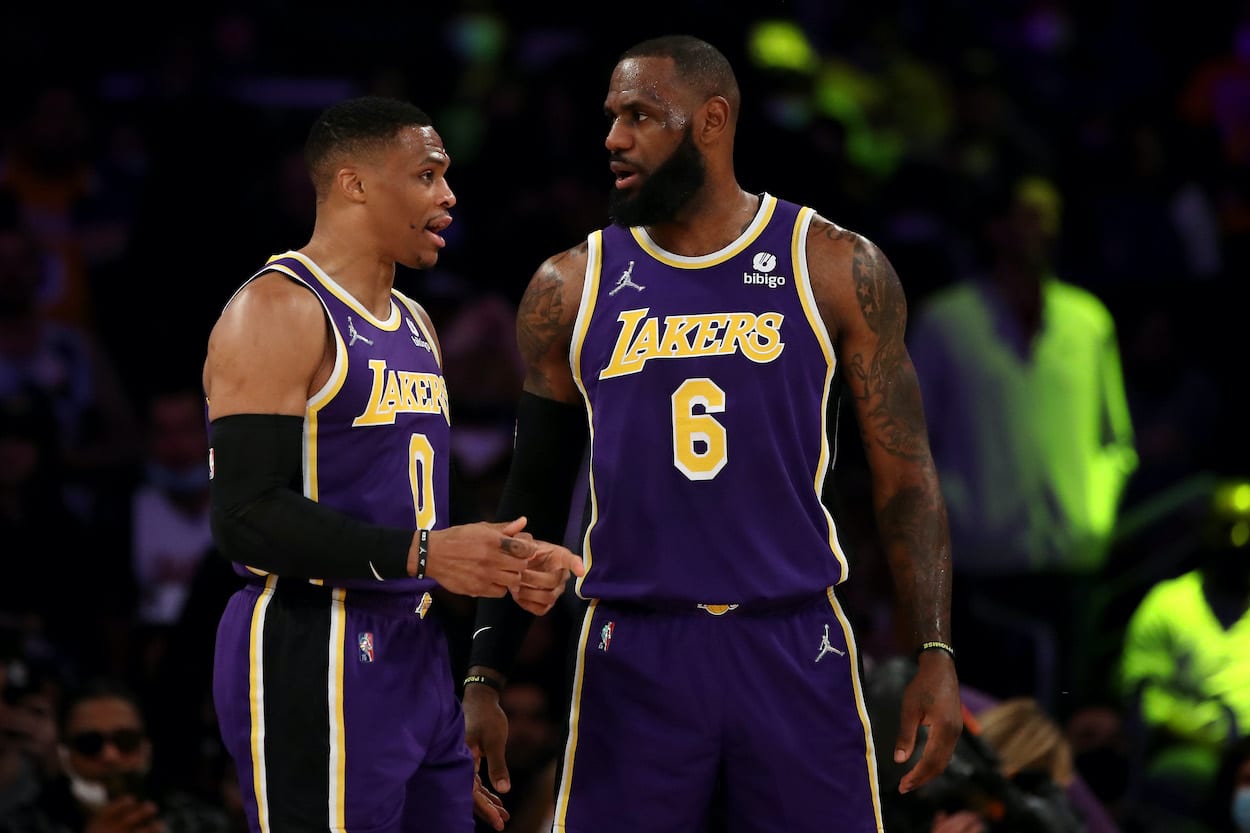 Lakers Reports: LA Is Preparing to Make LeBron James Pay for His $47 Million Mistake
The Lakers have no choice but to pay Russell Westbrook the $47 million they owe him next season.
The Los Angeles Lakers have a crucial decision to make regarding Russell Westbrook this offseason, but it's not really their decision at all. Westbrook has the ability to pick up his $47 million — yes, $47 million — player option for the 2022-23 season. If (when) he does, the only options for LA would be to trade Westbrook and add future draft picks in a deal, waive the point guard and deal with the cap ramifications, or negotiate a buyout.
But the Lakers are reportedly leaning toward a fourth option — keeping Westbrook around for one more season and letting LeBron James deal with the $47 million problem he caused in the first place.
LeBron James is the reason why the Lakers are about to owe Russell Westbrook $47 million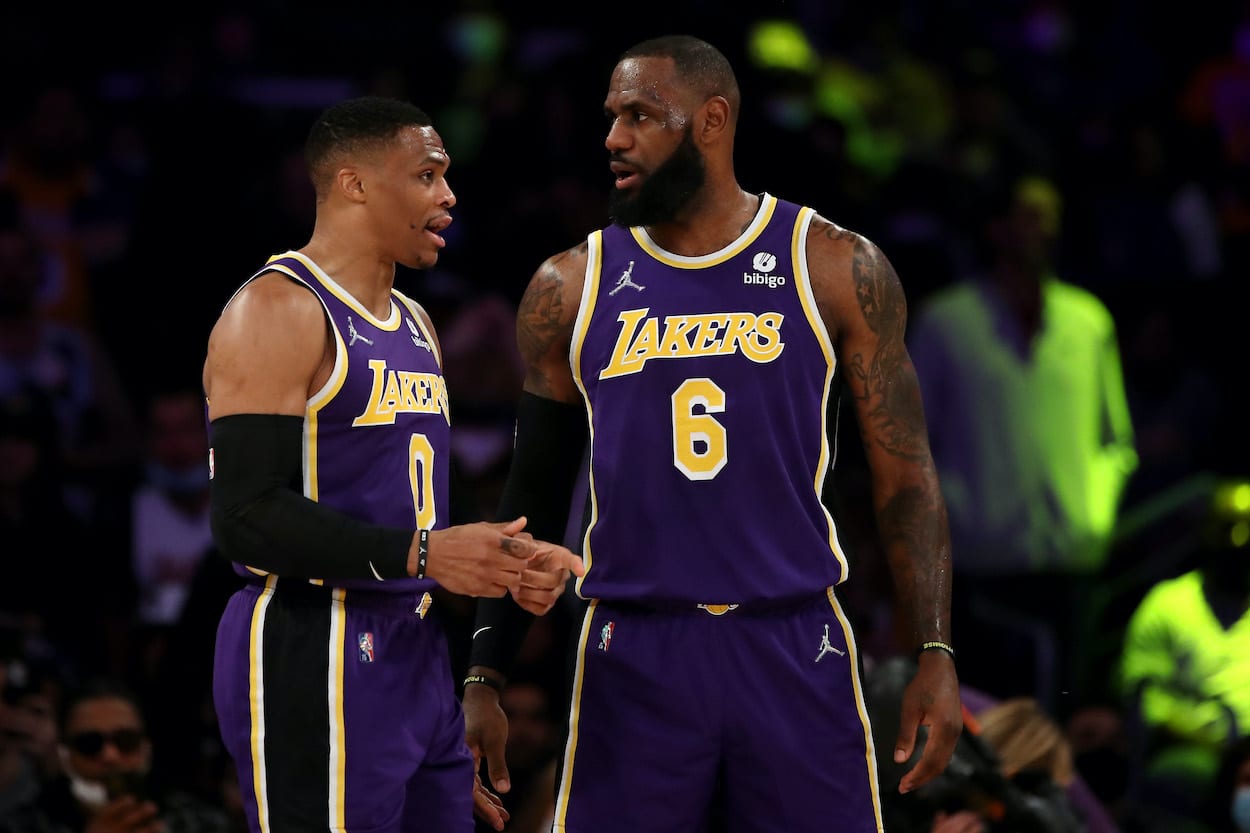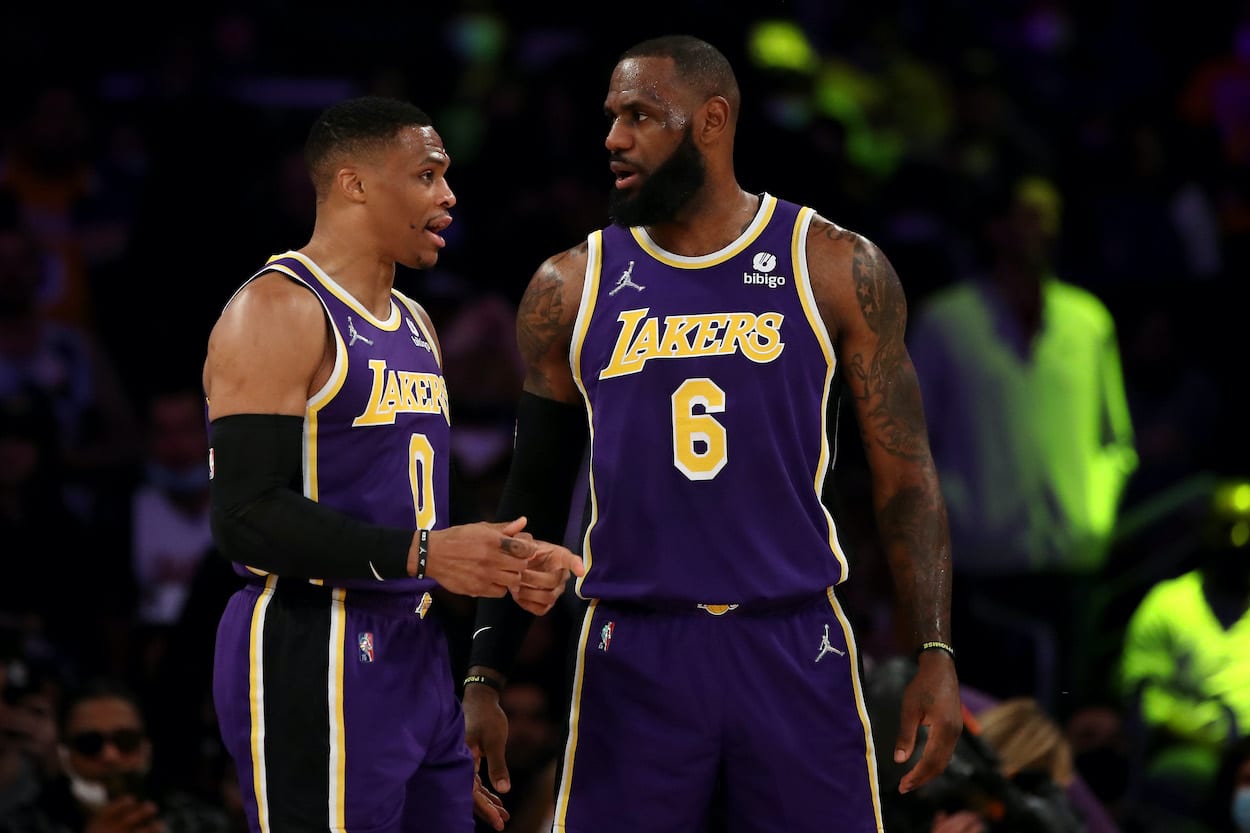 Back in the 2021 offseason, the Lakers were on the hunt for a third star to pair with James and Anthony Davis. The front office preferred going the cheaper route by trading for sharpshooter Buddy Hield, but James wanted to aim bigger.
According to a variety of reports at the time, James pushed the Lakers to give up more depth to trade for Westbrook instead. You can't exactly say no to LeBron, so LA changed course and traded Kyle Kuzma, Kentavious Caldwell-Pope, Montrezl Harrell, and its 2021 first-round pick for the veteran point guard.
James normally has a good eye for roster construction, but not in this case.
In his first season with the Lakers, Westbrook finished with the worst plus-minus on the roster at -211. The fit alongside James on the court was a clunky one, to put it lightly. It turns out two ball-dominant stars who have been go-to scorers for most of their careers don't mesh very well on the same team.
The new-look Lakers finished with a 33-49 record and failed to make the playoffs in what was an abject failure of a season. LA would love to give up on the Westbrook experiment as soon as possible, but his $47 million player option makes that a nearly impossible task.
The Lakers are reportedly preparing to let LeBron pay for his mistake
James knew Westbrook had a $47 million player option for 2022-23 when he pressured the Lakers to trade for the aging point guard. Now, after a disastrous first season with its new core, LA is essentially being held hostage with little to no chance of moving Westbrook this offseason.
According to NBA Insider Marc Stein (via his Substack), the Lakers are willing to punt on next season by letting Westbrook play out the final year of his contract.
"The Lakers are tuning out the skeptics yet again and insisting to anyone who will listen that they would rather keep Russell Westbrook on the roster for next season than surrender additional assets to convince someone to trade for him," Stein wrote. "The Lakers are also said to be adamant that they won't release the former MVP and eat his $47.1 million player option for next season after Westbrook picks it up."
James made his bed, and he's most likely going to have to sleep in it for one more year.
Like Sportscasting on Facebook. Follow us on Twitter @sportscasting19.