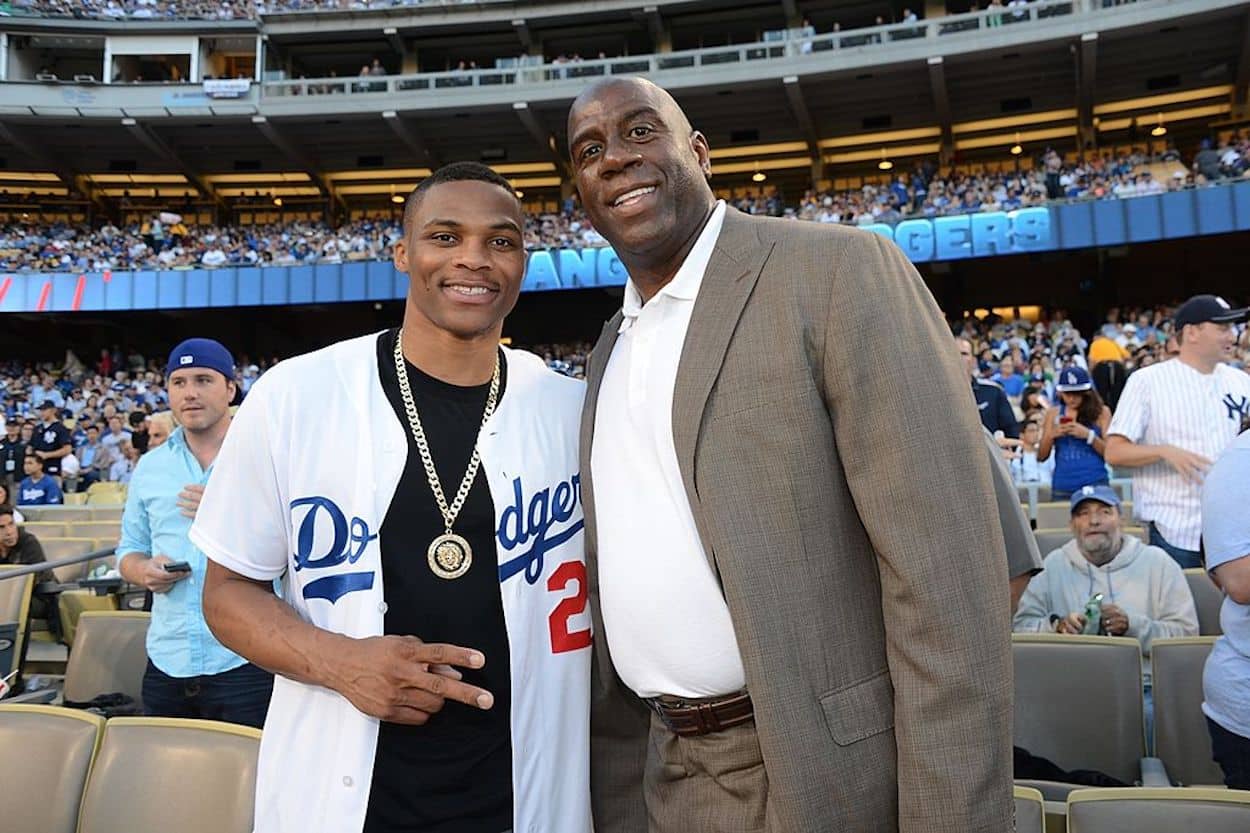 Magic Johnson's Recent Russell Westbrook Comments Show the True Scale of the Lakers' Problems
Magic Johnson may not officially be working for the Los Angeles Lakers, but he did a good job of explaining the franchise's offseason challenges/
While the 2021-22 NBA season hasn't officially concluded yet, the Los Angeles Lakers have been done for quite a while. As those in Hollywood know, things didn't go according to plan. LeBron James and Anthony Davis struggled with injuries, Russell Westbrook never found his feet, and the team crumbled. The Lakers missed the postseason, and Frank Vogel ended up losing his job.
Time may heal all wounds, but things haven't gotten much better yet. The club still needs a head coach, and it's unclear how the front office will manage to retool the roster. That situation was perfectly summed up by Magic Johnson.
During a recent interview, the Lakers legend made a comment about trying to find a way to fit Westbrook into a successful roster. While his logic may sound somewhat comical, it does serve to underscore the sheer scale of the Lakers' issues.
Magic Johnson made some superficially silly comments about Russell Westbrook and the Lakers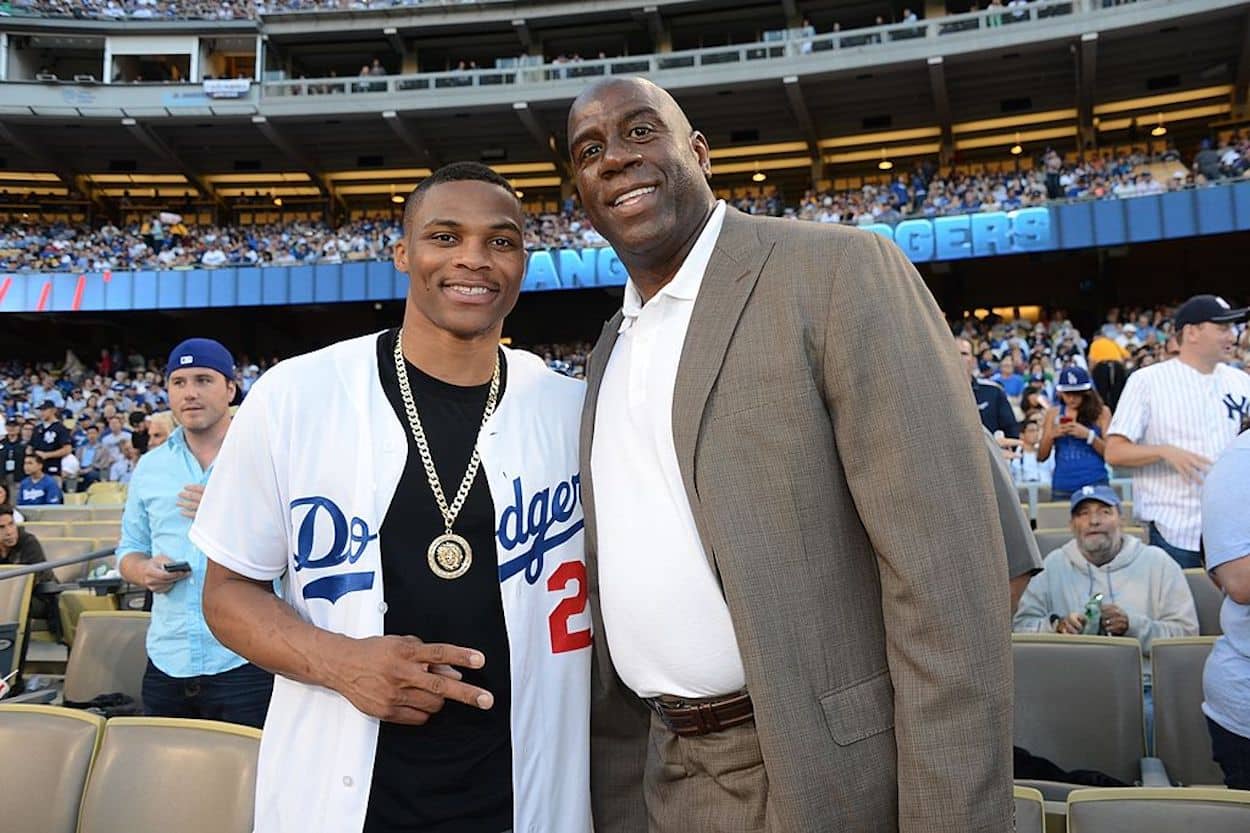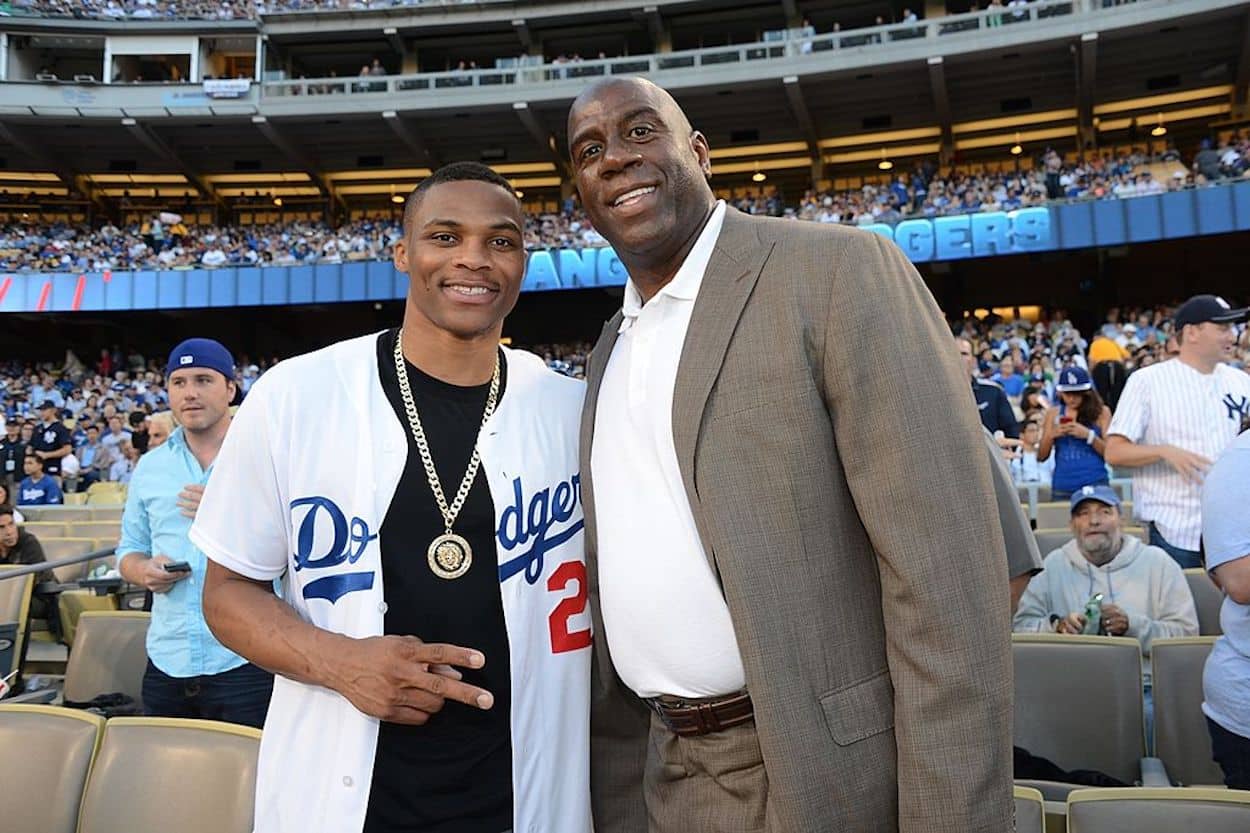 Although it's tough to tie their recent struggles to any one origin point, Russell Westbrook certainly didn't help the 2021-22 Lakers. That reality, however, doesn't mean that Magic Johnson has given up hope. In his mind, there's still room for the guard to fit in alongside LeBron James and Anthony Davis.
"Well, it only can work, if you've got the coach — the right coach," Magic told David Aldridge of The Athletic. "To me, it still comes down to, who's the coach?"
While that might sound like circular logic — of course, the coach that can solve the problem is the right one — Johnson did previously say that the Lakers needed a bench boss who can take control and hold the team accountable. The living legend's diagnosis, however, wasn't done there.
"And, then, also, [Westbrook is] on a one-year, $47 million [contract]," he continued. "Even if you offer him [in a trade], what are you, realistically, going to get back? I told them this too — you're going to get some contracts you probably don't want, and they're going to go [chronologically] past his contract. You've really got to think about that. Are those players you're going to get back, are they going to really help you? I said, talk to him. Whatever happened (this season), how can you make it better with Russell? How can you make it more comfortable? So they've got to figure all these things out. Take him out, take him to dinner or sit him down. How can this thing be better? 'Cause if he's going to be there, it's got to be better. I guess whoever they name, that's the first thing they're going to have to do. And you can't sit down once. You're going to have to sit down for a week or two to try to figure that thing out."
And, there you have it straight from Magic Johnson. The solution to the Lakers' problems is finding the right coach and having him take Russell Westbrook out to dinner. It's been that simple all along.
Magic's comments do show the problems that loom large in Los Angeles
As mentioned above, Johnson's comments do seem a bit superficial and silly. At this point in his career, Russell Westbrook is who he is. It's unlikely that a new coach and any amount of schmoozing can change that. Magic is on the money, however, when it comes to the challenges of the larger situation.
Should the guard choose to pick up his player option, he'll remain on the Lakers' books next year. If we assume that he'll sign on the dotted line — passing up $47 million is a big ask — that puts the ball in the front office's court. There, there's no ideal solution.
Keeping Westbrook on the roster isn't ideal, but you could argue it's the devil you know in this situation. The guard probably can't play worse than he did during the 2021-22 campaign, and a new coach could help things. In a worst-case scenario, it's a lost year before freeing up that cap space.
With all of that being said, though, the Lakers can't afford to play fast and loose with this upcoming year. LeBron James, for all his talent, isn't getting any younger and will hit free agency in 2023. Do you really want to burn what could potentially be his last year on the roster?
Beyond that, there are other implications. At the risk of holding different franchises to different standards, the Lakers aren't the sort of club to simply punt on a year while awaiting greener pastures. It would also be somewhat questionable to hire a coach who is the "right" man to work with Westbrook knowing that the guard's time in Hollywood is running out.
While that might point to moving Westbrook as the ideal solution, that's easier said than done. As Magic noted, you don't want to take on a bad contract that will turn into a long-term burden. Most franchises can endure a bad season or two, but bad salary cap management can be a long-term death sentence.
That's all to say that there isn't an ideal solution here but a series of trade-offs and decisions. Is dealing with Russell Westbrook for one season manageable? Do you need to move him so badly that it's worth taking on a poor contract in return? How do these looming roster decisions affect the search for a new head coach? What sort of say do they have in what happens to the guard?
At this point, we don't have the answers to any of those questions. The Los Angeles Lakers, however, are going to have to work through them in good time. The problems didn't magically vanish once the 2021-22 season concluded.
Like Sportscasting on Facebook. Follow us on Twitter @sportscasting19 and subscribe to our YouTube channel.