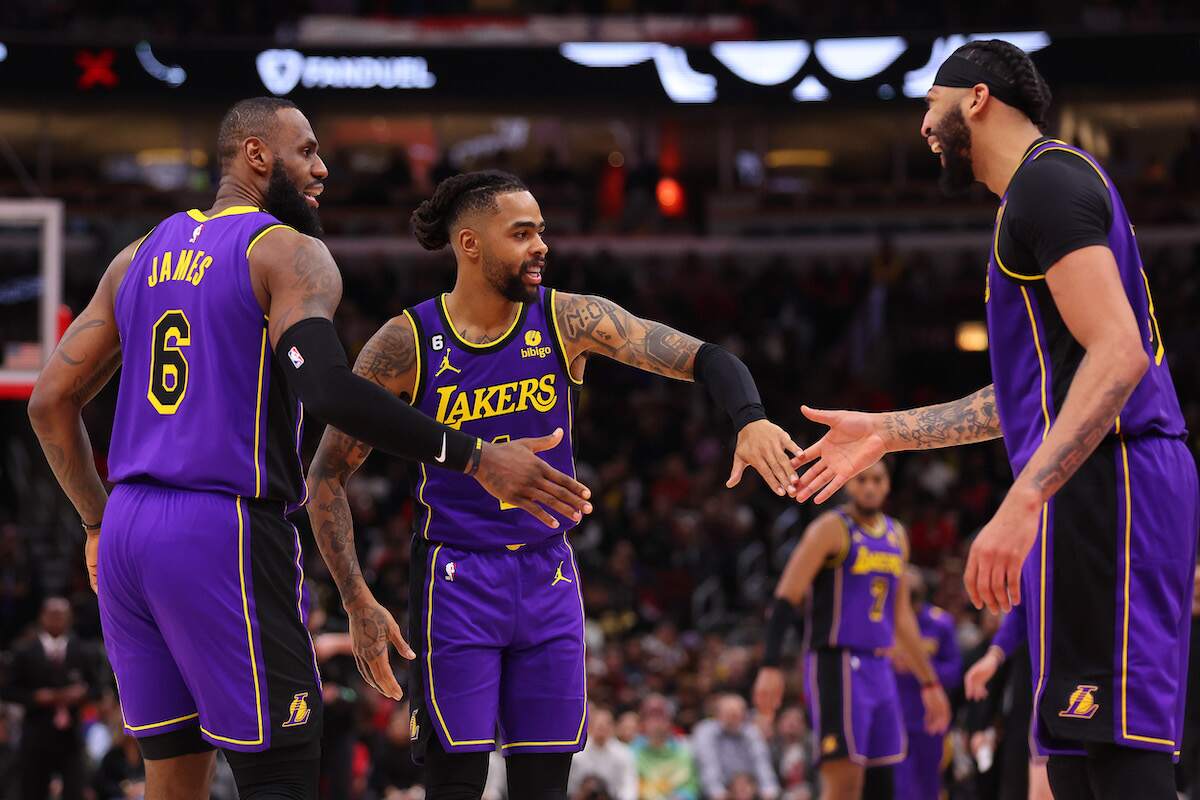 Lakers Starting Lineup: Rotation, Depth Chart, and More for 2023-24 NBA Season
Surprising names aren't too far down the depth chart and may earn bigger spots on the Lakers starting lineup as the season unfolds.
The Los Angeles Lakers are nearing the endgame of building their championship-ready roster. While it's always possible that some surprises are in store over the next few months, the current state of the team will likely reflect the upcoming season. And it should be an exciting one after some rocky years for the LA faithful.
After reaching the Western Conference Finals, there wasn't a whole lot to change about the starting lineup. But some surprising names aren't too far down on the depth chart and could find themselves in bigger spots as the upcoming season progresses. And, of course, there's the matter of one LeBron James.
Lakers starting lineup for the 2023–24 NBA season
According to ESPN, there are five all-but-assured starters for the 2023–24 Lakers season: PG D'Angelo Russell, SG Austin Reaves, SF LeBron James, PF Jarred Vanderbilt, and C Anthony Davis.
Reaves and Russell were favorites all summer to round out the backcourt. Head coach Darvin Ham intends to run the offense through Reaves as much as possible, dropping the heaviest workload yet on the 25-year-old. Russell, on the other hand, had more competition for his spot but appears to be the final choice, as The Athletic reports.
The frontcourt selections are mostly even less surprising. Davis, despite health questions, is a shoo-in. James is in a similar situation. His age and recent injuries cast some doubt over his longevity, but this is a team clearly built around him and Davis.
Which leaves Vanderbilt, perhaps the most surprising pick here. After giving Rui Hachimura a major vote of confidence with a three-year, $51 million contract, the Lakers might not be ready to start him just yet. Vanderbilt gets a bit more shooting capability. So he'll probably remain a starter while Hachimura pushes to earn that spot.
Lakers depth chart 2023–24
With Dennis Schröder stepping in for Fred Van Vleet on the Toronto Raptors, the Lakers depth chart has some shuffling to do from the top down. Gabe Vincent has a three-year, $33 million deal despite his iffy shooting, perhaps a sign that he's projected to improve on that front after moving to LA.
Matt Christie exploded throughout his summer league run and may get a surprising amount of playing time off the bench as well. Jalen Hood-Schifino and Maxwell Lewis are new additions via the draft. They could earn some playing time this year.
Hood-Schifino, picked at 17th this year, seems to be all upside as long as his finishing ability keeps improving. Lewis, scooped up in the second round, has ample G-League experience that should allow him to serve in a cleanup role. Injuries will probably clear the way for one or both to get their trial-by-fire on the biggest hardwood stage, according to Lineups.com.
LeBron James contract
One thing's for sure: The 2023–24 Lakers are still built around James, with Davis as his No. 2. These two aren't the most dependable pair through no fault of their own. But the rewards are massive when they stay healthy. This latest contract may mark the end of James being used in a spot like this, though.
CBS Sports reports that James is working on a two-year, $97 million extension. After a disappointing early elimination from the 2023 playoffs, King James seemed deflated and mused on walking away from nearly $100 million to retire. But he'll be back for at least one more go-around, with his original jersey number to boot.
This should prove to be an interesting moment in terms of legacy building. He can justify the Lakers' latest vote of confidence this season, earning him a Tom Brady-esque status as capable of winning big at an advanced age. Or, he could feed negative narratives from his biggest detractors — an avatar for hype over substance. This is still James' Lakers, and it's up to him to prove the organization right to bet so big on him.