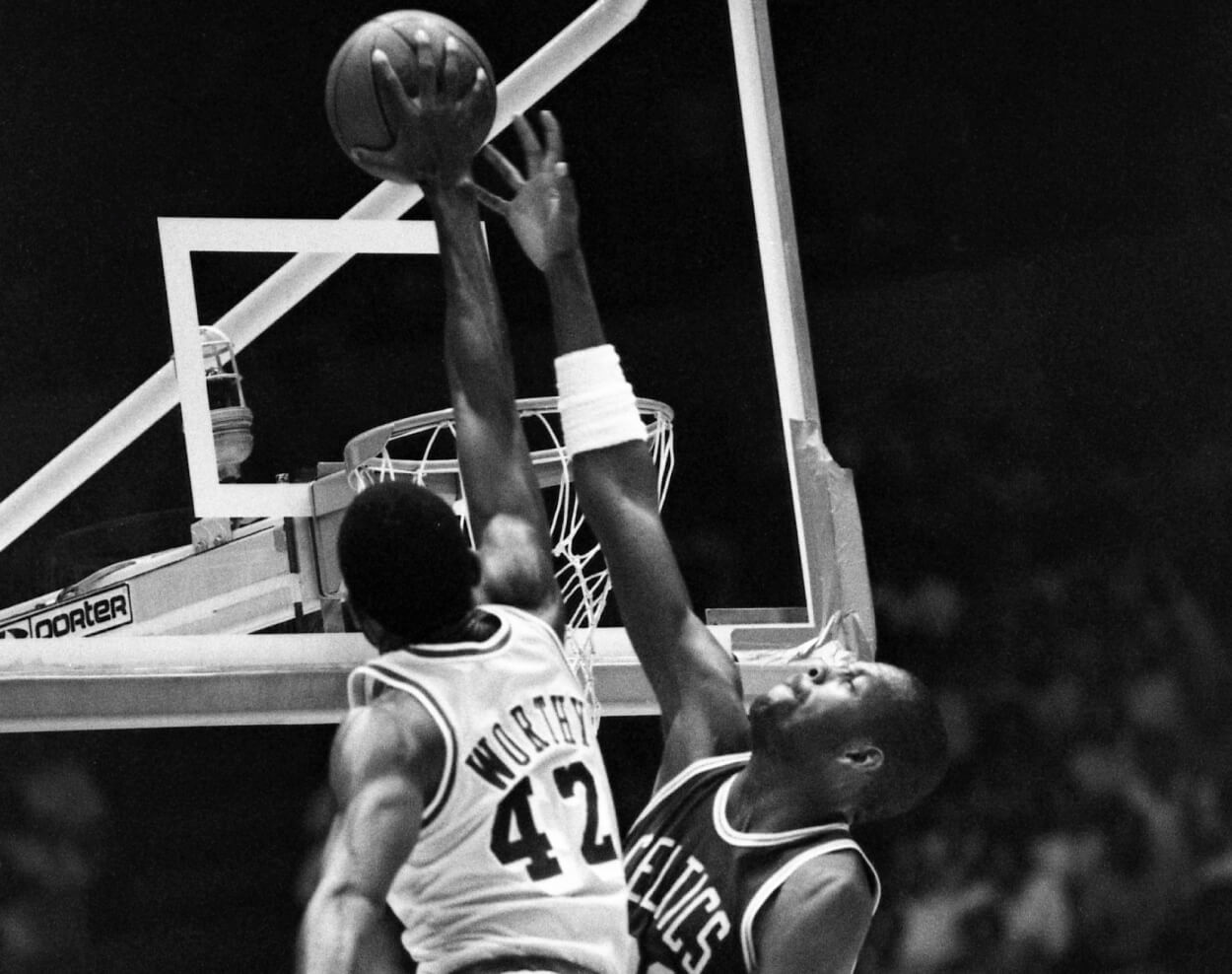 To Cedric Maxwell, 'Big Game James' Worthy Was Nothing but a Fictional Character in the 1984 NBA Finals
During a rewatch of the 1984 NBA Finals, former Boston Celtics forward Cedric Maxwell took a dig or two at former Lakers star James Worthy.
Cedric Maxwell was never a fan of James Worthy when they battled it out on the basketball court in the mid-1980s. The former Boston Celtics forward still doesn't appear to be one today.
Worthy, a Naismith Memorial Basketball Hall of Famer, came into the NBA in 1982 as a highly-touted prospect and the top pick in the 1982 NBA Draft. He spent all 12 of his NBA seasons with the Los Angeles Lakers, winning three championships and earning the nickname "Big Game James." Maxwell recently acknowledged Worthy was a talented basketball player but downplayed the "Big Game James" label.
Cedric Maxwell and James Worthy battled it out in the 1984 NBA Finals
Cedric Maxwell and James Worthy both played significant roles during the 1984 NBA Finals. It was the first time the Celtics and Lakers squared off for a championship since 1969. It was also the first time Larry Bird and Magic Johnson faced each other for a title since their epic NCAA matchup in 1979.
After scoring 20 points in LA's 115-109 upset win in Boston in Game 1, Worthy led the Lakers in scoring in Game 2 with 29 points. In that game, however, Worthy made a crucial mistake that allowed the Celtics to rally for a 124-121 overtime win.
With 18 seconds left and his Lakers having possession of the ball and holding a two-point lead, Worthy lofted a pass intended for Byron Scott that was stolen by Gerald Henderson. Henderson converted the steal into a game-tying layup with 13 seconds left. Boston pulled out a 124-121 win in overtime.
After the Celtics were crushed by the Lakers in Game 3, Kevin McHale clotheslined Kurt Rambis in Game 4 as the Lakers forward headed in for a layup with LA in front 76-70. The hard foul changed the momentum of the game. The Celtics escaped with another overtime victory. In Game 6, Worthy, in an apparent retaliatory move, shoved Maxwell from behind as he went in for a layup. Maxwell called the move a "cardinal sin" and then famously told his teammates to get on his back in Game 7.
"In Game 6 out in LA, I'm going in for a layup, and James Worthy does a cardinal sin that you never do," Maxwell said on a video posted by NBA History & Legends on CLNS. "I remember walking out, thinking, 'I'm gonna get his ass. I'm gonna get him. "
"It was in the locker room and Larry was in there and ML (Carr), and everybody was sitting there talking and I said, 'Don't you worry. Y'all ain't got to worry. Y'all get on my back. I'm gonna win this damn championship for you.'"
Maxwell led the Celtics with 24 in a 111-102, series-clinching victory. He also pulled down eight rebounds and dished out eight assists.
Maxwell recently referred to Worthy as 'Little-Game James'
In a video streamed in June 2023 and posted by the NBA, Maxwell rewatched the 1984 NBA Finals with YouTubers Jarron Ramos and Mike Korzemba. The topic turned to Maxwell matching up with Worthy, and Maxwell went right for the throat.
"You talkin' about Little Game James?" Maxwell asked. "Oh, I'm sorry. He became Big Game James later on. In this series, there was no Big Game James. He was a guy who could play at a high level. He was intense. And he was probably one of the more athletic bigs we had in the NBA in a long time.
"(Worthy) was going to be a great player, but when we played him in this series, I didn't think about it that way. I had to think about what I could do. I had to get into his head.
"He was a shooter, he was a scorer, and he could rebound. If he was running along with Magic (Johnson), that was one of the things you wanted to stop."
Maxwell had a problem with Los Angeles in general.
"The thing you hated about LA was the fact it was so glitzy," he said. "You had Dancing Barry doing his dance on the sideline. You had the Laker Girls and Jack Nicholson. It was so cool that it made you almost sick as a basketball player."