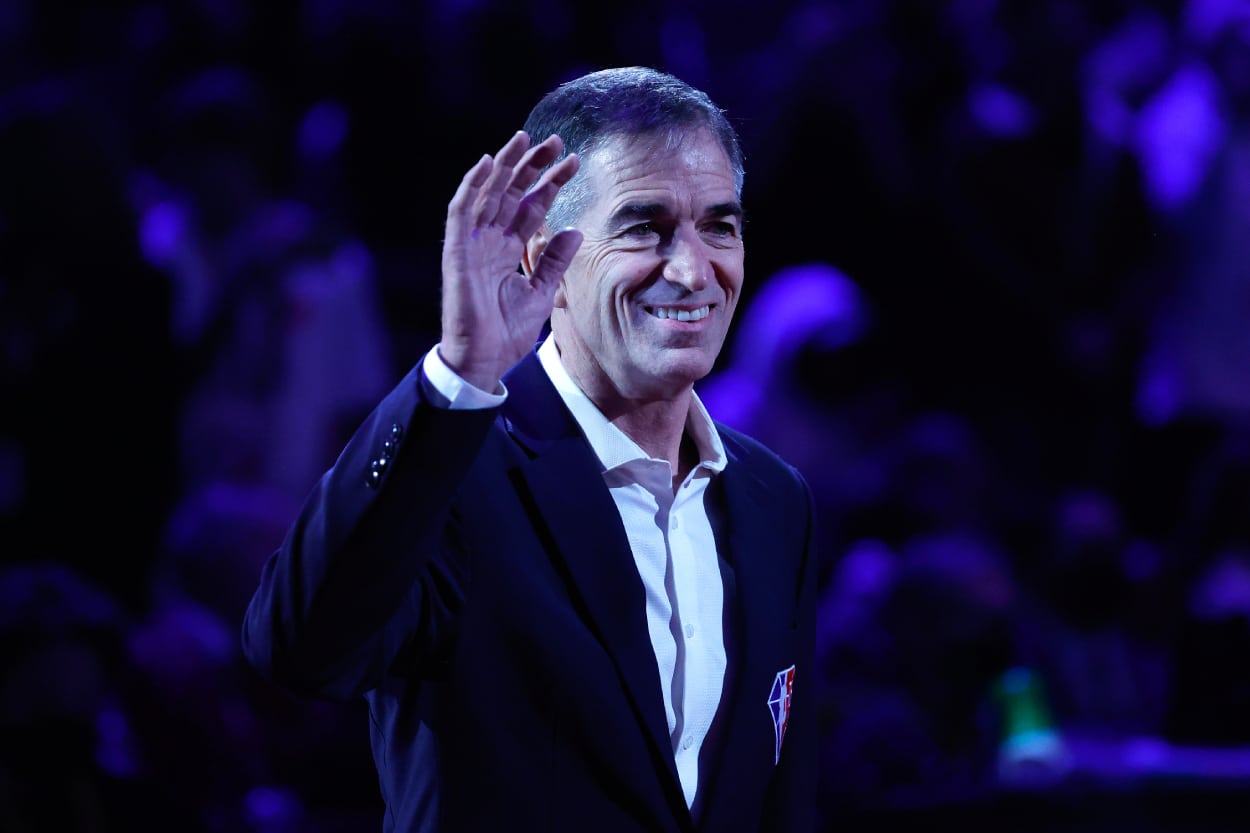 Like Him or Not, John Stockton Is Spot on With His LeBron James Comments
John Stockton doesn't approve of players like LeBron James having so much influence on personnel decisions.
John Stockton riled up some people when he failed to comply with a COVID-19 mask requirement at Gonzaga University home basketball games during the pandemic. The former Bulldog and Utah Jazz point guard had his season tickets suspended at the school and was outspoken about Gonzaga's student vaccine mandate.
Now, he's likely riling up some LeBron James fans. During a recent appearance on the DNP-CD podcast, he spoke about how "maddening" it would be to be James' teammate because of all the control it appears he has in team decisions.
John Stockton doesn't approve of players like LeBron James influencing team decisions
John Stockton knows a thing or two about life in the NBA. He also knows a little about loyalty to an organization. The legendary point guard spent all 19 of his NBA seasons with the Utah Jazz. He led the league in assists nine times and was a 10-time NBA All-Star. Stockton is widely considered the top point guard of the 1990s and is a member of the Naismith Memorial Basketball Hall of Fame.
To be fair, Stockton didn't bring up the topic of LeBron James having control over personnel decisions within the team. He did, however, weigh in when the topic was brought up.
"I'm not living it every day," Stockton said on the DNP-CD podcast this week. "I don't know what it's like to sit in that front office and have things dictated to you as it appears that LeBron is. I don't know for sure that he is, but it appears so. It'd be maddening as a teammate to know that you can be expendable for one of his guys that he thinks he needs to play with. The iffiness it causes with the team, the iffiness that it causes upstairs.
"I don't like it either. I like when guys just tighten up their belt and say, 'You know what, let's get to work. We just gotta get better. We gotta play harder, gotta play smarter,' instead of 'Where is the grass greener? I wanna go there and win a championship.'
"You're not climbing the mountain. You're taking the helicopter to the top. I'm not a fan of it, but who cares? Who cares what I think?"
Stockton is right on the money about James
James clearly has an influence on team decisions, and he's not the only superstar in the league who does.
It took James nine years in the league to win a championship, and he had to bail out on the Cleveland Cavaliers in order to do so. As you may recall, James made a debacle of his free agency before the 2010-11 season when he televised his announcement to join the Miami Heat. He teamed up with stars Dwyane Wade and Chris Bosh and finally won his first title in his second season with the Heat.
Now with the Los Angeles Lakers, James clearly had an influence in bringing Anthony Davis and Russell Westbrook on board. Stockton brings up a good point about being "maddening" to be a teammate of James. There has to be some frustration in the front office when trying to fill your roster around James and his hand-picked superstar add-ons while meeting salary-cap requirements. It has to be maddening if you're one of the player casualties who's either cut or traded to satisfy James' requests.
Unlike James, Stockton never looked to see where that grass was greener. Yes, Stockton never won an NBA championship, but he also never took that helicopter to try and get one.