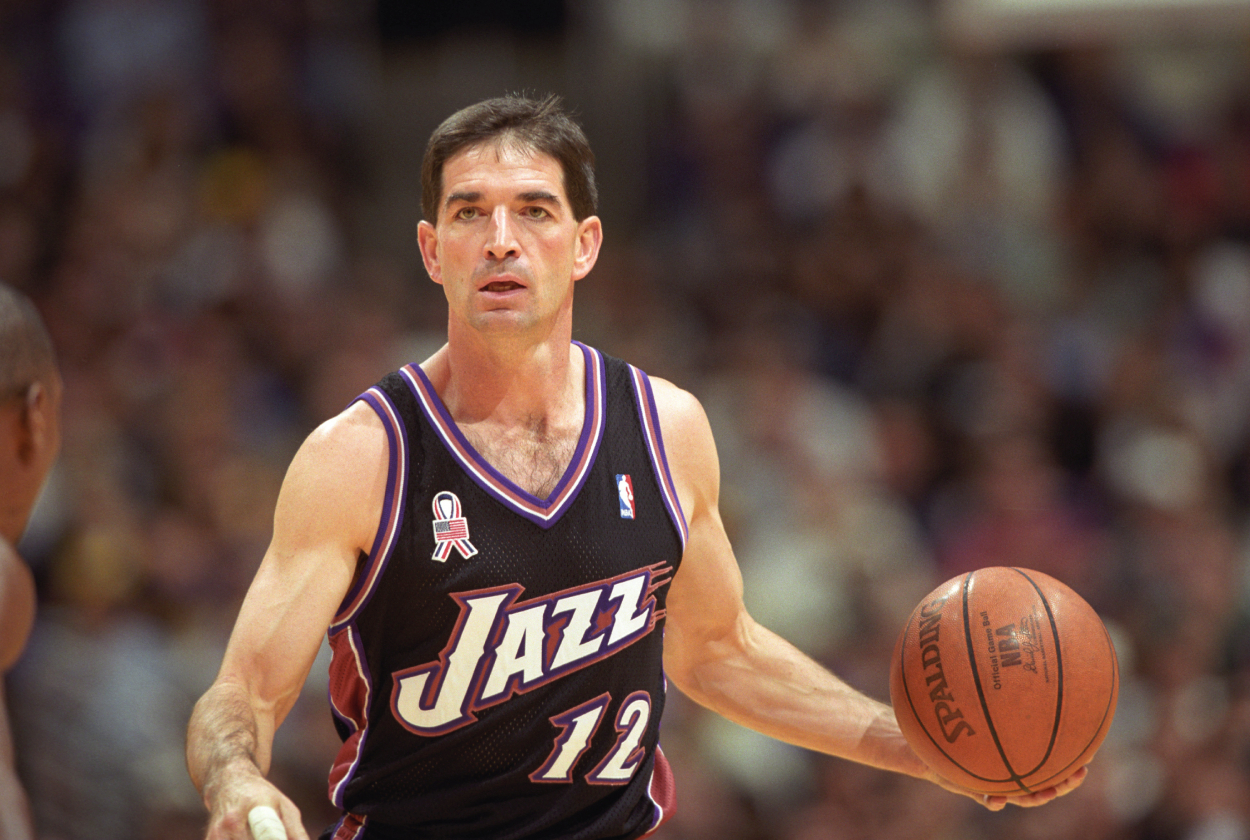 Kareem Abdul-Jabbar Blasts John Stockton for Giving Athletes 'Dumb Jocks' Perception
Kareem Abdul-Jabbar blasted Utah Jazz legend John Stockton for his remarks about COVID-19.
Don't look for John Stockton to dish out an assist to Kareem Abdul-Jabbar in the near future. Gonzaga, Stockton's alma mater, temporarily pulled the former point guard's season tickets after he refused to adhere to the school's mask mandate.
After Stockton explained his reasoning for not wearing a mask, Abdul-Jabbar stepped in. Abdul-Jabbar ripped the Utah Jazz legend and NBA Hall of Famer for making athletes seem like "dumb jocks."
John Stockton recently had his Gonzaga season tickets suspended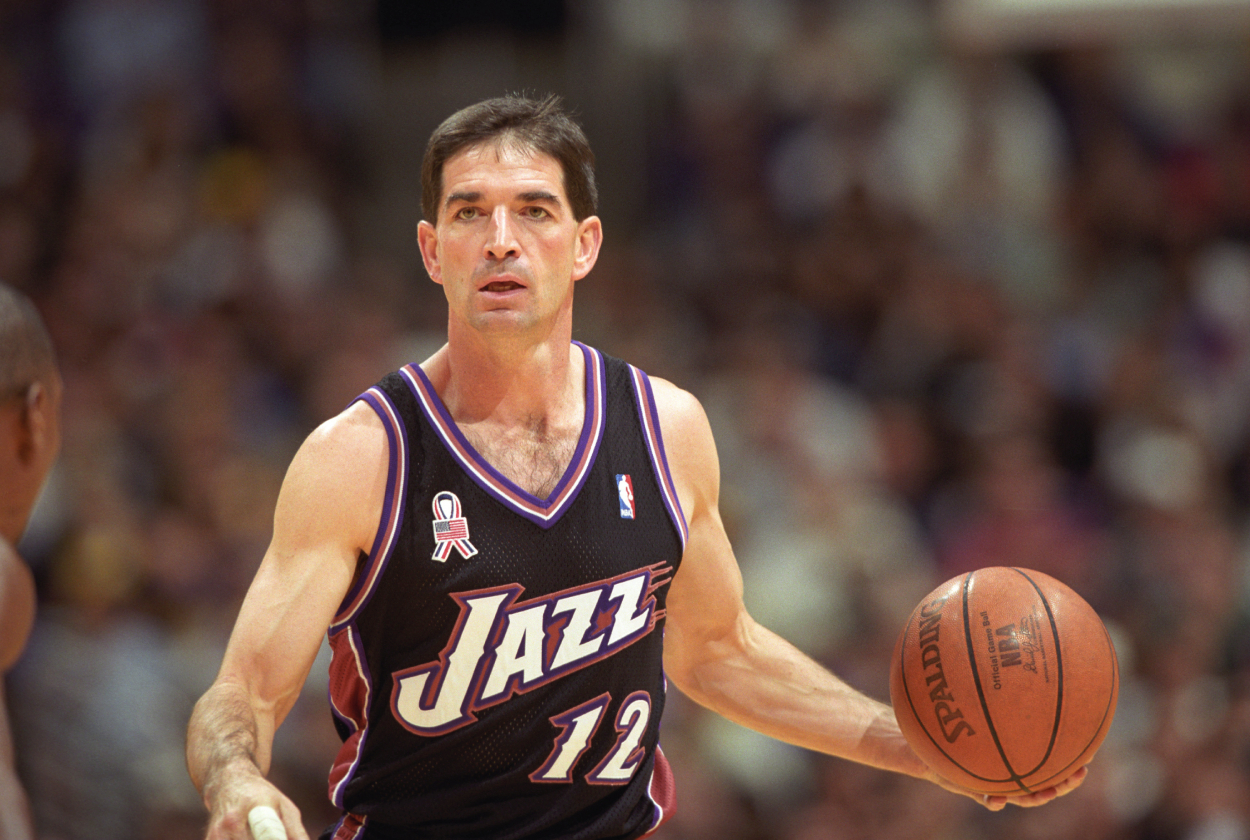 Stockton helped put Gonzaga on the basketball map back in the early 1980s. As a senior, he guided the Zags to a 17-11 record, their best in the previous 17 years. Stockton earned a tryout with the 1984 U.S. Olympic team and was a first-round selection by the Jazz in the 1984 NBA Draft.
Gonzaga recently suspended Stockton's season tickets after refusing to wear a mask at the games. Stockton has taken a strong stance against COVID-19 vaccines and mask mandates. That left the school no choice to temporarily pull his tickets.
"Basically, it came down to, they were asking me to wear a mask to the games and being a public figure, someone a little bit more visible, I stuck out in the crowd a little bit," Stockton said to Theo Lawson of The Spokesman-Review.
"And therefore they received complaints and felt like from whatever the higher-ups – those weren't discussed, but from whatever it was higher up – they were going to have to either ask me to wear a mask or they were going to suspend my tickets."
Kareem Abdul-Jabbar ripped John Stockton: 'It doesn't make sense what he's saying'
According to The Spokesman-Review, Stockton said many professional athletes have dropped dead from taking the vaccine, a stance that has not been proven.
"I think it's highly recorded now, there's 150 I believe now, it's over 100 professional athletes dead – professional athletes – the prime of their life, dropping dead that are vaccinated, right on the pitch, right on the field, right on the court," said Stockton, who is the NBA's all-time assist leader.
Those comments opened the eyes of many, including Abdul-Jabbar, who vehemently disputed them, saying it's that type of talk that gives athletes the "dumb jocks" image.
"I think statements like (Stockton's) make the public look upon athletes as basically dumb jocks for trying to explain away something this is obviously a pandemic, and the best way to fight pandemics is through vaccination and testing," Abdul-Jabbar said to CNN. "Those are the means by which we identify the problem and do our best to mitigate it. 
"I don't understand anyone saying anything else that makes sense. It doesn't make sense what he's saying. This is a preventative measure that has been useful in many different circumstances."
Stockton said he doesn't believe his relationship with Gonzaga is fractured
For now, Stockton will stay away from Gonzaga until the mask mandate is lifted. He said he contemplated wearing a mask to keep his tickets.
"Of course," he said to The Spokesman-Review. "You consider everything, every option when you're presented with something like that, and I considered it in great detail.
"When the rule changes, then tickets will be reoffered. I don't know what the right terminology is. When the rule changes."
He said he doesn't expect the mask issue to have long-lasting effects on his long-term relationship with the school.
"There's probably a lot of different directions this can go, and I think time will tell on all of that," he said. "My focus is to maintain that relationship, as is theirs. They've made it very clear that we're important to each other and I don't think that's going to change. However, there are some absolute impasses that we're going to figure out.
"I've been around here a long time, so I don't expect things to linger, whatever they may be."