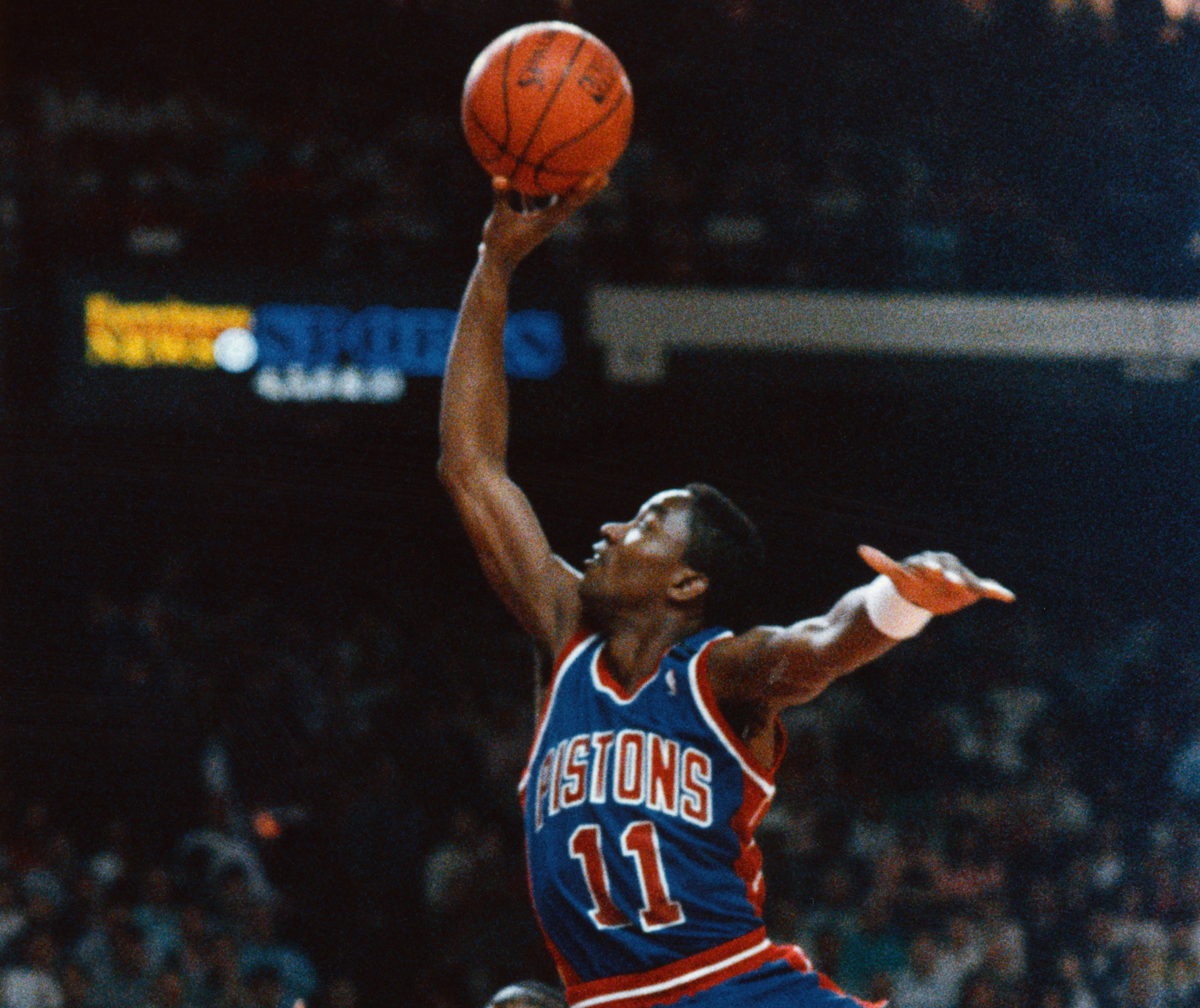 Ranking the Top 10 NBA Point Guards of the 1980s
Where does Detroit Pistons star Isiah Thomas rank on our list of all-time point guards from the 1980s?
Count me in as one who believes 1980s basketball was the best era in the NBA. Actual plays were run. The three-point shot wasn't the main focus of the offense. The game was physical. Legitimate centers existed.
Back then, point guards ran the show. The '80s showcased some of the best playmakers the NBA has ever seen. We took a step back in time to look at the top 10 point guards from the gold ol' 1980s.
No. 10: Norm Nixon (Los Angeles Lakers)
Had injuries not taken their toll on the 6-foot-2 point guard out of Duquesne, Nixon might've found himself a few notches higher on this list.
Nixon is a two-time All-Star, making his first appearance with the Lakers during the 1981-82 season. He played 79 games that year and averaged 17.1 points and 8.8 assists, even with a young Magic Johnson on the court. The Lakers traded Nixon to the San Diego Clippers before the 1983-84 season. In his first season with the Clippers, he started all 82 games and put up 17.0 points and a career-high 11.1 assists per game.
The following year, he made his second All-Star appearance, averaging 17.2 points and 8.8 assists. Nixon, a two-time NBA champion, missed the 1986-87 and 1987-88 seasons with knee and Achilles injuries.
No. 9: Gus Williams (Seattle SuperSonics)
Williams began his career with the Golden State Warriors, who drafted him in the second round in 1975. In two seasons with the Warriors, he averaged 10.5 points, but he made his mark in the league after signing a free-agent deal with the Seattle SuperSonics.
In his first year with his new team, Williams averaged 18.1 points, and it only got better from there. He put up 19.2 and 22.1 points the next two seasons before holding out the entire 1980-81 season in a contract dispute. when he returned for the 1981-82 season, he proved his worth.
Williams was named Comeback Player of the Year and made the first of two straight All-star appearances when he averaged a career-high 23.4 points and also dished out 6.9 assists. The following year, he averaged 20.0 points and 8.0 assists. After six seasons in Seattle, he was traded to the Washington Bullets, where he put up 20.0 points in his first season. He closed out his career by playing 33 games with the Atlanta Hawks.
No. 8: John Stockton (Utah Jazz)
John Stockton at No. 8? To be clear, Stockton is the best point guard of the 1990s. He was just getting started in the '80s.
Although the Jazz took Stockton in the first round of the 1984 NBA Draft, he didn't make a name for himself in the league until the 1987-88 season. In his first three years in the NBA, he started a combined 45 games. In his first full season as a starter, he led the league in assists (13.8), averaged 14.7 points, and collected 3.0 steals per game.
For the next eight seasons, Stockton led the NBA in assists, and his scoring average peaked at 17.2 points during the 1980-90 and 1990-91 seasons. His three strong seasons in the '80s were good enough to get him on this list.
No. 7: Maurice Cheeks (Philadelphia 76ers)
Mo Cheeks was the engine that made the early 1980s Philadelphia 76ers go. There was nothing fancy about Cheeks, a point guard selected by the Sixers in the second round of the 1978 NBA Draft. He simply got the job done.
A four-time NBA All-Star, Cheeks made the first of three straight All-Star appearances in the 1985-86 season when he led the league in minutes (39.9) and put up 15.4 points and 9.2 assists per game.
Cheeks guided the Sixers to a 1983 championship and was a terrific defensive guard, earning All-Defense five times. He was inducted into the Naismith Memorial Basketball Hall of Fame in 2018.
No. 6: Micheal Ray Richardson (New York Knicks, New Jersey Nets)
Micheal Ray Richardson could do everything. A strong two-way player, Richardson could light up the scoreboard, dish out the assists, and pick your pocket on defense.
An exciting 6-foot-5 guard, Richardson was the fourth overall pick in the 1978 NBA Draft by the New York Knicks. He spent four seasons with the Knicks, earning three All-Star bids. The Knicks shipped him to the Golden State Warriors, where he played just 33 games before heading to the New Jersey Nets via trade. He played four years with the Nets before substance abuse issues derailed his career.
Richardson led the league in assists (10.1) in his second year in the NBA. He was tops in steals during the 1979-80, 1982-83, and 1984-85 seasons. In that 1984-85 season, he made his fourth All-Star Game appearance after averaging a career-high 20.1 points while putting up 8.2 assists.
No. 5: Dennis Johnson (Boston Celtics)
Dennis Johnson made a name for himself with the Seattle SuperSonics and Phoenix Suns, but he really made an impact with the Boston Celtics.
After winning a championship with the Sonics, Johnson wore out his welcome in Seattle with his attitude. He was traded to the Suns, where he also clashed with coaches, and was sent to the Celtics before the 1983-84 season. He was the perfect fit in Boston.
With Johnson running the show, Boston made the NBA Finals four straight times from 1984 to 1987. He won two championships in Boston (1984 and 1986) and proved to be clutch throughout the postseason. A defensive-minded guard, Johnson was a five-time All-Star and was All-Defense for nine seasons. He became a member of the Hall of Fame in 2010.
No. 4: Sidney Moncrief (Milwaukee Bucks)
Some may argue Moncrief wasn't a true point guard, and that may be the case. He played both guard positions with the Milwaukee Bucks and is listed as both.
Moncrief was another do-it-all guard, with an emphasis on defense. The 6-foot-4 guard made All-Defense five times and is a two-time Defensive Player of the Year winner.
While defense was a strong part of Moncrief's game, he certainly knew how to score. He averaged better than 20 points per game in four straight seasons, including a career-high 22.5 during the 1982-83 season. A five-time All-Star and five-time All-NBA player, Moncrief made the Hall of Fame in 2019.
No. 3: Lafayette Lever (Denver Nuggets)
Like his former teammate Alex English, Fat Lever goes down as one of the most underrated players in NBA history. At 6-foot-3, Lever is No. 11 on the all-time list for triple-doubles, according to StatMuse. He finished with a whopping 43 in his career. To put that number in perspective, Michael Jordan finished with 28.
Lever guided the high-flying Nuggets throughout the '80s. He is a two-time All-Star, earning his first one during the 1987-88 season when he averaged 18.9 points, 7.8 assists, and 8.1 rebounds. The following season, he posted the best numbers of his career (19.8 points, 9.3 rebounds, and 7.9 assists) and failed to make the All-Star squad. He returned the following year with 18.3 points and 9.3 rebounds.
In a 1988 game against the Warriors, Lever racked up 23 assists to go along with 15 points, 13 rebounds, and five steals. He averaged better than two steals per game for his career.
No. 2: Isiah Thomas (Detroit Pistons)
Isiah Thomas wasted no time in proving he was worthy of the Detroit Pistons making him the second overall pick in the 1981 NBA Draft. As a rookie, he made the first of his 12 straight All-Star appearances, averaging 17.0 points and 7.8 assists.
Thomas was both a scorer and distributor, averaging 19.2 points and 9.3 assists for his career. For four straight seasons, Thomas averaged 20-plus points and 10-plus assists. He led the league in assists during the 1984-85 season with 13.9 per game.
Thomas is a two-time NBA champ and made All-NBA five times. He's a member of the NBA's 75th Anniversary Team and was inducted into the Hall of Fame in 2000.
No. 1: Magic Johnson (Los Angeles Lakers)
There's no dispute that Earvin "Magic" Johnson tops this list. Johnson is widely regarded as the best ever at his position.
At 6-foot-9, Johnson wowed at the point-guard position. He was the floor general of the "Showtime" Lakers of the '80s that captured five NBA championships.
A three-time MVP, Johnson was a 12-time All-Star and 10-time All-NBA player. He led the league in assists four times and was tops in steals twice. Johnson is also a member of the NBA's 75th Anniversary Team and was inducted into the Hall of Fame in 2002.
Several players like Kevin Johnson, Mark Jackson, and Mark Price put up some good numbers at the tail end of the '80s, but two seasons of stats for the decade weren't enough to earn a spot on the list. Other players who were considered were Ray Williams, Derek Harper, Eric "Sleepy" Floyd, Alvin Robertson, Johnny Moore, and Doc Rivers.