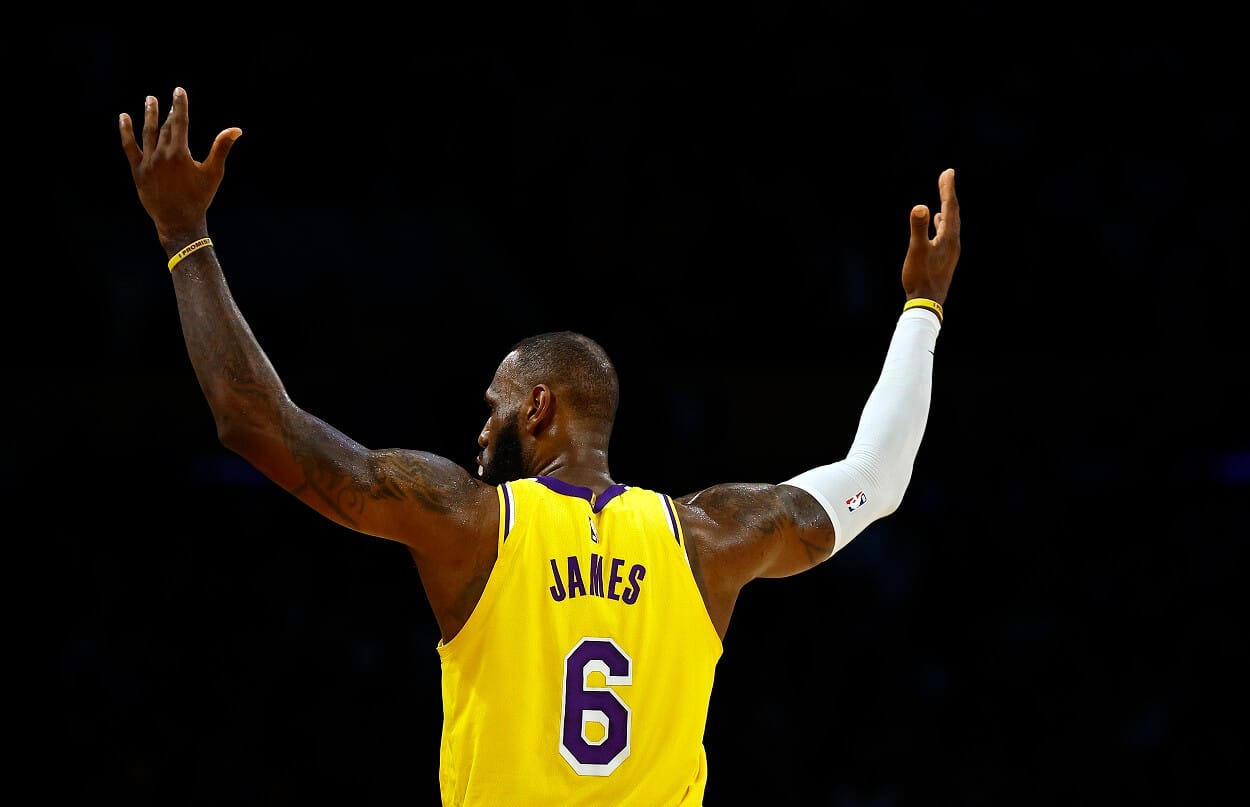 The Best Moment of LeBron James' Historic Night Against the Grizzlies Didn't Count
The best moment of LeBron James' historic Game 4 performance against the Grizzlies came after the buzzer sounded to end regulation.
Monday night marked the 1,691st game of LeBron James' professional career and his record 270th in the NBA Playoffs. And what a night it was as he helped his Los Angeles Lakers to a 117-111 overtime victory over the Memphis Grizzlies, giving the Purple and Gold a 3-1 lead in this best-of-seven series.
In the win, James notched the first 20-20 game of his entire career, recording 22 points and 20 rebounds. He also added seven assists and two blocks while committing just a single turnover in a team-high 45 minutes of action. At 38 years and 115 days old, LeBron became the oldest player in NBA history to notch at least 20 points and 20 rebounds in a postseason game.
Wilt Chamberlain previously held the record as he was 36 years and 262 days old when he recorded 23 points and 21 boards for the Lakers against the New York Knicks in Game 5 of the NBA Finals on May 10, 1973.
While James was relatively quiet for most of the fourth quarter, at least on the shooting side of things, he came up big when it mattered most, hitting a game-tying layup with just 0.8 seconds left in regulation to send the game to overtime. He also scored four of the Lakers' 13 points in the extra frame, hitting another big layup with just under 30 seconds to go to give LA a five-point advantage.
But despite all of that, arguably his most exciting highlight of the night didn't count.
LeBron James' most exciting highlight of his historic night against the Grizzlies didn't count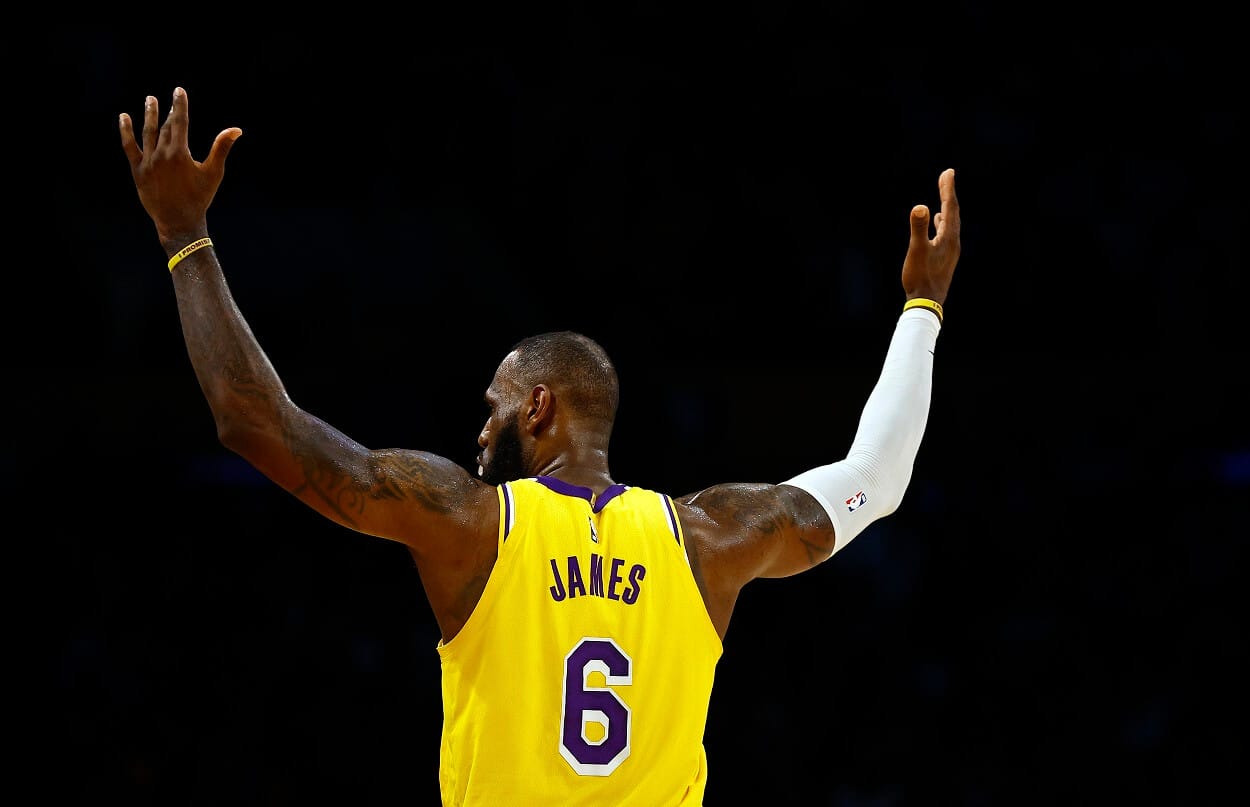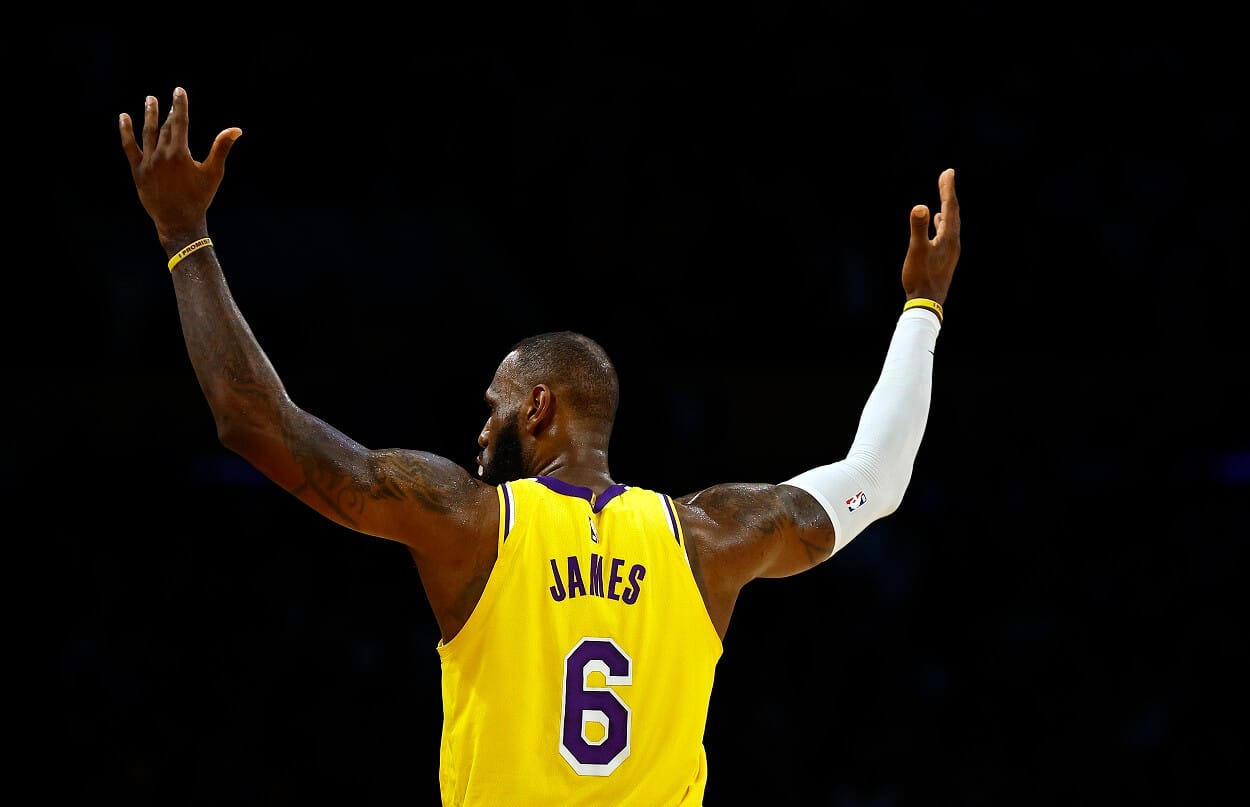 As mentioned, LeBron hit a huge game-tying layup that sent Game 4 to overtime. But as also mentioned, there were still 0.8 seconds remaining in regulation when that shot went in, giving the Grizzlies one final shot to win it.
Despite Desmond Bane having the hot hand (he scored 14 in the fourth quarter alone), Memphis went with Ja Morant for the last shot, an 18-footer that Anthony Davis swatted away. The ball landed squarely in the hands of James, who quickly turned and chucked it in the other direction. And it improbably went in, sending the crowd at Crypto.com Arena into a frenzy. It was clearly after the buzzer but it was still quite entertaining regardless.
LeBron James and the Lakers will attempt to close out the series in Memphis on Wednesday night.