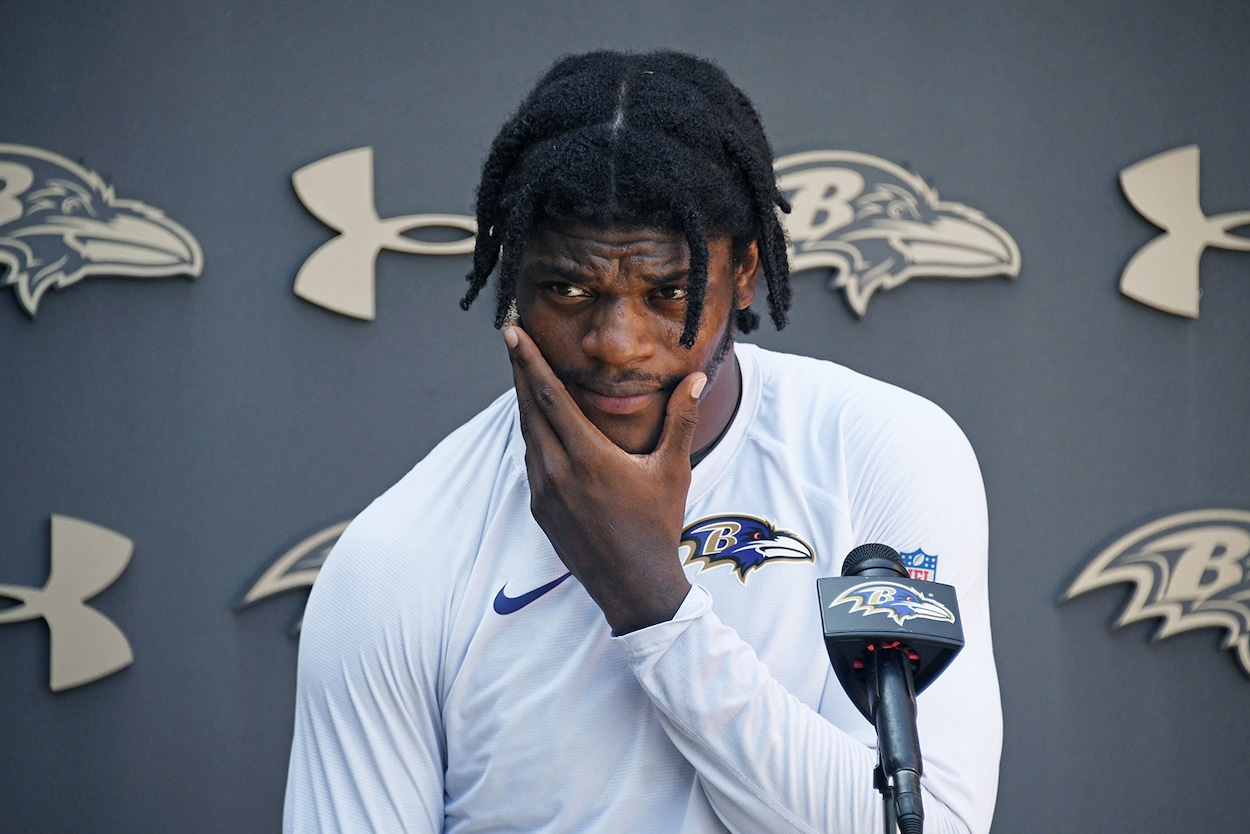 Lamar Jackson 'Silencing All the Speculation' Should Thrill Baltimore Ravens Fans
Lamar Jackson and his contract situation with the Baltimore Ravens has been the talk of the offseason but his latest comments clarify a lot.
The Lamar Jackson contract situation has been the talk of the Baltimore Raven's offseason. His contract is up after this season, and there hasn't been much movement yet on a long-term deal. Now that Jackson is in minicamp, though, he is "silencing all the speculation," and that should make Ravens fans feel great.
Lamar Jackson is in the last year of his rookie deal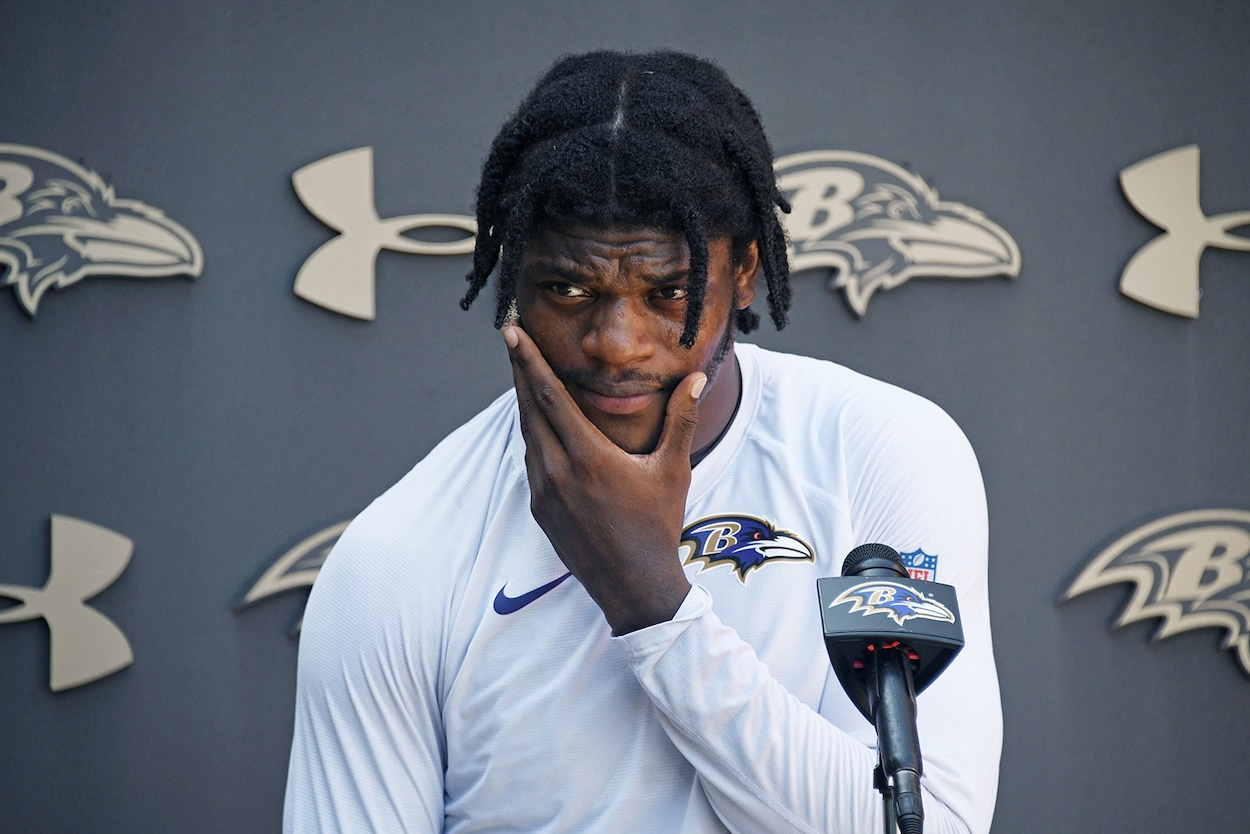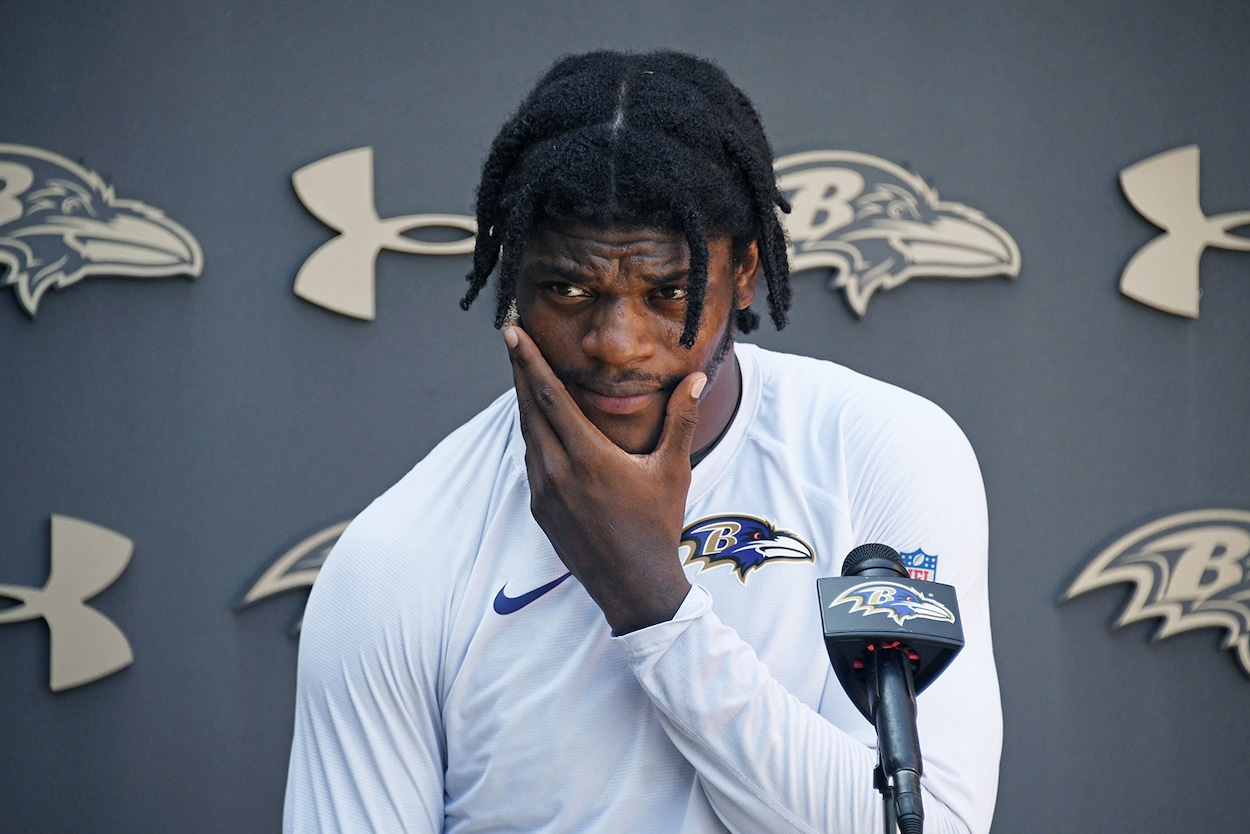 The Baltimore Ravens picked Louisville quarterback Lamar Jackson with the final pick (No. 32) in the first round of the 2018 NFL Draft.
Although four signal-callers went before him, Jackson has outplayed all but (arguably) the Buffalo Bills' Josh Allen. The 6-foot-2, 212-pound QB has two Pro Bowl appearances, one All-Pro team, and an NFL MVP award under his belt after four seasons.
He's also compiled an excellent 37-12 record as a starter and led the Ravens to three playoff appearances and a playoff game win in 2020. Jackson has thrown for 9,967 yards with a 64.1% completion rate, 84 touchdowns, and 31 interceptions. Additionally, the athletic QB has 3,673 rushing yards and 21 TDs on the ground.
Jackson isn't Tom Brady in the pocket, but he's proved he can win games as a franchise quarterback in the NFL.
Despite that fact, Jackson is heading into the fifth and final year of his rookie deal. Thanks to his impressive on-field accomplishments, the first-round pick will make $23 million this season. That's a big number, but nowhere near the $40 million(ish) per year that the top NFL QBs make.
Neither Jackson (who acts as his own agent with the help of his mom) nor the Ravens have been in a hurry to finalize a new deal. That has led to plenty of speculation that one side or the other is interested in moving on in the next few years.
However, Jackson is now shutting down those rumors at Ravens minicamp.
Jackson has now unequivocally said he wants to be a Baltimore Raven for life 
Both the Baltimore Ravens and Lamar Jackson have taken an "all in good time" philosophy to contract negotiations. The Ravens have said it's not a top priority, and speculation is that Jackson "doesn't think he's worthy" of a deal equal to those of Super Bowl-winning QBs.
Jackson, after an injury- and illness-filled 2021, skipped voluntary team OTAs this offseason as well. This led to even more whispers that the signal-caller isn't happy with where he stands contract-wise.
Now that Jackson is in Baltimore for minicamp, he is facing the media and talking about his contract situation in his own words. This clears a lot up and should thrill Raven and Jackson fans.
Jackson addressed his contract worthiness, telling reporters, per NFL.com, "Yeah, I think so. I still want my Super Bowl, though, but I think I'm worthy for it. Yes sir, I do." He also said he had a "private" conversation about his contract with Ravens general manager Eric DeCosta.
For Baltimore fans, the best thing Jackson said is that he wants to be a Raven for life. PFF's Ari Meirov tweeted:
#Ravens QB Lamar Jackson told reporters he expects to be with Baltimore for his entire career. He's recently talked with the team about his contract as he enters the fifth and final year of his rookie deal. Silencing all the speculation.

Lamar Jackson on his contract situation
Now that Jackson and the Ravens seem to have put the contract talk to bed (for now), it is time for everyone to focus on the upcoming season.
Did the Ravens get better in 2022? 
The Baltimore Ravens did lose some key players this offseason. Wide receiver Sammy Watkins signed with the Green Bay Packers, and the team traded Marquise "Hollywood" Brown to the Arizona Cardinals.
Other free agents to leave the nest in 2022 include center Bradley Bozeman (Carolina Panthers), cornerbacks Anthony Averette (Las Vegas Raiders) and Tavon Young (Chicago Bears), and safety DeShon Elliott (Detroit Lions).
They brought some FAs in, too, though. Safety Marcus Williams, cornerback Kyle Fuller, and tackle Morgan Moses are the biggest names of the bunch.
Also, in true Ravens fashion, the team drafted incredibly well. In the draft's first 110 picks, the Ravens got five players with first- or second-round grades:
No. 14 Overall: Kyle Hamilton, S, Notre Dame
No. 25 Overall: Tyler Linderbaum, C, Iowa
No. 45 Overall: David Ojabo, DE, Michigan
No. 76 Overall: Travis Jones, DT, Connecticut
No. 110 Overall: Daniel Faalele, OT, Minnesota
This draft ranked No. 2 overall (88.22 grade point average) in Sportscasting's final rankings.
With more new talent in the door than went out and Lamar Jackson seemingly focused and ready to go, 2022 should be another winning season for the Ravens.
All stats courtesy of Pro Football Reference