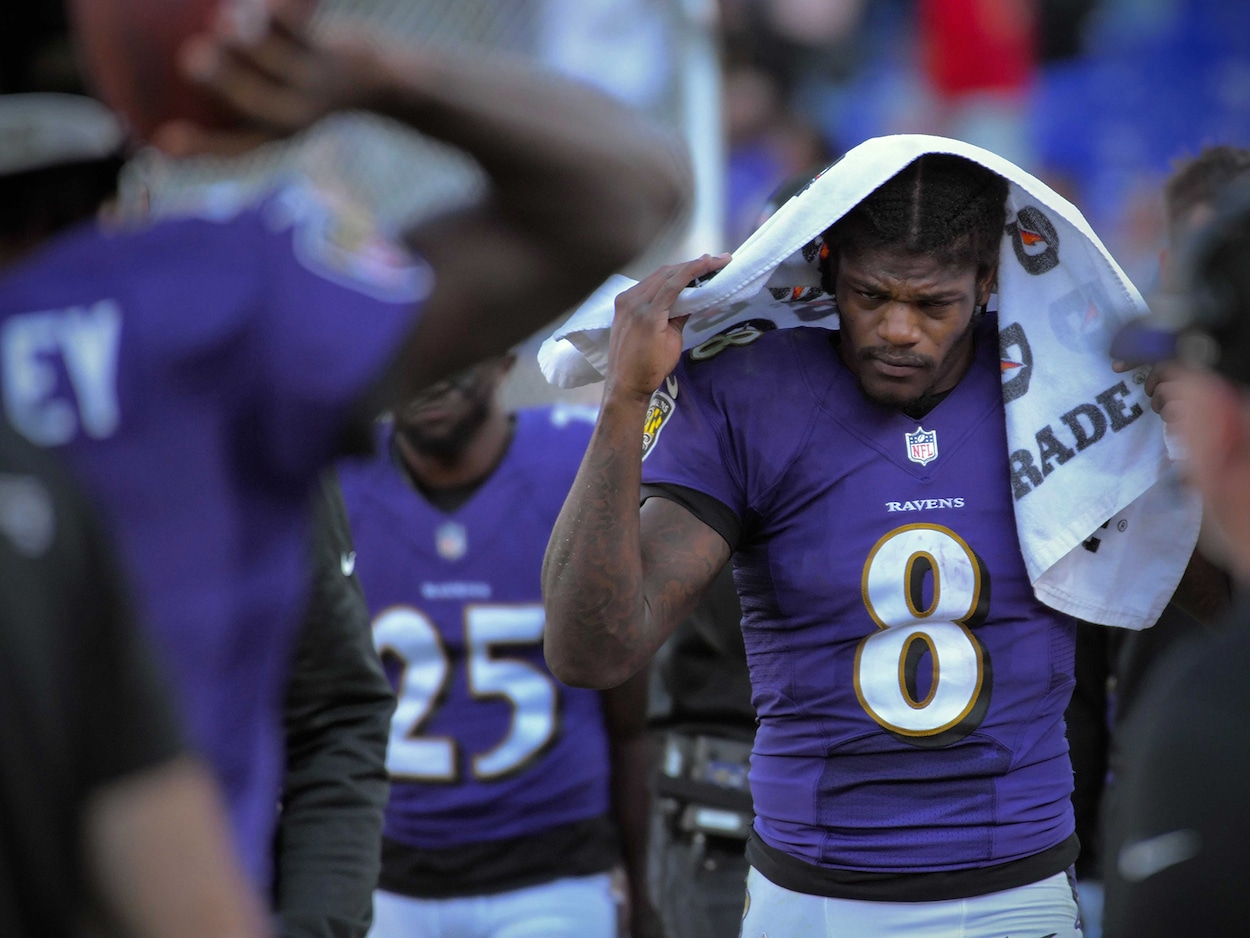 Lamar Jackson Reportedly 'Doesn't Think He's Worthy' of a Big New Contract
Lamar Jackson is one of the best young QBs in the NFL but he might be the one standing in the way of an extension with the Baltimore Ravens.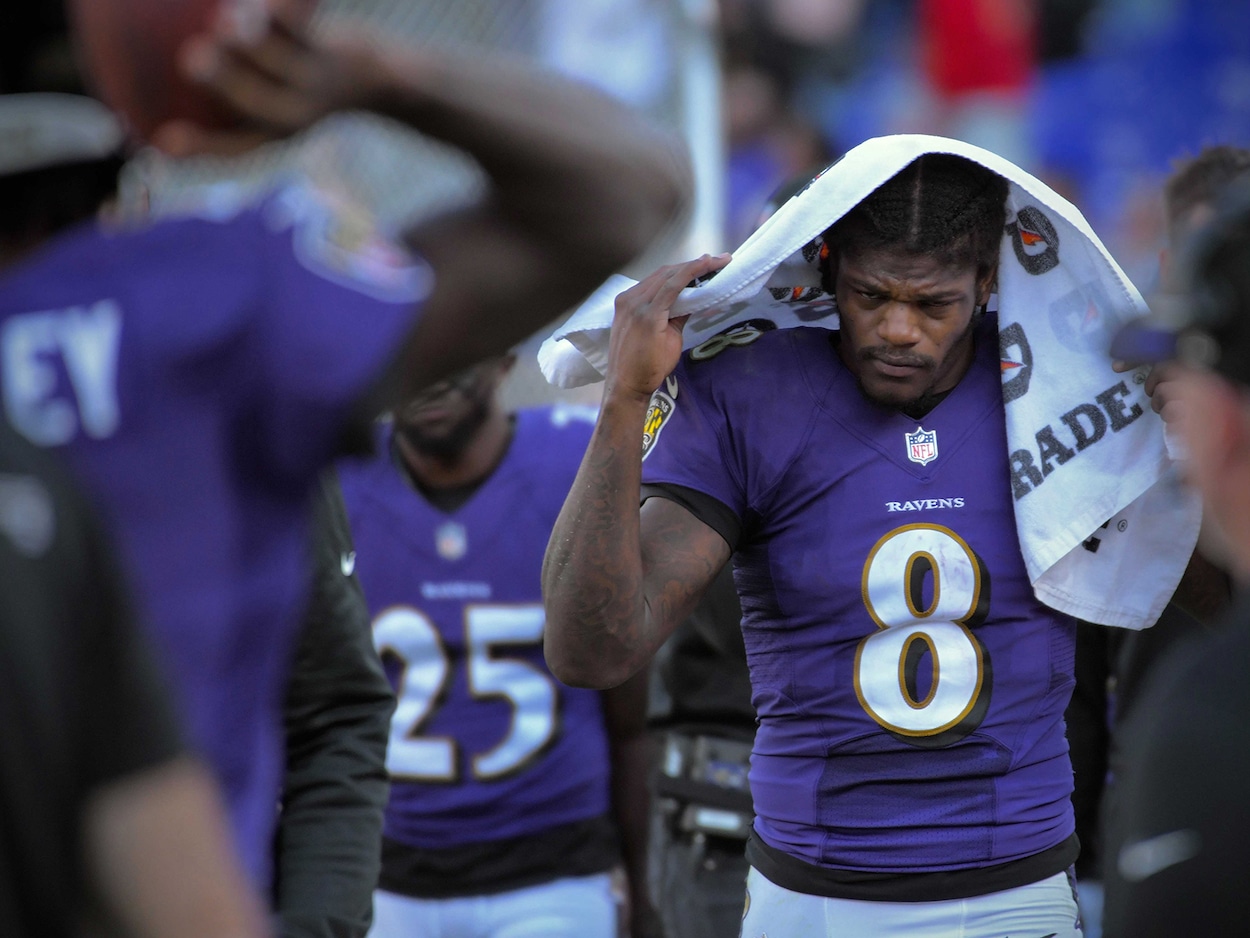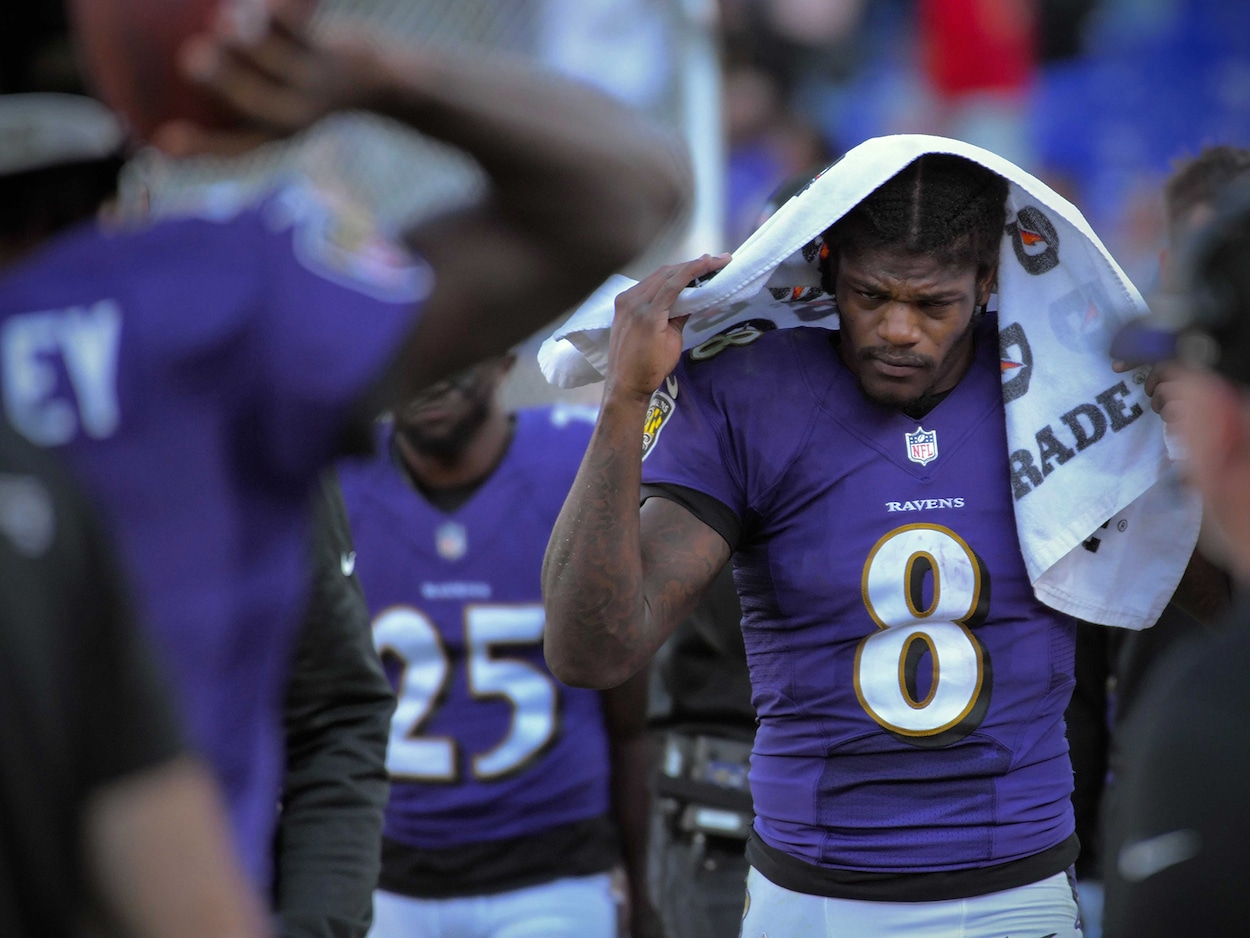 Plenty of NFL players and quarterbacks are feuding with their teams in the 2022 offseason because they believe they deserve a big new contract (looking at you, Deebo Samuel and Kyler Murray). Apparently, though, Baltimore Ravens QB Lamar Jackson hasn't signed a long-term deal with his team despite being in the final year of his rookie deal because he doesn't believe he's earned it yet.
Lamar Jackson is one of the best young quarterbacks in the NFL
Leading up to the 2018 NFL Draft, there was a lot of conversation about which college signal-caller would become the best NFL QB. Would it be Oklahoma's Baker Mayfield? USC's Sam Darnold? Wyoming's Josh Allen? Or UCLA's Josh Rosen?
Those four QBs all went in the top 10 of that year's draft.
The fifth wheel of that quarterback class was Louisville QB Lamar Jackson. A better runner than passer in college, NFL talent evaluators weren't sold on his potential as a pro QB. Some went so far as to suggest Jackson should switch to wide receiver or running back at the next level.
Despite the question marks, the Baltimore Ravens selected Jackson with the last pick in the first round.
Since then, Jackson has been, at worst, the second-best NFL QB from the Class of 2108 (behind Josh Allen) and arguably the best.
There are some differences between Jackson and Allen (more on that below). But one of the biggest differences is that Allen signed a massive, long-term $258 million contract extension with the Buffalo Bills last offseason.
The Ravens haven't locked up Jackson for the future yet. However, that's not because the team doesn't want to make the offer, according to reports. It's because Jackson isn't interested right now.  
Mike Florio reports it's the Baltimore Ravens QB who is standing in the way of a long-term deal
Lamar Jackson is in the news at the end of May because he isn't attending the Baltimore Ravens' voluntary OTAs. This isn't unusual for a veteran starting QB, and it's even more common when said QB is in line for a big contract extension.
However, unlike Kyler Murray, who seems to be skipping OTAs to force the Arizona Cardinals to give him a new deal, that doesn't seem to be the case for Jackson. In fact, according to Pro Football Talk's Mike Florio, it sounds like the opposite situation.
Florio joined the Rich Eisen Show this week and told the host:
I can't remember a situation like this. It probably is unprecedented when you consider the money that gets paid to the best quarterbacks in the NFL, how the market is changing, and the ritual, the dance, the way that it works. You put your three years in, you win an MVP Award, you're in line for a big contract. Well, he didn't want one last year. Didn't want to engage the team. This year he doesn't want to engage the team either. And owner Steve Bisciotti said a couple of months ago that, 'Lamar is so obsessed with winning a Super Bowl I think, deep down, he doesn't think he's worthy.' I think he wants that in order to say, 'Now I deserve to be on top.'

Mike Florio on Lamar Jackson
If Jackson is solely focused on winning, skipping OTAs seems like a strange way to prove that, though. Florio says this is just the latest move from the QB that "doesn't make sense" this offseason.
The insider points out Jackson says he wants to be in Baltimore long-term but isn't acting like it. 
He also mentions reports that the QB was mad when the team traded WR Marquise "Hollywood" Brown, but Brown said Jackson knew he wanted out.
All this intrigue and "inconsistency," as Florio calls it, adds to questions about whether Jackson will get an extension in line with his Class of 2018 competition, Josh Allen.
Lamar Jackson vs. Josh Allen
Lamar Jackson and Josh Allen are, no doubt, the best two quarterbacks to come from the 2018 NFL Draft.
Josh Rosen and Sam Darnold are no longer with the teams that drafted them, and it's likely Baker Mayfield won't be a Cleveland Brown at the start of the 2022 NFL season.
Jackson has a 37-12 record as a starter to go along with his two Pro Bowl appearances, one All-Pro nod, and 2019 NFL MVP Award. By comparison, Allen is 39-21 as a starter and has one Pro Bowl team on his resume.
However, despite a larger collection of personal accolades for Jackson, there are a few key areas where Allen outshines the Baltimore Ravens QB.
Here are how the two QBs measure up statistically:
Allen: 14,144 passing yards, 62.3% completion rate, 103 passing touchdowns, 46 interceptions, 422 rushing attempts, 2,325 rushing yards, 31 rushing touchdowns
Jackson: 9,967 passing yards, 64.1% completion rate, 84 passing touchdowns, 31 interceptions, 615 rushing attempts, 3,673 rushing yards, 21 rushing touchdowns
Allen is the better, more dynamic passer of the two, and despite Jackson's superior rushing yards, the fact that Allen has more rushing TDs tells you about his effectiveness in the red zone.
Also, they are both running quarterbacks. However, Allen is 6-foot-5, 327-pounds, while Jackson is 6-foot-2, 212-pounds. This is a big reason why Allen hasn't missed a game the last three seasons while Jackson has missed seven.
Lastly, while Allen's regular-season winning percentage isn't as high as Jackson's, the playoffs tell a different story. Jackson has just one playoff win, while Allen has three, plus an overtime loss to Kansas City, where he never got the ball. Allen's Buffalo Bills also beat Jackson's Ravens head-to-head in the 2020 postseason, 17-3.
All this isn't to say that Jackson doesn't deserve a big extension. But it might not be on par with Allen's deal.
All stats courtesy of Pro Football Reference